Hottest Chicks in Hard Rock Tour 2014
Live at Irving Plaza, NYC – 2/24/14
No doubt many of us, including myself, have our own qualms about the moniker "hottest chicks in hard rock," but nevertheless, when the lineup for this year's version of the aforementioned tour was announced, I couldn't help but be a little excited. I wasn't too familiar with the headliner, Sick Puppies, but words cannot express my love for Lacuna Coil, so there was no way I could pass up a chance to see them again. On top of that, I've known and even sometimes enjoyed the music of Eyes Set to Kill for years now, and was a fan of the band Cilver as their previous incarnation, MeTalkPretty, for a few years now as well. And then I find out that my favorite NYC-based band Charetta would be opening the show, so there was no way I was going to miss such a promising lineup. And so I dragged a friend up to New York with me for the day to enjoy a night of great music, and enjoy it we did!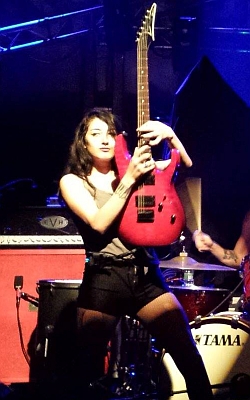 First up was Charetta, a local NYC hard rock band who I've known for a while but not yet had the chance to see live. Though the crowd was just filling in when they started their set, they soon caught the attention of many in the audience, who started banging their heads along with the band's single "Lights Out." Despite having to maneuver around other bands' equipment, singer Angelina del Carmen (who looks and sounds a lot like Cristina Scabbia) hopped around the stage encouraging the crowd to move along with the band's unique hard rock sound. The set included songs off the band's new EP Apocalypse as well as some older material from previous releases, all of which sounded great and full of energy.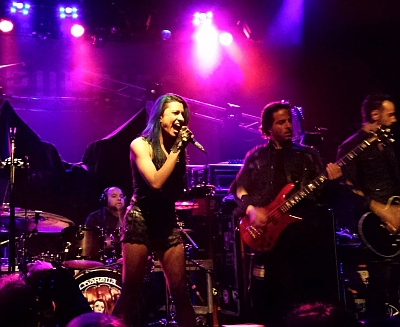 Next to play was Cilver, another New York-based group fronted by the dynamic Uliana. Formerly known as MeTalkPretty, the band changed their name and began playing a harder style of rock with some extra punk influences. The band was engaging and energetic as they presented songs off their debut EP which had only come out a few days before. The lively set ended with Uliana jumping into the crowd and surfing toward the back.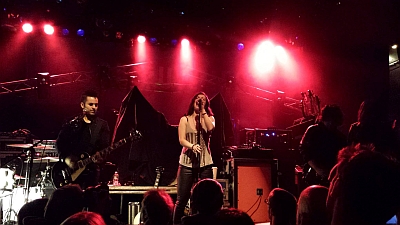 Eyes Set to Kill was up next, and though I've never been a huge fan of their music, I always respected the talents of vocalist/guitarist Alexia Rodriguez and her fellow bandmates, including sister Annisa on bass. Well, they definitely brought their talent to the stage, rocking out to songs from their latest album Masks as well as some older songs from their now-extensive catalog. Though there are usually male screams on some of the album tracks, they were noticeably missing, for better or fore worse, from the live set, but the crowd didn't seem to mind, if the deafening cheers of some of the people standing next to me were anything to go by. And they still managed to be the heaviest band of the night.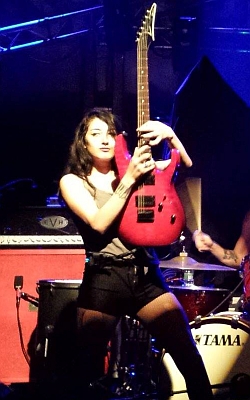 Finally it was time for Lacuna Coil, and it goes without saying, they brought the house down. Though the set was shorter than I would have liked, and with fewer songs from their earlier albums, the band brought their usual energy and finesse to their live show, and still managed to hit some of my personal favorites along the way. The most exciting part was the presentation of some new songs from their upcoming album Broken Crown Halo. Though we've already heard "Die and Rise" and "Nothing Stands in Our Way" floating around the internet, as with many Lacuna Coil tracks, the songs have a completely different energy in a live setting, so even if you're not a fan of the band's current direction, it doesn't mean you won't have a good time seeing them live, as they are easily one of the best live bands I've seen. Fun fact: this was officially my 5th time seeing Lacuna Coil, the third band to make it to that number!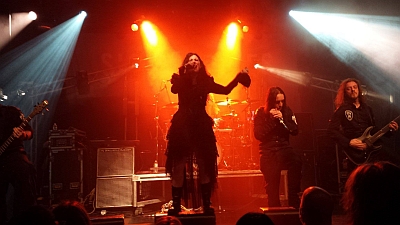 I'd never heard Sick Puppies before their set that night, but I left the show a fan for life. Though technically male-fronted, bassist Emma Anzai also provides backing vocals for the Austrialian-via-Los Angeles three-piece, and the two vocalist complement each other well. Frontman Shim Moore was constantly rouse the crowd and get them to scream louder and move more, as if they needed any encouragement. We actually had to move to the side because a few idiots attempted to surf on a crowd not nearly dense enough to carry their weight, and being among the tallest people there, my friend and I feared for the structural integrity of our necks and noses in the face of flailing feet. The show was, however, just as enjoyable from the back as it was from the pit, and though I didn't know a single song, I found myself cheering and banging my head along with the music and screaming loudly when told to do so.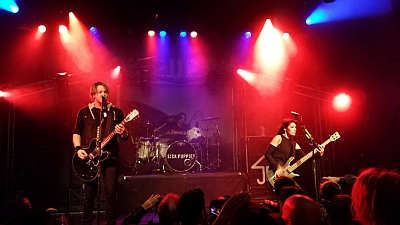 I left the venue thankful for the rising prominence of women in metal, and despite the sexist nature of the name, it's tours like this that not only bring women to the forefront in a genre long known as a boy's club, but can also encourage a new generation of metal fans, both male and female, to follow their dreams and not be intimidated by the idea that they might not be accepted, because if that night was anything to go by, the future looks as egalitarian as ever.