Within Temptation
Saturday, September 22, 2007 - Avalon Theater; Hollywood, California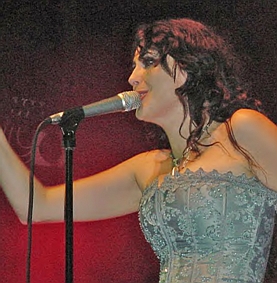 When I first started listening to Within Temptation in the autumn of 2001, I didn't think I'd ever get a chance to see them live unless I went to Europe myself, so I pretty much resigned myself to vicariously getting their live experience through DVDs or reading reviews from lucky fans who lived in an area where WT often played. That all changed this year, when their latest album, The Heart of Everything, became available in the United States, and they first made themselves known to their American audience by opening for Lacuna Coil on the Hottest Chicks in Metal Tour in the late spring/early summer.

If someone would have told me 6 years ago that I would see Lacuna Coil and Within Temptation on the same stage in the same night---two of my favorite bands from the femme-metal scene, together, here in the U.S.---I would have either wondered what kind of chemicals they were taking or if they needed to be admitted to a mental institution. But it was not the stuff of lunacy or delusion, for I would finally see WT for the first time on June 2nd, opening for Lacuna Coil. They only played 8 songs, but the energy was so high and their performance so good that honestly, if I was not as much of a Lacuna Coil fan as I am, I would have called it a night at that point. I thought to myself, if WT is this good as an opening act, imagine what they must be like as headliners!

When the band announced at the end of their set that warm June night that they would return to the States in September, I made a mental note to make sure my schedule for that entire month was free!

September 22nd was the date, and Hollywood was the location. They were playing at the Avalon Theater, a venue I had never been to before. As many shows in Hollywood as I had been to, I did not even know where the venue was! Lo and behold, it was on Vine Street, right across the street from the landmark Capitol Records building, resting on the legendary Hollywood Walk of Fame. The stars of Groucho Marx and other celebrities greeted me as I hit the pavement, ready to rock out with WT. The first people I met were a couple that I had been talking to for a long time online at the WT forum. They had flown all the way from Norway to see this show, so it was great to finally meet people face-to-face that I had been talking to online for years.

When the doors opened up, I was led inside the Avalon Theater, a very nice-looking place, with a balcony area. It was a theater indeed, with the velvet curtains, dim lights, and ornate decorations. I would learn later on in the evening that this venue was where the old television program The Muppet Show was filmed. I found a spot up front and ended up sitting right next to some people I had met in line at the Lacuna Coil gigs. We greeted each other like old friends and proceeded to enjoy the gig.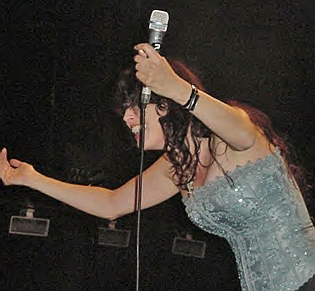 The first of the two opening acts was a local band called My Evolution. They were not so bad, they sounded like a hybrid of Buckcherry and Velvet Revolver; categorically a more "mainstream"-sounding rock band. They did a nice cover of the old Depeche Mode classic "Everything Counts", and that's the most I remember of the set. From where I was standing, Ruud and Jeroen from WT were standing next to me, watching their performance from the sidelines. Needless to say, it was pretty cool to watch the opening acts of the band you were coming to see, with…well, the band you were coming to see!
The second opening act was called The Dear and Departed, and frankly, I sometimes wonder who picks these opening bands. They sounded like every other emo band out there right now; their name a long title that was depressing, a screaming singer, and all the bandmembers looking like they rolled rough and tumble out of parochial school, with unkempt white shirts and askew ties. Not really something that would attract much of WT's audience. I remember very little of their set, as my friend who was meeting me at the show had just arrived and we were socializing with our friends from Norway.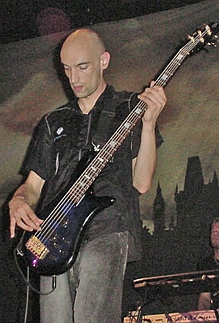 After a break, finally, the moment everyone was waiting for had come…WT was ready to hit the stage. The backdrop told a dark tale with its ominous clouds, menacing shadowy figures, and images from the album cover off to the side. Over the speakers, the opening speech to "Our Solemn Hour" could be heard, and as each bandmember hit the stage, one by one, the crowd screamed with anticipation for what was coming next.
"Sanctus espiritus! Sanctus espiritus!" The opening chants of "Our Solemn Hour" kicked off the show, and the band exploded into song. Sharon was wearing a lovely silver corset with a knee-length flouncy black skirt and high silver boots. She made her way around the stage, pointing at various members of the audience and making eye contact with them. The rest of the band was energetic onstage, jumping up and down and getting the crowd to join along with them during songs like "Hand of Sorrow", or sing along during songs like "What Have You Done?" Occasionally there would be a video on the screen, like during "Angels", there were falling feathers, with the music video to the song superimposed behind that. During "Mother Earth", there was a drawing of an astrological wheel up on the screen.
Sharon was also very talkative onstage; she spoke several times throughout the night, mentioning during the intro to "Mother Earth" that their manager's wife had just given birth to a child the night before, and how the cycle of life never ends. When the band segued into "Angels", Sharon said, "this is for all you angels out there in the city of Angels!" The crowd went absolutely nuts when that song came on, it is definitely a fan favorite among the Americans just as it is in the rest of the world, even though there is no official release of The Silent Force here in this country. There was a moment during one of the songs where Sharon almost tripped over her microphone cord, and made a little face like, "oops!" Towards the end of the night, before they got ready to kick into "Ice Queen", Sharon expressed how happy she and the rest of the band were to be playing in the U.S., and took the time to mention that the venue where they were playing tonight was the site of The Muppet Show. She also expressed with regret that they were about to do the final song of the night, but not to worry---they had every intention of returning!
Personally, for me, the highlights of the night were when the band performed "The Cross", which is my favorite track on the new album. And when I heard they were performing "See Who I Am"---my favorite track from the last album---I kept my fingers crossed that the setlist would not change by the time they hit the West Coast (like Lacuna Coil had done earlier that year, when the classic favorite "My Wings" was omitted from the setlist, much to my chagrin). So when the Silent Force "Intro" hit, I was psyched, knowing what was to come next. I never expected to hear that song live, ever. I thought that it would be a song they would retire after The Silent Force tour had its run, so for me to hear it was a treat indeed. All they needed to do at that point was "The Other Half (Of Me)" (my all-time favorite WT song), and I think I would have fainted dead away.
There were many other high points, one of the most memorable being the epic song "The Truth Beneath the Rose". It was every bit as bone-chilling live as on the studio version. "All I Need" and "Memories" were moments where you should have probably had your Kleenex handy, those gentle ballads are especially poignant when hearing them live. There were rockin' moments as well, like during "Forsaken" when it seemed like nearly everyone was headbanging, or "The Heart of Everything", where Sharon's more sinister vocals took center stage. There were moments when the crowd was heard more than the band, singing along to classics like "Stand my Ground" and new favorites such as "The Howling".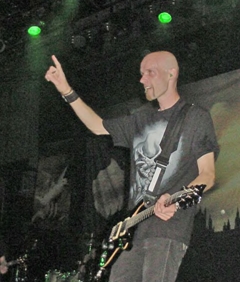 The encore of the show seemed to be a highlight for everyone in the audience, as the intro music to "Deceiver of Fools" started up. I could not imagine a WT show without this song, so I was pleased to hear it. The next two songs were "Memories" and the WT staple, "Ice Queen". That was a high-energy moment for the audience and the band; they encouraged the audience to sing the simple, "ooh-ooh, ooh-ooh", and jump up and down. I could practically feel the energy generate back and forth between the band and the crowd during that song.
Who says that WT has no American fans? We know their classics as well as their newer tunes, and love them just as much! Even my friend, who has only gotten into WT as recently as when we went to the Hottest Chicks in Metal shows, was psyched to hear many of the songs that were played that night. WT have gotten a lot of converts over the last couple of months, but they are just as into the band as someone like myself who has been listening for years. It was great to see faces that I recognized from the Lacuna Coil gigs making a reappearance here. It shows how much of an impact WT had on that tour, just as opening acts. In fact, after the show, my friends and I went outside and somehow ended up getting interviewed by some writers for a Dutch magazine. My friends from Norway happened to mention that I was the first American WT fan they'd ever met, and I made a passing comment that I was not "one of these fans who only got into them over the last few months". My friend said, "no, that's me!" I hope she did not think I was flaming her or talking badly about the newer fans; I simply meant that I had been listening to them for a long time and have had to import a lot of my CDs because up until recently many of them had been unavailable here (I had shown the writers some of the things I had brought to the show, like my imported CDs), and that I am glad to see WT gaining more fans here so that their longtime fans have easier access to their releases. So I wanted to clear that up---I have nothing against the fans that have only discovered them in the last few months. If anything, I'm glad WT's fanbase here is growing---that only means more tours and more concerts for all of us to see in the future!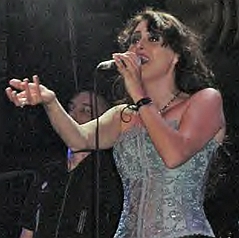 In closing, WT put on a great performance, chock-full of energy and passion from beginning to end. They were worth waiting 6 years to see live, and hopefully this is the first of many WT concerts I will see in the coming years. No doubt that when they do return to the U.S., they will be welcomed with open arms!
All pictures taken by C., September 22nd, 2007