Nightwish - Live in Concert
September 13, 2008 - Wiltern Theater; Los Angeles, California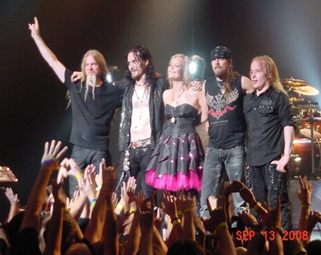 With the release of their latest album, Dark Passion Play, Nightwish ushered in a "new era" of great music with new frontwoman Anette Olzon. One place they really took their new sound to was the United States, virtually the only country left on earth who has never heard the name Nightwish or who has absolutely no bias towards the band's former frontwoman, the much-beloved Tarja Turunen.

The shows with Anette in the U.S. during the fall of '07 garnered such positive fan response that the band was compelled to return once more in the spring of '08, traveling to new places in the States such as Las Vegas, Orlando, and San Diego. Much to my chagrin, I had to miss the second leg of the tour, seeing as how I could not make the 4+-hour trip to either San Diego or Las Vegas to see the band. My best hope was to anticipate a Los Angeles show to be added (the nearest major city to where I live), or to wait until the fall, when they would return for a third American leg of the Dark Passion Play tour.

My disappointment over missing the spring tour would not last long, for no sooner than the band could pack up and get back to Europe for the summer concert festivals, than it would be announced that Nightwish would return to the States at the end of August. September 13th was the date for fans in Southern California, and I was doubly excited when nearly a month before the show, the much-coveted VIP tickets were still available!

The late afternoon California sun was in the process of setting when we hit the Wiltern Theater that hot September day. Outside, the line formed with fans who had also bought their VIP passes. Some people came as far away as Alaska to see the show. It is always surprising to me to meet enthusiastic Nightwish fans here in the States, since it seemed for years that I appeared to be the only one who knew their music.

The meet-and-greet for VIP ticket holders began a little after 7 p.m. It was starting to get dark outside. Sadly, it was conducted like most meet-and-greets: the fans are ushered down the line long enough to get things signed and maybe get a quick picture, but not long enough to ask any questions or carry on any kind of conversation with people. All the same, the band was very courteous and kind to everyone who passed by, and even as you were getting shuffled away by the security, still treated you as if they had all the time in the world to talk to you.

So it was finally my chance to meet the newest member of Nightwish. Much as I would have loved to ask her all the questions I'd had, all I could get out was, "it's so good to finally meet you!" She said thanks, and I gave her a gift of a silver butterfly keychain holder. You can see her holding it in the picture (sort of), but by the time I snapped this picture, I was off to the next part of the table, so I don't know what her reaction was or if she liked my gift.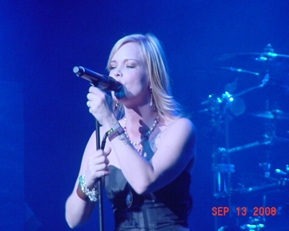 At the end of the table was the heart and soul of Nightwish, the band's main songwriter, Tuomas Holopainen. I'd had the pleasure of meeting Tuomas once before, on the Once tour in 2004. Seeing as how I'd not had much of an opportunity to talk to the other bandmembers, I said as much to him as I gave him his gift (a Disney Christmas ornament), and asked if maybe I could get a picture with him since I wasn't able to get one with anyone else. He was kind enough to not only take a picture, but to come around the table and pose for it (rather than just having someone snap a picture of him sitting at one end of the table and me on the other side).

Tuomas was a very kind and easygoing person, and we spoke for a little while longer, a conversation which ultimately ended in him promising to dedicate a song to a longtime affiliate of Sonic Cathedral, Oceansouls of America, the North American Nightwish fan club. This was a dream come true, and since I had asked Tuomas to surprise us with which song he would dedicate, I spent the rest of the evening curiously wondering what that song would be.

After the short-lived meet-and-greet, the VIP ticket holders were allowed into the venue before the doors officially opened, so it was nice to be able to buy merchandise and get settled before the crowd got in. The Wiltern Theater is an elegant-looking place; I was told that it was a renovated movie theater, and it looked as much, with lavish gold carvings, balconies perched above, and ramps everywhere, leading to several different exits, just like a movie theater.

The opening act of the night was Finnish power-metal favorites, Sonata Arctica. I'm not much a fan of this band; I much prefer Stratovarius musically, but since many Nightwish fans like Sonata's music, I decided to watch their set and see if there was maybe something about them that could change my mind about their music. They put on a loud, high-energy show that involved a lot of moshing (which I think scared my friend who went with me; he is more into country music so the mosh pit was an entirely new experience for him). I don't remember there being a mosh pit at Nightwish's show at the House of Blues last November, so I'm assuming that many of the moshers were Sonata fans. I will probably never become a Sonata fan, but I will say that they know how to put on a great show and are very good performers. They were a much more fitting band to open up for Nightwish, musically, than previous bands I had seen open for them like Lullacry or Paradise Lost.

Once the intro music for Nightwish filled the room, the lights grew dim and the crowd cheered like crazy. Jukka made his appearance first, and his tapping of the cymbals ushered in the energetic show opener, "Bye Bye Beautiful". The band hit the stage, with Anette wearing a new blonde hair-do, and a black skirt with hot pink rhinestones. Marco's long, crazy hair went flying as he ran around the stage, working up the audience. The crowd's enthusiastic mood carried to the next songs, the Once tunes "Dark Chest of Wonders" and "The Siren", the latter of which Anette sounded positively amazing on. She did some phenomenal chanting that really gave the song some new life.

After those songs, Marco takes the opportunity to address the crowd and ask how they like the show. He then proceeds to introduce a song from Century Child and says, "this song is dedicated to Oceansouls of America, our North American fan club.", and at that point he does his trademark introduction of "Dead to the World". My guess is that this song was chosen because it was the only song during the night that featured a lyric with the words "ocean soul".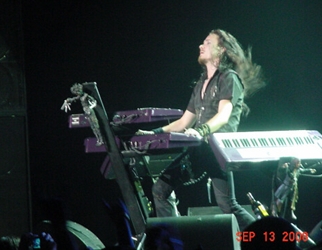 The band kept their energy levels high throughout the night by doing mostly heavier songs, but they also knew how to wind it down with calmer songs like "The Islander" and old favorites like "Come Cover Me". Once again, Anette took an older Nightwish tune and put her own spin on it that made it sound new again. The way she sang "come cover me now…" at the end of the song just gives you chills. The stage was virtually dark but for a soft blue light during "The Islander", during which Marco and Emppu sat down with their acoustic guitars while Anette sat on a stool between them, wearing her tiara to emphasize the "princess in the tower, children in the field" line.
They did not lack in presenting the new material either; the well-known DPP songs like "Amaranth" were there too, with a breathtaking intro to that song by Tuomas. The band also had a friendly closeness onstage; I saw a lot of interacting between them, whether it was Tuomas and Anette sharing an embrace after one of the songs, Emppu and Tuomas pouring wine down the other's throat throughout the night, or Anette and Marco standing close together and touching during their parts together. I see a lot of friendliness and camaraderie in this lineup of Nightwish; everyone appears to be more easygoing and not afraid to step out of that ethereal, untouchable image that so dominated their public persona in earlier days.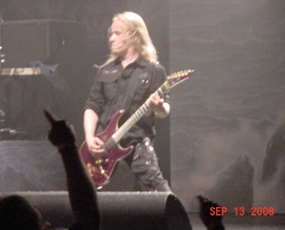 However, the mythical, bombastic quality that is Nightwish was not completely obliterated, and this showed especially during the DPP epic, "The Poet and the Pendulum". I could never get tired of hearing this 13-minute opus live; to hear it is just absolutely bone-chilling, whether it is on the disc or at a live show. "Sahara" was also another favorite of mine off the new album that I was glad to see on the setlist tonight. "Whoever Brings the Night" is a lively, playful song that really gets the crowd going, with Emppu holding up the guitar featuring his belly dancer from the "Whoever Brings the Night" artwork to emphasize that this was the song to match the image.
The setlist throughout the band's tour has been altered here and there to include old songs such as "Ever Dream", "Sacrament of Wilderness", and the newer, unreleased track "While Your Lips Are Still Red". I was hoping to get either of the last two songs, especially "Lips", but instead the L.A. audience got Anette's version of "Wishmaster", which has grown on me a little more than when I first heard it last year, but a song that I personally will not be sad to see go back to the vault someday. As much as I enjoy Anette's take on many of the older songs, that particular track has so much the Tarja stamp on it that I don't think I could ever fully adjust to the new version. It begins with a recording of the London Symphony Orchestra (who has worked on the last 2 Nightwish albums) giving us their take on the classic "Master! Apprentice!" intro, and then the intro becomes faster and faster…"Master! Apprentice! In me…the Wishmaster!" and then Jukka's pounding drums bring in Anette's own "Master! Apprentice!" mantra.
After "Wishmaster", Anette made as if the show were ending and the band all went offstage to get ready for the encore. Upon their return, the mood wound down for the personal, touching "Higher Than Hope", to which the band dedicated to the Brueland family, for whom their departed son and brother, Marc, the song was written. From the first time I had seen the band live in '04, this song has been in the setlist each time, so it has become somewhat of a tradition for me to hear it. This song is very moving to me in so many ways, not only because of the story behind it. I have had the honor of meeting the Brueland family over the years, they are wonderful people and I cannot think of people more deserving to have a song dedicated to them than they. This song was a highlight for me, although I will admit that every time I hear it live I cannot help but get a tear in my eye when I hear it. This time I was not ashamed to cry. Anette's voice is so wracked with pain when she sings the "red sun rising" verse, and when Marc's voice is heard loudly through the speakers, and Anette delivers the line, "your death saved me" shortly thereafter, it is apparent that Marc Brueland's spirit lives on. After such a powerful tune, there is only one way to come back to reality…from tear-jerking to a sock in the gut with one of the heaviest songs of the night!
From poignant to pummeling, we went from the beautiful ballad "Higher Than Hope" to the in-your-face punch of "7 Days to the Wolves", which is one of the best Nightwish songs to see live. It is one of those songs of which the studio version does nothing for me, but seeing it live is an experience. Marco lets loose as he screams, "Howl!" in the chorus. The entire band is feeling the heaviness, partying hard with their bottle of wine, and Marco and Emppu running around like crazy back and forth across the stage.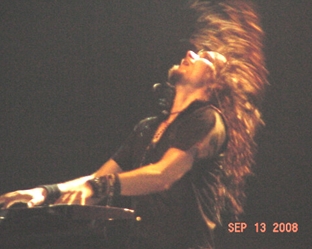 The final song of the night has also become somewhat of a tradition for me, for it has always been the snappy, bouncy "Wish I Had an Angel", of which Anette always dedicates to the city of Angels. As she intros the song, she talks about how it is Saturday night and how Marco would like to hit the bar, and he agrees with this statement in his trademark scream of "fuck yeah!" From there the band is all systems-go, letting loose and giving it their all one last time before Anette ended the show by promising that they definitely would return; then passing out guitar picks and drumsticks, and taking their final bow.
Overall, of the three Nightwish shows I'd attended, this one was by far the best. The first one was obviously special because it was the one and only show I'd ever seen with Tarja, and the second one was special because it was the first with Anette, but this time was special for many reasons. For one, the dedication to Oceansouls of America was a wonderful surprise that really touched my heart, and I only wish everyone who had ever been involved with OSA over the last 5 years could have been here this night to share in the moment. For another, to share OSA's triumphant moment with the Brueland family, and to share their special song with them, was a significant event that could never be duplicated or replaced.
But aside from the personal reasons, this show was also great because it showed that the "new era" and lineup of Nightwish is going strong and shows a lot of promise for years to come. I admit that I was not always sure about the band's choice of Anette Olzon as singer; she was someone who really won me over. Tarja was a distinct voice that could never be replaced, but now that I have heard them live with Anette more than once, I can honestly say that I don't think that is her goal. I don't think that she is looking to duplicate Tarja or to make people forget her. I think her shining talent is that she is her own entity; when she sings the older songs she does not try to come as close as she can to the original. Instead, she tries to find a way to do them that is uniquely her, without butchering the song or disrespecting the integrity of the original. "Wishmaster" was probably the prime example of this; that song has been known for years with Tarja's opera voice and very few people can imagine it any other way, yet Anette takes it and for those few minutes, gives you a version that makes you say, "well, I never thought of listening to it that way before, but it's not so bad!" On other songs like "The Siren" and "Come Cover Me", she makes those songs her own in such a way that you almost appreciate them as being new all over again. Hearing her as part of Nightwish and doing these songs, I feel as if she's only going to get better, and as time goes on she's going to take more chances with older songs and put her special mark on them.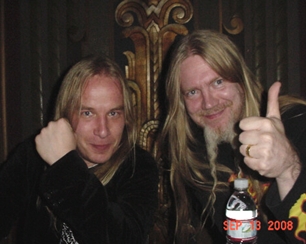 At the end of the night, I walked away as much of a Nightwish fan as I ever was, but definitely having the best time I'd had at a Nightwish show so far. The t-shirt that I bought said that this leg of the tour was "the final chapter", so it will be a while before I see Nightwish again. That could make me sad, but instead, it makes me excited to think that by then, there will be a new album, new songs to hear, and new version of older favorites to rediscover and love all over again. Nightwish is a fantastic live band, and they've been great to their American audience. I only hope their next visit to the U.S. is not too far away.
All pictures by C., Copyright 2008