Serenity + Visions of Atlantis + Souldrinker + Evenpath
Lyon France (29/03/2013) Live report
Last time I saw Serenity was in October 2011, at the Out of the Dark Tour. They were already playing with Clémentine who was not a permanent member yet at that moment. I was very impressed by their shows and by their new album War of Ages, and couldn't wait to see them again playing in my own town with the other bands touring with them: Visions of Atlantis and Souldrinker, with Evenpath as the local band in Lyon. And here we are!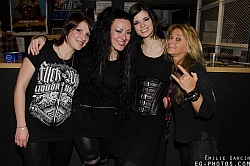 Sarah Liodenot (Evenpath), Maxi Nil (Visions of Atlantis), Clémentine Delauney (Serenity), Iris Boanta (Souldrinker)
Four bands played that night. The first one was Evenpath, a young band from Lyon of whom I already took the promotional photos. So far, they released a 4-track EP in January 2012 called IX5VI2, and this concert was their second one after H'elles on Stage last October.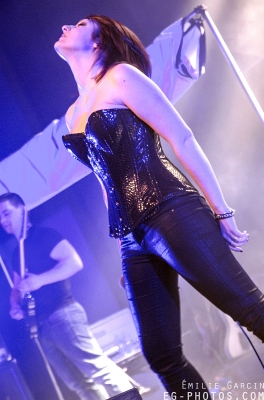 Opening a show isn't something easy, but Evenpath had the advantage of playing in their own town: it's always a good thing to know that some people in the audience already know you and are here to support you.
Evenpath started their show with "Glory", the first song of their EP. A powerful song with a lively beat going along with high singing notes. From the beginning of the show, Sarah warmed up the audience, asking them for moving, jumping, and the fans followed.
Then came "Mess'Anger", a slower song followed by "My Ninth Life", a new one that isn't present on the EP. The singer Sarah didn't hesitate to interact with the audience that was very receptive. She has improved so much in the last few years. Sarah is accustomed to being on stage because she formerly belonged to the French band Bel O Kan for years, and played many gigs with them. Concerning the other members of Evenpath, there were many more interactions between them than during their first show, probably because they gained self-confidence since last time.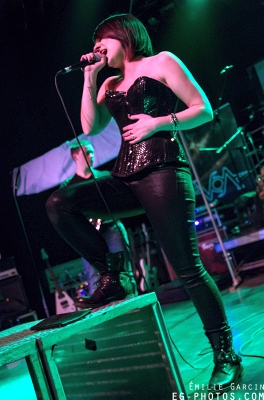 Two other songs were played that night: "The Nightmare" and "Haven". Until last October, Evenpath had a keyboardist (Nicolas), but he decided to leave the band after their first performance. Then Evenpath decided not to look for another keyboardist and used samples for this show. Apparently some problems occurred since the samples were a bit out of time during the last song, but the audience hardly noticed it and the show was generally speaking very good.
To sum up, Evenpath played 25m and despite some technical problems managed to warm up the audience and probably to make new fans. I am sure that they will be able to grow up with time and experience. Now it's time for Souldrinker.
Set list:
Glory
Mess'Anger
My Ninth Life
The Nightmare
Haven
I had barely heard about Souldrinker before this show. I just knew it was a very young band (created in December 2012) from Germany.
And what a good discovery! This band is more classic hard rock with a female voice (Iris Boanta) and a male grunter (Alex Gindu), but who was apparently no present at this show. Therefore Chris Rodens, who is also the bass player of Souldrinker, did the grunts.
At the moment, Souldrinker has released one three-track EP entitled Semper Fidelis, and I guess that many people discovered them during this tour.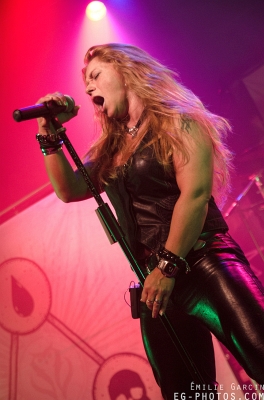 Headbanging and fist pumping... Iris Boanta had a very strong and rock voice - she makes me think of Doro in a way - and Souldrinker easily caught the audience. All the musicians looked very professional, and had a good performance on stage, exchanging knowing looks and smiles. For the shows, Souldrinker added three more songs on top of their EP to their setlist: "Damn the Machine", "Weep", and a cover of Judas Priest's "Nightcrawler". That one was the last song of the show and was very well interpreted, the audience definitely seemed seduced. The band rocked hard, and I even found the show too short. I would be curious to see Souldrinker again in a longer show.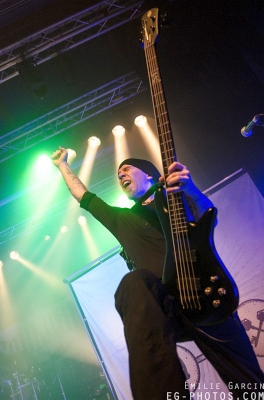 After the show, I met Iris, and so far she was very happy about the tour. I really think that if you have never listened to Souldrinker just do it -- this band has got potential, and is destined for a bright future. Souldrinker played about 30-40m and then gave way to Visions of Atlantis.
Setlist:
Burn the Pact
Damn the Machine
To All That is Lost
Weep
Sixteen Men of Tain
Nightcrawler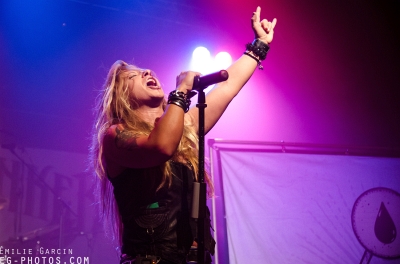 Talking with Iris in the venue's hall, I didn't even notice when Visions of Atlantis started their show! So I quickly entered the concert hall while the band was playing the first song of their setlist, "The Ark", from their newest album Ethera. The first and last time that I saw Visions of Atlantis was at Metal Female Voices Festival in 2011, but I admit that I didn't really enjoy the show because I was far from the stage and I didn't know a lot this band at that moment. It is always hard to enjoy a show when you don't know the artists in question, even if the music is good. Therefore I was very curious to see them again.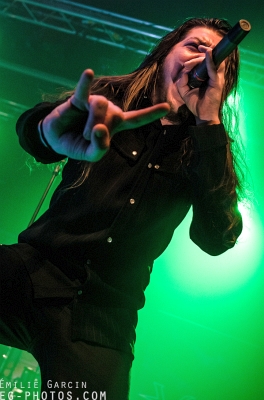 For this tour, Babis Nikou joined Visions of Atlantis as replacement of Mario Plank (the male singer), and Dominik Schweiger was also replacing drummer Thomas Caser. I didn't know them before, and they obviously did a very good job; Babis Nikou had a nice interpretation of each song and seemed comfortable with the other members of the band.
Visions of Atlantis played 12 songs that night, and 6 of them were from their current album, Ethera. I had already listened to this album before the show, so I already had some expectations. First, I must say that I already liked the new album, but it sounds even much better live, more punchy and lively! Maxi was in a good shape, holding high notes with ease like in "Hypnotized" for example and being interactive with the audience that also seemed to appreciate the show.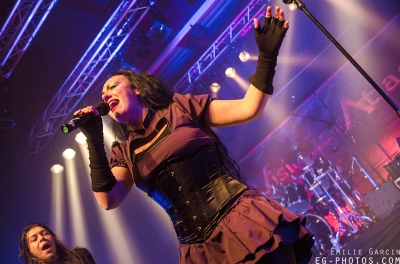 Keyboardist Martin Harb also had fun with a little robot that he tried to control during "Machinage" but it seemed that it didn't want to obey, and it was finally dropped -- Martin's way to punish it!
"Vicious Circle", was also played, starting slowly and gaining energy as long as the song went on. It was followed by "Avatara", one of my favourite songs of this album. The melody sung by Maxi sounds a bit melancholic to my ears in contrast with the part sung by Mario (or Babis at this concert) that is in the contrary more aggressive and violent.
Songs from the old albums such as "New Dawn" (the single from Delta) or "Seven Seas" were also played, and Maxi reached the highest notes with no difficulty. Meanwhile, Babis didn't stop moving and headbanging on each note, smiling at the audience and living each song as if he had always been part of the band.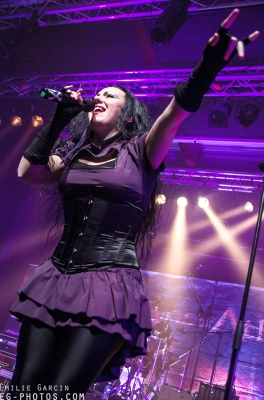 In conclusion, I really enjoyed the show and I recommend Visions of Atlantis to every person who likes Symphonic Metal uniting a male and a female voice. If I am right, the show lasted about 1h and sped by so fast. When it ended, I was impatient to see them again the day after Lyon in Pratteln. Now, let Serenity enter the stage!
Setlist:
Intro
The Ark
New Dawn
Memento
Vicious Circle
Avatara
Seven Seas
Hypnotized
Burden of Divinity
Machinage
Elegy of Existence
At The Back Of Beyond
Passing Dead End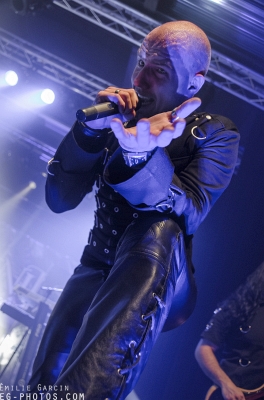 This was now the time for Serenity to enter the stage. I couldn't wait to see them playing their newest album War of Ages that I love -- I'm already sure it will feature my top albums of 2013.
Serenity started their show with "Age of Glory". Good choice since the first minute of this song is entirely instrumental and goes up heavier and heavier, faster and faster until Georg starts singing. Clémentine entered the stage just after Georg and went along with him, singing the verses and choruses as a choir until her part came.
Even though Clémentine is an official member of Serenity for a few months only, she has performed with them since October 2011, and she is now obviously at ease with them. That night was particularly special because she was performing in her town, Lyon. It was really funny to hear her speaking in French while Georg and the other members couldn't understand a word of it. Some members of their French fanclub were also there and gave them a French flag that they took and put on the drums. The atmosphere was really warm, and Serenity obviously enjoyed this show as much as we did.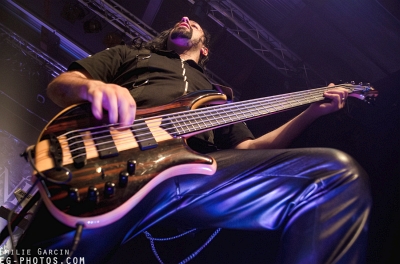 The good mood of the musicians, their energy and their communication with the audience are great qualities of Serenity's stage performance. We had the impression that they were living each song that they were interpreting, especially the two ballads: "Fairytales" (a piano version) and "For Freedom's Sake". I admit that I'm not really a fan of ballads but still, they were played with verve. Clémentine was impressive while she was singing "Fairytales", using her lyrical voice and higher notes than the studio version of the song. She's also a multi-talented singer: not only did she sing all the songs with mastery, but she also did a few grunts on "Rust of the Coming Ages".
Serenity mainly played songs with a rousing rhythm, making people headbang, jump and sing along with them. Some songs from the old albums such as "Far From Home", "When Canvas Starts to Burn" or "Coldness Kills" were also played, making fans from the outset delighted. Christian Hermsdörfer from Visions of Atlantis also joined the band as a guest for "Reduced to Nothingness"; he had gone on tour with Serenity during the Out of the Dark Tour in October 2011, replacing Thomas Buchberger who couldn't join them.
A few words about Georg: what a voice! He perfectly sang each song, making us feel every emotion by his impressive interpretation. His proximity with the audience was also highly appreciated. There was a really nice collaboration between every member of the band and in particular between Georg and Clémentine, especially while they were interpreting songs such as "The Chevalier" and "Serenade of Flames" (that were originally interpreted by Ailyn Giménez and Charlotte Wessels in the studio versions of the songs).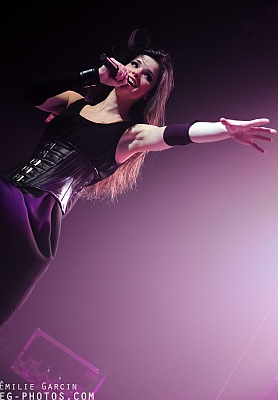 The audience was seduced, reacting to everything that Clémentine or Georg said to them: "aaaaah" when another song was announced, "uuuuuh" when the last song was about to be played. I enjoyed the whole show and my only regret is that my favourite song of War of Ages, "Legacy of Tudors" wasn't played. However this was balanced with other very good songs like "Wings of Madness", the driving single of War of Ages, whose music video was shot and put online a few days ago.
I've heard that there had been more people in Lyon than in Paris and this was really nice to know: French people are sometimes so lazy to go and see "smaller" Metal concerts than the ones from the most famous bands. And Serenity is definitely a band that must be discovered. Their music is made with professionalism and their line-up is so interesting: two singers and the other members acting as choirs on top of playing their own instruments. All that makes for really epic and powerful music that needs to be in the spotlights. I saw them the day after in Pratteln in Switzerland, and I can say twice and even more what I wrote earlier.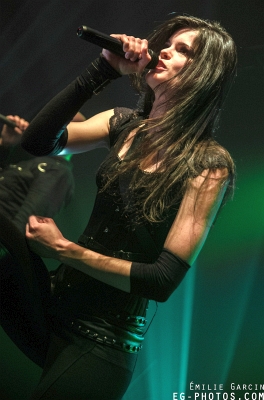 Set-list:
Age of Glory
Far From Home
Coldness Kills
The Matricide
Heavenly Mission
Rust of the Coming Ages
When Canvas Starts to Burn
For Freedom's Sake
Reduced to Nothingness
Forever
The Chevalier
Fairytales
(Piano Version)
Wings of Madness
Engraved Within
Encore:
Velatum
Serenade of Flames