Seven Kingdoms & Amaranthe (with Stratovarius)
Ludwigsburg, Germany – April 11th, 2013
After being introduced to Seven Kingdom's music through my friends at Eve's Apple at last year's Metal Female Voices Fest, I was pretty psyched to hear they were going to tour Europe with Amaranthe and Stratovarius. I definitely didn't want to miss out on the chance of seeing them live, and the prospect of seeing Amaranthe too – another first for me – was the cherry on top. Due to bad train connections I knew I wouldn't be able to catch Stratovarius, which left a bit of a bitter aftertaste.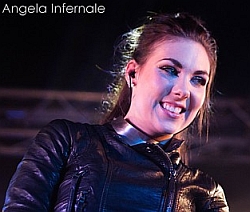 Doors were at 7pm, and Seven Kingdoms were to open the show at 8. As I was quite short on time I was really hoping they wouldn't start late. And sure enough, they hit the stage even a few minutes early and started off with "After the Fall" off of their 2012 album The Fire is Mine. This album was the only one still available at this show, as they ran out of their self-titled 2010 album earlier during the tour. Of course I had made sure to hit the merch table before the show so I would still get my copy of the new album at least. The crowd, which had been rather thin given that Seven Kingdoms were "just" the opening band, quickly grew thicker as more people came to the front. Within this first song the band already had people headbanging, and the crowd soon grew even more agitated. The band's very melodic Power Metal is full of passages that ask for rhythmic clapping, and only very few hands stayed down during the set. Their catchy music is topped off with Sabrina Valentine's powerful voice that you don't expect to come out of such a tiny person.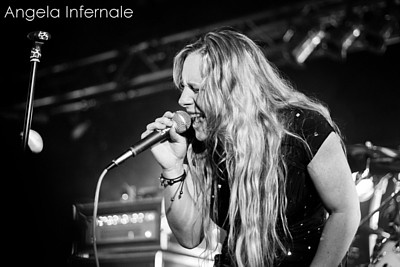 For all those who hadn't gotten the hint with the band name, Sabrina pointed out that they were "a little bit" fans of the Game of Thrones books and TV show, and for everyone who shared their passion, such as me, the song that followed was a special treat. "The King in the North", also from their current album, is one of the most plainly GOT-themed songs that they have. But beware, if you haven't read the third book in George R. R. Martin's A Song of Ice and Fire series yet, you shouldn't listen to the lyrics too closely – they contain a major spoiler. They finished their set after five songs and about 30 minutes with "Into the Darkness" from their 2010 album. This end definitely came too soon, and I was not the only one thinking like that. All around me there were comments on how they were really awesome and should have played longer. What I hope for is that I'll get another chance to see them, with a longer set this next time.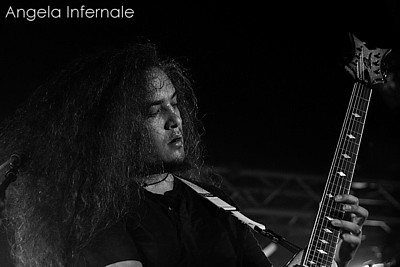 Seven Kingdoms setlist:
1. After the Fall
2. Flame of Olympus
3. Fragile Minds
4. King in the North
5. Into the Darkness
Up next were Amaranthe. With their mix of Metal, Metalcore and Pop elements they create a diverse sound whose different aspects are stressed by the alternating between the three singers. Clear and rough male vocals for the metal(core), clear female vocals for the pop influence. The crowd grew even denser, and the shoving for the first few rows started. I managed to maintain my spot in second/third row, so I was still able to get somewhat decent pictures.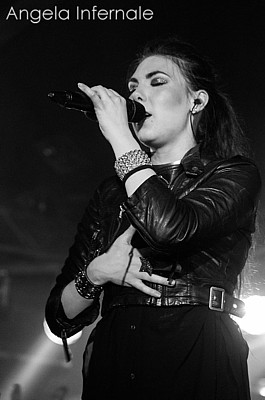 Starting off with their intro featuring the Star Wars theme that quickly merged into an electro instrumental, they made clear that the music that was to follow would be of the modern kind. The first song, "Invincible" proved that the band's sound does not lack its epic aspects, though. What other bands get by adding orchestra arrangements to their music, Amaranthe achieve by combining their singers' voices to a choir-like quality. They kept up the quick pace with "Leave Everything Behind" and "1,001,000 Lightyears". By then there was a lot of headbanging going on in the crowd, and there were way too many hands up to get good pictures anymore – but at that point the drive of the show had become the most important thing anyway. As a co-headliner the band had a decent set of 18 tracks, including, however, the intro and a drum solo. The setlist was a good mix of their two full-length releases The Nexus (2013) and Amaranthe (2011).
For a rather young band they have managed to draw a quite considerable fanbase (about 75,000 Facebook likes) and most of the crowd seemed to have come to see them in particular. With their performance they proved that the phenomenon their music creates also works on stage, and at no point during the set did they have trouble animating the crowd and engaging in fan-interaction. Vocalist Elize Ryd would kneel down and sing to people in the front, as well as shake their hands or just flash them a endearing smile. The guys did no less and would pose for photos and make eye contact with people whenever possible. The band impressed with their almost perfect coordination, and one of the highlights was definitely Elize's strong voice, which has no trouble standing its ground against the heavy guitars and drum-laden music.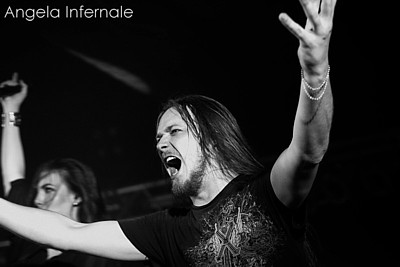 Apart from minor annoyances like bad train schedules and (from a photographer's point of view) really bad lighting almost all the way through the show, this night was more than just enjoyable, and I'm glad to be able to cross two more amazing bands off my bucket-list. It may be too late to go see those two play together on this tour, but the next time on the road will hopefully come soon for both of them, and now you are warned to not miss out on this!