The Columbia Theatre, New Westminster, British Columbia, Canada
April 12, 2013

Adam Todd is annoyed. As he lets me into New Westminster's historic and refurbished Columbia Theatre last Friday night, he bristles with frustration. "The house sound guy was two hours late," he explains. I murmur something sympathetic and follow him into the main part of the theatre to observe the load-in and pre-show sound checks. The seating is not typically theatre-style, I notice, but rather set up like a cabaret show. I'm grateful for a table to set myself up at, notebook open and pen poised, camera at the ready.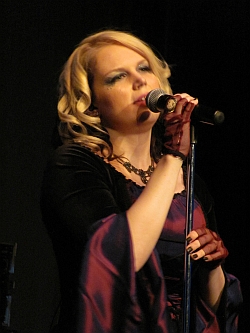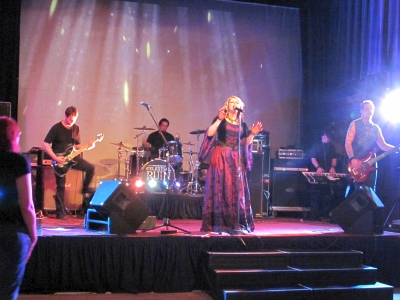 This is a big evening for Adam Todd and his band, Vancouver metallers Celestial Ruin. Dubbed Cirque Nocturna, the night will showcase three local acts, and Todd himself is the promoter and organizer. This evening is the culmination of a lot of hard work and effort on his part and the parts of those who support not only Celestial Ruin, but male-fronted hard rock band TheMightyOne, and female-fronted rockers The Harvest. Originally, symphonic metal diva Leah was on the bill, but disappointingly backed out a week before the show. The Harvest, a band Todd knows from the local jam scene, came in to fill her place.
Familiar only with Celestial Ruin, who came across my radar some months ago, I am naturally curious about the other two bands on the bill, and during what seems to me like a slightly rushed and chaotic set of sound checks, I get some previews of what is to come. When he has a few spare moments, Todd takes me back stage to the Columbia's green room to meet the members of his band. The boys all sit in comfy chairs, seemingly calm, cool, and collected, while lead singer Larissa Dawn does her hair. I ask them if anyone is nervous, and none of them are. "I don't get nervous," Todd tells me at one point, though I can tell from his body language that he is not impressed with how the sound checks are going. The doors are delayed, and anticipation is high. I get IDed.
Watching the bustle before me is fascinating, actually. I've never seen anything like this, showing up for concerts at door time only and not seeing how things are set up before people are let into the venue. I'm enjoying watching the musicians go through this process. It looks confusing and complicated; there are so many cords and pieces to the onstage puzzle that I wonder how anyone can keep it straight. But they do, and the magic is finally ready to begin.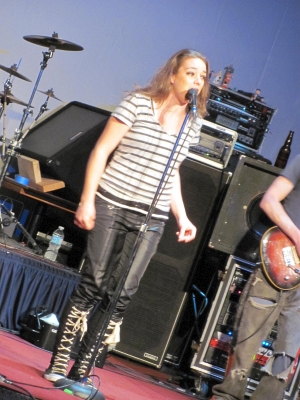 First up, The Harvest, a four-piece band fronted by young dynamo Shauna Meloche. I couldn't get much of a sense of their style during their sound check, although Shana did belt out a line during her mic check that nearly threw me out of my chair. Oh, what a treat I was in for, though. The Harvest blew me away! One reviewer said of them, "The Harvest takes you on a journey through a sea change of musical highs, exposing the audience to a cornucopia of styles and influences brought from the roots of each member." This is an excellent description. Their songs are unlike anything I've ever heard before, with laid back bluesy sections and fast, hard, and heavier choruses. The vocal lines are complex, and Shauna belts it like Janis Joplin. This young woman has a huge voice - she could put some metal sirens to shame, I think. Live, she kind of reminded me of Vancouver's Unleash the Archers' Brittney Slayes with her power and energy, but with a jazzy, funky edge. The Harvest would be a great foreshadow for what was to come; on stage they are a charismatic bunch to watch. I can see the energy exchange between the band members, while each of them finds his or her own groove and put their souls into their performances. I love watching Shauna bounce around on stage. I am a bit sad when their set comes to an end, because I want more! Vancouver peeps, if you have an opportunity to see The Harvest live, do it - you won't be disappointed!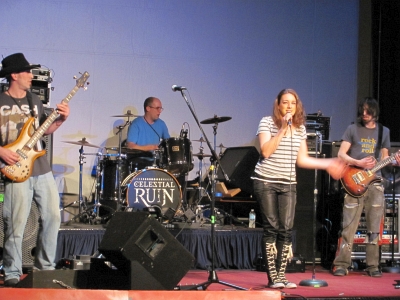 The Columbia's massive red curtain closes and the set up for the next band begins behind it. Before long, it's time for the stars of Cirque Nocturna to take the stage. Celestial Ruin has invested in lights, smoke machines, and created a backing video for their set, and this backing video provides an audio-visual introduction to the band before the first strains of "From Beneath You" start up. This song not only opens their set, but also opens their debut album, The Awakening. Larissa Dawn elegantly glides onto the stage clad in a gorgeous wine-coloured gown with flared sleeves and embroidered detailing down the skirt. She looks every bit the siren she is. She is obviously fully recovered from the throat surgery she had a few months ago and sounds and moves through the set flawlessly.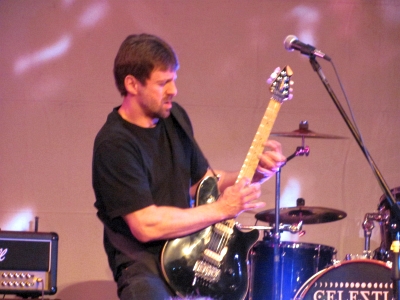 And speaking of the set, there are some surprises. The third song Larissa Dawn introduces by saying that you only typically sing it when you're drunk, so my mind starts wondering if it's a metalled up drinking song we're about to hear. The guitarist, bassist, and Todd all leave the stage during Larissa Dawn's preamble, and the lights turn to a dark blue. Keyboardist Nathan Loflin places his hands over his instruments and begins...a very familiar intro: of all things, it's a slowed down version of Europe's "The Final Countdown." I'm thinking, a ballad version of "The Final Countdown"? Seriously? But I wait it out, giving it a chance and trying to be open minded. And I am rewarded: after a few lines sung slowly and passionately, the rest of the band returns and bangs out the remainder of the song in true power metal style. It's great!
Apart from songs from their album, including some that the band doesn't usually perform live, like their ballad "Underground", which is eighth on the set list, there are a couple of other surprises in store for the audience. Towards the end of the set, they do a great metal version of The Cranberries' "Zombie" which really gets the crowd going. For their encore, they play another interesting pick, one that Larissa Dawn admits in her introduction of it "is so not Celestial Ruin". It's a cover of Guns & Roses' "Sweet Child of Mine." Again the crowd gets into, and Larissa Dawn moves down off the stage to mingle amongst the dancers as she sings.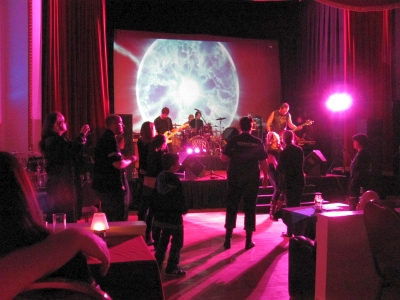 She is a born performer. She has moves, gestures, expression, and poise that, combined with her vocal performance, convey a heady passion and emotion for the music she sings. In fact, as with The Harvest, the vibrancy of Celestial Ruin's music comes alive through the charisma and individual personalities of each musician in the band. "We all just try to be ourselves," Todd tells me after the show, and I think that's what made seeing Celestial Ruin so special for me. Each member was so into their zone, so into their music that the dynamism created was very infectious. Bassist Mike Dagenais's performance was particularly compelling as he worked the crowd, and I particularly thought his bass was cool, bright red with what looked to me like glow in the dark strings. Adam Todd looked like he was flying behind his drum kit; he was definitely in his element. And man, let me tell you, Celestial Ruin made a wicked choice in guitarists for the night (their regular guy, Yakir Biton, recently left the band because he got a full scholarship the the Berkeley School of Music in California). Troy Toma was absolutely outstanding. His may be the best live guitar performance I have ever witnessed. Halfway through the set, he provided an interlude of intense shredding alone on stage that was one of the highlights of the night for me.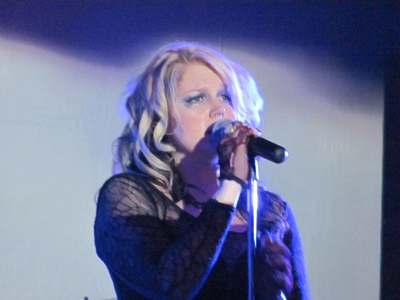 Time seems to fly during Celestial Ruin's set, and too soon it's over. The house lights come on and the set up begins for the final band of the night, Vancouver's hard rockers, TheMightyOne.
This is another local band previously unknown to me, and they describe themselves on their Facebook page as "hard hitting conscious rock." This looks like a group of guys who are hard hitters, especially their lead singer, Tim Stienruck, who has a ZZ-top-esque ginger beard and looks like he could kick your ass around the corner and back. Before the music starts he has his back to the audiences and he places some kind of device on his head. It seems like it might be something out of Star Trek. When he turns around to sing, lo and behold its the coolest pair of sunglasses I have ever seen. They go over the head and not behind the ears. It looks very steampunk-ish.
TheMightyOne's pounds out a fantastic set of thoughtful, soulful, powerful hard rock, and again the charisma of the band catches my eye. Stienruck is amazing, reinforcing to me - as has the whole evening, really - how delightful it is to see bands live. In fact, it's more than delightful, it's necessary to fully appreciate the talent and energy of a band. They play a selection from their latest album, Shift, and as the set comes to an end, once more, I am saddened to see the performance end.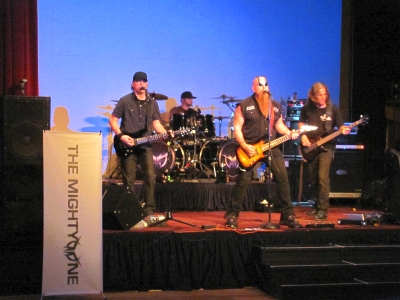 I have a fantastic night at The Columbia. With an enthusiastic crowd sharing their energy with the bands, it was hard not to enjoy. And I really appreciated how this evening opened my eyes to new bands and new sounds, music I would not have come across had I not attended the event. The Harvest was to die for, Celestial Ruin was epic, and TheMightyOne banged out some heavy, headbang-inducing tunes. The diversity of the bill had a wide appeal; it wasn't all metal, and I appreciated that about Adam Todd's decisions to include who he did in the evening. Cirque Nocturna was a fun, engaging evening filled with great surprises, and on a personal level, new connections that I shall cherish.
On my way out, I ask Todd if he's happy with how things went, and he replied that he was, despite the earlier issues. I am glad to hear it. He has a lot to be proud of, and I hope his promotional company, Shows By Ruinent, puts on more stellar events like this one. I, for one, have been inspired, and will definitely be checking out these and other bands when they perform again on the Vancouver scene.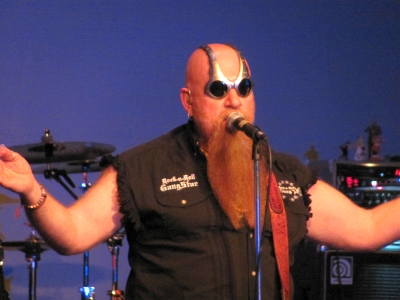 Link Love
The Harvest:
on Facebook
on the web
on iTunes
on CDBaby
on Bandcamp
Celestial Ruin:
on Facebook
on the web
on CDBaby
on iTunes