Kells Live in France at the ACDM Fest
April 21, 2013
Kells is one of two French metal bands that I knew before arriving in France last year (the other being Markize). I have since discovered lots more great bands, but these two were on my list to see, so I was happy to get the chance to catch Kells, who come from Lyon and play Paris less often than Markize does. (I've already seen Markize twice, with another concert soon.)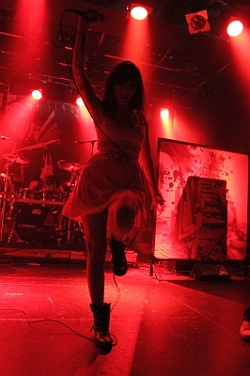 My chance to see Kells came with the ACDM Festival in Evreux, a small town about an hour from Paris, in Normandy. ACDM stands for Au Coeur Du Métal ("At the Heart of Metal"), and this year was the tenth in Evreux. The lineup included seven French bands: Kells, Primal Age, Lost Opera, The Nation's Breakdown, The Dali Thundering Concept, Debunk, and Artamen Burn.The large number of bands (and some delays) meant that Kells did not take the stage until about 11 p.m. But they were ready to rock. Neither the late hour nor their 10-hour drive from Lyon slowed them down one bit.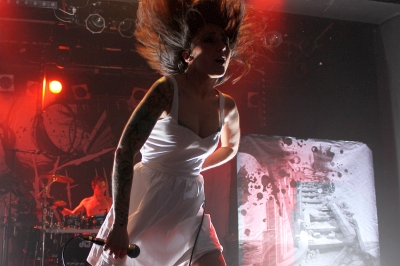 Vocalist Virginie Goncalves displays an incredible amount of passion on stage, both in her vocal performance and her movements. She doesn't headbang; she bodybangs. And she jumps and spins and sings and screams. She is like a woman possessed on stage. It's great fun to watch!(And since she uses a corded microphone, I don't know how she avoids getting tangled when she spins, but she does.) The rest of the bandprovides the driving beat for her performance, with relentless drums and bass, furious guitar, and strobing lights. Yet Kells also knows how to intersperse moments of quiet and rest to make their assault all the more visceral when it hits. And Virginie knows how to sing beautifully, luring you in before she lets loose with another searing scream.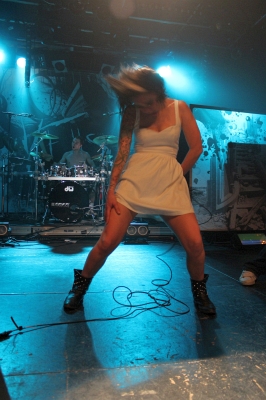 I especially enjoyed hearing "Se taire," the lead single from Kells' current album, Anachromie. To say that it is energetic is redundant, but it is, as witnessed by the music video for the song (and its English version, called "Furytale"). I also enjoyed hearing "La Sphère," a single from Kells' previous album, Lueurs. The music video for that song is what first made me a Kells fan; it captures the passion and intensity of the band very well indeed. I missed "La Sphère" being a duet at ACDM (as it is in the original, with ex-Eths vocalist Candice Clot), but I really only missed the drama of two vocalists singing/growling/screaming at each other. Virginie handled all the parts with aplomb. I also enjoyed "L'heure que le temps va figer," which gave me a bit more of a chance to hear Virginie's quiet, melodic voice. For the same reason, I would have liked to have heard the ballad, "Le Ciel."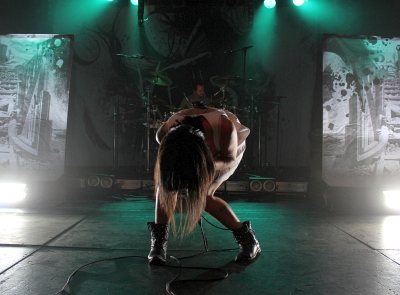 I also enjoyed meeting Virginie, who was happy to chat with fans, sign merch, and take pictures long after Kells' set ended around midnight. She is friendly and clever and speaks perfect English. It was also a pleasure to meet Sarah Liodenot, the vocalist of another female-fronted metal band from Lyon called Evenpath. At ACDM, she was working merch and taking photos for Kells, but I was happy to learn more about her band as well.
For new listeners, I'm not exactly sure how to classify Kells. They call themselves "modern metal" on Facebook, but that isn't very descriptive. Wikipedia labels them "symphonic nu metal," but despite some keys and orchestration,I would not call them symphonic. Yet their category doesn't really matter: they are fast, dynamic, sometimes melodic, and often fierce. I think perhaps the closest point of reference for U.S. readers might be In This Moment. As is apparent from the song titles, most of Kells songs are in French, but that shouldn't put off English speakers; you can feel the passion in Virginie's voice without even knowing what she's saying.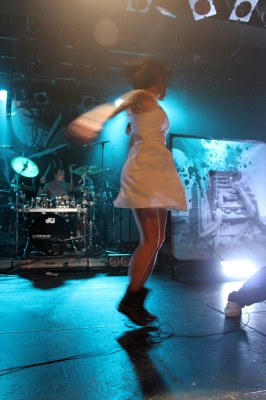 All of the other bands at ACDM were male-fronted, so they are outside the scope of this 'zine, but I still want to mention Lost Opera, who I think is a near neighbor to many popular female-fronted metal bands. Singer Loic Conti uses lots of different voices -- low growls, high growls, clean tenors, and even falsetto screams -- backed up by the band's driving rhythms and progressive/melodic guitar and keys. I bought their CD, Alchemy of Quintessence, and have really enjoyed it, just as I enjoyed their live set. Fans of bands like Epica probably would probably enjoy Lost Opera too.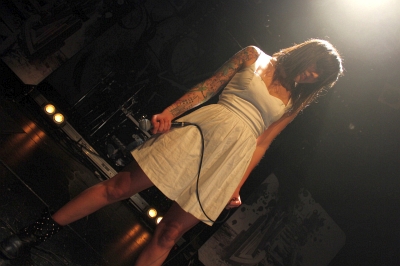 Setlist:
Bleu
Se taire
Illusion d'une aire
L'heure que le temps va figer
Le manège déchanté
Drum solo
L'autre rive
Nuances
L'écho
L'asphalte
Emmurés
La Sphère
Lueurs