Interview performed on September 25, 2012 (via Skype)


One of the absolutely best things about lurking around the shadowy fringes of the metal scene is getting to watch fledgling bands grow up, spread their wings, and take to the skies. The Florida power metal quintet, Seven Kingdoms, has recently released their third album (their second as a female-fronted band), The Fire Is Mine, and all I can say is "WOW!" The distracting growls are nowhere to be seen, replaced by tighter songwriting and dual-guitar riffing executed with laser precision. The vocal work by Sabrina Valentine are warmer, more elastic, and have a new level of confidence … doubtless the result of having been thoroughly road-tested during Seven Kingdom's 25-city tour with Blind Guardian.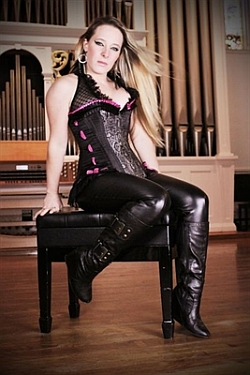 Sonic Cathedral's Robin Stryker caught up to vocalist Sabrina Valentine and guitarist Camden Cruise on the heels of a weekend getaway to celebrate their five-year anniversary (as a couple, not as a band). Dive in to find out what they said about trials by fire, pimping blood, the story behind The Fire Is Mine, and much more!
Robin: First off, happy fifth anniversary to the two of you! What did you do to celebrate?
Sabrina: We just went to Orlando, which is close enough but far enough away. It was a weekend full of food …
Camden: She ate EVERYTHING. (all laugh)
Sabrina: Yeah, I think that is our favorite thing. If we could ever choose to go on a food vacation, that would be something we would definitely look into! But we did enjoy a hotel with a huge balcony and Wet 'N Wild [water park] … with the Florida residents' discount, it was only $25 for all day. So that was pretty snazzy! And then we had dinner at Mama Della's, which is a really awesome Italian restaurant that has a quartet of singers and instruments coming around to everybody's table, serenading you as you're sitting there stuffing your face … in awe. I actually recorded some of it on my camera, so hopefully the audio came out.
Then we went to Kobe's Japanese Steakhouse, and it was sooooo good. We were actually there with a couple from England, and it was their anniversary as well, so they brought us out our snazzy little hats and cupcakes too. So it was really fun and relaxing, and we really needed it!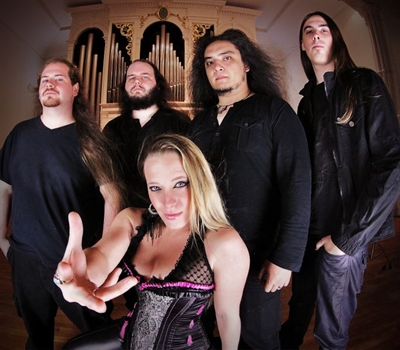 Robin: That sounds like a lovely way to celebrate! You guys are not quite two weeks away from releasing the third Seven Kingdoms album (the second with Sabrina on vocals), The Fire Is Mine. What do you have planned for your CD release gig?
Camden: Ha! (laughs) That is an undertaking, man. I'm booking an incredibly miniature (by German standards) open-air for our CD release party …
Sabrina: In our hometown!
Camden: Yeah, in our hometown [of Deland, Florida]. I mean, I grew up here all my life. It's a smaller town, but there are still a ton of people here. It's minutes away from Orlando and Daytona -- all of Central Florida, really -- but I know a bunch of people at the city, and we're doing an outdoor concert. I have 14 other bands coming in … we're a whole 12-hour fest.
It's actually the same day that the Deland Fall Festival of the Arts takes up the main street, so they'll have another 11,000 people there just for that. Not necessarily people who like metal, but we play at the end of the night, so it's gonna be good! We've already over 500 people who've RSVP'd on the FB event page so far, so it will be a great, big local show. We are playing the entire record start to finish.
Robin: Those who were at the Kamelot show in Florida in September got to hear at least some of the tracks from The Fire Is Mine. Which tracks did you play out live during the Kamelot set.
Camden: Hmmm, what was the set? It was "Flame Of Olympus," "Symphony Of Stars" and then "After The Fall."
Sabrina: We actually played more of the new ones when we played with Jon Oliva.
Camden: Yeah, we played "The King In The North," when we played at the Oliva show, and "The Fire Is Mine."
Robin: One of the things that will be immediately apparent to folks who have listened to Seven Kingdom's previous self-titled album, is the absence of grunting and growling on the new album. What was the thinking behind that?
Camden: Personally, I've kind of grown away from that … if we're a power metal band, we don't want to do that. We are going to the roots of power metal that people haven't really recorded. If you think about it, it really has been 20 years since that's happened, which is basically us not being born. (laughs)
Sabrina: And also, it's so prominent for there to be a clean vocal and then a harsh vocal in a band. It's so overdone now, too.
Camden: You know the stereotype of a band with a female singer -- they kind of fall into a stereotype like an Epica or a Nightwish. But we almost don't want to have a screamer because it would make us sound just like Epica, because Epica is doing a lot of the harsh vocal stuff now, which is cool. We really want to do a very traditional, new age, polished power metal record. And I think that's really where all our hearts lay, so this is probably our sound right now, I would say. From here on, it should be just little different variations of this, and obviously trying to become bigger and better with it at the same time.

Robin: If I understand correctly, The Fire Is Mine is Seven Kingdom's second time creating an album with this particular group of people writing the music and lyrics. When you wrote the album, what lessons did you take from writing Seven Kingdoms or playing live?
Camden: That damn tour with Blind Guardian does amazing things for bands! (all laugh) Really. Honestly. Basically, getting our asses handed to us in a couple of reviews. Our first show at the Trocadero [in Philadelphia], we had idea what more than 300 people looked like standing in front of us. Going through that and getting nailed to a cross the first two shows, makes or breaks a band. We learned REAL quick what we needed to do to make something happen. (laughs)
Then, you know, we have great guidance from management, and we have a community of people that we talk to. We keep our eyes open, and every time we hear a band that we like, we take notes and learn what to do and what not to do. It's just growing and getting older and hopefully better at what we do.
Sabrina: Also, when we're in the studio, it is the running joke that Jim Morris is our deity … he's our god. But literally, when you listen to someone who works in the music industry and knows what works, you can take his advice or not. But nine times out of ten, you can either do it your way, or hear what Jim Morris is telling you to do, which is from ears that aren't constantly submerged in metal. So, when he hears something, not only for metal but for EVERYTHING, it's a smart thing to do.
Camden: It's cool too, because he's not one of those producers who goes in there, and is like: "Oh, well, you gotta do this, and this is how records are sold." He'll actually listen to the music, and he'll create with you. He is a musician, so it's another musical ear.
Sabrina: Really, he is the seventh of the Seventh Kingdom.
Camden: He really is! I mean, even Iced Earth says that. He really does tremendous things for bands.
Robin: How hard is it to step back and be objective, when someone says: "Eh, this isn't really working for me"?
Camden: You're always going to have people with opinions. But even still, the whole thing comes down to how much time and how much money we have. This strapped us pretty much. This is all we can do and as much as we can do possible. If I had another $11,000 … I'll listen to the album now, and I'll catch a couple of little vocal harmonies that would have made my mind go over the edge. You know what I mean? And just little guitar things here and there, that maybe I could have had the time sitting with Jim to create, because he is really good about pushing Kevin and I.
That is one thing that we actually didn't get to do on this record. This is bare-boned Camden and Kevin lead guitars. But it probably could have been better if we had Jim staring at us the entire time. (laughs) But it's pretty good!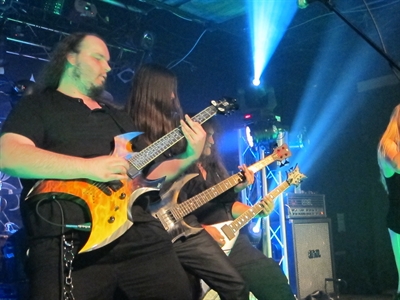 Robin: You mentioned being a cash-strapped band. What is the wackiest thing any member has done to scuffle together money to pursue their musical passion?
Camden: I'm not sure whether this is a normal thing for a band to do, but Keith donates his plasma …
Sabrina: (laughs) To raise money for shows and to tour!
Camden: It is like, every time he gets blood sucked out of his arm, it is $30. He does that so he can put his other cash towards the next thing. (laughs) Because he is in between jobs, Keith actually picked up a paper route, and it was the WORST job possible … just the most ridiculous things you have to do is some stupid paper route. Him and his brother [Kevin] were doing it from 1:00 AM to 7:00 in the morning every day. (laughs) Keith did that actually for I think it was two weeks to help pay his way to ProgPower. Yeah, I don't know how people go: "Oh, I don't have any money to go to ProgPower." It's like: "Go get a paper route!"
Sabrina: Also, his girlfriend Brittany is selling the self-defense Brutus [keychain] things for women. She's trying to sell those to get him to have extra money so that, when we have tours or ProgPower or just shows in general where we all have to give our little piece …
Camden: It's a business …
Sabrina: Any ounce of money we have is not our money. It immediately goes into the band because I guess you pay to play. We are hoping that one day all this paying and paying and paying will start to pay us. (laughs)
Camden: Or at least pay for itself. I always tell everybody that I'd be happy if the band at least paid for itself, so I could actually use my decently paying job to live off of. (laughs)
Robin: Okay, if Keith ever says that he has given his blood for Seven Kingdoms, he means that literally; right?
Camden: Yeah, and he tries to recruit as many people as possible, because then he gets a cut.
Sabrina: He has become the BLOOD PIMP! (laughs)
Robin: (laughs) ProgPower was a couple weeks ago. I would love to hear what it was like to see your very first official music video, "After The Fall," debut on a the big screen to a packed house?
Camden: It was pretty cool! I was more concerned with trying to watch the expressions on people's faces, rather than watching the video, so it seemed like the song happened twice as fast. I looked up, and was like: "Oh my god, we're at the bridge already!" I was just trying to look into the darkness, and make out people's faces. But there were a bunch of people who saw it, and it was definitely cool. Glenn [the festival organizer] gave us a really, really good opportunity to showcase it, and I hope people enjoy it! It seems like they do.
Sabrina: I had Camden's mom … we call her Mama D, but her name is Darlene … I had her on Skype so she could be there. Via Skype, she was there in the moment! She said that her favorite thing (just listening through Skype) was to hear people -- either directly behind me or over to the right -- start a "hey" chant. Even though we weren't on stage actually performing, in the spirit of ProgPower, when they have the chance to do the "hey hey hey hey" chant, people just jump right on it!
Camden: I was happy that people were in the bleachers doing what I think they would do live, without us even instigating it. So that was kind of cool!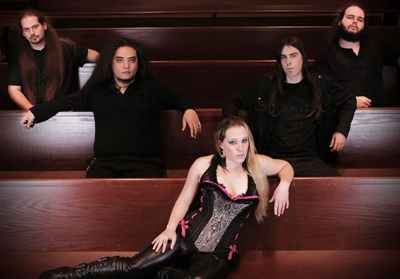 Robin: That is veeeery cool! Getting back to the album itself, who is the guest male vocalist on the ballad, "Kardia"?
Sabrina: That would be Matt Smith from Theocracy! He is a very close friend. We actually are very big fans of the band, and we've had a couple of chances to perform together on the same stage. He has also done Wade Black's part live on the original "Seven Kingdoms" song, so he's been used to helping us. (laughs)
Robin: "Seven Kingdoms," the final track on your self-titled album, tells a story. Does that story continue in The Fire Is Mine?
Camden: No, that was just some fancy lore. This new record … Bryan [our former vocalist] actually stepped back in and helped us with the lyrics on three of the songs, which are the [George R.R.] Martin inspired ones. It's cool because in a sense Kevin, who writes the lyrics on several of the records, has finished the [A Song of Fire and Ice] book series. So it will be great to have two of those minds together on the next one. That's just obviously a cool thing for us -- the Martin stuff -- because we love the whole series. The Fire Is Mine really doesn't have anything to do with anything off the self-titled, really.
Robin: Which are the tracks that are inspired by the Martin series?
Camden: I guess technically you could say the intro and also "After The Fall," "The Fire Is Mine," "A Debt Paid In Steel," and "The King In The North."
Robin: With Game of Thrones being an HBO series that people are crazy about, even if they hadn't read the Martin books, are you finding that more people "get" your music?
Camden: I wouldn't necessarily say that the series is boosting our fan base per se. You know the old myth … well, it's not really a myth … that power metal is kind of nerdy? Well, with the HBO series and it being so popular, Game of Thrones is basically medieval stuff that Blind Guardian would do, but it's not nerdy now because it's in mainstream America. So I can go up to any of my friends, and they'll know what Game of Thrones is, like: "Yeah man, that's AWESOME." You know what I mean? So it's definitely helped bleed into the mainstream and given a least a little common ground to talk to people.
Sabrina: And it's funny because some people will hear the name Seven Kingdoms and be like: "Oh that's a really good name!" And then you start talking about the Game of Throne series, and then they have one of those duh moments: "Oh my god, your name is Seven Kingdoms like the show that I watch and am in love with!" The lightbulb goes off. (laughs)
Robin: Sabrina, are you a fan of Game of Thrones too?
Sabrina: I am! It's actually Bryan's fault that I got into it. I started reading the first book, and we started really liking it. But then I didn't get to read for a while. Valinda bought Camden the first season of the TV show for his birthday, so we sat down and did a Game of Thrones marathon! We watched as many shows as we could … they leave cliff-hanger and cliff-hanger, so we ended up watching four episodes. By that time it was 3:00 [in the morning], and we had to get up at 10:01, so we had to go to bed. But we ended up just plowing through that series. Me and Camden still watch it, and we're waiting for the new season to come out so we can buy it.
I'm actually going to the library and getting the books myself to read through because, all the stuff on this coming up album has to do with the first book, so I want to make sure that I'm schooled through the rest of it. It would be kind of silly to sing about something that you have no idea of what it is. You've got to read up on it. It's always nice to see how they capture what was in the book into the TV series. Then also, from another perspective, is what we take from the book and make into music. I hope one day it will all tie in together.

Robin: If you were going to pick a song from The Fire Is Mine to be on a soundtrack, which would you choose and what do you think it would make a fantastic soundtrack for?
Sabrina: Well, I think the last song, "The King In The North," would definitely be awesome if it ever became part of the series, because it's a pretty good song. It could be used throughout the entire series, if they broke it up right. We also have a couple of songs dedicated to some big video games that people love, so they could always use quite a bit of the songs. I don't know. They're all so good, that it's quite a hard question to answer. (laughs) But I think definitely "The King In The North" is something that I could say (right off the top of my head) could be used, especially for the series.
Camden: "The King In The North," really. It's the most dynamic. Obviously for soundtracks, they use pieces of it and that kind of thing, and that's probably the most dynamic song we've ever done. That was the first song we mixed on the record. I remember that was the first song we heard together after the Morrisound mix, so we were kind of in awe. Nothing sounds like what it sounds like on a pair of Genelec monitors, because they are like $3000 monitors a piece. But that was an awesome little story and song that we did, and I would like to see that one.
Robin: For each of you, which is the most insanely challenging song for you to play live?
Camden: Oh my god, uhm, we haven't played "Fragile Minds Collapse" yet, but that WHOLE solo section is basically Kevin and I shredding against each other. It's all in harmony, and you can hear the moment someone misses a note. (laughs) So that's probably the most challenging for Kevin and I right now … to really nail all those harmonies. That's a tough song!
Sabrina: For me, it would probably be "Symphony Of Stars" because I start from the very lowest part of my register and go up to my very highest. It's one thing to sing it perfectly fine in a calm environment. But when you're in a show, there is so much adrenaline running that you're having to control your breathing. For me, when I get nervous, sometimes it messes with my voice, so having to go from the bottom to the top and having to deal with all the adrenaline and all the emotions that are going on, I would say "Symphony Of Stars" is the hardest for me to keep it together.
Camden: You know, it's going to be interesting too, if we ever get back on an extensive tour to see what this new material becomes, just considering what our old material was, and what it became towards the end of the tour. We always say that we hate doing one-offs because we never play like if we were on the road for about a week. Once you're on the road and you're about three or four days in, you start SLINGING it.
Sabrina: Yeah, you find your niche, and you start just nailing it and finding a freedom within it. For me, when we were on tour …
Camden: Once you hit the blur state …
Sabrina: Yeah, but it becomes fun after you're finally confident in it, so I think any of our songs could blow anybody away. Tour is what makes you or breaks you.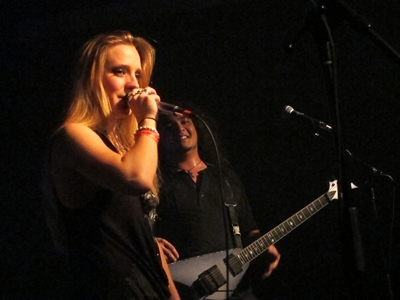 Robin: What would you guys really love to see coming down the road for Seven Kingdoms?
Sabrina: For us to be successful. We want to do the tours; we want to go places … to go to Europe and play in front of those people; we just want to do what successful bands do.
Camden: I mean, it sounds cheesy, but I want for people to say that we brought power metal back. (all laugh)
Robin: Camden and Sabrina, what final words to you have for your fans?
Sabrina: Thank you for every ounce of money that you donated to us when we were in the studio. Thank you for standing by us through the obviously huge changes from the first album until now! Thank you for just being amazing people and for being close friends -- like Joe Foster, fan and friend and will defend us until his dying breath. It's nice to know that we can also talk to our fans like regular people, because that's what we are. We are just a bunch of ordinary people, who are trying to make our dreams come true.
Camden: Pretty much what she said! (laughs)
Robin: Sabrina and Camden, thank you for carving time out tonight to chat with Sonic Cathedral! We will look forward to hopefully catching Seven Kingdoms live on tour.

Seven Kingdoms official site
Seven Kingdoms on Facebook
Seven Kingdoms on ReverbNation