Epica Interview 2012 at The Trocadero
Philadelphia 10/24/12

It seems far too surreal to have had the opportunity to interview Simone Simons at the Trocadero in Philadelphia last week. Epica was one of the second symphonic metal bands that I got into sometime after Within Temptation. Epica's music has always impressed me with their intricate compositions, poetic lyrics, and strong vocals. I originally came into this interview, feeling very apprehensive about everything. Fortunately, Simone Simons was a great person to do my first interview with, and she offered some very interesting insights into the elements of Epica's music and also the band's musical growth within their newest album, Requiem for the Indifferent. They are currently touring in North America, and Epica has never sounded better!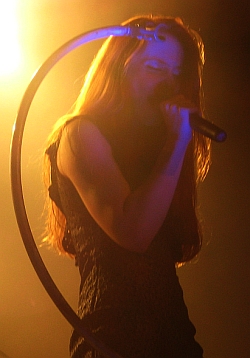 Justin: How does it feel to be in Philly again?
Simone: Yesterday, we had the day off, and we went sightseeing. We went to some museums, and we visited the Rocky statue.
Justin: Oh, that Rocky statue in front of the Art Museum?
Simone: Yeah.
Justin: It is iconic.
Simone: It is indeed iconic. We took some photos and went to the Whole Foods store, just sniffed up some Philly air. Yeah, today's show. We're really excited, I love this theater! It's always amazing.
Justin: I like this theater because it has that classic feeling.
Simone: Yes, exactly.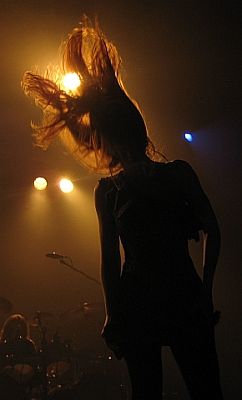 Justin: I think it was a movie theater that was then renovated into a venue that features some pretty awesome metal shows.
Simone: Yes, It has a real flair, and it's not like a shoebox. You know? It really has some nice ambiance.
Justin: I've read many interviews where you've mentioned that you were inspired by many films, and some of the songs you've written lyrics for like "Burn to a Cinder" was based off the film: "Interview with the Vampire." I'm a huge Anne Rice fan, so I was heartened to see that.
Simone: Yeah, cool!
Justin: Was there just something about the epic quality of some films that really inspires you to maybe write songs based off them?
Simone: I'm first a musician, but am a really big movie freak. So, I do get a lot of inspiration from movies, and the Epica music as well as a great deal of film scores. We love Hans Zimmer, Danny Elfman, and they're definitely an influence on our music style. I didn't read the books of Anne Rice, but my boyfriend has, and he has them at home. But, that movie has been an all-time favorite of mine.
Justin: It's definitely more philosophical than most vampire movies.
Simone: It is.
Justin: You get into the mind of the vampire.
Simone: I'm not a fan of… What do you call them...the huge hype now with that vampire…
Justin: Oh those...
Simone: Twilight! That's not my...
Justin: Those aren't vampires. Now, speaking about your album "Requiem for the Indifferent," there's a song called "Serenade..."
Simone: Yes, For Self Destruction.
Justin: Now, that song's based off Shogun, correct?
Simone: No, It's not based on a movie at all. The topic of that song is suicide, seen through different perspectives like the types of suicides in the Islamic culture, the suicide attacks. Then, you have the suicide seen through the samurai committing seppuku, suicide which is for saving your honor. And that part, the Japanese part... that is what is from Shogun.
Justin: Okay, I had seen that in an interview.
Simone: Yes, that's right! When I saw that movie, I went "Hey!".... It's kind of... not cool or so, but it is an interesting way of seeing way of seeing it. Now, there's the third perspective, the individual suicide, which is tragic. So, yes... that's what the song is about.
Justin: Well, I absolutely love the song, its brilliant.
Simone: We actually wanted to play it tonight, but we are not allowed to play very long, so we might as well skip it.
Justin: Yes, it's nearly seven minutes long.
Simone: We love long songs!
Justin: I love long songs. I'm thinking of the "The Promise" by Within Temptation, and that's a nice epic, long song.
Simone: Thank you.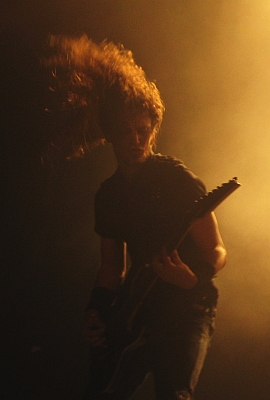 Justin: Within the album itself, you stretch yourself vocally. How did it feel to try to sing in different ranges that maybe you weren't quite used to?
Simone: I do like to challenge myself, so that others won't fall asleep while listening to our music. I come from a more classical background, but I felt that every song doesn't need to have classical singing. Some songs just need a different vocal approach, so this record was a good opportunity to drive that out a little bit and try something new, a little more aggressive.
Justin: There's definitely a touch of aggression within some of the pieces on the album. I like that! Sometimes, you get only innocent-sounding female vocals. But it's a metal piece, Come on! You definitely had a Maria Brink moment (the vocalist from "In This Moment") Now, within many of the albums, you have a lot of social/political commentary. I don't know if it's one or two on this album songs that offer commentary on the Arab Spring situation. How does a song that relates to such a relevant political issue fit into the larger scheme of the album?
Simone: We have been influenced by the Arabic culture politics music-wise because a lot of our songs do have an Arabian touch to them. Mark has been very much interested in what's been going on over there. Everyone who has been watching the news can see what's happening. Through the medium of our music, we can send out the news of what's been happening in the world and make people think about it. It's a source of expressing our opinions, not too much of course because we want people to think about these issues and form their own opinion. We do like to lay it on the table though. It has already been part of our music since Day 1; "Façade of Reality" is also about the attack on the twin towers. Those have been reoccurring topics in our music.
Justin: I actually really like that because it helps peoples understand that metal-music is not a dumbed down genre of music.
Simone: No, our lyrics are just as important.
Justin: You know how some people say "Oh, rap music is just dumb music!" But, rap music has historically contained a lot of social and political commentary much like your own music. I really love the element of your music very much.
Simone: Great, You like to use your brain!
Justin: I actually read the lyric book and studied it.
Simone: Wow, cool! So, your cd booklets all look a little bit torn apart?
Justin: Yes.
Simone: I can always recognize at signing sessions when people give their booklets, and I say "You've read the lyrics!" The booklets are just falling apart.
Justin: Some of the best novels that I have scattered in my room are dog-eared; those are my most beloved books! Years ago, you were involved in this awesome metal musical project called Xystus? Essentially, you played "God" in that that.
Simone: Yes, I played Lady Sophia, the one creating the world using music. That's like already five years ago already. It was a short project with a DVD, a live CD, and five shows. It was a nice experience, but not something I want to do for the rest of my life. But, it was really cool to do that, and explore different sides.
Justin: Also, during your tour earlier this year, you had the awesome Floor Jansen featured in one of your songs. It was Sancta Terra, correct?
Simone: Yes, we've done some tours with Revamp and we've invited her several times to come on stage with us.
Justin: Do you think you'd ever have her appear again, perhaps in a future album?
Simone: I don't know. I say let's keep all options open.
Justin: I say, it's a really good idea. Maybe one day, we'll see her singing along with you. Your voices fuse together so well!
Simone: Thank you!
Justin: I just have one last question, and this comes from a friend of mine. She reads your blog...
Simone: S'Moon Style.
Justin: Yes, and on there, you share what make-up you use and how people can use it themselves. What are your favorite types of make-up to use in general?
Simone: Oh, that's a good question! I like to use Kryolan, MAC Cosmetics, Laura Mercier, Revlon, and Nior. I like a lot; I'm pretty much a makeup and beauty junkie. When I'm in the states, I tend to go crazy and spend a lot of money here.
Justin: There are a lot of good stores in Philly that have a lot of that kind of stuff.
Simone: I was at Macys yesterday and the MAC store as well, I got my fix.
Justin: Would you ever end up doing a career in fashion or cosmetology? I know Sharon, of Within Temptation, went to school for that.
Simone: I am also working in the makeup industry, and it's like a second job for me. I've always loved it, and it's a part of my main job with Epica as well. So, I have many years of practicing, teaching myself, and it's a side of my job which I love a lot.
Justin: I hope you have a really good concert! This is almost too amazing that this was my first interview that I've done for my online magazine.
Simone: Thank you! Enjoy the show tonight!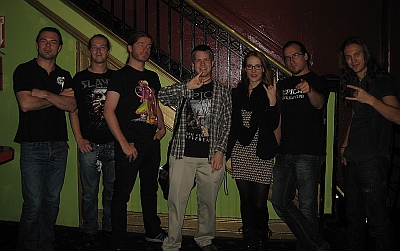 Thanks again to Epica, their tour manager Rory, and Nuclear Blast Records for arranging this wonderful interview opportunity, and of course giving me a chance to take some kick-ass photos of their awesome set!!