Dimlight Interview
September 2, 2012 (via Skype)
The Greek gothic metal band, Dimlight, caught our eye with their video for "RID," which is a combination music video and mini-horror movie. (We have it on good authority that, despite his serial-killer vibe in the video, Invoker is actually a prince of a fella.) After being a strong contender in the Greek metal scene, Dimlight band is ready to break out worldwide with their follow-up release, Psychosynthesis. Contrary to the all-too-frequent sophomore slump, the band returns with a tighter, more focused album than their debut, Obtenebration. Good stuff!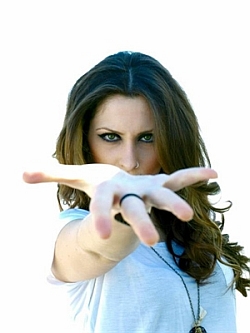 Sonic Cathedral's Robin Stryker sat down with vocalist, Sanna Salou, to talk about all things Dimlight. Dive in for Sanna's take on Psychosynthesis, the Greek invasion of Metal Female Voices Fest, Spartan hearts, and much more!


Robin: Sonic Cathedral is so happy to welcome Sanna Salou from the Greek metal band, Dimlight, who is here to talk about their upcoming release, Psychosynthesis. Hi Sanna, would you begin by introducing folks to your band?
Sanna: Hello, and thanks for having me! It's nice to have an opportunity to talk about our work. So, the band consists of Peter (a/k/a Invoker) who plays the guitar and is doing vocals; second guitar is Nick; Peter on drums; and me on vocals.
Robin: If I understand correctly, Sanna, you began your formal music training rather late, at the age of 20. Which came first: joining Dimlight or beginning musical training?
Sanna: I first joined Dimlight. I didn't start studying music and vocals right away. I was more searching for what was best for me to start working on my voice, because that was the main issue when it was about the band. The songs were really a level more high than I was, because I was totally an amateur singer. So, I had to really work to be able to sing that stuff without hurting myself and to sing with ease … you know, to not push myself.
So I started around the age of 20 to 21 with some vocal lessons from time to time with a teacher, but after some time thinking about it, I decided to focus more on classical singing because it teaches you more than just singing. It teaches you A LOT about the whole thing about being a musician. Not just being a singer and understanding your instrument, it gives you more than that. It gives you a more complete idea of how to be a musician and understand the music on all levels. So I was kind of late a little bit, but that's okay.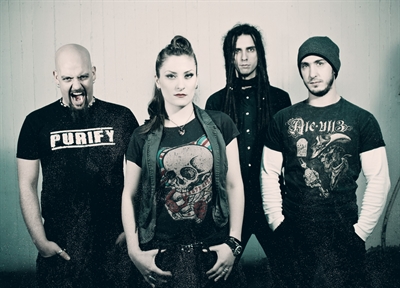 Robin: In your mind, how does Psychosynthesis compare to Dimlight's 2009 release, Obtenebration?
Sanna: I don't know how the people will react to it. There is a big dilemma between us in the band because we really don't know how the people will take it, and if they will understand, or will they like it, or will they reject it because maybe it has changed too much. But for us, it felt like more of a natural improvement because, on personal levels, everyone got better in their instruments and knowledge concerning music. I think it's a step forward concerning our compositions, and we sound more complete, more mature, a lot more aggressive, and darker. I wouldn't say badder … like bad-asses … but I would say more dark than the previous one.
In simple words, we've grown, and we've actually already started working on some things for the third album. I would dare to say that they sound more improved also, compared to the second album. So we'll see how it goes. We really can't wait to play the new album at the MFVF and see how people will react to it! For sure, we are very proud of what we have done, and we have so much energy and will to do a lot more things.
Robin: What is the significance of the title, Psychosynthesis?
Sanna: If someone reads the lyrics, I think they will be able to see themselves somewhere in there, and find similarities in their own personal experiences. It's talking about troubles that a person is having, and thoughts and feelings concerning everyday life or issues of life and death. From the simplest things to the most complex things, I think they can find a way to relate to them. That's why we named it Psychosynthesis, because it's talking about the mentality and how the mind and feelings that it creates can affect you physically. The basic principal of Psychosynthesis is the elimination of the conflicts and obstacles, conscious and unconscious, that block the complete and harmonious development of the human personality,
Robin: Do any of the Dimlight members study or have an interest in psychology?
Sanna: No no, nothing. Actually, "psychosynthesis" comes from a Greek word that is very, very similar. It describes the relation between the mind and body and the psyche, and how they are related and affect each other ... the mind and the heart, I would say, the logic and the emotion.
Robin: Dimlight had toured in Greece in March of this year. Did you have a chance to road-test some of the songs from Psychosynthesis?
Sanna: Yes! It was actually the Psychosynthesis tour, which was an opportunity for us to test the album live. When you listen to songs from the CD, it is very different than when you are listening to them at a live show on stage. When you're on stage playing them or off stage watching (like a viewer), it's totally different. I will say that the people took it nicely. They were surprised to hear from us a more aggressive sound.
So far, we had good response, but Greece is just one country, We are looking for the MFVF show to understand better, cause there will be people from all over Europe!
Robin: Do you have any collaborations or musical guests on Psychosynthesis? It does seem that Greece has a tight-knit metal community, both in the female-fronted and male-fronted scenes.
Sanna: True, we do have quite a few collaborations on the new album, of which we are very, very proud to have them on the album and to contribute with their own distinctive styles. We can't wait until the day to announce those collaborations. We are very proud and lucky to have them on the album. (laughs) You'll just have to stay tuned for the news!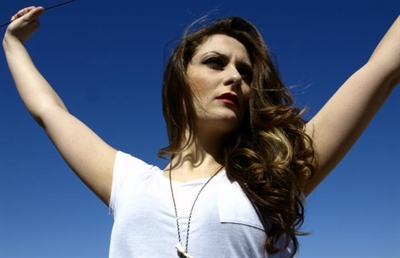 Robin: (laughs) Ah, secrets! If this is not too intrusive a question … it seems like the album was finished at the end of 2011 or beginning of 2012, and Dimlight did a tour for the album. Why is the release date in October?
Sanna: We finished mixing, mastering, editing and all the processes the album needed to go through, and started communicating with some labels to find the best deal for us. We actually had many propositions from very good labels, but we didn't find the right kind of deal that we need and want from a label. At least not right now, because it's a two-way relationship, and you need to participate as much as they need to participate in this kind of deal.
So we did try to do some promotion, like touring in Greece. At the same time, we wanted to take advantage of the time to talk and communicate with all those labels. We didn't find anything intriguing so far, but it's never too late. But we are still keeping our plans of releasing it on the 20th of October, and we felt that date was the BEST date to do it. We wanted to combine it with the highlight of our career. So it's a nice combination, and will be a nice memory for us and the family of Dimlight.
Robin: For those who may not know what the significance of October 21, 2012 is, would you clue them in?
Sanna: Well, we're playing at the Metal Female Voices Fest at the 10th anniversary, and we're going to share the stage with amazing bands like Lacuna Coil, Arch Enemy, Delain, Xandria, and so many others! We are so EXCITED and just can't wait to share the same stage. Metal Female Voices Fest is a huge experience for us as a band, but it's going to be two things for us. I just can't wait! It's a HUGE honor, and it's a great gift for the Dimlight gang because we worked our asses off the last six years.
Robin: This year is practically a Greek invasion at Metal Female Voices Fest! Last year, Bare Infinity may have been the first all-Greek band to play the festival, but this year, there is Dimlight, Meden Agan, Seduce The Heaven and your honorary Greek sister Karolina from Skeptical Minds.
Sanna: (laughs) She's almost Greek! She feels Greek, so I'll even dare say that she IS Greek. You know, it doesn't matter where you're from ... it matters how you feel. She feels 100% Spartan, so I guess she is Greek! Yeah, it's kind of an invasion, and I just hope it will be a win for us. I hope we will win the crowd, because I don't think the metal scene in Europe has gotten used to Greek elements around. So we'll test them to see if they can handle our roughness. (all laugh)
Robin: Can you give us any hints of what is in store for everyone at MFVF?
Sanna: I'll just say that they should be aware just to keep their hands on their heads, or else they will lose their heads. We will blow their minds! I don't want to blow my own horn, so I'll talk about my friends, Meden Agan, Seduce The Heaven, and also Skeptical Minds … because not only Karolina, but also Michel Stiakakis is playing in Skeptical Minds, and he is Greek … so they should be aware that they will blow their minds. They are really energetic on stage, and they have amazing tunes, amazing music, and they're very impressive on stage. So they will see. They will have a Greek taste, and then they will fall in love and they will all come to Greece for vacation!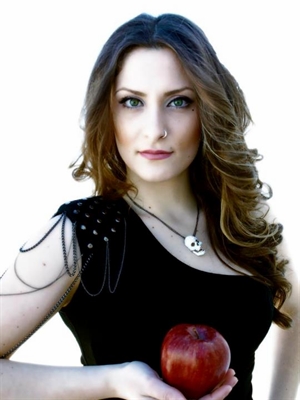 Robin: Woo hoo! In addition to being a Greek invasion, there will also be an invasion by the members of Eve's Apple…
Sanna: True, true. And we have a very nice surprise for them! So they better come on Friday to the party, and on Saturday, and on Sunday. We have an amazing surprise for them during the three days, so they just have to come and meet us all, chat, and enjoy music. That's all I have to say.
Robin: For you personally, what is it like to finally get to meet so many of your Apple sisters?
Sanna: I feel like I am finally connecting with sisters, like really sisters … family that I've never met. We're like lost kids. I talk with my sisters every day; we chat EVERY day, and we keep in contact every day. It's amazing! I'm not over-reacting or exaggerating. We do talk every day! It will be finally awesome to meet them in person, listen to their voices, hug them, give them all a big kiss, and chat and share. We'll share our common interest and give tips to each other, and just enjoy this festival of music.
I just can't wait to meet them ALL! They are all good-hearted, talented, powerful women, and I admire every one of them. As I said before, it is a privilege to be a part of the Eve's Apple community, and I will try my best to be an equal Eve's Apple as they are.
Robin: Since liquor is the great equalizer, if you were to do shots with your Apple sisters, what kind would you do?
Sanna: Well, that's the thing ... I don't drink alcohol at all. I'm very much of a healthy type of person. I try to eat healthy, exercise, eat nicely, sleep a lot, and don't smoke or stay up too late, and this kind of stuff. I like the nerd kind of style of living. (laughs) I don't know how that sounds to some people, who have this image of musicians being sex, drugs and rock-n-roll. But I don't know if any musician can keep up with this rhythm for a long time because it can wear you out in no time. I try to keep my shape as best as possible. So, if I had to do something, it probably would be a fruit cocktail or a very, very, very light fruit punch or something like that. (laughs) I don't know if that counts.
Robin: (laughs) Sure it does!
Sanna: I am hyper-active. People will see how I am on stage … I'm very hyper-active. I don't need booze or anything else to keep me partying all night. I just have my own craziness, instead of alcohol.
Robin: In your mind, what would be the greatest compliment that someone could give your new album, Psychosynthesis?
Sanna: The best compliment is to listen from someone who can actually relate to everything that we have written on the album, somehow to their own personal way. If someone says, "dudes, I can totally get what you're trying to say," that would be the best. "Hey dudes, you have grown! I can hear it, and keep up the good work!" That would be also something very awesome.
Robin: What else is coming down the road for Dimlight?
Sanna: Well, we are planning at MFVF a lot of cool stuff. After that, we are going to have the official release party in Athens also. The first is going to be in Belgium, but we also have to make one for our country too. So the next step will be the Athens release party, working on a new video clip perhaps, and a tour also perhaps. But this time, outside of Greece. There are some thoughts about it, but nothing is written in stone, so I don't even know details yet to talk about. But there are some thoughts of doing a small tour maybe around Europe, hopefully.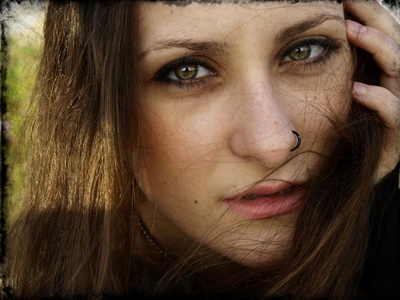 Robin: Sanna, what final words would you like to say to Sonic Cathedral readers?
Sanna: Thank you, Sonic Cathedral, for supporting all the musicians out there. It's an amazing job, what you're doing, so keep it up! Thank you for having me, and giving me the opportunity to talk about Dimlight and to give me a way to make new friends for us. So thank you, and keep your heads up for new things from Dimlight!
Robin: Thank you so much for talking with me, Sanna!

Dimlight official website
Dimlight on Facebook
Sanna Salou on Facebook