Kamelot's new singer Tommy Karevik
September 17, 2012 in Worcester, Massachusetts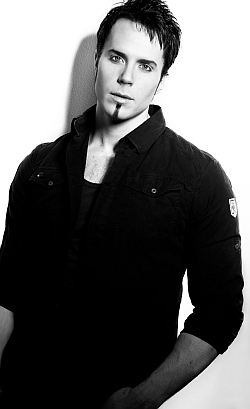 Every now and then, we at Sonic Cathedral like to branch out from our focus on female-fronted rock and metal to cover other bands that our readers may like. Kamelot certainly fits that criteria. This multi-national power metal band has won over legions of fans worldwide with driving melodies, buoyant symphonics, and the use of female vocalists in their studio albums and live shows. Europe still appears to be where Kamelot's popularity is strongest. But here in North America, the band's fanbase is growing into an equally dedicated following.
In September 2012, Kamelot returned to North America as the support act for Nightwish's headlining tour. It was also the first chance for fans on this side of the Atlantic to meet the band's new frontman, Swedish singer Tommy Karevik. (You may already be familiar with Tommy as the voice of the progressive metal band Seventh Wonder.) Sonic Cathedral staff writer Sara Letourneau sat down with Tommy before Kamelot's explosive set in Worcester on September 17. Read on to learn what he had to say about the tour, Kamelot's upcoming album Silverthorn, the band's latest female guest vocalists, and much more!


Sara: Hi, Tommy! Welcome to Worcester!
Tommy: Thank you!
Sara: How has the tour gone so far?
Tommy: It's been great. We were in Central America for two shows, and they were great. And then we started our part of the tour, more or less, in Tampa for a headlining show. And then we met up with Nightwish in Atlanta for two shows.
Sara: For ProgPower, correct?
Tommy: Yeah, just prior to ProgPower. So, it's been great so far.
Sara: Speaking of ProgPower, the first time you played here in North America, it was at ProgPower with your other band Seventh Wonder. Now, with Kamelot, you'll get to visit a lot more of the continent. Is there anything in particular you've been looking forward to seeing? Or, maybe everything?
Tommy: Yeah, everything! I really love to travel, meet new people, and see new things. One of my highlights so far is New York City. I've been there twice before, and every time I go I just want to stay there. (laughs) It's a pretty cool city, very different from Sweden. Every building there is taller than any of the buildings in Sweden. (laughs) So, that's cool. Other than that, you don't get to see so much from the bus. So, we just try to relax and put on a good show. We had a couple of rough weeks where everyone was sick.
Sara: Oh, no! That's not good!
Tommy: No! It was a couple guys, including me. I was also sick. I've had a cold.
Sara: And that's not good when the singer's sick during a tour.
Tommy: No, it's not. (laughs) But we have a day off tomorrow.
Sara: Are you feeling any better today?
Tommy: A little. I was feeling really shitty yesterday [for the Philadelphia show], but I feel a little better today.
Sara: I'm glad to hear that. Now, on this tour, Kamelot is the support act for Nightwish, one of the biggest symphonic metal bands in the world. Besides the fact that your music complements theirs very well, what do you think makes this tour a special one?
Tommy: First of all, one thing that makes it very special is that both bands have Swedish singers.
Sara: That's right! Anette [Olzon] is Swedish, too.
Tommy: Yeah, she's from Sweden, and she was in a similar situation several years ago when joined Nightwish. So, I have a lot to learn from her. We spoke a lot during these past few days.
Sara: I was going to say, have you two talked about what it's like to transition into a new band? Has she given you any advice?
Tommy: Absolutely. She's had some advice for me. She's a very cool person. Other than that, it's been great touring with Nightwish. I've known about them for many years, so it's great to open up for them. It's very cool.
Sara: Fans have been thrilled by your addition to the band. I don't think I've read anything negative about you as the new frontman. Has that made your transition into this roles easier and maybe a little more exciting?
Tommy: Yeah, of course. I would lie if I said I was not worried from the beginning. Of course I was, with replacing Roy [Khan]. The fans were in love with his voice and his personality onstage. In the end, all I can do is give it 100-percent, be myself, and do justice to the older songs. And that's about it. People have to love me for who I am and what I contribute. I just hope people will do that when the album comes out. And so far, it's been great. People have been super-nice and supportive.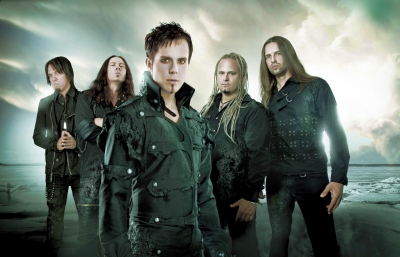 Sara: Think back to your first Kamelot gig earlier this year, at Masters of Rock. How did you feel before you went onstage? Were you nervous?
Tommy: It was kind of strange. We had six days of rehearsals before it. All day long, we'd play songs and put the show together. Before that, I was in Wolfsburg, Germany, doing the recordings for the new album, so I didn't have so much time to think of what was going to happen. But once we did all of the rehearsals, everything came together. So, at that point, I was cool with it. Of course, when you're waiting in the wings behind the stage and hearing the crowd for the first time, you get a soft spot as a singer. You get nervous. But once I heard everyone scream as I entered the stage, everything was gone. I just had fun.
Sara: That's good!
Tommy: Yeah, it was!
Sara: Kamelot's new album Silverthorn comes out at the end of October. Besides you as the new singer, how is Silverthorn different from previous Kamelot albums? What makes it unique?
Tommy: The uniqueness will be that someone new is also writing the melodies and most of the lyrics. But I would say that it stays true to the Kamelot style. If I was to compare to something else from Kamelot's back catalog, I would say it's more like The Black Halo or Karma than the previous album Poetry For The Poisoned in terms of style, melodies, feel, and whatnot. It's definitely more melodic than the latest release. Then again, it's also a concept album. So, whatever needs to be there to tell the story, it has to be in the music, too. But yeah, the biggest difference is that it's me singing. Kamelot will always be Kamelot when it comes to the music.
Sara: You just mentioned that Silverthorn is a concept album. The band has already hinted at what the story's about: A young girl dies at the hands of her twin brothers. I'm interested in hearing how the band came up with the story, though. Could you talk about that a little bit? What inspired the story behind Silverthorn?
Tommy: It was kind of early on, before I was even announced [as the new singer]. Thomas and me talked about what we could do for the new album, if I was to be chosen. We talked about the concept, and I was really interested in it because I had done a concept album with Seventh Wonder.
Sara: Yeah, for Mercy Falls. Good album, by the way.
Tommy: Thanks! I really enjoyed writing for a concept album. Because then it's more like a movie, where you have to have scenes and bits and pieces here and there to enhance the storyline. When Kamelot decided we wanted to do a concept album, we had some ideas already. And it all came together, and it was actually Thomas, me, and Sascha [Paeth, Kamelot's producer] who co-wrote the storyline.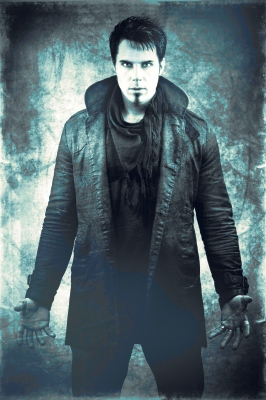 Sara: It sounds like you were very involved in the songwriting and development of Silverthorn, and it's only your first album with Kamelot. How did it feel that Kamelot trusted you and your creativity enough to contribute so much the first time around?
Tommy: That was the most mind-blowing thing for me, to be able to participate like that. I don't know if I expected that at the beginning. And [writing lyrics and melodies] is what I do for Seventh Wonder also, being part of the creative force and putting my trademark on things. I have a certain way of writing. For me, music is all about expressing myself, and I do that through lyrics and melodies. So I was super-happy that Kamelot trusted me enough to do that.
Sara: Out of all of the songs on Silverthorn, which ones are you most proud of? And why?
Tommy: For me, the one I'm most personally attached to would be the ballad, "Song for Jolee." I would say that's the reason I'm in the band, or the main reason at the least. When I was not announced yet [as the new singer], they gave me this idea for a ballad. I tried my ideas out, the melodies and lyrics for that song, and sent it back to them. Everyone really loved it. So, that song is one of the main things that got me the singer position.
Sara: Kamelot shot a video for "Sacrimony" over the summer. It's not out yet, but what can you tell us about the video without giving too much away? And, do you know when it might be released?
Tommy: We don't know yet when it's going to be out. It's going to be out for sure before the album's out. How much before that, I don't know. We worked with Ivan [Colic], the producer who made the "Ghost Opera" video. And it's going to be killer. We really went through the album's storyline, since there is a story behind every song. So, we tried to portray the story in the video. We haven't seen the whole video yet, but it looks promising so far. But I don't want to give away too much of the story yet. (laughs)
Sara: Kamelot have featured a number of female singers on their albums and in their live shows over the years. Elize Ryd of Amaranthe is one of the guest singers on Silverthorn. She's also been a part of Kamelot's live act for the past couple years. What do you think she adds to the music and the performances?
Tommy: First of all, she's a super-talented singer. I really like her voice. And because she's been part of the live performances for such a long time, it feels like she should be on the album. Now, when we do the songs from the new album live, it's going to be the right voice from the very beginning. Simone [Simons] had been doing a lot of the vocals before, on the older albums. But it's natural to try and evolve from there, to not do the same thing. Plus, [Simone] is in Epica, and they're growing rapidly.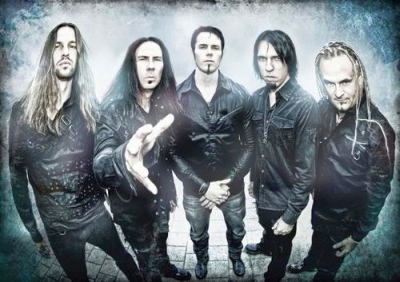 Sara: And it must be nice to have another Swede in the band, since Elize is from Sweden.
Tommy: Yeah! I would say I'd give my vote to Swedish singers on this tour. (laughs)
Sara: (laughs) The other notable guest vocalist on Silverthorn is Alissa White-Gluz from The Agonist. She has a distinctly different style of singing than Elize. She's also joined Kamelot on this tour through the Montreal show. Could you talk about her vocals on "Sacrimony," why she was picked for the song, and what it's been like the past few nights to have her sing – and growl – with you onstage?
Tommy: (laughs) Yeah, she's doing both. For example, in "March of Mephisto," she sings the high-octave clean voice, and she has a cool clean voice. And there's a part in "Prodigal Son," the last real song on the new album, that she does some really cool effects with clean vocals, too. She has a really good singing voice and a killer growling voice. That's mainly why we chose her to be part of the album. And also, The Agonist have toured with Kamelot before.
Sara: Yeah. I think that was last year [in North America].
Tommy: Yeah. So, that was also a natural choice when it comes to the growling vocals. And, it's a girl to fit the story, and there's not so many female growlers out there. So, it was a cool choice. I think it turned out killer. Have you heard "Sacrimony" yet?
Sara: I've only heard the clip that's on the Internet. I haven't heard the whole song yet.
Tommy: All right. But yeah, it's cool that she comes out onstage to join us for a couple songs.
Sara: One more female singer I'd like to ask you about is your sister Jenny. She's sung on a few Seventh Wonder songs. Any chance she might appear on a Kamelot song in the future?
Tommy: Anything's possible. So yeah, I would most certainly say it's a possibility. I think it would be really cool to have her on a Kamelot song. So, let's see what the future holds.
Sara: When Kamelot announced you as their new vocalist, you made it clear that you intended to stay with Seventh Wonder. How have you been able to balance Kamelot's tour schedule with working on the next Seventh Wonder album?
Tommy: Honestly, for me, it hasn't been so much writing yet because of these crazy six months. The guys [of Seventh Wonder] are doing a really great job. Every week, they have something new to present, so that's really cool. It also means that I will have less influence on the new album when it comes to the music. But I will still do all of the melodies, some changes here and there, and the lyrics for the most part. I would say it would still be a Seventh Wonder album, with the same cool melodies, the same cool stuff happening, and great solos. We're not going to release something we're not comfortable with. It's better to take the time to do it right. So, I think what it all boils down to is that it's going to take a little longer to put out a Seventh Wonder album than usual. We've always been pushing time limits, releasing every other year or every third year. That will probably change a little bit, since I've been on the road so much. But my dedication and focus will not change.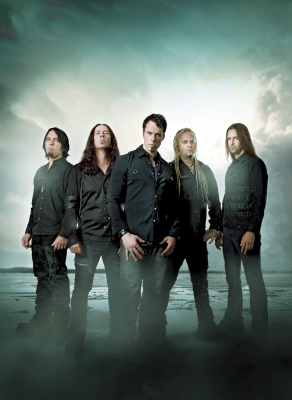 Sara: After this tour with Nightwish, Kamelot has a European headlining tour in November. What can fans expect for those shows? And, will you play more songs from Silverthorn?
Tommy: Absolutely! We'll try to play at least a couple more songs. I don't know how many, but maybe three or four new songs. It's just a matter of playing a good mixture of songs for the people want to hear but haven't got the new album and for the people who maybe had time to check out the new album. So, it's a matter of picking the songs we want to play and rehearsing them for the tour. But for sure, the intention is to bring a couple new songs into the game. And that would actually be really cool for me, to be able to present stuff that you're a part of instead of only the older songs.
Sara: Any idea what Kamelot's plans are after the European tour? Are you working on tours for other parts of the world? Maybe coming back to North America for a headlining tour?
Tommy: We're planning [the North American tour] right now, as we speak. We'll see what happens during the next year. Hopefully, we can explore new places as well as coming back here for a headlining tour. We want to go to places we haven't been to before. I'm not sure if I can reveal all of the plans yet, but there's going to be some cool places – some new places for Kamelot, and also some familiar places.
Sara: We've reached the end of the interview, Tommy. Is there anything you'd like to say to your fans and to our readers at Sonic Cathedral?
Tommy: I just want to say "thank you" for this interview and for showing interest in the band and in me as a person and as a singer. And I'm really looking forward to tonight's show. It's hopefully going to be an awesome night. So, thank you so much!
Many thanks to Tommy for taking time out of his tour schedule to talk to Sonic Cathedral. Also, thanks to Jon Freeman of Freeman Promotions for helping arrange the interview.
For more information about Kamelot, including details on Silverthorn and tour dates, visit the following websites:
Kamelot's Official Website
Facebook
Twitter
Myspace
YouTube
LastFM