Nightwish Live Review – European Imaginaerum Tour 2012
Written by Angela Infernale
Photo Professional: Natalia Kempin / aka. Natalia die Hexe
Bands: Nightwish, Battle Beast, Eklipse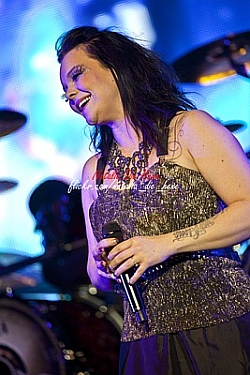 Shows:
1. Frankfurt, Germany. Jahrhunderthalle. April 23rd 2012
2. Nuremberg, Germany. Arena Nürnberger Versicherung. May 5th 2012
3. Stuttgart, Germany. Hans-Martin-Schleyer-Halle. May 6th 2012
Seeing Nightwish live has always been a very special thing to me. Back in 2004, they were my first real Metal show, and over the years I've been to every tour that passed through Germany. This time, I wasn't sure if I would make it to a show of the recent European Imaginaerum tour. Then, I ended up going to three of them. Ever since Nightwish got really big with the release of their Once-album, their European shows have been really big – we're talking up to 11,000 people here. This usually means long waits in front of arenas (alternatively, a really bad view), grumpy security people, and high ticket prices. All the more the bands have to make up for with their show. This time was no different. At all three shows I attended there was at least one instance (more likely a few) when I got really annoyed because of the organization at the doors, unreasonably early kick outs, or plain douchebag security staff.

One time, our tickets had the wrong time on them, so we arrived only after the doors had been open for almost an hour. Another time, they decided to close the gate we were standing in line for, so one half of the waiting crowd had to squeeze in with the other half. I was also physically pushed around by security guards, and told to get my water elsewhere because they wanted to clear the hall just when I had finally made it to the bar – with thousands of people around, that's not that easy. Still, I never left a show not being psyched, and that's all due to the amazing job Nightwish and their opening bands did.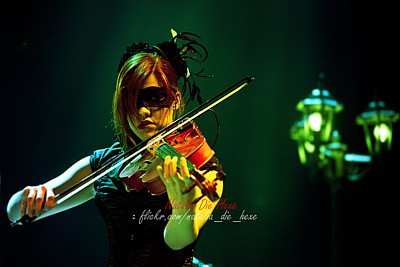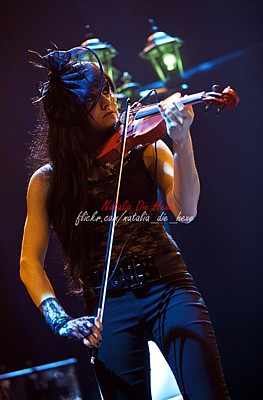 Eklipse

This band is easily the most unusual opening act that Nightwish have ever taken on tour. And I mean that in an entirely positive way. As a string quartet covering mainly pop songs, along with some rock songs and film music, they didn't sound like my cup of tea. They are not your regular string quartet though! There were expressions of surprise all around me already when they hit the stage. The four girls create a slightly mysterious look by topping off their erotic goth style (which features some fetish elements) with various kinds of masquerading, such as a black blindfold. Their live set consists of multi-layered interpretations of songs like "Cry Me a River" by Justin Timberlake, "Paparazzi" by Lady Gaga, "Clocks" by Coldplay, and – my personal favorite – "In the End" by Linkin Park. The latter one had people sing along (mind you, the band doesn't have vocals!), and it features a beautifully done cello-solo, which they added for the shows and which is unfortunately lacking on the studio album. They tweaked their songs for the live performance in other ways too. They back them up with bass and some more layers of strings here and there, thus creating a very atmospheric sound a regular string quartet would not be able to achieve. By stripping away all the annoying features of those pop pieces, and extracting their essence, Eklipse made me enjoy songs that I would otherwise never have listened to. I got their recently released debut album, A Night in Strings, after the first show and it has been on heavy rotation ever since.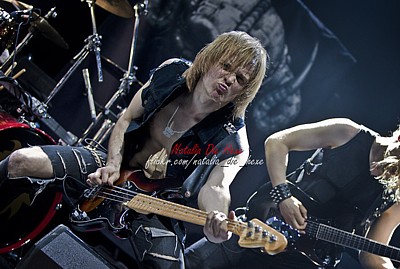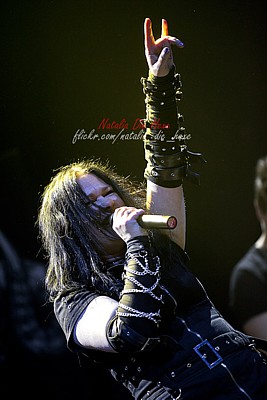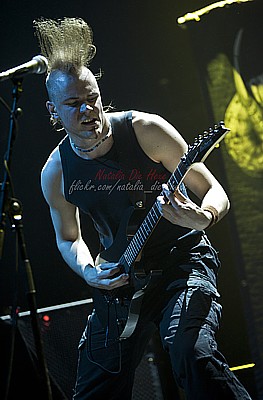 Battle Beast

A friend of mine happened to post one of their songs to her Facebook a few days before my first show of this tour. When I checked it out, I was really disappointed. A very generic True Heavy Metal band with female vocals – that were unfortunately very generic Power Metal vocals. So I wasn't exactly excited to see them live. When they started playing, this changed though. No matter how generic their music, it is still very well done. The band has an amazing stage presence, and they really know what they're doing. There were some quite intricate solos, and the very powerful voice of lead vocalist Nitte has a wide scope that she uses with ease. The downside of their performance was that their quite cliched True Metal lyrics flawed the impression of the otherwise excellent job they did. With choruses like "Shake the world with metal, shake the world with steel, shake the world with heavy metal", or "Show me how to die, life is not enough, I need to die" etc. it is not that easy to take them serious anymore. Still, they managed to win the audience, including myself, with their great interaction amongst each other and with the crowd. Quite a few people were singing along the choruses after a while, and after their set some also demanded an encore. If you're not as prejudiced against True Metal as I am, you will definitely enjoy this band.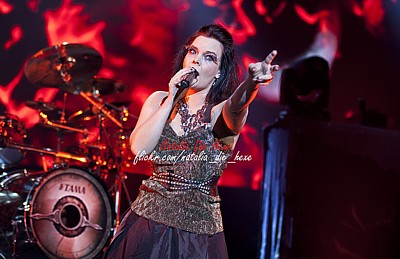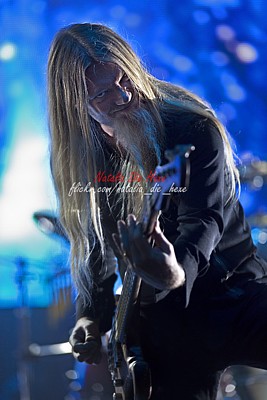 Nightwish

Right after Battle Beast had left the stage, a semi-see-through curtain that was covered in irregular panels of light white fabric, which – to be honest – looked a lot like toilet paper, dropped from the ceiling and concealed the view of the stage. After about 30 minutes the lights and background music went out – but the curtain stayed down, and there was no real intro. The first song was "Taikatalvi", and Marco was the only one on stage. He was singing the song sitting in a rocking chair, his silhouette projected on the curtain by a bright white light from behind. When he finished singing he would get up, slowly place his mic on the drum pedestal – and flip the rocking chair, so that it went flying out of sight. After the first time, this was one of the moments I waited for the most at the following two shows. The song faded into the "Storytime"-intro, but the curtain still stayed in place. Now some vents started moving it like a sail, the white fabric eerily waving in the wind. The band started playing, still behind the curtain. That was when I started wondering if it was a mishap that it was still there. As I learned later at the other shows though, it was on purpose. After the first chorus, just when the guitars set in again, the curtain dropped to the ground and revealed an impressive stage set up. In the background there was a screen as wide as the stage, and about ten feet high. Tuomas' keyboard was all surrounded by massive organ pipes, some of which emitted fire as part of the pyro show.

If you have seen Nightwish live before, or even just videos of their shows, you know how energetic and dynamic they are. Marco and Emppu are in motion almost all the time, switching positions or joining one another for a short joint intermezzo. Anette is bursting with energy, Tuomas is either headbanging so hard you never really see his face – or he's in another sphere altogether. Then you look at Jukka and you wonder if he ever drops a stick when spinning them in his hands (as he told me some years ago, he does – but has anyone ever seen it happen?). Add the waves of fire and mist, and the huge screen displaying animations of various fun fair rides, pictures of eyes, and a bunch of other things somehow connected to the songs, and you get a total overload of impressions that you can't take in all at the same time, because wherever you look, there's something else happening that you miss. At the end, it was like New Year's Eve – lots of fireworks and confetti. With Imaginaerum as an outro the band would take their usual fine-minute farewell from the stage.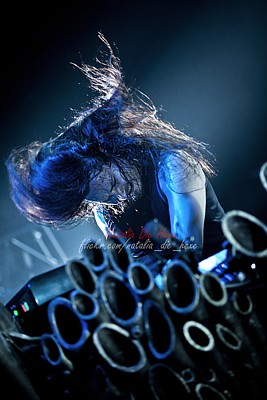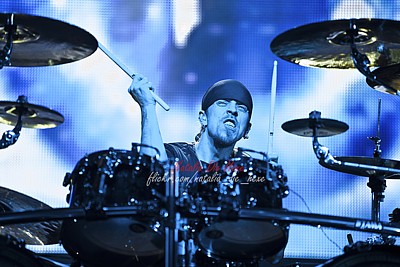 The set list (see below) was more or less the same for every show, and they didn't bother to mix up the order a lot either. There were nine songs from Imaginaerum, three from Dark Passion Play – one of which was "Last of the Wilds ", an instrumental – and three songs from Once – "Nemo" played as an acoustic version. Then there was "Finlandia", an instrumental Jean Sibelius cover, and three more 'older' Nightwish songs: "Dead to the World", "Over the Hills and Far Away" (Gary Moore cover), and one additional song that was a different one at each show. In Frankfurt, they played "Come Cover Me", in Nuremberg it was "Dark Chest of Wonders", and in Stuttgart – a choice that really surprised me – "Ever Dream". The sets of some other shows featured "The Siren" instead. After 16 songs, the 'official' part of the set was over, followed by three more songs as an encore, and an outro.

After starting off with a bunch of faster and heavier songs, they slowed down a bit for a quieter part in the middle. I'm not particularly a fan of ballads, but as Marco remarked quite aptly, "we pounded you hard", and the episode of ballads and acoustic versions was a welcome break to catch your breath and cool down somewhat. Troy Donockley, who did the Uilleann pipes and whistles on Imaginaerum, joined the band for seven songs of the show. Having those instruments played live instead of sampled from tape clearly made a huge difference in authenticity, and Troy's interaction with the band added enormously to the performance. My personal highlights of the show were "Scaretale", with Marco's amazing interpretation of the ringmaster; "Planet Hell", which ended the quieter part in the middle of the show; and "Last Ride of the Day", the obvious choice for the last song. Some pieces I did not enjoy as much were "Slow, Love, Slow", even though Anette did an amazing job at her vocal performance; the acoustic version of "Nemo", because I have always loved hearing it live in the original version; and "Finlandia", as I had rather seen another Nightwish song take its place.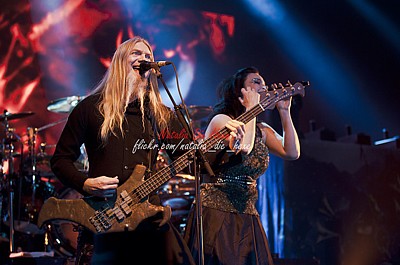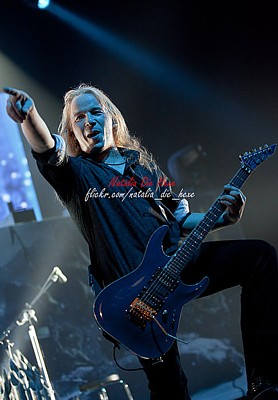 The perks of the final show

The show in Slovenia got cancelled, making Stuttgart the final show of the European Imaginaerum tour. Now what seems to happen at a final Nightwish show is that total prankage breaks loose, and that clothing is optional, but I'm getting ahead of myself.

The show started out perfectly normal. Eklipse were about halfway into their set when there was a pretty unexpected addition to the band. Two scarcely dressed guys on the higher end of the BMI-scale came on stage with fake instruments, and joined the girls for a minute or two. Wearing black panties and some see-through tops, they had done their best to observe the dress code. The girls' reaction was priceless, but in spite of all they managed to keep playing without any noticeable mess-ups. But it also took a lot more than that for Anette to lose it later on, but first things first.

One detail I haven't mentioned so far is that between Eklipse and Battle Beast there was the shortest re-arranging break ever. It didn't take more than five minutes till they were finished and the next band came on. So when I expected to hear the usual, sort of symphonic Battle Beast intro I had gotten used to, I instead got some weird techno-ish music. It stayed on for about a minute until the real intro started. Granted, they – who ever they were – could have been a bit more creative on that one. In the break that followed the Battle Beast set, Dr. Cotton – that's what his lab coat said – handed out some free Nightwish shirts to the crowd. Well, children's shirts and old tour shirts from the "South American Kumbajah 2008", etc.

So the biggest and funniest prank had to be played on Nightwish. But what would it be? First, Nightwish had their own shot at Battle Beast, making up for the yet funny, but not so hilarious prank before. During the acoustic part of their set, when they were supposed to play "Nemo", they started playing Battle Beast's most characteristic song: "Show Me How to Die". At that, the latter came running into the photo pit and rocked out to their own song, while Troy Donockley added some witty remarks, such as "I would really like to be deceased."

That could have been it, but no real prank had been played on Nightwish yet. And sure enough, as they were playing "Over the Hills And Far Away", Battle Beast were suddenly back in the photo pit – only this time, they were dressed in sauna towels only (Nitte made an exception, she had thrown the towel on top of her stage outfit). Now "Over the Hills and Far Away" is a very danceable song, and a sauna towel can be really restrictive to your mobility. So some of the guys decided it would be better to open their towels in the front – facing the stage – and wiggle what they got. That's when Anette cracked up in the middle of singing. After that, no one knew what they were singing anymore. I know I didn't, but Anette and Marco also seemed to be singing different things when they were supposed to be singing the same.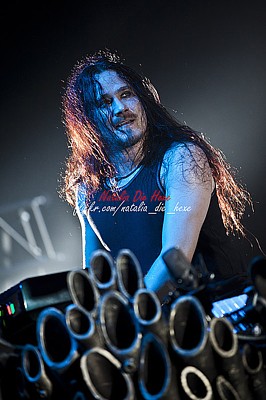 The obligatory bottom line

Even though the shows didn't differ a lot, I definitely don't regret going to all three of them. Considering that Nightwish tour only every few years (albeit extensively), I guess you need to take what you can get. Also, their shows really never get old to me. The biggest of drawbacks though, is that the ticket prices have increased by 30-40% over the past few years. I remember paying about $45 for a ticket (in 2004/2005). This time tickets were about $60. Taking overall inflation into account though, and the fact that Nightwish played 20 songs on this tour, that is 5 more songs (or 25% more songs) than during their European Déjà-Vu Tour in 2009, those prices seem quite justified. The current tour is labelled "Imaginaerum World Tour 2012/2013" by the way, so I'm hoping for another leg passing through Europe. But for now, North America should have an eye on their tour dates, because they're hitting the US and Canada in September.
Setlists: (as found on www.setlist.fm)
| | | | |
| --- | --- | --- | --- |
| # | Frankfurt | Nuremberg | Stuttgart |
| 1 | Taikatalvi | Taikatalvi | Taikatalvi |
| 2 | Storytime | Storytime | Storytime |
| 3 | Wish I Had an Angel | Wish I Had an Angel | Wish I Had an Angel |
| 4 | Amaranth | Amaranth | Amaranth |
| 5 | Scaretale | Scaretale | Scaretale |
| 6 | Slow, Love, Slow | Dead to the World | Ever Dream |
| 7 | I Want My Tears Back* | Slow, Love, Slow | Slow, Love, Slow |
| 8 | Come Cover Me* | I Want My Tears Back* | I Want My Tears Back* |
| 9 | The Crow, the Owl and the Dove* | The Crow, the Owl and the Dove* | The Crow, the Owl and the Dove* |
| 10 | The Islander* | The Islander* | The Islander* |
| 11 | Nemo* | Nemo* | Show Me How To Die* |
| 12 | Last of the Wilds* | Last of the Wilds* | Nemo* |
| 13 | Planet Hell | Planet Hell | Last of the Wilds* |
| 14 | Dead to the World | Ghost River | Planet Hell |
| 15 | Ghost River | Dark Chest of Wonders | Ghost River |
| 16 | Over the Hills and Far Away* | Over the Hills and Far Away* | Dead to the World |
| 17 | Finlandia* | Finlandia* | Over the Hills and Far Away* |
| 18 | Song of Myself ² | Song of Myself ² | Finlandia* |
| 19 | Last Ride of the Day | Last Ride of the Day | Song of Myself ² |
| 20 | Imaginaerum (outro) | Imaginaerum (outro) | Last Ride of the Day |
| 21 | | | Imaginaerum (outro) |
* with Troy Donockley
² without part 4
Photo Professiona Credit:
Natalia Kempin / aka. Natalie die Hexe
*All photos from Frankfurt show*
Flicker Account Link
Photographer Link