Pamela Moore Interview 2013
Performed in May 2013



Back in 2007, I had the privilege of interviewing Pamela Moore; known by most in the metal community as the voice of "Sister Mary", the lead female character in Queensrÿche's legendary concept album, 1988's Operation: Mindcrime (and its sequel; 2006's Operation: Mindcrime II). As a longtime Rÿche fan, it was nothing short of a dream come true to have the opportunity to interview her. However, I learned quickly that Pamela was more than just "Sister Mary"; she was a diverse singer/songwriter who came from a musical family and had been singing professionally long before the prog-metal titans from Seattle came calling. Her musical range ran the gamut from everything to "blue-eyed soul" to alternative to sultry blues-rock. Pamela Moore was not someone you could easily pigeonhole into one genre, or classify into any particular category.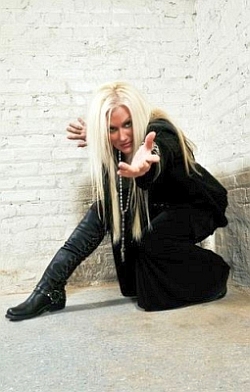 Yet there was no denying that Pamela's roots never strayed far from the metal world that had come to embrace her over the last 3 decades. Whether it was donning the figurative nun's habit to reprise her role as Sister Mary, taking over lead vocals for the band Solna, or collaborating with other metal bands; Pamela was a beloved figure in the metal community. But even though she had staked a claim in the hearts of metalheads, she had never really made an honest-to-goodness metal album of her own. That was about to change in the spring of 2013, when she released Resurrect Me, her first album in 4 years. The album was just as it had been described: this was the album you always expected "Sister Mary" to make.
Needless to say, I was excited to get the chance to talk to Pamela again and catch up on what she's been doing since the last time we spoke together over 5 years ago. As honest and candid as ever; Pamela talked openly about everything from the personal sacrifices and unexpected joys that made Resurrect Me possible; to the controversial Queensrÿche split that has been a hot topic among fans over the last year. Both uncompromisingly forthright and captivatingly charming, Pamela Moore's personality is not too unlike her singing voice: she shoots straight from the hip with easygoing sensitivity.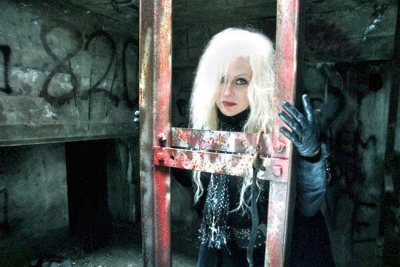 Questions about the new album:
C: Tell us some things about the recording process of Resurrect Me.
Pamela: Well, it took 4 years to make, but I think well worth the time it took; at least in my eyes, and hopefully in the eyes (and ears) of others as well. We had our challenges along the way; from losing my investor to moving back to my hometown of Seattle after living in Chicago for a couple of years. Still, we forged on; and thanks to the internet and file-sharing, the writing process didn't miss a beat!
C: Compared to your previous solo album (Stories From a Blue Room), Resurrect Me is a much heavier record. Was this a conscious decision to make a heavier record this time around, or was the process more organic? Did your previous project (Solna) have any influence on this change in sound?
Pamela: This is the album I've always wanted to make, and asking Michael Posch to write with me was the secret ingredient. Of course, my touring with Queensrÿche and more recent tour with the mighty Primal Fear could have influenced my desire for heart-pounding tempos, heavy, chunky guitar riffs, and soaring melodies, perhaps?
C: Did your collaboration with Michael Posch have a lot to do with the heavier direction in sound, or was the plan to make a heavier record part of your decision to collaborate with Michael Posch?
Pamela: Yes… [smiles] I wanted to move into a heavier direction, and thought working with a guitar player would be a good place to start. With Michael, I not only got the muscle I needed with the heavier riffs, but I ended up receiving whole musical tracks as well because Michael played nearly all of the instruments. Pretty cool…each musical idea he sent me inspired me that much more. I knew we were on to something.
C: Have the two of you ever written songs or worked together before? How would you describe the "chemistry" of your musical partnership?
Pamela: No, we've never written together before this collaboration. However, he was one of the guitar players who worked with me [in my band] when I did a couple of shows in Chicago. Mike composed an opening musical piece for my show. I was very impressed with it and immediately asked him if he would be interested in writing with me for my next album. The rest is history.
C: How did you and Michael Posch come to know each other, and when did you start working together?
Pamela: My drummer at the time, Gabriel Anthony, introduced us. We started rehearsing my live solo show back in 2007, but the writing process for Resurrect Me didn't start until early 2009.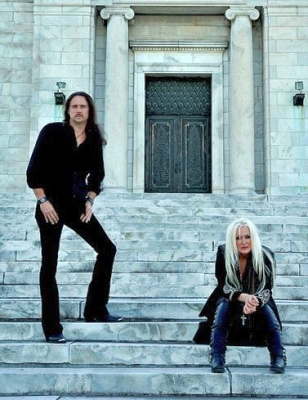 C: At the time of this interview, you have just released your first music video from the album, for the song "Paranoia". Anything you'd like to share about the making of the video?
Pamela: I'm really happy with that video! We've been getting a lot of positive response, too! My personal photographer and dear friend Leah Kennedy produced it; and Ray Gradisher, Jr. directed, filmed, and edited it. I believe it is their first collaboration together, and my first time working with Ray. I love their vision and hope to shoot a few more [videos] with them soon. The location [for the "Paranoia" video] was this old, dilapidated concrete factory in Washington [State] that is nestled in a very beautiful area; near the foothills, next to a lake. But that factory was a bit "spooky"; known for paranormal activity and such. A perfect setting for a song called "Paranoia", don't you think? [laughs]
C: Any plans to make more videos? If so, which songs in particular stand out for you as good "video material"?
Pamela: Yes. I really feel in this day and age it's a must to stay connected to your fanbase, and videos are a great way to do just that. I was just discussing this yesterday with my label [Rat Pak Records]. Trying to pick the next song is tough because there are so many songs on the album that would translate well to video.
C: So far, what are the stand-out tracks for you? Which songs off Resurrect Me would you consider to be those that best represent the album as a whole?
Pamela: All the songs have their own character while staying in that "power metal" vein, except for maybe the song "Breaking Down". That one has a very emotional "less is more" approach, which is very effective when up against the angst! Honestly, I am fond of all the songs on the CD. That said, at this moment in time, I really love "Awakening". Jeff Loomis [formerly of Nevermore] is the featured soloist on that song, and his lead catapults the listener out of a calming groove into a chaotic out-of-control ending. It gives me chills. The song also seems to be a perfect blend of all [the] musical sides of the album. Then there is "Sky is Falling", a song I share vocally with Mr. Ralf Scheepers [of Primal Fear]. He really added a lot of muscle to that song; just what it needed! The harmonies are intricate and juicy. "Resurrect Me", "Paranoia"…damn, I don't know…I love them all!
C: Were there any bonus tracks recorded for this album that might see the light of day on a future single or other release?
Pamela: Perhaps… [smiles]
C: Some of the same "guest stars" that appeared on Stories From a Blue Room have also come back to guest on Resurrect Me (such as Jeff Loomis and Ralf Scheepers). How was it to work with them again?
Pamela: I love those two men. I consider them not only metal royalty but also very dear friends. I have a lot of respect for their talent and very honored to have had the opportunity to include them on this project. Thanks, guys!
C: With every new musical project come difficult challenges or new experiences. You said on your website that this album was written during a "transformative" period in your life; what were some of the challenges you faced during the process, and what new experiences did you gain from this project?
Pamela: Well, hopefully we can all say that we are constantly growing towards becoming a better person; that we know more about ourselves than in our teens or '20s or '30s. For me, I certainly have accomplishments I am proud of, but I also have regrets and mistakes I cannot take back. I've felt heartache and confusion in dealing with personal relationships and my career. I tried running away from a failed marriage by moving [away] only to end up moving back home, to rebuild once again. I asked myself a lot of questions during these past four years. I cried a lot of tears and made peace with myself in writing these songs. For me, the songwriting process can be very therapeutic because I process my heart through the process of creation. Hopefully, others will be able to connect with the lyrics, melodies, and music; because it's real emotion. Hopefully others will find a connection.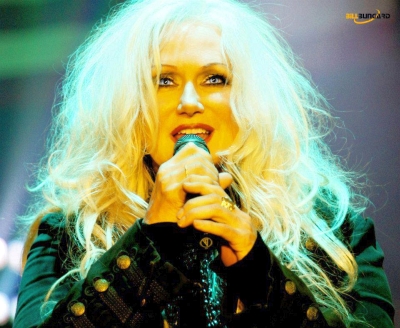 Questions about touring:

C: What are your tour plans for this album?
Pamela: I've just started assembling my band and rehearsals are underway. I hope to start doing shows by summer and we are looking into a possible tour. Nothing set in stone just yet.
C: In our last interview, you named some countries that you would love to tour someday (such as Sweden and Australia). Have you had a chance to visit any of those places? Any chance some of your fans in those areas will get the opportunity to see you on this tour?
Pamela: I have toured these wonderful countries with Queensrÿche as well as with others. I'm crossing my fingers that I am afforded the opportunity to take my solo act. That would be a dream come true!
C: What are some of your favorite things about touring? What are some of those not-so-favorite things about touring you wish you could change?
Pamela: Seeing so many great parts of the world is a plus; especially meeting the wonderful people living in those countries. You gain a whole new perspective when you travel outside your comfort zone. Downside: I can't sleep on the bus. It takes me a few weeks to finally get my 'bus legs', and by that time I am so exhausted from non-sleep that [it] may be why I can sleep! [laughs] It's also a challenge at times to find a hot shower and eating healthy. I love it, though.
C: What have been some of your favorite places to tour?
Pamela: I love the audiences in Spain, Hungary, Italy, Germany, and Greece! They have this chant they do that is the coolest thing I have ever heard. I think they do that same chant at soccer games too? Whatever it is, I wish they did it here in the States!
C: Who are some of the bands/artists you'll be hitting the road with?
Pamela: Not sure yet.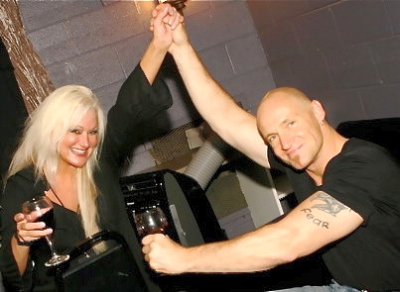 Questions about past projects and collaborations:
C: Since our last interview, you were in a band called Solna, who released an EP and a full-length album. Can you tell us a little about that?
Pamela: I was hired to sing on Solna when the producer lost his original male singer. Ralf [Scheepers] and I were also commissioned to sing a duet on the record; that duet was the first recording we did together. I didn't write any of the songs.
C: Any chance of another Solna album in the future?
Pamela: At this time, my efforts are focused on telling the world about Resurrect Me and hopefully a new album sequel to that. I'm on a roll, baby!
C: You've done guest vocals for so many bands besides just Queensrÿche; such as Eden's Curse and Primal Fear, to name a few more recent ones. What were some of those experiences like?
Pamela: Eden's Curse contacted me through a classified ad that I placed on Craig's List! Funny, huh? I have yet to meet those boys, but I hope to do so one day. I had the pleasure of touring the States with Primal Fear. We did a few shows together in 2009, then a month-long tour in America in 2010. I love Primal Fear; I love singing with Ralf. It's uncanny how our voices naturally blend so well together, complement each other; and he is such a powerful performer!
C: Are there any collaborations or guest spots that you were offered and just couldn't do for whatever reason, or projects that you came close to being a part of that never happened?
Pamela: A few years ago, Rudy Sarzo had written an animated pilot for a cartoon called Rock Dawgs. I was hoping to get a chance to audition as the voice of one of the characters. To this day I have no idea what happened with that project; I should ask him sometime. At any rate, that is one for my "bucket list": to be the 'voice' of an animated cartoon character!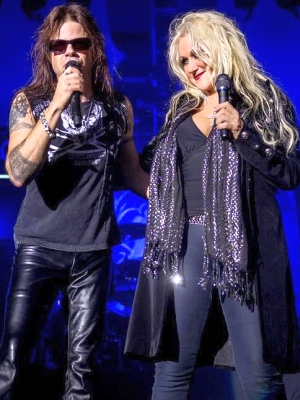 C: There isn't a metalhead alive right now who doesn't know "the tale of two Queensrÿches", whether they are actual fans of the band or not. Obviously I am not going to ask if you have "taken sides" on the issue, but you did recently perform onstage with the "Rising West" version of the band featuring their new singer, Todd LaTorre. What was it like working with him? Would you like to collaborate more with him on future projects?
Pamela: This is a tough question for me. All the members of Queensrÿche I consider family. I have had a working relationship with them for over 25 years. It's sad to see it change, but I feel worse for the fans. They are caught in the middle of this divorce and it sucks! That said…it's not my battle. I try to stay as neutral as possible, but in doing so I'm either damned if I do or damned if I don't. Personally, I feel the change will turn out to be the best thing for all concerned. We can't bother ourselves with something that is not ours to be bothered with. Change brings opportunity and it seems as though life changes are making way for new beginnings for both camps.
C: Did it feel strange at first to sing Queensrÿche songs with someone other than Geoff Tate, after all these years?
Pamela: I've sung with a lot of singers; it's always a unique and different experience each time.
C: Speaking of Geoff Tate, his version of Queensrÿche has been touring across the U.S. and performing Operation: Mindcrime in its entirety. Seeing as how this was the album that first introduced you to the metal world, it does seem a little surprising to fans that Tate has recently hired singer Sass Jordan to sing your parts on the tour (replacing Nina Noir of the Killer Queens tribute band). Are there any plans in the near future for you to join them onstage at a concert, or is it just a bad case of conflicting schedules at this time? (At any case, this would be a good time to silence any rumor mills going at full speed!)
Pamela: It's a bad case of conflicting schedules. To be fair, Geoff contacted me last August to ask me to join him on his new [Operation: Mindcrime anniversary] tour. Regretfully, I had to turn him down. It was a difficult decision to make but I wanted to give [my new CD] Resurrect Me a chance to be heard and was afraid of giving Geoff a commitment and then having to withdraw once the CD was released, due to touring schedules.
C: You mention on your website that you give vocal lessons, which seems to be something that a lot of singers are doing these days. Although you are the teacher, what are some of the things your students have taught you? Pamela: Being a vocal coach is the best thing I have ever done. I feel like it's a 'giving back' of the knowledge I've learned over the years. I have some pretty good students too. You are correct; my coaching has made me a stronger singer and a better communicator. I have learned that cultivating a passion someone has is very rewarding and even more so when you see results. Passions come in all sizes, in all ages and levels. Each one is unique and just as important no matter how big or small.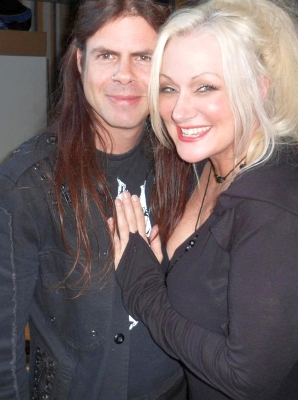 Silly/trivial questions:
C: In our last interview, you described your earlier albums as "blue-eyed soul". If you could "remake" some of those earlier songs to reflect your sound of today, which of those songs would you redo?
Pamela: I haven't heard those songs in so long! [laughs] I didn't write any of the songs so I'm not sure how that would work. The gentleman who owns the masters approached me a couple of years ago asking if I'd like to remaster them, but I haven't really had any time to even consider it.
C: On your online store, you offer personally autographed CDs. Has a fan ever asked you to inscribe a personal message, and if so, what are some of the funniest/strangest?
Pamela: Someone asked me to write: Will you marry me? I declined with a smile, then just signed my name with a little heart at the bottom. I remember a girl asked me to sign her cleavage once. The boys sure loved watching that one! [smiles]
C: Rumors have abounded for years about the possibility of Operation: Mindcrime being made into a movie. Who would you like to see play the part of Sister Mary? Which actress do you think would best do you justice?
Pamela: ME!!!
C: The band Heart recently got inducted into the Rock and Roll Hall of Fame. As a woman in rock, and a fellow resident of Seattle, this must have been an exciting thing for you to witness; as it seems that acceptance of women in the rock/metal scene is becoming more commonplace as the years go on. What are some of the difficulties that artists such as yourselves have faced that you are so glad you don't have to deal with anymore? What are some of the ignorant stereotypes that still linger on; those things that you still can't believe you have to put up with in this day and age?
Pamela: I was very excited to see that kind of recognition for my dear friends of Heart. They deserve it! In any business there are stereotypes, unfortunately. If a woman is smart and direct, she is called a bitch. That seems unfair in my eyes. There also seems to be more scrutiny on how women look and age, more so than for men. This has been a stereotype for as long as I can remember and I don't see it changing anytime soon. So be it. Women age, women rock; and I plan to do both, gracefully.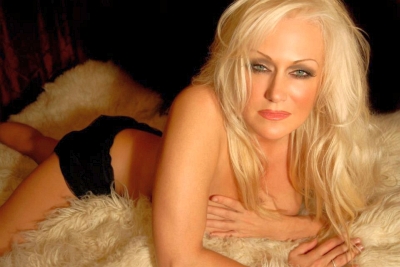 Future plans/closing statements:
C: Besides the vicious cycle of promotion and touring, what else is on your schedule in the near future? Any special signings or "one-time only" performances that your fans should be on the lookout for?
Pamela: That's a secret.
C: The album will officially be out on May 14th, but you've already gotten a lot of positive feedback about it so far. For the fans who are still waiting to get their copies, or for our readers who haven't heard your music yet, what can they look forward to hearing?
Pamela: Resurrect Me is a heavy metal album. Explosive, heart-pumping, pensive, sincere, emotional, and sexy! It's time to rock!!!
C: As always, the final question is reserved for you to speak your mind about anything you want. A chance for you to say thanks to your fans or to give readers insight about your music or about yourself, or to deviate from the norm and say those things that normally don't get asked in interviews. Whatever you feel like saying, this is your chance to say it!
Pamela: I want to give a big cyber-hug to all those who supported me these past years and continue to do so. You inspire me to be the best I can and I am very grateful to have you included in my world. Stay tuned for the next chapter of Pamela Moore. It's gonna be an amazingly fun ride!
Thank you so much, Pamela. It's always a pleasure to work with you!
Pamela: Thanks for the opportunity, C. Be well.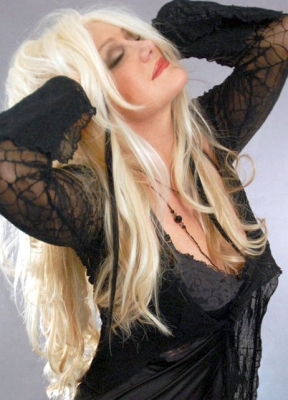 Resurrect Me available in stores and online: May 14th.
Pictures provided courtesy of Pamela Moore's website
Onstage photos of Pamela Moore & Todd LaTorre provided courtesy of Queensrÿche
Special thanks to Rat Pak Records