Tristania Interview 2013
May 19, 2013 (via Skype)


Fourteen years after their acclaimed debut, the Norwegian gothic metal pioneers, Tristania, are poised to release their seventh studio album, Darkest White. Tristania have shifted considerably from the sepulchral chill of their early albums to a warmer, more organic feel, due in no small part to the addition of Mariangela Demurtas in 2007 on vocals. Rubicon served as something of a preview of this new direction, with its elaborate harmonies, catchy riffs, and brighter song; however, it was only a foreshadowing of things to come. (After all, Tristania had a nearly total change in their line-up prior to recording Rubicon.) If you liked Rubicon, you will love Darkest White!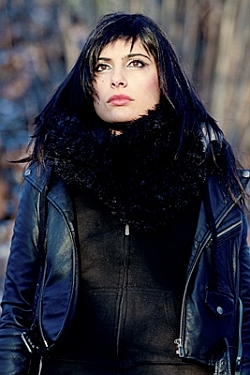 Sonic Cathedral's Robin Stryker caught up with Mariangela Demurtas, while enjoying a sunny day in the park. (Isn't technology wonderful?!) Dive in for a closer look at Darkest White, the meaning behind Mariangela's tattoos, why South America feels like home, and much more!
Robin: Sonic Cathedral is absolutely delighted to welcome Mariangela Demurtas, who is talking with us for the first time! Hello, and what are you up to today?
Mariangela: Hello, everybody! I'm saying hello from Oslo; I'm actually in the park right now. Hello to all of you.
Robin: We are really excited to hear Darkest White, which is the second Tristania album with you on vocals. Could you tell us a little about your upcoming album?
Mariangela: Yes, of course. The new, upcoming album is something different from the previous one (Rubicon). I expect that people are waiting for something similar. But actually, this one is going to be a bit more aggressive, and there will be more growling vocals. It is a very dark album, but at the same time, it's more metal. Yeah, probably the fans will like it. My vocal parts have also a very different approach to the songs. You will enjoy it!
Robin: How much of that difference is the result of being on tour? Tristania have had at least two large tours -- a headlining tour last autumn and a slot on the Out of the Dark Festival Tour in 2011.
Mariangela: Well, touring is really important for getting inspired and for being a bit active, showing the people what you're doing (and getting fans to follow you). So, the more you know your music you like is liked, the more you are motivated to write more sometimes. I think that is the point. Enjoying life on the road for the good reasons.
Robin: Tristania did a wonderful job in writing studio reports for the new album. In an update, Anders mentioned that one of the purposes of Darkest White was to capture the more brutal, intense and energetic live-show experience on the album. Would you agree?
Mariangela: Yeah, of course! But I think this started since we started Tristania with me on the vocals. I tried to push the thing on this way since the beginning. I always liked to be very direct on stage, and I have the impression that the band came out showing more feelings too and being comfortable in punching the sound straight to the face of the audience. I am glad we are this way now.
<man singing in background> I'm sorry about that!
Robin: <laughs> Don't even worry about it. My dog is snoring very loudly at my feet. I don't mind guys singing, if you don't mind dogs snoring.
Of course, you are a hot-blooded Sardinian, and have lived in Norway for five or six years. What do like best about your new home?
Mariangela: Well actually, I really, really feel like I need to be home more than I do. Probably, I would like to share six months here and six months there. But it's also because of the winter. I get really affected by the winter, so I really miss the summer and all the vibes of the warm season like I was used to. That is why, when in Oslo, I try to enjoy most of the days that come closer to my standards of warm weather. Skiing is really cool, but I am not a master, I prefer beach volley! <laughs>
Robin: So, when you go home to Sardinia, is there a special meal that your mum makes for you?
Mariangela: The fact is: I really miss the family, and that is something that I can't bring here to Norway. But I work on it day-by-day because, anyway, I'm here since five years for the band's reasons. That is something important too. My mom always asks what I want for dinner when I go home. I feel it so unusual now, that I ask her please not to ask me and to do whatever she likes.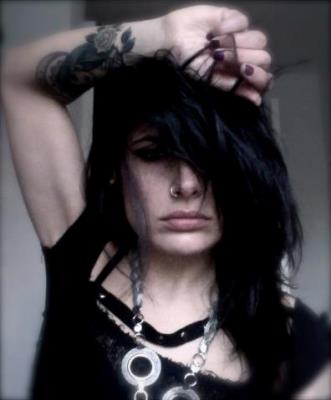 Robin: If I understand correctly, Darkest White is the fastest album Tristania has done, with the entire album being recorded in a month. As the vocalist, what did being on such a short time-frame mean?
Mariangela: Nothing more than just being prepared with the songs, just before going to the studio. I mean, I rehearsed them all during the months before the recordings. When I got there, I was already ready. In just two days and a half, I recorded the whole thing! It's a matter of training, I guess. That's all.
Robin: For the album, did you compose the vocal lines and melodies …
Mariangela: Not in all the songs, but in general, we are included in the songwriting as composing the vocal melodies. Sometimes, if someone writes the whole song, we might keep the other lines, but we have the responsibility to work on the vocal melodies (me and Kjetil) all the time. So, it's like that.
Robin: Tristania played at least one of the songs ("Requiem") during your fall 2012 headlining tour. Did that song change between when you played it on tour and what fans will now hear on Darkest White?
Mariangela: Probably a bit, yes, because of the fact that we worked on "Requiem" in the studio, and we worked with a producer, Christer André Cederberg. So, some things have changed, of course. It will be different … just a bit different.
Robin: Would you tell us about a couple of your favorite songs on Darkest White?
Mariangela: My favorite songs are "Himmelfall" …
Robin: My very favorite!
Mariangela: Then "Scarling" and … <laughs> it's very difficult … I'm a bit unsure because I like different parts in all the songs, so it is kind of hard to answer. But "Requiem", I like it as well. Maybe three favorites are fine, right? Otherwise, my favorites are the whole album. <laughs>
Robin: Can you tell us about what "Himmelfall", "Requiem" and "Scarling" are about?
Mariangela: Well, they don't have actually a meaning in particular. The album is meant to be very dark with some beams of light. You can't tell what is the story, in particular. The lyrics are meant to evoke images and thoughts in the listener, and there is no real set key to what they should mean to the one who listens to them. People can interpret the songs the way they want.
Robin: In addition to recording with Tristania, you also collaborated with Ex Deo on Caligvla, which was actually nominated for Metal Album of the Year by the Juno Awards (Canadian Grammys). How did you get hooked up with those guys?
Mariangela: We were in Mexico with the band (we were in a festival), and I was in the toilet queue there. There were two guys from Kataklysm waiting outside. I went to the toilet, and I sadly got stuck in there. So I threw open the door, and I ran out. I was feeling claustrophobic and really scared, because I didn't want to be stuck there of course before playing.
The guys saw me, and asked: "Is everything fine? Don't get scared." Then we introduced each other, and we actually hung out the whole festival, especially with Jean-François the guitarist from Kataklysm. And then, Maurizio Iacono is the guy from Kataklysm who is actually Italian. So what happened? We met again on the boat of the 70000 Tons of Metal, and they came to see our Tristania concert. Then it happened that Maurizio wanted me to join as a guest in the project, Ex Deo, because he wanted some Italians playing there, like Francesco Artusato from All Shall Perish. And then ... they liked what I did, and wanted me to join. So, I had an opportunity to be a guest on their album. I am really glad that the album is getting so much attention in Canada. It's cool!
Robin: Was it during that festival alongside Kataklysm that you were inspired to get another tattoo with a Mexican-inspired theme?
Mariangela: Well actually, I always liked South America. So yeah, I kind of got into Mexico since we started to visit Mexico for playing and festivals and concerts. So the Mexican tattoo I have on my arm is something I wanted to choose. Actually, I was going for a Calaveras (skull) before, but many people have the Calaveras tattoo. My friend showed me some drawings he did, and he had this beautiful face of this girl. It actually was an Adelita from the Mexican Revolution. And if you go through all the meaning from the Mexican Revolution, it really inspired me a lot!
This is not the only woman I have tattooed on my body, because I also have another warrior on the right arm and Medusa on the left leg. This one is really particular because it means a lot of strength, especially for a woman, because the Adelitas were the women who were taking care of the wounded during the Revolution, and then fighting for their rights as well against the government. So, it represents a very, very strong woman, and that's why I'm attracted by that.
Robin: Fascinating! Tristania are actually headed to Costa Rica to play for the first time in December 2013 …
Mariangela: Yeah, yeah, yeah! We're going to Costa Rica.
Robin: Have you been there before, like when you were living in the Dominican Republic?
Mariangela: No, I've never been to Costa Rica. But I'm so familiar with the language and the South American culture that, all the times I go there, I'm home. It's really weird. <laughs>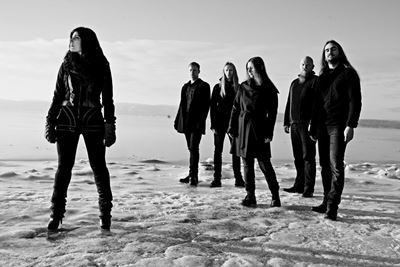 Robin: You lived in the Dominican Republic for a while, right?
Mariangela: Yeah, I lived there for one year when I was 16. So I got really into that culture. I guess, it really interests me a lot. I think it made a bit of the Latin side of Mariangela these days really strong.
Robin: Tristania also has some festival gigs coming up. Where can fans see you live, after Darkest White comes out?
Mariangela: The festivals that we're going to play are Wacken and Summer Breeze.
Robin: Are there any discussions of perhaps a European tour?
Mariangela: Yeeeeeeaaaaaah, we're talking about that. Nothing is official, though, so we're still talking about that.
Robin: In addition to work that you're doing with bands, you and your dear friend, Grace Solero, have also started workshops for artists.
Mariangela: Yeah, we're doing that. Actually, it's something I started to do a long time ago … not "a long time ago", but three years ago or so … to have the will to show skills and teach people about what a singer should do. Just trying to inspire people actually, because I don't ask people to do what I want; I just hope that they get the same vibes. It's almost the same thing that I do when I'm on stage, but I try to do it in a more educational way.
Grace Solero is a great, great, great performer! She is one of the REAL musicians that I know -- one of the few real musicians I know all over the world. She is someone who is really passionate and very talented that really knows music, and is not just there to be there, if you know what I mean. She is one of the most talented people I know, so I really respect her a lot, and am so happy that I met her. I would like for her to be more exposed, because she really deserves it. The thing is: What she plays is not metal, but it's rock. I guess the U.S. could be kind of cooler probably for her. This explains why I work with her, because it's inspiring to share activities with really good musicians, and not just "names".
Robin: Understood. Speaking of really good musicians: the wonderful Danny Cavanagh from Anathema! You shared the stage with him at his acoustic show in Oslo in February. Would you tell us about that?
Mariangela: Well, I did that before. Me and Danny, we had some songwriting sessions together, and we fit very well. We loved to work together! We actually did that three years ago in Portugal; we wrote three songs that, at the moment, are not out, but maybe one day. I don't know, we need to find the time to do this stuff. But me and Danny, we kind of fit really well. He really had good esteem of me as a singer and as an artist, so we're really good friends. I played with him twice in Oslo -- this year and two years ago.
Robin: Circling back to Tristania, do you think we'll see a music video from Darkest White?
Mariangela: The music video I think, well, we're going to do that. We are still thinking about what, because we have to choose some artist to produce it.
Robin: We're about at the end of our time. What final words do you have for your Tristania fans?
Mariangela: I really, really want them to believe that Tristania is coming back even stronger than before. We really NEED to be there for them and to give them what they need to have from us. We've always been really committed to our music together, and I really hope that actually they're going to appreciate the fact that we do it also for them.
Robin: Mariangela, thank you so much for talking with Sonic Cathedral today!
Mariangela: Thank you so much!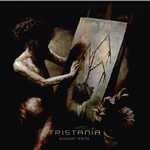 Tristania official site
Tristania on Facebook
Mariangela Demurtas on Facebook