The first thing I learned about A Sound of Thunder upon finding them online was, "damn, this is band is awesome!" The second thing I learned was how interactive they are with their fanbase; so when I sent a message asking for an interview, I got an enthusiastic "yes" almost instantly. Shooting the breeze with Nina Osegueda (vocals) and Jesse Keen (bass), I learned a lot about their new EP ("Queen of Hell"), their upcoming album (Time's Arrow), how four metalheads who loved the sounds of Iron Maiden and Dio met through Craig's List to form a band, and everything else in-between.
Questions about the new album:
C: Give our readers some insight about the writing/recording process of the new EP, "Queen of Hell".
Nina: We wrote Queen of Hell over a year ago. The lyrics are based on a story I wrote a long time ago, which also inspired the art included with the EP.
Jesse: Queen of Hell was written concurrently with Time's Arrow, so it ends up being kind of a teaser for the full package. We write pretty constantly, so a good chunk of the album was written before we went on tour last year. Likewise, the next album we have planned is almost fully written.
C: What differences were there (if any) from the last album?
Nina: I think we decided to have a lot of fun on this one throughout. It expressed our love of old school heavy metal releases, as well as our sense of humor. "Hello Nurse" was something I've wanted to do for a long time, a sort of Alice Cooper-style hard rock story with sound effects and voice acting.
Jesse: I'd say that Time's Arrow is a little more atmospheric and thematically dark than Out of the Darkness.
C: Have you filmed any videos yet for "Queen of Hell", or do you plan to?
Jesse: We have some songs that we'd like to have videos for, but those are still in the works.
Nina: We haven't filmed any videos yet, but we do have plans! Recently, our favorite videographer, Duy Tran, announced that he would be moving to China to start another job there, so we might be in the market for someone new.
C: Tell us about Veronica Freeman's contributions to the alternate version of "Queen of Hell". How did she get involved with the project? Have your bands worked together before? Was the alternate version written intended for her voice, or the other way around?
Nina: I met Veronica at Flight of the Valkyries way back in 2009. At the time, I was already a fan. She was another female metal vocalist who, like myself, is more into the traditional method, and I looked up to her. We had the idea to include her because we thought it would be fun to showcase that bad-ass old-school style of metal singing over such a traditional style song. We sent her a demo where I did all the vocals, and she sent us back her version. We thought it was great how she played with it, and that's how we wound up with that version!
C: You have stated in the past that you were a band who wouldn't do covers. Why did you decide to make an exception to the rule with the Black Sabbath cover of "Trashed"? And why that song as opposed to something more well-known from the Ozzy or Dio eras?
Nina: The reason we decided to do "Trashed" was specifically because our producer, Kevin "131" Gutierrez, asked us to. Trashed is one of his favorite songs off of he and Josh [band's guitarist's] favorite Sabbath albums. They've sort of bonded over it, and Kevin was eager to hear us do justice to the song. I'm really glad we did this and not a more popular song, if only because it's not very often that people hear covers from Born Again. It's one of those great unsung albums that goes overlooked, but I think the lyrics in Trashed are particularly great. Especially if you know the backstory!
C: (To Nina:) You have some pretty quirky and humorous lyrics. Where do you get your ideas for lyrics? What kinds of things inspire the lyrics you write? Do you prefer to write more light-hearted lyrics or do you also like writing thought-provoking lyrics too?
Nina: Personally, it depends. My "thought-provoking" lyrics tend to still be lighthearted. I like writing about emotional things, but I like doing it in a way that's obvious. I don't want to sing about how I'm sad, I want to write about why I'm sad, and I'll generally try to compare it to something else. For example, we've got a song on the [upcoming] new album [Time's Arrow] called "My Disease". That was my expression of love and how love often makes me feel absolutely disgusted with myself. I don't do songs like that very often, because typically, I enjoy the storytelling part of music. And of course, my favorite stories are silly and disturbing, so that's where stuff like "Hello Nurse" and "Queen of Hell" come from. I love writing stories and characters and songs give me an outlet to bring all of these stories to life.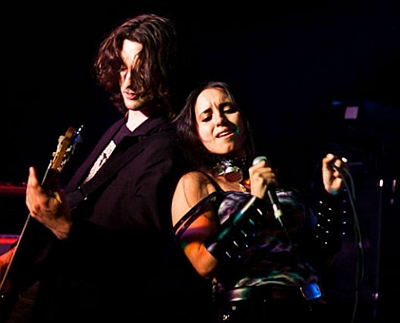 Questions about touring:
C: You just recently opened for Doro during her stop in D.C. on the Raise Your Fists tour. What was that like?
Jesse: It was fun. Doro's crowd is always really cool.
Nina: That was great! We've opened for Doro before, and we love the crowd she brings. It's that old-school heavy metal crowd that's still open to the idea of kick-ass front women.
C: Any stories about your time with Doro that you think our readers would enjoy?
Nina: The first time we opened for Doro, we had two of our stagehands walk our banners to the stage during a heavy metal version of the Imperial March [Darth Vader's theme]. It was pretty memorable, and after we were finished, Doro's drum tech [Harvey Kilner] came to tell us how much he enjoyed it. We've been friends with Harvey ever since.
C: What are your tour plans right now? Are you going to be visiting any new places that you haven't been before?
Nina: Yes, we're planning on going on tour this fall! We'll be hitting the road with Benedictum. So far, we've got a few dates booked in places we've been before [Georgia, Maryland, Pennsylvania], but we're also booked for a stop in Connecticut! That's definitely a new one for us!
C: What places have you not toured yet, that you would really like to?
Jesse: Belgium!!!
Nina: Well, obviously Europe…that's probably every metal band's dream! But personally, I'm really looking forward to touring in the South. Particularly, I'd love to hit up Florida, Louisiana, Mississippi, Texas, and then work our way to the West Coast. We've got a lot of fans in California who keep complaining that we don't do shows there, but it's not for lack of trying, believe me!
C: What is your favorite tour memory so far? Any crazy stories you'd like to share with us?
Jesse: Gigging in Nashville, and going onstage at 2 a.m. I was pounding back energy drinks to stay awake.
Nina: I think my favorite tour memory comes from our show in St. Paul with Sabaton. That was one of the very best metal crowds I've ever seen, and it was on a Tuesday! We had a great time playing, and after we left the stage we stayed to enjoy Sabaton and Dawn of Valor. We made a lot of new friends that night, and I wound up somehow getting scratches by my own goggles in the mosh pit, on top of a busted lip. That one definitely tops my show experiences!
Questions about the band's beginnings, musical influences, and fans:
C: Who were your musical influences growing up (both metal/non-metal)?
Nina: Growing up, I was fairly sheltered by my parents. I lived in a ghetto neighborhood, nobody I knew liked metal, and all I had to listen to was the radio (which played grunge and rap) and the music my parents approved of. So it was mostly show tunes, for me, and oldies. My mom was training me to be a stage musician early, so I learned a lot of show tunes and classical pieces for auditioning purposes. It's because of her and my dad, who drove me from audition to audition, from show to show, that I'm so dedicated.
Jesse: I started off playing electric blues and classic rock, so guys like Noel Redding [Jimi Hendrix Experience] comes to mind directly. As far as metal goes, it ends up being closer to Geezer Butler [Black Sabbath] and Cliff Burton [Metallica].
C: What are some of your favorite newer metal bands on the scene today? Do any of you enjoy other types of current music, and if so, who are your favorites among those?
Jesse: Well, in terms of metal, Devin Townsend, Gojira, and The Dillinger Escape Plan are among my favorite artists. Other than that, I'm looking forward to [the] How to Destroy Angels' new album next month.
Nina: They're not new to me, exactly, but I'm a huge fan of Sabaton. I remember gushing over them when their first heard Primo Victoria. I didn't get to see them live until we opened for them and Accept (another of my favorites), and their stage performance was phenomenal. I'm glad to see that they, and Civil War (a band made up from ex-members of Sabaton), are doing so well.
C: When did you start learning to play music? Do any of you play any other instruments?
Jesse: I was 16 when I picked up the guitar. Other than that and bass, I play piano.
Nina: I've been singing since I was a pre-schooler. My first little singing "solo" was in the first grade, in my school's choir, and I guess that's when I decided what I wanted to do! I was involved in the choir in church and at my school, plus the county honors choir all through elementary and high school. For some reason, in the 6th grade, I decided to learn how to play the saxophone. I took to it really well and for a while I did both band AND choir. I was the girl who, during school recitals, would run from my place in the band to my spot in the choir between performances. I was a soloist for my church, where I did classical singing. I also performed with the Washington Opera during high school. Right now, I'm learning to play the Theremin.
C: What were your previous bands (if any), and how did they differ from A Sound of Thunder? Have any of you ever played in any non-metal bands?
Nina: I've only been in one other band, and it was Blood Corps. It was very different from A Sound of Thunder. We had 2 guitarists and were more focused on a very modern style of hard rock, more akin to Halestorm or In This Moment.
Jesse: Jeez. Electric blues again, plus a jazz influenced jam band and a modern rock band. This is the first one that's lasted longer than six months, really.
C: When forming A Sound of Thunder, was it always the intent to have a female voice, or did that just happen by chance?
Nina: Absolutely not! Josh [guitars] and Chris [drums] will be the first to tell you that it wasn't their intention to hire a female. Their first vocalist was, in fact, a male. Due to the current female-fronted vocalist atmosphere employing girls who sing either pop-style or opera-style, they didn't think of the fact that a female might be able to sing in the classic Dio-style. Until they met ME, that is! And I'm very proud of the fact that I was able to convince them of my capability.
C: For our readers just learning about you for the first time through this interview or the accompanying review, what can you tell them about your previous albums?
Nina: Our first album was definitely a good learning experience. We did it the old-fashioned way, on tape. There's no studio polish, no modern magic, just us on tape as you might have heard us live back when we had only been a band for a year. My voice has come a long way, since then. I've learned to sing in a way that complements our music better, and you can hear the difference on our second album, Out of the Darkness. For new fans, my suggestion would be to listen to our music backwards. Start with Queen of Hell and work your way back. You'll be able to tell immediately how far we've come as a band, the same 4 people learning from each other.
C: Your band has gotten a lot of attention from high places in the world of metal. What has that been like, to garner such respect from people you have respected?
Jesse: Huge, cool, and mildly terrifying.
Nina: It's a dream come true. I've been able to speak to so many people that I've dreamed of meeting, and it's sometimes hard not to come off as a gushing fan girl! I could have easily swooned when I met Fabio Lione, but it was so nice to be able to talk to someone of his caliber and know that in the end, he's another vocalist, and we've got stuff in common.
C: Speaking of getting love from your audience, in what ways have you seen your fans show their appreciation for you? (For example, how far has a fan traveled to see you live, or what kinds of things has a fan done to meet you?)
Nina: We've had fans travel from very far away to see us. They've traveled from North and South Carolina just to see us in Virginia, and that's very touching. The fact that they would come from so far just really makes all of the effort worth it.
Jesse: We have really awesome fans. Guys that traveled several states to see us play (at home and on tour) and just the sheer interaction we have with our fans online is just really cool.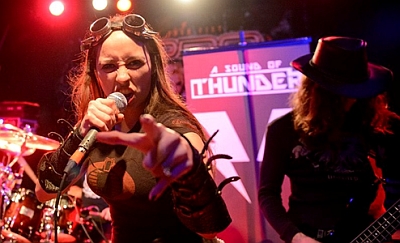 Questions about the local, metal, and femme-metal scene:
C: People tend to equate Washington, D.C. with politics, so they may be surprised to learn what kind of music scene exists there. What is the metal scene like in the area? Is there a thriving metal scene, or do other particular types of music seem to be more prevalent?
Jesse: There's an absurdly wide variety of metal bands in the area, which gives me hope for the local scene because there are always fans that show up.
Nina: The metal scene in the city of DC isn't too great. The bigger bands (Ghost, Accept, Dragonforce), they will play at clubs like the 9:30 Club and they will get huge crowds, but usually the DC vibe is more geared toward hipsters and indie rock. Local bands and smaller bands don't generally play inside DC as much as they do on the outskirts, and Baltimore. Northern Virginia has an extremely thriving heavy metal scene, though. There are a ton of metal bands and you can usually find at least three or four metal shows a week. Baltimore also has a fantastic metal scene, but they host both huge and small bands so it's a little more varied.
C: Are there any other metal bands from your area that you think are "going places" (or that you have worked with), and deserve a mention?
Nina: Of course Division has been working hard for years, and I see them continuing to make an even bigger name for themselves. There's also Cab Ride Home and Aries. These are bands that are constantly doing shows and working hard to make things happen.
C: (To Nina:) Due to the flourish of the femme-metal scene over the last decade, what kind of advantages/disadvantages do you face because of this?
Nina: I see advantages in terms of opportunities. There are a lot more people who are open to the idea of women in metal, now. More women in particular go to shows. Unfortunately, there's also a lot of expectations from certain groups. You've got the most popular group, which is fond of bands like Nightwish, who expect their female vocalists to be very feminine. I don't exactly fit that particular look, so sometimes I get overlooked in favor of that style. We've had to really market ourselves as a heavy metal band who just so happens to be fronted by a woman, without putting too much emphasis on me being a woman.
C: What femme-metal bands on the scene are among some of your favorites? Which of them would you most like to tour with if you had the chance?
Nina: Well, Benedictum of course! But I'd really love to tour with Doro. She's the reigning Queen of heavy metal, after all.
C: (To Nina:) What advice or tips can you give to young girls out there who are looking to form their own metal bands? What sorts of things do you think are important for them to know about embarking on the world of female-fronted metal?
Nina: First off; make sure that the people you work with make you feel comfortable. Make sure they have the same goals and dreams, and especially the same values. There will be a lot less heartbreak and anger, that way. I got really lucky by finding these guys on Craig's List. I can't tell you how many guys I've met along the way who were a terrible fit, yet somehow I found a group who are not only the most talented people I've ever worked with, but also the most fun.
Silly/trivial questions:
C: Musicians always compliment songs that they like by saying, "I wish I had written that!" Which song(s) do you wish you had written?
Nina: There's a couple! "Elizabeth" by Ghost always gets stuck in my head. "The Book of Heavy Metal" by Dream Evil is definitely another.
C: Name 3 metal albums that you think are essential for the "metal beginner"; someone just discovering metal music.
Jesse: Metallica's Master of Puppets, Opeth's Morningrise, and Heaven and Hell's The Devil You Know.
Nina: Painkiller by Judas Priest; Powerslave by Iron Maiden; Heaven and Hell by Black Sabbath.
C: Assemble your dream festival. Which bands (besides yourselves) would be on the bill? (You can choose any bands/artists you like from any and all genres, including those who have disbanded for a fantasy "one night only reunion"; or artists who are no longer recording, for an "out of retirement" performance.) [The only rules: try to limit the list to 5-10 acts each if you can, for space purposes! And obviously, no bringing back deceased artists from the dead!]
Nina: Iron Maiden, Judas Priest, Accept, Blind Guardian, Hammerfall, Ghost, Sabaton, Benedictum, Dream Evil…If I could have that, I think I would die happy!
C: Which musicians would you most like to collaborate with, either in something related to A Sound of Thunder, or as a side project? Which band/artist would you most like to hear covering one of your songs?
Nina: I'd kill to work with Bruce Dickinson, Fabio Lione, Tony Kakko, Tobias Sammet, Mathias Blad, and of course, Mark Tornillo!
C: Speaking of musicians…since you covered Black Sabbath, I have to ask: Ozzy or Dio?
Jesse: Dio!
Nina: Dio all the way.
C: Let's continue with the "either-or" questions…(You do not have to give reasons why.)
C: Halford or Dickinson?
Jesse: Dickinson!
Nina: This is very difficult for me. I'll have to say Dickinson, even though I clearly love both.
C: Eddie Van Halen or Randy Rhoads?
Nina: Van Halen, but only because I have childhood memories of listening to them through my '80s metal head brother. Specifically, my dentist has a story about how a 5-year-old Nina said she wanted to go to a Van Halen concert. I don't remember any of this, but that's what I always think of when I hear Van Halen!
C: Metallica, Megadeth, Anthrax, or Slayer?
Jesse: Metallica.
Nina: Megadeth. I'm not a big fan of Mustaine as a person, but I have to admit that he can write some great music.
C: Name something about yourselves or your band that you think your fans would be surprised to know. (It doesn't have to be related to music!)
Nina: When I was 19, I lost 60 lbs. through diet and exercise. I've since kept it off, but I used to be a size 16! This was ten years ago, so it's hard to find photos of me like that, but they do exist.

Questions about the upcoming album and plans for the future:
C: The "Queen of Hell" EP has been referred to as something to hold fans over until you can finish work on your upcoming album, Time's Arrow. What can you tell us about Time's Arrow so far? Anything new you'd like to share with our readers for the first time, right here and now?
Jesse: I think we've made something that fans of Out of the Darkness will love, while exploring different aspects of our genre.
C: How is the recording process for Time's Arrow going?
Nina: Time's Arrow is already finished. As of right now, we're working on releasing it, and I'm personally working on getting all of the printing materials ready!
Jesse: Time's Arrow has been done for a bit now. We're working on the production process of the actual physical product, but the recording itself is done.
C: Aside from recording your next album, what are your plans for the immediate future?
Jesse: Touring. We've got stuff planned (or in the works) for every month out of the next year.
Nina: More touring, more writing. We've already written album #4!
C: In closing, anything you'd like to say to our readers, or to your fans? It's a free-for-all, so you can say anything you want!
Nina: Thanks for listening. Without you, there is no dream, there is not Thunder.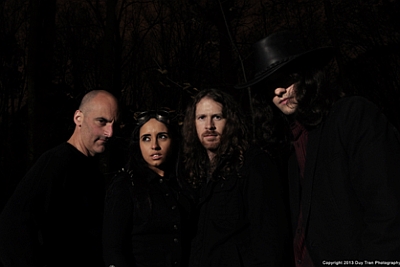 Thank you so much for your time; it was a pleasure to work with you!
All photos provided courtesy of A Sound of Thunder
Special thanks to Nina Osegueda & Jesse Keen.
Extra-special thanks to Tim Borzi.