Interview Dark Sarah (Heidi Parviainen)
March 2013
A few weeks after she left Amberian Dawn, Heidi Parviainen revealed her new project called Dark Sarah. Some days ago, her first video clip for "Save Me" was unveiled, and more songs are coming, featuring talented singers such as Manuela Kraller (Xandria) and Inga Scharf (Van Canto). Saying that her project is literally her dream coming true, Heidi tells us more about Dark Sarah and her main inspirations.
Émilie: Hello Heidi, and welcome to Sonic Cathedral webzine! For those who don't know you yet, you're the ex-singer of Amberian Dawn and you now have your own project called Dark Sarah. Can you give us a short biography about yourself?
Heidi: Sure! I´m a classical singer from Finland and at the moment I follow professional singing studies at the Conservatory of Helsinki, Finland. I started my musical career in 1997 in a metal band called Icon of Fear as a keyboardist and a backing vocalist, but in 2006, I started to look for a band as a singer.
Shortly after that I joined a Finnish metal band called Amberian Dawn. We released four studio albums and did three European tours and several European festivals before we parted ways in 2012. My new project is a solo project, and it is called Dark Sarah. It's making one of my dreams come true, a dream that had been sleeping for many years but now has finally awoken. Dark Sarah is now making its first studio album, and the musical style will combine elements of film music, musical theater and metal music.
Émilie: Can you tell us more about your new project Dark Sarah? What is it, and how was it created?
Heidi: After quitting in Amberian Dawn, I realized I now had the time and motivation to finally put up my own project. The birth of Dark Sarah came along with the first lyrics I wrote for this new project. The idea suddenly struck me with the force of lightning, and everything became really clear. I started to write a story about Dark Sarah herself, and the idea of the split personality of Sarah represents the battle of light and dark in her mind and I will try to bring that set-up to music too.
This time I'm also going to do some co-writing. I have also been really fortunate since I have found the dream team to work with. I met a young talented Finnish singer & song writer Emy Frost, and we decided to start working together on this album. The first thing I did, after deciding to start working on a solo project, in early 2012, was to call Mikko P.Mustonen (Pathos Music, Finland). I had always admired his master work in making digital orchestrations. We started to build up the project musically quite shortly after that. And now, the single and the music video "Save me" is already out and I'm excited about the positive feedback I've got so far.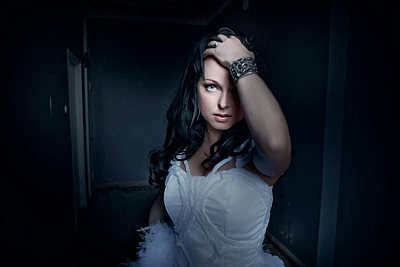 Émilie: Many people wonder why you chose to use the name of Sarah... Does it have any special meaning to you? Once you said that you loved Sarah Brightman, is there any link with her?
Heidi: The name for Dark Sarah came along with the first lyrics I wrote for Dark Sarah. The story is about a woman who has gone through some rough times, and was actually left at the altar by her husband. She almost breaks down but something wakes up inside of her and she changes to another person, her meaner half, Dark Sarah. I was so in the story of Dark Sarah that it became my project name and it could also be my alter ego too, hehheh :DI also liked the fact that the name Dark Sarah sounds like a super villain or a cartoon figure (like Cat woman, Jekyll and Hyde etc.), and they all have their metamorphosis too.
But there is also a deeper meaning behind the name Sarah which is a really old name and means "a princess", and Dark Sarah is a "dark princess". The eye of Horus symbol in the logo and her eye (when she transforms into hear meaner self) means protection, she protects her good self by becoming bad. About Sarah Brightman, yes it is a bit funny that people link my Sarah to her, but I don't mind. She is the highest selling soprano in the world and if someone feels that I have some similarities with her, in my opinion, it is only a pretty GOOOD THING :)But the project name Dark Sarah doesn't try to make any links to her.
At first I actually thought using my own name. But to be honest, Dark Heidi sounds too silly to me. I link the name Heidi to the 70´s TV series little Heidi from the Alps! Hehheh. But one thing is certain, Sarah Brightman has been one of my inspirational sources when trying to find my new musical style, and therefore I could say that I see her in the group of guardians of Dark Sarah, as well as Danny Elfman, Tim Burton, Lloyb Webber and female fronted symphonic metal bands with classical voices.
Émilie: You left Amberian Dawn in November 2012, and your first music video was released on March 8, 2013. We're happy to hear you again! In this video we can see that you play the role of a woman who gradually gets darker and darker and who ends up killing a man... by fire! Does this video clip symbolize a part of your own story (we hope you have never killed anyone though!)?
Heidi: Dark Sarah´s story is mostly an adventure into her mind and yes, she can be vicious and cruel. But he is not actually killed, or is he? ;) With Dark Sarah, I'm also saying goodbye to one part of my life. I'm against all violence but the white screen is a safe way to have a revenge, even if you can mentally have your pay back moment, it is good for the healing process. Dark Sarah will kick some asses, I tell you! :) But, do you see the symbol of Horuses Eye around her eye in the end of the video? It only appears when she transforms into Dark Sarah. She protects her good self by becoming bad.
Émilie: At the moment, only the song "Save Me" has been unveiled. However we already know that you're going to collaborate with Manuela Kraller (Xandria) and Inga Scharf (Van Canto). What can you tell us about it?
Heidi: We met on the Out of the Dark tour in 2011, and back then we already spoke about making duets one day. And this is the perfect time for them. I'm still working on the first duet with Manuela and trying to arrange something that you haven't seen yet in this genre, if everything goes as planned. I can't tell you much more at this moment. Also a duet with Inga will be a great thing; Steff of Van Canto has composed a killer song for us!
Émilie: Other guest musicians such as Kasperi Heikkinen, Jukka Koskinen and Heikki Saari are also appearing in your songs, whom we already know since you used to play together in Amberian Dawn. It seems you love working together, what led you to work again together?
Heidi: Dark Sarah is already the third project with Kasperi; we first started together in Icon of Fear and later Kasperi also joined Amberian Dawn. He is my good friend and amazing guitarist too. Both Jukka and Heikki are really great guys, and we became friends during the time in Amberian Dawn, they are also such talented musicians. If you can have the musical dream team made from great people, can it get any better? :)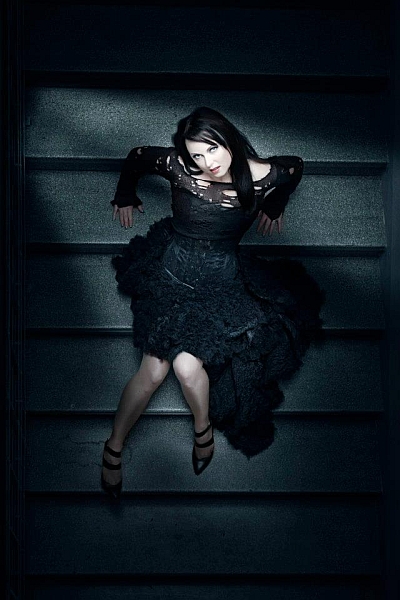 Émilie: Tell us a bit about your musical inspirations. You said that Dark Sarah's music combines elements from Metal music and film music (we can clearly hear that in your new song). Who are your favorite musicians and composers? And what are your favorite movie soundtracks?
Heidi: As I wrote before, Sarah Brightman has been one of my inspirational sources when trying to find my new musical style, and therefore I could say that I see her in the group of guardians of Dark Sarah as well as Tori Amos, Danny Elfman, Lloyb Webber and female fronted symphonic metal bands. My favorite soundtracks are: The Piano and Memoirs of a Geisha (and many more) I also love the musical theme of Corpse Bride.
Émilie: If you had to name one person, is there a specific artist who inspires you in your everyday artistic path (not necessarily from Metal music)? Okay, if the choice is too difficult, you can say two names!
Heidi: Well, I've never had any real idols, not even as a child- I didn't even fall in love with NKOTB (New Kids on the Block!!!! LOL) when the others were didn't talk about anything else. But to name few of my favorite artists: Kate Bush, Sting and Tori Amos.
Émilie: I remember that building a kantele (a Finnish harp) was one of your projects. Is it made now? Would you like to use it in a song for Dark Sarah then? Or do you prefer to use more "classical" Metal instruments?
Heidi: No, it is not made yet. I bought a 35 string chromatic lyre instead but I don't have time to practice and I truly suck at it....:D But my real instrument is piano, and I´m going to make a new coming with piano on the next Dark Sarah song. Dark Sarah will also have more not-too-common instruments in its music.
Émilie: Back in Amberian Dawn, we remember that one song ("Virvatulen Laulu") was written in Finnish. Will we hear you singing in Finnish in Dark Sarah too?
Heidi: That is possible too, yes. :)
Émilie: As a member of Eve's Apple, could you give us your impression about this community? Did you enjoy meeting your Apple sisters in Metal Female Voices Festival last October? By the way, we'd love to see Dark Sarah playing at that festival one day!
Heidi: It is lovely to have a community that shares knowledge about music business and also supports us female singers in this genre. And just for girl talk it is a good place. Sometimes in this genre it can get a bit lonely being the only one in your species on board. I'm afraid that MFVF this year will be too early for my album, but hopefully next year then!
Émilie: We often see on your official Facebook page that you share links about environment protection, and I remember that the lyrics of Arctica from Amberian Dawn were about this topic too. You seem very concerned by this cause, are you optimistic about wildlife's future?
Heidi: Yes, I'm concerned about the state of our planet because it feels that so few people really think that making things better starts from our personal and sometimes really small choices, every one of us could start it today by making more ethic choices in our everyday lives. We should just jump of the roundabout of consumption, open our eyes for the world and start thinking with our own brains. Too many people seem to have lost their moral, the thing that makes us human. Unfortunately I see the lack of respect to the nature already in children and that is what scares me. I would be more optimistic if I saw more change in the attitudes towards protecting life on our planet and caring about all forms of life.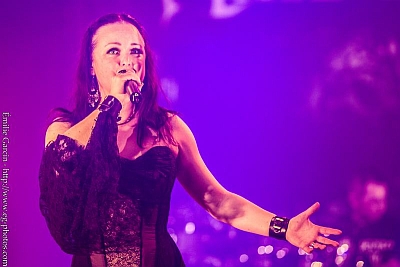 Émilie: Do you have any last word for your fans?
Heidi: I'm so happy I have such many people following my new project Dark Sarah! And I really hope to get back on stage really soon and this time as Dark Sarah.
Émilie: Thanks for your time, Heidi! We wish you all the best for your project and hope to see you back on stage soon!
Heidi: Thank you for this nice interview.
Promotional photos by Toni Härkönen
Live photos by ÉmilieGarcin
Dark Sarah official site
Dark Sarah on Facebook
Heidi Parviainen on Facebook