Divine Ascension Interview
Performed in September 2011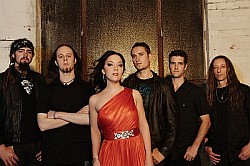 Is it just me, or do we at Sonic Cathedral focus so much on European and North American bands that sometimes we forget to look elsewhere for great music? It seems that way – and that's why we're lucky to have discovered Divine Ascension. Hailing from Melbourne, Australia, this sextet plays progressive symphonic metal that doesn't let the technicality get too crazy or the orchestrations too bombastic. This kind of balance is what drives Divine Ascension's upcoming debut album, As The Truth Appears. And between the guitar acrobatics, Jennifer Borg's salient performance on vocals, and the fluid songwriting, this CD has quickly become one of the most impressive female-fronted releases of 2011.
Sonic Cathedral staff writer Sara Letourneau recently chatted with Divine Ascension's founding guitarist Robb Inglis as well as Jennifer Borg for an interview. They discussed the band's origins, the Australian metal scene, and what exactly is implied by the title As The Truth Appears. Read on to learn more about female-fronted metal's most promising act from Down Under!


Sara: Hello, Divine Ascension! Welcome to Sonic Cathedral! Since many of our readers are reading about your band for the first time, tell us about Divine Ascension's history as a band. How did it get started?
Robb: Divine Ascension came into fruition after Luke [Wenczel, drummer] and I found each other browsing an online musicians wanted section. After making initial contact, we discovered we each shared similar influences and, more importantly, exactly the same goals. The search was on for the remaining members, and this is where we stumbled on a vocalist, as these guys – or should I say, girls – are extremely rare in Australia. An outsider once said that we needed someone with a background in theatre to front the band in order to embellish the sound we had. This was a passing thought, as we never in our wildest dreams thought anyone who had ever done stage work previously would even think of fronting a metal band.
Originally, we were looking for a mid-ranged male vocalist, but out of the blue we received some interest from Jennifer, who had the background we had dreamed of. Jen was intrigued by the music we had provided and told us it came down to the lyrics/melodies. Luke [called] me on the spot and said I had to "sing" these songs for her: "No pressure, Robb, but she's a pro and we need her to like them!" Jen seemed enthusiastic enough to demo her voice for us, too. "WOW!" was all I could say on the very first note that she ushered, and the walls on the small room we were in vibrated. We were sold and hoping she'd say "yes."
Karl [Szulik, guitarist] was discovered shortly after, and the moment he walked in to the rehearsal room we knew he was special. His talent was far beyond his years. We recorded our demo very early on with previous members and gigged quite heavily and were fast approaching our debut album. Our original bass player decided to leave before the recording of As The Truth Appears was to begin, and during the recording process our keyboard player left also. We decided to press on and cover these missing members by handling their recording duties ourselves and search for new members to fill the void. Dave [van Pelt, keyboardist] and Simon [Mahoney, bassist] had joined the band after the album was completed but have very quickly stamped their authority on the band and claimed these positions for themselves. To be honest, it really feels like only now we have become Divine Ascension, and it's only just beginning.
Sara: Your music is symphonic metal, but not strictly that style. It's guitar-driven and features lots of progressive elements. What inspired you to wander off the beaten path (so to speak) and create your own take on the genre?
Robb: Our intention was to make a metal band that anyone could listen to. But with our deep love of progressive/symphonic metal bands like Dream Theater, Symphony X, Nightwish, and After Forever, it was hard to not inject some elements like those into our sound, but how to approach this? We decided it was best to leave timing signatures fairly standard and let the song itself progress from one form to another. Maybe we are "diet prog"! My love of movie soundtracks wasn't stopping the symphonic elements, so we decided to have the orchestral parts emphasizing the lyrics and Jen's emotions just the way a movie would handle this. Both Karl and myself have a love of harder bands like Soilwork and Scar Symmetry, so riffing was and always will be a given.
Sara: Jennifer, you have a fantastic voice! I understand you were trained in theater and cabaret performances. Could you tell us about your singing experiences? And, how did you become the singer of a metal band?
Jennifer: Thank you very much! I actually trained with an opera teacher with a focus on classical voice, but at the time I was not very interested in singing opera and was more drawn to musical theatre. My professional performance experiences started in children's pantomime at 16, and after finishing high school I performed in cabaret shows and semi-professional theatre, then at 20 I worked as a singer / dancer on cruise ships. I contacted the guys from Divine Ascension after hearing snippets of their music in their 'singer wanted' ad online. I found the music intriguing, and could envision flowing vocal melodies fitting with the music. I wanted to challenge myself musically, and was especially interested in the songwriting aspect. Divine Ascension seemed the perfect fit, and the guys did not seemed fazed if I wanted to pull a song apart to restructure it.
Sara: Robb, I'm very impressed with the guitarwork you and Karl do in Divine Ascension! It's dynamic and quite varied. What is your "vision" when you're arranging your parts for the album? And, who are some of your influences?
Robb: The whole album is pretty much about light/dark, hope/loss, and basically two opposites creating balance. It doesn't take much to tip the scales either way. We wanted two guitars especially to further the emphasis on the darker moments, but allowed for some more soothing moments to provide the yin to the yang. With Karl being a creator first and shredder second, we found his storytelling in the solos both informative and magical.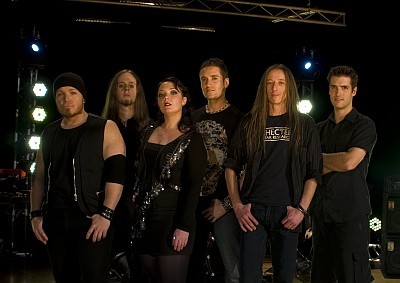 Sara: How does Divine Ascension write its songs? Does one member (or two) take the lead, or does it happen in different ways?
Robb: Usually, one member will come in with an idea, and if it jumps out at us we run with it by picking it apart and making it a band effort. We then shop them live and rework where needed. We have a backlog of songs that didn't quite work for us, although some just needed that special "something". It's quite an experience opening emails to discover new ideas being shopped and what each member is doing in their spare time. Exciting!
Sara: Your debut album, As The Truth Appears, will be released in North America via Nightmare Records on October 11th, and in Japan via Hydrant Music the next day. Congratulations! How does it feel to have this record out for people around the world to enjoy?
Robb: We are all over the moon with this release and the opportunities that have been provided for us because of it. It has been a long time coming, so I can't wait for everyone to have this in their hands. I just hope some of these songs mean something to someone out there, whatever the interpretation.
Sara: Why As The Truth Appears for the album title?
Robb: Again, the album is about seeking wisdom and being hidden from the truth both intentional and through lack of understanding. We also liked the double meaning of As The Truth Appears in that which it could be both "how" and "when" it appears.
Sara: I love the album's cover art! The sunset colors are stunning. Who created it? And, how does the art connect to your music?
Robb: Jon from Jon Hocking Design created the cover art, but the concept was a band effort. It basically reflects a shift away from current society and rebuilding through the next generation – wiping clean to start again. The seismograph under the band name was to represent these turbulent times.
Sara: As The Truth Appears covers a broad range of lyrical topics. Tell us about some of those themes and what inspires your lyric-writing.
Robb: The track "In My Mind" came about after watching a lot of war/famine/injustice on mainstream media and realizing we only pay attention for 5 minutes, then it's on to the next sound bite of information. We don't stop for long enough to fully comprehend the dire consequences a lot of the world faces. When you live in a free world, it's easy to forget and go on with daily garbage. This song is to say sorry to the world. "Guided by Osiris" is about the strong urge of a father to leave a legacy for his son to understand and overcome, only this story is told through the eyes of his queen lyrically.
Sara: Your first single, "Answers," features vocals by Silvio Massaro of Vanishing Point. What about his talents made him your choice for a guest on this song?
Robb: Originally, this song was a duet with our past keyboard player, so when he left we were in a bit of a pickle. To be honest, Silvio's type of voice was what we were originally after as a singer for Divine Ascension before Jen came along, so the choice was unanimous for us, and he complements Jen so well on the track. You really believe the song more when both vocalists sound like they belong. We didn't think he would be interested initially, so we decided to call him first and move on from there, but he was most kind in accepting and offering his services. He's a great vocalist and an asset to Australian metal. We really do thank you, Silvio!
Sara: Out of all the songs on As The Truth Appears, I'd say my favorite is the ballad "Another Battlefield." I love the chorus melody and the overall musical arrangements on that track. Could you tell us about the song, the story behind its lyrics, and how it was composed? And, who does the background vocals? I'm assuming it's one of the guys?
Robb: This song is about your conscience speaking to you through dream. A lot of people go through life battling inner demons and never knowing why. Your dreams are telling you the changes that need to be made in order to achieve inner peace. Here is where "Another Battlefield" takes place.
At the last minute, we decided to add this to Silvio's duties along with "Answers." It's really not another duet type song as "Answers" is, so that's why his mix was more backing vocal level. We just felt he would lift the song, and he was kind enough to jump on it at short notice.
Sara: I'm sure this is a difficult question to answer, but I have to ask it: What are your favorite songs on As The Truth Appears? And, why?
Robb: For me, "Answers" is a favourite, as it's a great rocking tune with nice byplay occurring throughout. I like "In My Mind" purely for the message alone, and a special mention for "Vision Divine," which is about having someone there for you always, to pick you up when you are down.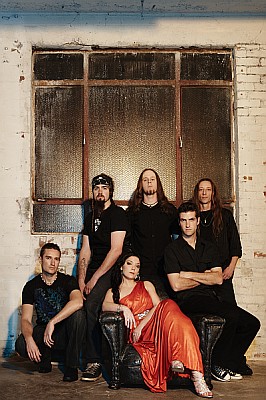 Sara: We at Sonic Cathedral focus so much on the North American and European metal scenes that we sometimes forget about other areas of the world! So, tell us, what is the metal scene like in Australia? What styles do Australian metalheads seem to like? How does Divine Ascension fit in?
Robb: The metal scene in Australia is fairly restricted yet enthusiastic. We seem to be able to gather large crowds for international acts, so they are out there. Local gigs are always energetic and packed with some great talent. You guys need to look a little more for some hidden gems. [Editor's Note: Note taken, Robb!] Metal styles vary quite a lot, with most nights having prog/power bands sharing the stage with more traditionally heavier bands, so gig nights are usually a mixed but delightful bag. The beauty of this is that the crowds aren't segregated and tend to support any band that captures their attention.
Sara: What can fans expect from a Divine Ascension show? How often do you get to play live?
Robb: A live Divine Ascension show is always energetic, with each band member interacting with one another and the audience. The dynamics of the band usually show through more in the live situation, as we tend to feed of each other's energy. Gigging is usually about once a month, sometimes twice, and this is done in a fairly small geographic location, so the risk of boring people is high! (laughs) We are currently looking at a national tour of some sort and spreading out now that we have a product to show. Hopefully we'll be heading overseas at some stage in the not too distant future, but need to spread the Divine Ascension word first so at least one person comes to see our show! (laughs)
Sara: If you could open for any band – even famous ones you've only dreamed of playing with – who would it/they be? And why?
Robb: Pagans Mind would be awesome, as they are an amazing band with a beautiful sound. I also hear they are party animals and jokesters, so I'd get along well with them. Other than that, I'd love to support Within Temptation if they ever decide to tour here. And the next time Nightwish comes… (speaking to Nightwish) Give me a call. Both your shows here in Australia rocked big time!
Sara: Once As The Truth Appears is out, what are your plans to promote it? Do you have any upcoming gigs? I heard you also shot a music video recently. Can you tell us anything about that?
Robb: Yes, on October 14th, we have the official album launch at the Esplanade Hotel in St. Kilda, Melbourne, which has been a stalwart of the music scene for decades and a venue we really love playing. As mentioned earlier, we will be looking to organise some national touring, with New Zealand and Tasmania a possibility. If enough interest is garnered overseas then we are ready to fly there now. Let us know!
Our debut clip for "Answers" was shot about a month ago, and we have just received the final draft, which surprised us all at how good it came out. Hopefully you guys will be seeing it real soon and enjoy it as much as we enjoyed making it. Karl has a heap of crazy footage we shot on the day, too, so keep an eye out on our website for some of this to slowly filter through. We can be nuts most of the time!
Sara: Thanks very much for your time! Is there anything you'd like to say to your fans and to our readers at Sonic Cathedral?
Robb: Thank you all for showing interest in us and for all the kind words and support we have received over the journey that so far been nothing short of stunning. We really do hope the full album is far greater than the snippets you may have heard in the past. Send us your thoughts, as we do read all messages from you guys. This album has been so long in the final release stage that we are already preparing for Number 2, which will hopefully expand upon what we have delivered here now. See you all on the road!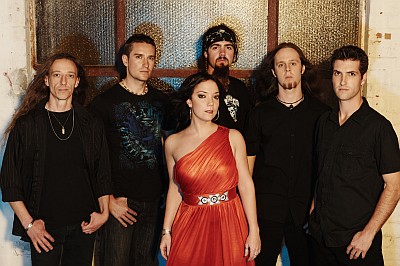 Thanks once again to Robb and Jennifer for taking the time to talk to Sonic Cathedral! We wish Divine Ascension the best with the release of As The Truth Appears. Also, many thanks to Jon Freeman of Freeman Promotions and Claus Jensen of Intromental Management for arranging this interview.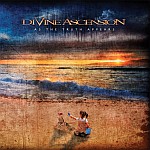 Check out Divine Ascension at the following sites: