Issa Interview
Performed Via Skype October 2011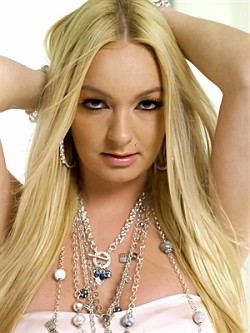 Isabell "Issa" Øversveen, the Norwegian rocker, returns with her second album, The Storm, which is packed with melodic rock anthems that likely will appeal to mainstream music fans as well. Don't get me wrong. This is no insipid pop album (oh, the cringing horror!), but rock with catchy hook lines, solid guitar riffs and crisp production.
Sonic Cathedral's Robin Stryker caught up with Issa to chat about The Storm, the long journey to becoming a solo artist, her guilty pleasures, and much more. Dive in to learn more!



Robin: Issa, a warm welcome from Sonic Cathedral webzine! Let's jump right in with The Storm, which will hit the shelves in mid-October. What can our curious readers expect to hear on your upcoming album?
Issa: First of all, hello! Yeah, there's a new album coming up now, and I'm really excited. It's probably a little bit different from the first album, Sign of Angels. This album is a lot more synth-based, I produced the vocals myself, and I've been writing on this album as well. So it's extra, extra special this time, with all the work I've put into it. The songs on The Storm are probably not as hard as the first album … obviously, it's more synth and things like that. But, I think it's a great thing that every album doesn't sound like the same album. You know? I want to explore a little bit, and I think this album went well, so I'm just really excited!
Robin: Before we get too much further, I'd like to give folks a sense of who you are as a musician and as a person. Going back in time, what is your earliest musical memory?
Issa: Oh God, my earliest musical memory … hmmmmm. I remember -- and this is pretty funny -- but I've always been very taken with music. When I was a child, I was making shows for my parents and my friends' parents. I usually used to get money to SHUT UP, because I was ALWAYS singing or doing something. (laughs) Definitely, when I was younger and doing all the radio shows, I used to have one of those cassette players and I made my own shows, singing and all that. So I guess that's the early, early, earliest.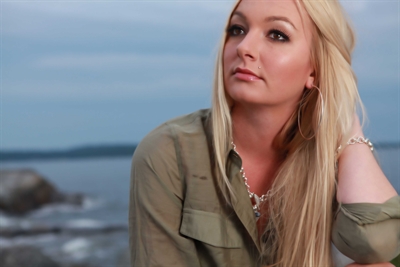 But during the years, I've been very busy. I probably started out actually when I went to this audition for a Norwegian Eurovision guy, who has done loads of things. (I think he was very famous in Norway for getting zero points once.) But anyway, he had this talent school, and I went to audition there. I ended up working in his reception and touring with him and doing loads of things. When I was younger, I also got to enter another competition. I won, and the song I was doing went on the Fox Kids Hits CD, which was released in every country. Uh yeah, I've done loads of things. I've been very blessed and have been working with so many awesome people, everything from Idol guys to Eurovision. I've done all the back-work, until you come to the place where you actually want to release your own album -- and not only other people's stuff. It's been a long road.
Robin: Prior to signing with the Italian label, Frontiers Records, you had done all this behind-the-scenes and demo work, as well as singing with other bands. How did all those experiences come together to prepare you to become a solo artist?
Issa: I'm sooooooo glad that I've done all the things I've done. I've talked to one of the guys from Idol in Norway, and he was just like: "God, when I released the album after Idol, I had ABSOLUTELY no idea what I was doing. I just did what I was told." It's very much like that. I think that having a lot of experience, dealing with people, and knowing what you can expect (and what you can't) gives you big perspective and probably a chance to do a lot more of what you want to do yourself. I think having all of it leaves me very grounded, I would say. That's the one thing I can point out.
Obviously, I know it's a hard business. You can't expect to release a CD and be a superstar overnight. It's not really how it works, and the few people who actually end up being a superstar are minimal. I think what I learned is just to enjoy whatever comes along. I'm blessed to be able to do what I do ... there are a lot of people who would love to be in my shoes. I'm just focusing on the music I want to do and trying to be happy with what I do.
Robin: If you had a time machine and could give the 16 year-old Issa advice, what would you tell your younger self?
Issa: Hmmm, what would I tell myself … I would probably say: "Get out there and do as much as you can." That's so hard! Maybe "make your hair grow" or something like that. (laughs) I don't think I have any regrets about what I've done in my life. I will always be the person who has done whatever comes in front of me; I've never been a person who holds back. But I would probably say that, if I was to give one tip when I was 16, I would say "record more, do more studio work!"
Robin: Getting back to your upcoming album, The Storm, you co-wrote three of the songs, including the title track. Would you tell us a bit about the songwriting process?
Issa: (coughs) Sorry, I just had the flu for a week here.
Robin: Bless you!
Issa: It's been very exciting! After the first album, I hooked up with Tom and James Martin in England. During the past year, we've been writing loads of songs that have gone on other albums. They'd send me a song or the backing on a song, and ask me to write on it and record vocals. And we'd be back and forward with it. But a lot of these songs … obviously I didn't know I was going to release a new album THIS fast … so a lot of the songs were already placed on other albums. So when Frontiers contacted me again and said, "we're releasing a new album NOW," we had to look at the songs that we had already done. There wasn't more time, we didn't have any more time.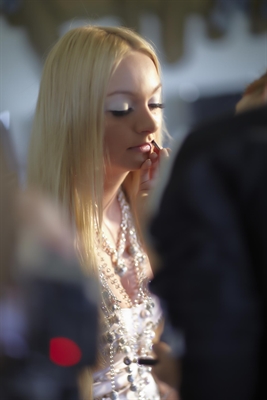 One of the songs that was really a passionate song for me was the song "Invincible." It's written out of my life, and it's a very personal song. So, I was just so happy when that song got pulled off the album it was supposed to be on, and I could have the song myself. But it's really, really much fun to write all those songs! We send them back and forward, and it's a big laugh ... sometimes we write really silly things. Obviously I'm from Norway, so sometimes with my English, they might be scratching their heads and wondering: "What are you thinking about?" But it's just awesome! I want to be an artist who writes my own music. I'm hoping the next album, there will be even more songs on it, if not the whole album.
Robin: Unlike Sign of Angels, which was written by others, you wrote songs on the new album. Does that make The Storm a more personal album for you?
Issa: Oh yes, of course, it does! I think, with the first album, I did not expect anything. I was just really taking it as it comes: "Oh, it's cool; finally, I can release an album!" On this second album, you've got more expectations, and also with the fact that you're writing on it. I think it's easy to just sit back and depend on people who've been writing songs for years: "Oh, this is a great song!" It's all a bit more different when you write your own songs. Obviously, there's the good side as well because it's more personal, and it's a lot more intimate. Oh God, yeah, I'm just hoping it goes out well, I hope people will like it. (laughs) It's just so exciting!
Robin: With songs being more intimate and personal, does it ever feel odd that a bunch of strangers are going to be listening to a song like "Invincible," which comes out of your own life, and thinking about the experiences in the song?
Issa: I think that's the gift of music, to be honest. I think to be able to share whatever goes on in your mind and whatever there is, it's a big gift. A lot of songs can be interpreted a lot of different ways … music is about feelings, as much as it's about any other thing. I have no problems with that. I'm just human, and I have my own things going on. To be able to share that, and if anyone can relate to that, that's even more special.
Robin: "The Storm" is actually one of my favorite songs on the album. Is there a story behind that track?
Issa: Well, it's a stormy life; isn't it? (laughs) I can't remember exactly … it's basically about a stormy life and how sometimes, even though things are hard, it might not be the worst thing at the end that things go the way they go. That's probably more the message of the song. But, yeah, it's a great song, and I love the song as well. I did a demo in my flat, just sitting there, and it turned out good. Definitely! It's hard, though, because you do a demo, and you're so happy with it. Then you're going like a year later to produce it in the studio, and you just can't do it exactly the same way as you did it before. So that was a challenge, but definitely it's a really cool song.
Robin: When you find yourself needing or wanting inspiration, what do you do to get your head in the place where ideas and moods and feelings flow for you?
Issa: I'm a bit strange there. I would write better … and probably a lot of people would … when life is a bit hard. It's very hard when you're always happy-happy, and you're like "okay yeah, I'm going to write a song." But everything is going so well for you. Watch a sad movie or listen to some sad songs, and really just get into something. I think maybe a lot of great songs have been written when people have it rough, and things are going hard. So I'd say, for me personally, I prefer having a bit more of the melancholic spirits about me, rather than being all cheerful and happy when I'm writing. So, I'll play a sad film and write after that.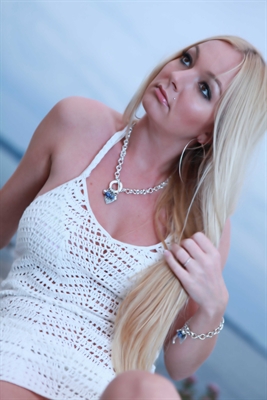 Robin: If we were to grab your iPod and look at it now, who are the artists that you are listening to the most these days, and who is your guilty pleasure?
Issa: (laughs) I listen to a lot of things. I would say that I've been listening a lot to Vega, which is actually Tom and James's band, so they've been going on there a lot. Guilty pleasures, hmmm … don't tell anyone, but I'm going to have to say that I have a really big thing for Mariah Carey. These guys are just like: "WHAT are you listening to?!?" So that's probably my guilty pleasure. I love big BIG female singers. If I could wish anything, I would wish that I was a black woman. You know, I'm a really huge fan of gospel music and big things! Just between you and me.
Robin: Just between you, me and Sonic Cathedral's readers! (laughs) You've done a lot of different styles over the years. Have you ever tried your hand at gospel music?
Issa: I used to do choir, you see, back in the days when I was younger. So, I've done some choir music, but I think I probably wanted to be more solo and making more shows, rather than doing live church music … well, not necessarily church music. But I enjoyed it, it was fun. Probably one of my guilty-pleasure dreams would be having a choir of African singers behind me with big voices and doing that sort of thing. If I found something, I'd probably sneak in there one morning and ask if I could do a song with them. (laughs)
Robin: That would be so much FUN.
Issa: Yeah, I know!
Robin: You've already released a video for the first single, "Looking for Love." What can you tell us about both the track and the video shoot for it?
Issa: Well, "Looking for Love" is a very exciting song. I probably had my mind set on a different song that I wanted to do a video for this album, but basically, we ended up doing this song. It's a really funny song, and I think the video we based a little bit around humor as well. It's not necessarily a happy song, but it's got a happy feel to it. We had A LOT of fun doing this video. I tried not to take myself too serious, and it is really hard to do videos when you try to be sexy and all that, and I'm just constantly laughing. But it's a fun video, and the song is a pleasurable song to do, to be honest. I think it's really cool and shows a lot of my range. So yeah, it's been a fun song to do!
Robin: Are there plans in the works for live shows to support The Storm?
Issa: Definitely! You know, the thing about the last album was that there have been a lot of changes for me this year in my personal life. And the guy who was doing the booking and managing on it, he unfortunately got heart disease, so I was a little bit hit back by it all. But this time around, I'm a lot more focused. Most of all, I'm a LIVE singer. You know? I try to do the best I can do in a studio, but where my heart lies is live music.
I just came back now from a trip. Frontiers, the record label, they asked me to come down to a conference with all the European label managers and promoters and things. So I went down and performed an acoustic concert for them and all the people there. It was such a special experience! I'm looking forward to doing more. I think I might be going to Madrid as well … I'm probably going to know one of these days soon. But it's definitely a lot more plans this time, so I'm hoping I'll be around a lot more.
Robin: We're hoping the same thing! I think you have something like 500 live performances under your belt already. What has your most memorable live experience been, whether it's endearing or funny or just plain awful?
Issa: Oh my God, I have so many! But one of the things that sticks out is probably, I was … oh, how old was I? … I was probably 20 or something, and I was in this girl group. I was doing this show, kind of like a warm-up for a big radio station show. There were 25,000 or 11,000 … I don't remember, maybe 35,000 … people there. I was supposed to do this cover song, and I always used to do in the middle of it all "AaaAAaaaaAA", going really really high at the end because people can't reach that high. And in the middle of this -- which has NEVER happened, after I've done that show for that long -- my voice cracks. People were just looking like: "What did you want us to do?" Oh God, it was on a big screen. Whoa! (laughs) Well, we had a lot of fun listening to the tapes afterwards. It's so funny now. But that's just me, sometimes it happens.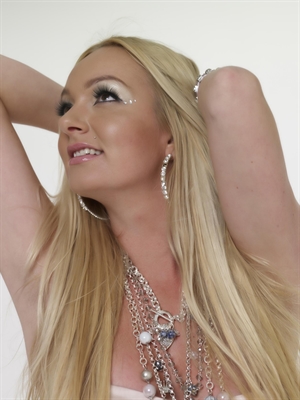 Robin: We have all too quickly reached the end of our time together. What final message would you like to send out to Sonic Cathedral?
Issa: I would like to say, "I hope you like the CD!" I want to thank everyone who is supporting me and everyone who is buying my CDs. It means the world to me, and it's thanks to all of you guys that I can do what I want to do. I am just so happy about it, and hope I'm not disappointing you. So, thanks a lot to everyone out there!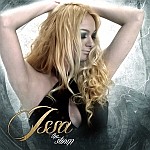 Robin: Thank you so much, Issa! We wish you many, many good things on the road ahead.
Many thanks to Dustin Hardman (Frontier Records) for making this interview possible!
ISSA Official site
ISSA on Facebook