Ultimate Fate Interview
Performed via Skype in September 2011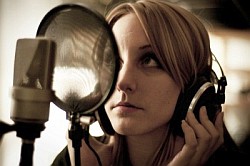 Here's something you don't find very often: a female-fronted symphonic metal that considers its classic heavy metal roots BEFORE the orchestrations. That's what Ultimate Fate emphasizes in its music. This sextet from Gothenburg, Sweden has been working on balancing the heavy and melodic sides of symphonic metal to create a dynamic, textured sound. And with the commanding (and non-operatic) voice of Jennie Nord, it's obvious that Ultimate Fate is not your typical band of this genre. Just take one listen to the band's three-song EP Beyond the Horizon, and you'll hear exactly what I mean.
Sonic Cathedral staff writer Sara Letourneau recently talked with Jennie Nord as well as drummer/grunter Ola Olsson. They discussed Beyond the Horizon as well as Ultimate Fate's origins, working with Andy La Rocque of King Diamond, and how they feel to be part of Gothenburg's ever-growing metal scene. Read on to learn more!

Sara: Hello, Ultimate Fate! Thanks for doing this interview with Sonic Cathedral! To start things off, why don't you tell our readers how the band got started? I understand that Ola and Jacob wanted to create music together that was different from the music of their previous band, Violator.
Jennie: Yes that's right! We have been around for a while, but in the beginning it was mostly for fun! Ola, who used to sing in Violator, and Jacob, who was playing bass, they wanted to do something different and also get a chance to play drums and guitar instead. They started the band with something different in mind. When I joined them, they told me that Within Temptation was an inspiration. This was way back in like 2004. And we have always tried to do what we think sounds good, and how we would like something to sound, in our own time. We never though that someone might like it! But then we made our previous demo, The Road to Our Fate, and then got some awesome [coverage] in the major press. Very cool. And some time after that, we entered the music competition Emergenza, where we won the first round, and made it through two more cuts to the local Gothenburg finals! We ended up at third place, so after those great gigs and all the wonderful support, we decided to try to make something more out of this band.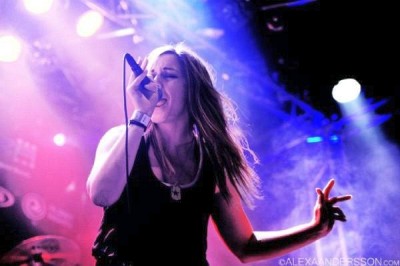 Sara: How did you come up with Ultimate Fate as your name? The phrase "ultimate fate" is part of the lyrics for your song "Retribution," but I assume you've had the name longer than the song.
Jennie: Yes, we have had the name for quite some time, actually. Ola came up with the name when we where sitting in the car heading for rehearsal! We thought it was an awesome name, and I was sure some band already existed with that name, but no! So we decided we liked it, and that was that.
Sara: Ultimate Fate's sound is not just plain symphonic metal. It also has a strong classic heavy metal feel. How does this combination of styles help Ultimate Fate stand out from the growing number of symphonic metal bands on the scene?
Jennie: Well, hopefully it helps! We are all huge metal fans in the band. We appreciate more "traditional metal," such as Masterplan, Nocturnal Rites, Judas Priest, Testament, Iced Earth, and so on. We automatically just write those kinds of riffs! Then we try to combine it with some nice details that all of us add to the songs. I think we do have a different point of view from a lot of other metal bands in the genre out there, and I do really believe in our approach! We will defiantly keep writing some cool heavy stuff to try to develop our sound even more! Of course, we also get our inspiration from wonderful symphonic bands like Kamelot, Epica, and Nightwish.
Sara: Jennie, you have a fantastic voice that's different from most singers in symphonic metal bands. It's a middle-range vocal with lots of versatility. How long have you been singing? And, how did you get into metal music?
Jennie: Thank you! I have been singing since I was a little girl. I have always loved to perform, dance, and act! When I turned 16 years old, I moved from the north part of Sweden where I grew up to Gothenburg to start at a music school! It was here I started to sing more seriously. Before that, I played the drums. Here in Gothenburg, you can't help but to fall in love with metal music. It's in the air, you know. ;) Of course, when I grew up, my parents listened to lots of rock and metal bands like Black Sabbath, Led Zeppelin, and Iron Maiden, so that kind of music has always been there in the background.
Sara: Ola, your band bio states that the band was looking for a female singer. When Jennie came along, you called her "a brand new light to be explored." What about her convinced you she was the right vocalist for Ultimate Fate?
Ola: Well, I first met Jennie when she was at my place recording backing vocals for a demo song for the Swedish heavy metal band Katana! When she came along, [Ultimate Fate] was only more of an idea, just in the cradle really. Me and Jacob had a brief idea of what we wanted to sound like. But, Jennie has been a part of the band since the start, really. And we have together all of us created and formed the band and its sound towards what we are today.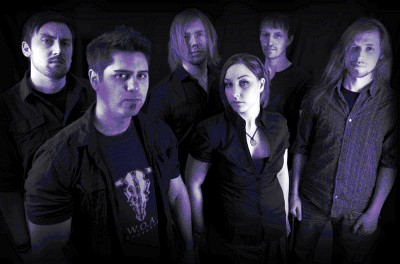 Sara: Ultimate Fate originally didn't have a full-time keyboardist. Then in 2009, Andreas Bergqvist joined the band. How have his contributions been beneficial for your band? Did he help you achieve the sound you had wanted all along?
Jennie: Andreas is a very talented musician, and has been our friend for several years. In his previous band Strings of Verdandi, he does the growl and also writes stuff for keyboard. We were very happy when he decided that he wanted to join Ultimate Fate! On our first demo, it's actually our friend and new guitar player Oscar Sjöberg who, together with Ola, made the symphonic elements on those songs. For our new EP, Andreas worked really hard on making the symphonic elements, and with a bit of Ola's help too. But, to answer your question, yes, he has been doing great so far and exceeded our expectations on creating the symphonic elements in the songs and also being a true voice of reason when the others get to carried away.
Sara: You released your debut EP, Beyond the Horizon, a few months ago. Congratulations! How has the reception been so far? What kinds of feedback are you getting from fans and critics?
Jennie: Thank you! It is a great feeling to have the CD in our hands. We have gotten some really good feedback from both fans and press! We do really believe in our music, and we don't write anything we don't love ourselves, so hopefully all others will do the same! But, it's quite fun that our music seem to appeal all sorts of people! Not just metal fans. So, tell your friends about us!
Sara: Beyond the Horizon features three songs: "Horizon," "Retribution," and "Beyond Fear." Could you tell us a little about each song? Maybe comment on the lyrics or the intention you had for each song when you were composing them.
Jennie: "Beyond Fear" is the "oldest" song. We made it a long time ago, and we love to play that song live! Our inspiration often comes from the riffs that we (Jacob) or whoever makes up! It is a bit more raw, unpolished, and heavy. The lyrics are pretty much about battle, death, and glory.
For "Retribution," we wanted to create with a more epic feel to it, with acoustic guitars in the beginning and a sweeping, dreamy folk sound at the verse, which was the first inspiration for the song. The lyrics are about a raging war, and a woman who has been left behind, but her man returns for her when he realizes that the war has come to his home village, and he returns to fight for his homeland and for her. And again, battle, death, and love, of course.
"Horizon" [is] our most catchy song, we think! It also got started at the verse and went on from there. The lyrics are about love and that it can keep you going in the most darkest of hours. We thought that people would like this one the most. But, as it turns out, different people have different favorites. [We're n]ot sure which one actually is the people's "favorite" on the EP…?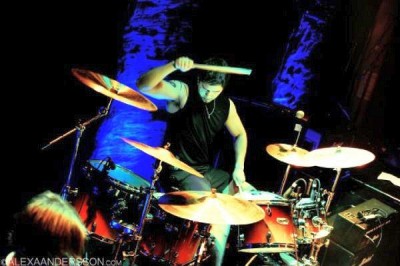 Sara: If you could one of the three songs from Beyond the Horizon to make a music video, which song would you pick? And, what would the video concept be? Use your imagination! ;)
Jennie: "Beyond Fear," perhaps! And I would be dark and evil, and there would be lots of fighting and destruction! (laughs) No, I'll think we'd leave that to the professionals to figure out. ;) But probably we are going to do a video for our next "single" on our next album! So, stay tuned if you want to know how that turns out.
Sara: I've heard that Ultimate Fate is currently working on songs for a full-length album. How far along in the process are you?
Jennie: Right now, we are in the writing and pre-production phase. We are almost done with all the songs that we want to have on the album. Ola has a studio, Black Widow, at the same location that we have our rehearsal room, so it's very easy to do the basic recordings over there. My guess is that the album will be sometime released next year!
Sara: Beyond the Horizon was mixed by King Diamond guitarist Andy La Rocque. How did this happen? What was it like to work with one of metal's legendary axmen?
Jennie: He has a studio in Varberg which is near Gothenburg: Sonic Train Studios! We had heard a lot of good stuff about him and his studio, and we really wanted someone who could bring forth the metal sound in our songs, not some radio-pop shitty sound, but a more heavy metal feel to it! Andy is very good at that! ;) So, we decided to go there and do the mix/mastering. It was very nice, and he did a great job and he is a really cool person, too. So, perhaps we'll do some stuff there on the new album!
Sara: Ultimate Fate has played a number of gigs since the band first started. What can fans expect from the band at one of your shows?
Jennie: Well, you can expect a great show, with awesome songs, passionate music, and lots of headbanging, of course. :D
Sara: Your band is from Gothenburg, which is home to myriad bands and is famous for its death metal roots. I had talked about this with Kenny Boufadene of One Without earlier this year, and he said being a Gothenburg band has its advantages and disadvantages for this reason. What would you say based on your experience?
Jennie: Well, I love metal, and I love the scene. So, I think it's great! I don't see any disadvantages. It's great to be at the place where it all happens! Lots of fans and people involved and interested in the scene and new bands, but yes, of course it's more competitive, too. But that's just good, I think, [because] then you push yourself to stand out more. If you can't stand out in your own small town, how is that going to happen on the international scene? And in the music store, etc. But, I think that maybe the death metal bands here have to struggle some more. Ultimate Fate is quite unique, so we don't have much of a problem standing out.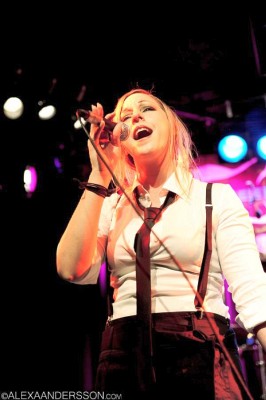 Sara: Which band(s) would you love to play with one day? I'm sure you've dreamed of opening for some big-name ones!
Jennie: Well I think that Serenity is a really cool band, one of the best in the scene right now. [I] would love to play with them! But, I guess a big name… Well, we wouldn't mind to get our music out to Nightwish fans. ;) Or, to play with Epica!
Sara: Besides working on your album, what other plans does Ultimate Fate have for the rest of the year? More gigs in Sweden, perhaps?
Jennie: Yeah, we have a gig coming up in Gothenburg in October, and later on more dates to come this fall! If anyone have a cool club and would like us to come and play somewhere out in Europe, or America for that matter, let us know! ;) Otherwise, we are working on the new songs and also working on some video material right now, and we will soon bring you some sneak peaks on what we are up to!
Sara: Thanks very much for your time! In closing, is there anything you'd like to say to your fans and to our readers at Sonic Cathedral?
Jennie & Ola: Listen to our songs, share them with your friends, and join us online! Thank you very much for the interview and your interest in our music. And, keep supporting good artists and female-fronted metal music! Embrace metal!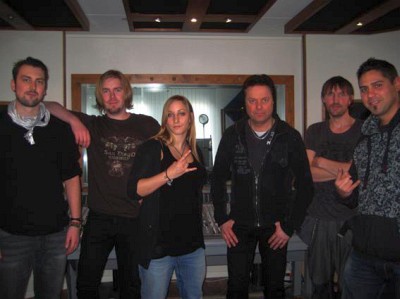 Thanks again to Jennie and Ola for taking part in the interview. Sonic Cathedral wishes you luck as you continue working on your first full-length album! Can't wait to hear it!
Photo credits are as follows: Alexa Andersson for all live photos, Andy Flash for studio photos of the whole band, and Jarno Säkkinen for close-up studio shots of Jennie.
Check out Ultimate Fate at the following websites:
Official Website
Myspace
Facebook
ReverbNation