Serenity Interview
Performed via Skype in Sepetember 2011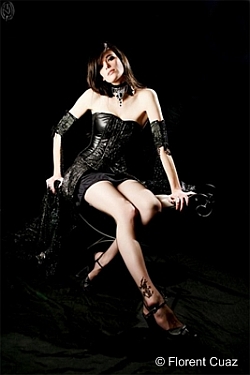 With two demos and two full length albums under their belt, the Austrian symphonic metal band Serenity were hardly newcomers when they first came to my attention earlier this year, thanks to "The Chevalier" video from the soon-to-be-released album Death & Legacy. Featuring Ailyn (Sirenia), the video has everything that makes my heart go pitty-pat … period costumes, crumbling ruins, falconing, massive horses, and a fair bit of romantic ambiguity. Hmmm, should one trust that Casanova has reformed, when he declares his love while pinned to a couch by lingerie-clad women? You'll have to decide for yourself.
After back-to-back tours supporting Leaves' Eyes / Midnattsol and Delain -- with Lisa Middelhauve (ex-Xandria) providing guest vocals -- Serenity were officially on the radar of female-fronted metal fans everywhere. What's next for Serenity? The multi-week Out of the Dark Festival Tour with Van Canto, Tristania, Xandria and Amberian Dawn!!! Sonic Cathedral sat down with Georg Neuhauser (lead vocals) and Clémentine Delauney (guest vocalist from Whyzdom) to chat about the tour, people who changed the world, the importance of clean socks, and much more. Dive in!
Robin: Hello Georg and Clémentine, and welcome to Sonic Cathedral webzine! We're so happy to talk with you today about Serenity's new album, Death & Legacy, and your giant tour coming up, the Out of the Dark Festival Tour. How are you doing?
Clémentine: Personally, I don't really realize that, at the end of the month, I'll be in such a huge tour like this. It's pretty amazing! I'm very looking forward to tomorrow's show, which will be sort of a warm-up for the upcoming tour, and for the rehearsal tonight as well.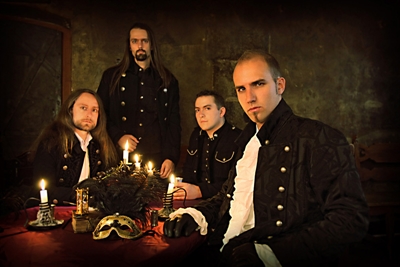 Robin: For our Sonic Cathedral readers who may not be familiar with Serenity, can you give us a short introduction to the band?
Georg: For sure. The band itself, it was founded in 2001. Our guitar player Thomas [Buchberger], our former bass player Simon [Holzknecht], and me weren't in it part of the time. It was only Mario [Hirzinger], our keyboardist and backing vocals, and Andy [Schipflinger], the drummer, they founded the band, and they played a bit more prog rock than prog metal. They were huge fans of bands like Arena and Rush, so they really made more of this kind of music -- more prog rock -- and they also released one demo CD called Starseed V.R. Mario used to do the lead vocals as well, beside his function as a keyboardist. The only problem was that no label was really interested in signing them because prog rock was not very "in" at that time.
So, in 2004, our guitar player Thomas and me (as the new vocalist) and our former bass player Simon, we stepped into the band. From that moment on, we really changed the style a bit for Serenity, more into this melodic power metal or melodic symphonic metal that we are still playing. I think three months or four months after our joining, we released our first demo CD called Engraved Within. We got a really big response from the press, especially in Germany and also in foreign countries like the U.S. and Japan, and we got the first offers from the labels. But, to be honest, they were not the biggest labels. (laughs). So, we thought: "Okay, let's risk one more time to self-finance a complete album with artwork, with pictures, and everything like that." So, we did that, and we went to Munich to our long-term producer Jan Vacik, who recorded our first CD. We went over to Helsinki, Finland to Finnvox Studios to mix and master our CD, and after that, we got better offers from labels.
We decided to sign with Napalm Record because, first of all, they are a very good label, have good distributors, and they are from Austria so it's easier to work with them. You know, when I have a problem or a question, I just call them, and you will always reach someone in the company, so it's quite easy to handle. After that, we really had great possibilities to go on tour. For example, our first tour was with Morgana Lefay from Sweden; the second was with Threshold from Great Britain; and the third tour we did with Kamelot, one of our heroes at that time because we really liked their style of music and their concept and everything like that. So, we were REALLY lucky to find Napalm and to get the possibility to go on tour with such great bands.
Robin: Speaking of concepts, I understand that the Death & Legacy album, which had its European release in February and its North American release in March 2011, is actually something of a concept album.
Georg: Exactly. It is a concept about persons in the past -- very important persons -- for example, persons like Sir Francis Drake, Galileo Galilei, Christopher Columbus, and an Inquisitor who is not very well known in foreign countries, but here in Austria, he's quite well known. We really decided to do such a concept with these persons because they all did something special that you really notice today as well. For example, if Columbus hadn't found America, the whole world would look a bit different today. Or if Francis Drake wouldn't have fought the Spanish Armada and won, perhaps England would be part of the Spanish Empire. They really did something special at that time. Most of them didn't get a big honor at this period, but went famous after their death, sometimes 100 years after their death or 200 years or whatever. Or a man like Albrecht Duerer -- the song "When Canvas Starts to Burn" is about Albrecht Duerer, the famous painter here -- he really, really created something special for that time, and that was the reason we added him to this concept.
Robin: With each song referencing historical events, who are the characters that you connect with the most?
Georg: To be honest, we really tried to write melodies and the whole direction of the song for each personality. For example, with "State of Siege" -- which is about Hernán Cortés, the big conqueror of Latin America -- when you hear the intro with the drums and the fanfares, you really can imagine that he is standing on the ship waiting until the landing on the beach where he will conquer this land. The same with "When Canvas Starts to Burn." It's the heaviest song on the album, I think, and Albrecht Duerer at that time had a really heavy time because he was very self-critical because he wanted to create something completely new. But the whole society was not ready for that, and that's the reason why he's really fighting against himself. So, we really tried to make the song fit this special character.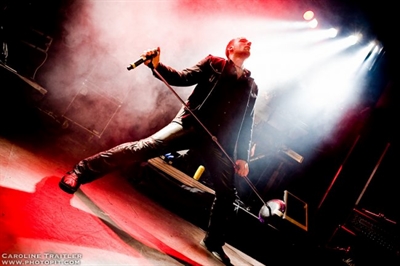 Robin: How about for you, Clemi? Three of the songs on the album were recorded with female vocals -- Ailyn on "The Chevalier," Amanda Somerville on "Changing Fate," and Charlotte Wessels on "Serenade of Flames" -- each of which is a different event and a very different character.
Clémentine: Hmmm, personally speaking, I connect more maybe with the character of Ailyn from "The Chevalier." Vocally speaking, it is different because I generally don't really sing the way Ailyn does, but I can adapt to it so that I don't mess up the song. (laughs) But I really like "Serenade of Flames" for different reasons. I like the main guitar riff on it and also the victim character of Charlotte that she is interpreting here. Although, if I had to be the victim of such an Inquisitor, I would be so, so angry at him, and not accepting to be executed this way for the reasons the Inquisitor is giving! But anyway, I've been touched by this album because it is so well-written and coherent between the music, the ambience and the characters, so it's pretty powerful. I have not been asked to sing the song with Amanda, so far … at least not on stage (laughs) …
Georg: Exactly. No.
Clémentine: … so I haven't learned it. But I think it totally matches the two characters who are interpreted there, again.
Robin: Georg, I read in one of your earlier interviews that each band member represents a historical figure on the album. Mario is Galileo; Andy really does look like Albrecht Duerer's self-portrait; and you somehow are buried under a pile of half-dressed women. …
Georg: Yeah, I know!
Robin: How did Serenity get you to make the sacrifice to become The Chevalier?
Georg: Actually, this is quite easy. My second name is Neuhauser, which has two parts. There is neu (new) and haus (house). In German, it's Neuhauser; in Italian, it's Casanova. So, it was very easy! (laughs) That was the reason why -- not only to be in a picture with two beautiful girls or something like that. I mean, I enjoyed it very much of course, but it was not the main reason to choose that character for me.
I studied history (I think you know that) and archeology and geography at university here, so I got in touch with the story of the whole life of Casanova quite early during my studies. The big thing for me was that, obviously he is always famous for his women and his love stories. But to be honest, he was EXTREMELY talented in many ways and in many parts. For example, he was very great in mathematics, he was a philosopher, and he was one of the leaders of the French lottery. Do you know the lottery … is it called "lottery"?
Robin: "Lottery" in the gambling sense?
Georg: Exactly, that's it! In France, he founded the lottery together with some other guys in the 18th century. So, he was really a fantastic character to write a song about. That's the main reason why I decided to be Casanova in the concept.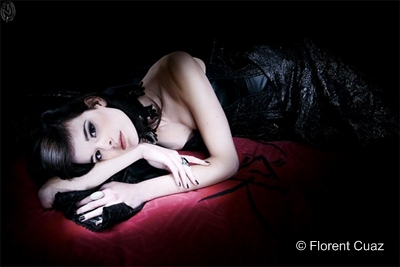 Robin: For each of you, how did you come to music?
Clémentine: I've been surrounded by music since I was a kid because my parents listened to a lot of music and enjoyed music a lot. My dad has a huge collection of old records. But at first, I was dancing more than singing when I was young. When I moved to Lyon, because I was born near Paris, I couldn't find the same dancing lessons that I had, and I didn't want to start classic dancing. I wanted to play the piano, so when I was nine, I started to take piano lessons. I loved to sing along as well, and started to sing with different gospel bands and different choirs. (laughs) I took singing lessons when I entered the opera when I was 16, and I discovered metal at this moment. I joined my first metal band when I was 18, and that was it. I've always wanted to find a symphonic metal band to sing with, and now with Whyzdom, I'm so satisfied with it!
Georg: For me, my mother was really into the folk music scene here in Austria, but not in a stupid way -- in a real, traditional, original folk music way. When I was four years old, I had the first gig with her together, standing there singing some traditional folk songs for birthday parties or whatever. And I have an older sister, who is 12 years older than me, and for sure the little brother is very enthusiastic about all the stuff the older sister is listening to. For my sixth birthday … let's see, I was born in 1982 and in 1988 Iron Maiden released Seventh Son of a Seventh Son …and I got that record from her for my birthday. From this time on, okay, no folk music anymore! I was more into metal music, although I had no clue what was metal exactly. But my sister really loved metal, so the little brother loved metal as well. From that moment on, I was into metal. She isn't into metal anymore, she's listening to really bad pop music and such sh…..
I think I had the first gig with a band when I was 15 or something like that because I went to a special music high school here in Tyrol, Austria. We founded a school band and started to cover songs from Bryan Adams, Oasis, and whatever we were able to play. Due to my big love of Queen, I really wanted always to cover Queen songs. So at 18, I founded the first cover band (together with our guitar player Thomas) where we really played 80s stuff like Queen, Europe, Van Halen, Toto and all the old stuff. I think that was the best school I ever had to learn singing because, when you cover singers like Freddie Mercury, Joey Tempest or someone like that, then you really have to learn singing. I think that was the most important step in my music career, to found this cover band. Yeah, the rest of the story is made clear … in 2004, I joined Serenity.
Robin: Serenity and Whyzdom played together in Paris just a few months ago in May, as part of Delain's tour. Did members of Serenity and Whyzdom know each other before that show?
Georg: Yeah, I knew the band before because, first of all, our female guest on the latest tour, Lisa [Middelhauve], she helped Whyzdom for three or four concerts …
Clémentine: For two.
Georg: … Sorry, sorry, only two concerts in the past (laughs), so I knew the band from the Internet, some songs on YouTube and something like that. Lisa told me that Whyzdom had a new singer as well, and I found Clemi on the Internet because they put a song called "Bonny Portmore" with Clemi on vocals, and I really LOVED her vocals. Then I saw her live when we played together in Paris, and I just asked her if she would be interested to join us on tour. She wanted to have 21,000 Euros for that (Clemi and Georg laugh) … nah, just kidding! She was, I think, happy that I asked her because it is a great experience and a great promotion for both bands. And we are really happy to have her on board!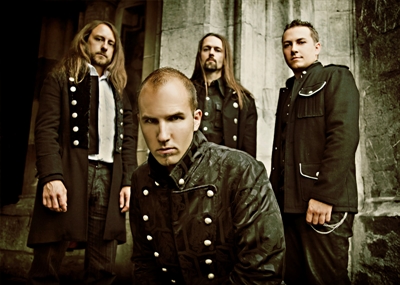 Robin: At the time Serenity invited Clémentine to do guest vocals, was the Out of the Dark Festival Tour already in the works?
Georg: No, I had no clue at the time about the Out of the Dark Festival Tour because I just got the call two or three weeks ago that Serenity should replace ReVamp. So, originally, it was always the plan to play the End of Summer Festival [in Willofs, Germany] tomorrow with her, and we had a plan to go on a headlining tour in January. Our booker had just started to book this tour, and that was the main reason I asked Clemi if she would help us with the headlining tour as well. But then, we got this offer. For sure, it's a good opportunity for us to reach more people and make new fans. So we said, "Okay, let's postpone the headlining tour a bit, and let's do one more support tour." Well, it's not a real support tour because we play for 45 minutes or perhaps sometimes even an hour. It's a great opportunity for us to make our name a bit more known.
Robin: Clemi, what was your reaction to being invited to join Serenity as their guest vocalist?
Clémentine: Surprised would be such a weak adjective to describe how I felt! Honored and so lucky because I know I'm not the only singer in Europe who could have done the job, so I was so touched that they chose me! You know, one year ago, nobody really knew I could sing, I was practicing by myself with my piano and suddenly … I join Whyzdom, open for Delain in Paris, go on tour with Serenity and sing on Myrath's upcoming album! All my dreams are coming true!!
Robin: In just a few weeks (starting September 30), Serenity will be on tour with Van Canto, Tristania, Xandria and Amberian Dawn as part of the Out of the Dark Festival Tour. Clemi, what do you absolutely have to pack for a two-week tour, when you have a show in a different city every night and almost no down days?
Clémentine: (laughs) This is EXACTLY the question I asked to Lisa [Middelhauve]: "What shall I take with me?" And she gave to me a very, very intelligent list of things that I would have never thought about. Yeah, I mean you have to take care of many detailed stuff that you need in between shows, stuff that you need when you are in a venue -- like to make sure that you have proper lights for makeup and so on -- and very girlie stuff as well. You have to make sure that you're going to be fine, that you're not going to miss anything, for hygiene and so on. I think now I have an idea of all the things I have to take with me, although it's going to be my first tour EVER, so I think I'll learn a lot from it in every sense.
Robin: How about you Georg?
Georg: One of the most important things for me, to be honest, is fresh socks. They are very important. Because, you can imagine, 20 guys … most of the time we are guys on tour, for sure … in one tour bus for three weeks, without having fresh socks, it's hell being in there. Besides socks and a toothbrush and things like that, I really love to read on tour. You know, you always will have a lot of time on tour where you have to wait for sound check, you have to wait for dinner, or it's too late to go into the city center to do some sightseeing. So, you can use the time for reading. A good book or two good books are always in my bag, and an mp3 player or an iPod because, if somebody is snoring right next to me in the neighboring bunk, I really need to do something against that. Some good movies, as well. For example, Monty Python and the Holy Grail is always on tour. We know it by heart completely, but it is always fun to watch it.
What else? For sure, some medicine as well. Not especially for my voice, but something against the flu is always good to have. I think that's it. Oh, and fresh batteries for my microphone because sometimes … you can't imagine … but sometimes it is really, really hard to get batteries on tour. I don't know why, but it has been a problem really quite often on tour, so that is one of the most important things besides all the other things I told you.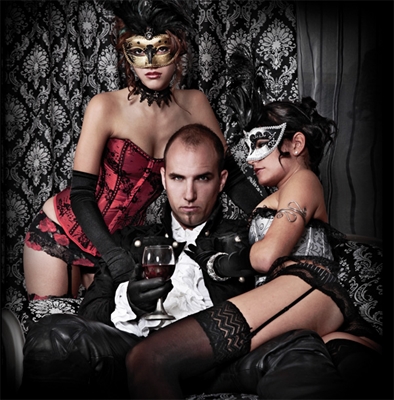 Robin: Clemi, what are you most looking forward to on tour?
Clémentine: I'm looking forward to meeting all the musicians …
Georg: Naked on the tour bus! (laughs)
Clémentine: On the tour bus?!? No, no way! (laughs) I know Tristania and Xandria and so on because I used to listen to those bands, and now I'm going to meet them for real! So I'm really looking forward to this and to all the stuff that you hear from people touring -- that it's so much fun sometimes and being close together and having something together as an experience. I'm really looking forward to this. And to traveling as well, even though I know you're not there to (as Georg said) do some sightseeing, if we have time to. I'm looking forward to traveling and to playing many different places and to meeting the people there. (laughs) Well, I'm excited by EVERYTHING, since it's my first tour.
Robin: Georg and Clemi, we have come to the end of our time together. What final words do you have for Serenity's fans, people who will see you on tour, and those who may be discovering you for the first time today?
Georg: The final words. First of all, we REALLY hope to see as many people as possible out there on our touring activities. It doesn't matter if it's now in Europe or (hopefully) next year in the U.S. as well.
Robin: We hope we'll see Serenity in the U.S.!
Georg: For sure, we'll be in the U.S., but I'm not allowed to tell more. This tour will be really something special for us because it's the first time with Clemi, and we really hope that we can go on with her in the future as well touring. At the moment, it really seems that we fit together from the band side, so that is my point of view. And yours, Clemi?
[Note: Shortly after the interview, Serenity was announced for the 2012 line-up of ProgPower USA in Atlanta.]
Clémentine: (laughs) Well, I'm very looking forward to meeting people there in every city that we are going to play in. I'm very looking forward to giving my best with Serenity because I really like the songs that we are going to interpret together, and duets are always special moments in sets. It's not that often that two singers, male and female, are doing it together. So I'm very, very happy to have such an experience. As Georg said, I hope that we will make it last and do it again, if everything is fine during these two weeks.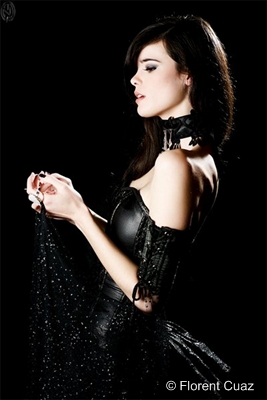 Robin: Sonic Cathedral wishes you all the best for tomorrow's headlining show and during the Out of the Dark Festival Tour. We hope to see Serenity in the U.S. soon!
Many thanks to Lisa Middelhauve for setting up the interview with Georg and Clémentine. You're awesome, Lisa!
Photo Credits:
Caroline Traitlor Link
Florent Cuaz Link

Serenity Official Website
Serenity on Facebook
Georg Neuhauser on Facebook