Elis Interview
Performed via Skype in August 2011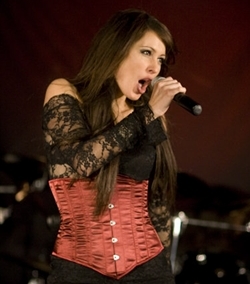 Longtime fans of female-fronted metal need no introduction to the Liechtenstein gothic metal band Elis, whose line-up has remained virtually unchanged since its early days: Pete Streit (guitars), Tom Saxer (bass, additional vocals), Max Näscher (drums) and Chris Gruber (guitars). "Virtually" being, of course, the operative word. On 16 June 2011, Elis announced that Swiss vocalist, Simone Christinat (Legenda Aurea), would be joining Elis as their new vocalist.

Sonic Cathedral's Robin Stryker chatted with Simone -- on her birthday of all days (sorry about that, Simone) -- about all things Elis. Read on to learn more about the muse behind the mic!
Robin: Hello, Simone, and a very happy birthday from everyone at Sonic Cathedral webzine! What did you do to celebrate?

Simone: Thank you so much! I had a great evening yesterday with the band members of Elis and a few good friends. I planned to do a really great birthday grill party yesterday, but the weather was bad. It was raining, so I decided to have a small grill party at my apartment. Today, I invited my parents and my brother. They were here, and we had a nice and cozy evening too. And that was it!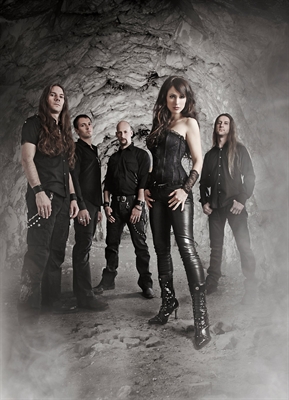 Robin: That sounds like a wonderful way to celebrate a birthday. Congratulations on recently being selected as the frontwoman for Elis! Would you tell us how you got hooked up with the boys from Elis?

Simone: I remember when Elis was looking for a singer … It was three or four years ago. I thought about applying to be the new singer of Elis, but that was actually the time when I joined Legenda Aurea. I guess it was too early for me to be joining two bands, so I concentrated on Legenda Aurea and the new album, Ellipsis. But I was always in contact with Chris Gruber, the guitarist of Elis. We met a few times a year at concerts in Switzerland, or we talked together on the phone.

When Sandra left Elis, Chris called me … I think it was in the beginning of 2011 … and he asked me if I would have interests to join the band. First of all, I said that there is no time for me to join another band. Then he called me again one month later, and he asked again. (laughs) That was the time I thought about joining Elis. It was a hard decision for me. Being in two bands, it takes a lot of time. But yeah, I decided to join Elis, and I think it was absolutely the right decision!

Robin: Certainly we love your work in Legenda Aurea, and cannot wait to hear you singing new Elis songs and also the songs that are already in Elis's discography. It seems like there was a lag of weeks or months between when you agreed to join the band and when you were actually announced by Elis. Is that correct?

Simone: Yes, that's correct.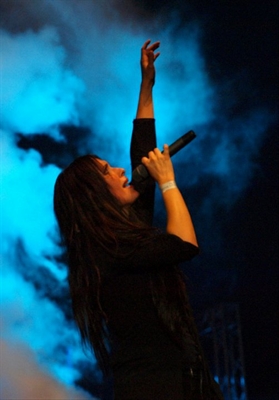 Robin: What were you doing during that time period?

Simone: I was thinking about if I should join Elis or not. You know, if I would have enough time, I would join four or five bands because I LOVE the work with bands. I wanted to be sure that I'm doing the right decision. That took me about four weeks to think about joining Elis or not.

Robin: The pressure on you could not have been any greater when you joined the band … Elis was a few weeks away from headlining Heilig's Blechle Festival on July 8th, which also was the fifth anniversary of the death Sabine Dünser, the band's beloved founding vocalist. Would you walk us through those couple of days leading up to the festival and the festival itself?

Simone: (laughs) NOW, when I'm thinking back on this period before the festival, I don't know how I could do it. The pressure was there, I felt it. And of course we had to do a lot of rehearsals, and I had to get all those lyrics in my head somehow … you have to know, the way from Switzerland to Liechtenstein takes me almost two hours by car.

It was a stressful time, but I went through it. I think it was my motivation to do it because I was so HAPPY to play this festival together with the guys. After the concert, I got the cold (laughs), I was in bed, I was sick. I think that was the result of all the pressure afterwards. But the time before -- although it was so, so stressful -- it was a great time.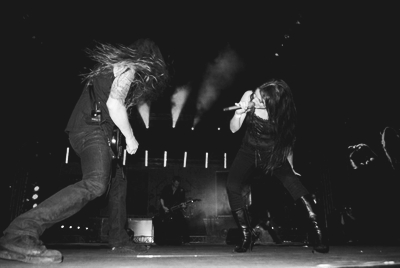 Robin: There you are: it's the day of the festival, the boys are on stage and you hear that introductory music. What in the world is going through your head at that moment?

Simone: Yes, I remember that moment. I really can't remember what actually went through my head. I concentrated on my breathing and my voice. … how can I say it? … This situation felt a bit familiar to me. You know what I mean? I just knew that everything would be fine, everything would work. However: I trusted in all the Elis members. They supported me so much. I just felt great, and I COULDN'T WAIT to go on stage.

Robin: Back in late April 2011, when you were in the audience at the Leaves' Eyes / Midnattsol show, did you imagine that, just a few months later, you would be headlining the same festival at which they also were appearing?

Simone: No! (laughs) I absolutely didn't. I visited this concert in Switzerland, where Leaves' Eyes and Midnattsol were headlining, and I thought: "It would be nice to play with them once!" And yeah, it happened two or three months later. I couldn't imagine that! It was great.

Robin: For your fans who are DYING to actually hear you on the Elis songs, when will we be able to get concert videos or a demo or a rerecording of existing songs … something where we can hear you doing your thing with Elis?

Simone: I think it takes just a couple days. We have already a short video from Heilig's Blechle Festival in Germany, and I think the video is almost ready. We have been watching it together last week in our rehearsal room. The audio material is not so good, but I think you can get an idea of how it sounds and looks … me together with Elis.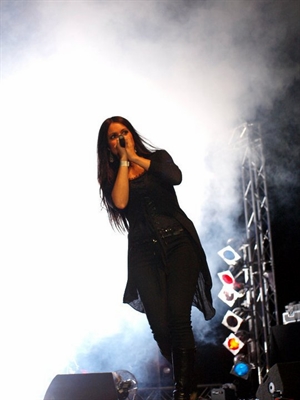 Robin: I can't wait to see that! A couple of days before the announcement that you would be Elis's new vocalist, there was a posting on the band's official page saying that Elis would continue as a band, but that they had decided to "leave the past behind and move forward into the future." Do you know what was meant by that?

Simone: To me, it's a bit difficult to explain that announcement correctly because I wasn't in the band from the very beginning and didn't go through all the good and also hard experiences that the band went through. I just read about everything that happened with Sabine passing away, and I think that's still in mind of the band … how can I say it? The meaning is not to forget Sabine, of course. She will always be in our hearts and in our minds.

It means the band is ready to start again. Last year it became a bit quiet around Elis. They where even discussing whether they would continue or not. Now, Elis is ready to step forward again. The band gained new energy and motivation.

Robin: Fronting Elis is not the first time that you've replaced a vocalist. If I understand correctly, Legenda Aurea also had two singers before you joined. But with Elis, the original vocalist Sabine was so beloved and fans were devastated by her unexpected death. Does that make it harder to fit into the band?

Simone: Hmmmm, I'm not thinking about that too much. I think that I have created my own personality as a front singer within the last years. I LOVE Sabine's work, she was a great vocalist and songwriter. But I think that I can give my own personality in Elis, and I'm not afraid of all the reactions by the fans. I know there will be some reactions, of course. There are people who prefer how Sabine sang her songs or how Sandra sang the songs. Their voices, they were both great, but also different. Mine is different too. With my voice, I have the chance to continue the work of Sandra and Sabine in my own way, and that's a great gift to me.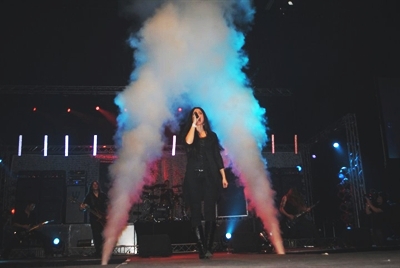 Robin: You are looking toward the future where Elis are in the early stages of writing what will be your fifth album. Where in the process are Elis, and will you get a creative hand in the album?

Simone: Yes, we have a couple of ideas, and we have already two or three demo songs we are working on. But I have to say that, if you are joining a band like Elis, you first have to get into the band. You have to get familiar with how the band works, how the song writing process is going on. Every band is working in a different way. Legenda Aurea, is working completely different than Elis. The first two or three meetings, we were just talking about how the working and songwriting process should be.

Robin: Understood. If you had a choice, what role would you have in the creative process?

Simone: I think we already decided that I'm doing the vocal melodies and most of the lyrics. I already did a couple of vocal melodies, and we did a demo. But it's not finished yet, it's just an idea. I feel really comfortable to write the vocal melodies of the new Elis songs. But you know, actually I am also working on the new Legenda Aurea album, which makes it sometimes hard because Elis should not sound like Legenda Aurea. (laughs)

Robin: You made it very clear in your first greetings to Elis fans that you intend to continue with Legenda Aurea. which is also working on a brand-new album. Have you figured out how you are going to balance both bands?

Simone: In the beginning when I joined Elis, I had not really a plan how it should work with both together, and honestly I was a bit afraid. I knew that Elis and Legenda Aurea were both writing new albums at the same time. I think the motivation to me was my passion for metal. I mean, the musical work takes all my free time actually. But I really feel comfortable with that.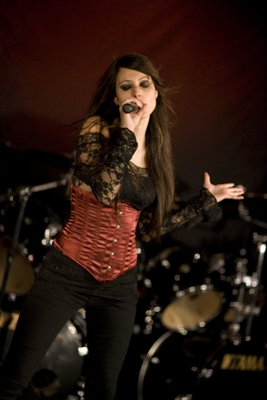 Robin: Well, we love both bands and wish you every success with Elis and Legenda Aurea. Now, I'd like to jump back in time to little Simone. When and how did you first get bitten by the music bug?

Simone: I think I've got the music in my blood, inherited by my grandparents and parents. My grandparents were classical musicians in Prague. My father -- when he was 21, maybe 25 -- he was playing guitars and singing in a rock band. That's also the reason I grew up with this kind of music from my birth on. My father always listened to music, and I loved it from the beginning. I remember when I was a child, I was dancing with the Beatles.

I started playing the flute when I was four years, and then my parents bought me a harpsichord. I don't know if you know this instrument … it looks like a piano, but sounds a bit different.
I took musical lessons for about 10 years. When I was 14 years, I started listening to Whitney Houston. She inspired me much. I loved and still love her voice. I spent hours every day in front of the radio singing with Whitney Houston. I knew all the songs, I knew all the lyrics.
At that time, I didn't like metal, I was more into soul music, like Lionel Ritchie. I guess it was when I was 23 or 24 that I heard the record of Nightwish, and I fell in love with it. From that moment on, I knew this would be the music I wanted to sing along with. That's also the point where I decided to take lessons in classical singing.

Robin: Do you ever do performances of classical arias, as opposed to rock or metal?

Simone: Yes, I thought about that, but I think it is difficult if you have no studies in music. You're not able to get any chance to sing an opera here in Switzerland when you have no studies in classical singing. I didn't miss classical concerts too much because I think I'm more into metal. But, of course, if I would have the chance to sing "Ave Maria" somewhere, I would do it! (laughs)


Robin: Have you had vocal training, if not classical vocal training?

Simone: I had classical vocal training, I had jazz vocal training, and I had pop vocal training. I tried everything. I think the character of my voice has now something in between. It has classical elements, it has some jazz elements, and sometimes it has pop elements. That's actually the point where I feel comfortable.

Robin: For the rest of 2011, what is coming up for Elis?

Simone: We're planning to release a demo in Autumn/Winter, but this demo won't be released for the public. It will be a demo for promotional purposes, such as bookers and record labels. Further, we plan to enter the studio in early 2012 to do the whole record then. When the record is finished in the studio, it still takes two or three months until it will be released, so everything takes a lot of time. That's a bit sad for the fans. I would wish myself to have the possibility doing everything much quicker.

Robin: Simone, our time together is about up. As always, the last words belong to you. Do you have any final words for your friends and fans at Sonic Cathedral webzine?

Simone: I want to thank you for your interest, and let you know that I appreciate your work really much. I am also impressed of how many people in North and South America are listening to our music and doing everything on the internet to support us. That means really much to me! As I said, I'm impressed, and I want to thank you. I wish we can meet each other in America once and hope we get the chance touring through America once.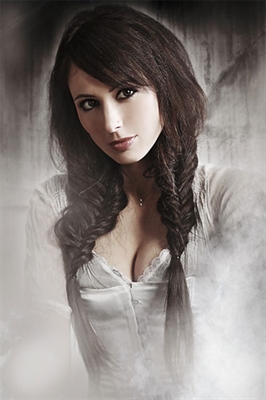 Robin: I look forward to meeting you and to seeing Elis live, hopefully here in North America. Thanks so much, Simone!

Simone: Thank you, Robin
Simone Christinat Official Facebook