Bare Infinity Interview
Performed via Skype in August 2011

Hailing from Greece, Bare Infinity is a symphonic/power metal band with five members: Sverd (bass, brutal vocals), George (drums), Tomas (guitars), Constantine (keyboards) and Angel (vocals). They are also a band that have had their share of upheaval and setbacks during the past few years: parting ways with their original vocalist Christianna (now with Elysion) during the record of Bare Infinity's debut album Always Forever, the departure of their longtime keyboardist Vincent, and the eleventh-hour cancelation of their appearance at Metal Female Voices Fest due to a family emergency.
But now, Bare Infinity is back and stronger than ever with their EP, The Passage, which combines Angel's mixture of power, opera and melodic vocals with soaring keyboards and heavy guitar riffs to deliver a sound that is warmer, richer and more textured than Always Forever. Sonic Cathedral's Robin Stryker chatted with Angel Wolf-Black about Bare Infinity's new album, femme fatales, the muses that move her, and much more. Dive in for a closer look!
Robin: Hello, Angel, and welcome to Sonic Cathedral webzine! Thank you for chatting with us today about Bare Infinity's new EP, The Passage, which will be released on August 26th. How are you doing?
Angel: Hello, I'm fine and really happy to be here talking to you! It's a pleasure.
Robin: Would you start off please by telling us about your new album?
Angel: This work had started some time ago, not very soon after the release of Always Forever, our first album, but maybe a year ago. When we decided to make a second release -- but not yet a full-length album -- we decided to record an EP with five new songs. It's a transition from Always Forever to our second album, and that's exactly what The Passage is about.
As for the music, the songs are starting to behave a little different, having slightly a new sound and the voice melodies are exploring new fields. Tomas is always the composer of the music, but for the first time, I had the chance to try new vocal activity by composing the vocal lines of the songs. I think there's a totally new feeling.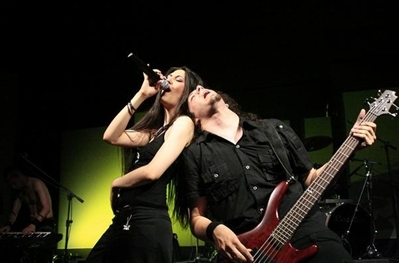 Robin: For people who are not musicians, what does it mean to compose vocal lines?
Angel: Vocal lines are basically the melody of the voice, which is music on lyrics. It's what the singer sings.
Robin: On this album, The Passage, you also wrote the lyrics for at least two of the songs. Is that right?
Angel: Only for two, yeah.
Robin: Was this your first time writing lyrics for Bare Infinity?
Angel: Yes.
Robin: In listening to The Passage's lyrics, it almost seems like there is a story that makes me think of the Greek epic, The Odyssey. Is there something that ties the songs together, or is each its own story?
Angel: Well, it started as each song having its own story, but I think they finally match together somehow. It wasn't planned, but we could say there is a kind of story sequence with some heroes maybe, when you're listening to it. It was not meant to be like that. (laughs) But I'm HAPPY that it's like a story, and you wait and see what's next.
Robin: You described The Passage as something of a departure from Bare Infinity's 2009 full-length release Always Forever. What do you think the main differences are between the two albums?
Angel: I think The Passage is more POWERFUL. In some points, it's aggressive and there are more brutal vocals. There is also a lyric element in some songs, like the title-track "The Passage," which is not so dynamic, but more dreamy. And of course, if I am to talk about my work, there is a variety of techniques concerning the singing part.
Robin: Your voice can do operatic vocals, rock vocals, aggressive vocals, and I've also heard you do jazz vocals in your conservatory work. What types of vocal work will people hear from you on Bare Infinity's new EP?
Angel: Almost everything! For example, there are some choirs, all sung by Tomas, Sverd and me, where, in my parts, I use operatic vocals. There is also the modern technique, which is sometimes smooth or powerful or epic. Plus, some moments of mixed voice. I tried to explore different angles of the instrument…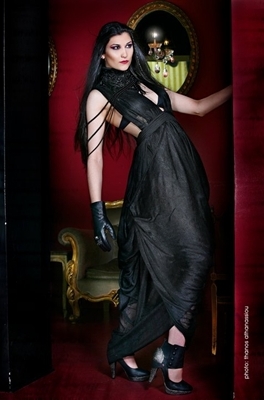 Robin: I'm curious, with Bare Infinity planning to return to the studio next month (in September) to start recording your second full-length, why release an EP the month before?
Angel: (laughs) I have NO IDEA!
Robin: (laughs) That was a veeery candid answer!
Angel: Actually, we had a lot of struggles while we wanted to release this EP, that's why. It was planned to be released last Fall, but it was impossible. So, let's say that we follow our schedule and dare to release a small CD right before entering the studio for our second album.
Robin: I hate to talk about unpleasant things, but the Fall of 2010 seemed like a very difficult time for Bare Infinity. There was the departure of your longtime keyboard player Vincent and the last-minute cancellation of what would have been your first appearance at Metal Female Voices Fest due to a death in the family. Is Bare Infinity in a better place now?
Angel: We are still trying to stand on our feet, but finally gaining the strength to carry on. It's not easy being through such situations, like a family loss. Plus, a departure like Vincent's, is always sad. We are friends and, after that, you feel that an important part is missing. The same and worse as losing a member of the family. It's more than that… I cannot describe it. There was a period of time that we were just looking at the ceiling and asking, "okay, what now?" It was depressing.
Robin: But now Bare Infinity have a new line-up again, new energy, and are ready to tour in 2011 and 2012?
Angel: I think we do, yeah! The good thing is that we are all pushing each other to go ahead: "Come on, don't lose yourself, don't be sad!" We need this energy because, if you stay nonchalant, you'll stay forever doing nothing.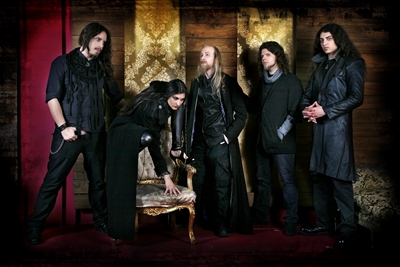 Robin: Going back in time several years… when you recorded the vocals for Always Forever, you were brand-new to Bare Infinity and the songs were already pretty much done. With you having more of a creative hand in The Passage, does that change your connection to the music?
Angel: Yeah, now I'm more active and can create music along with my colleagues. I'm not just a singer performing already-written piece. Now I feel that I am a part of the process. Although I have to mention that this change came when I composed the vocal lines of two songs on the first album, Always Forever -- "The Crying Shore" and "Serenity" -- which was the very, very first time I tried to be creative in this band. I feel a different connection with Bare Infinity's music now, I feel more … what is the word? … conscious.
Robin: Also when you began with Bare Infinity, you were strictly self-taught, with no previous vocal lessons. Is it correct that you are now studying at a conservatory?
Angel: Yes, I'm studying jazz and modern vocal singing. At that time, I only had my self-training, all by experience. I was "teaching" myself by watching what other singers do; trying to understand the techniques, the registers etc, but the good thing was that, in the past, I took some piano lessons so I knew what music was. Now, I see things a little different, one step further.
Robin: How has formal vocal study changed how you approach music with Bare Infinity? Jazz and symphonic/power metal seemingly are at different ends of the spectrum.
Angel: Hmmmm, well, I think there is not much difference because, when I listen to the songs of Bare Infinity, I'm free to write anything that comes in my mind. I'm not very strict, meaning that I'm not following any written rules given from an expert. I try to act out of the box, it's subconscious and comes from the inside. On the other hand, I need to think about it. Still the melody of the voice needs to fit the character and the dynamics of the song. The difference between now and then is that I experiment more. For example, some rhythmic stuff. Plus, the voice is more flexible and I'm trying to do more, feeling comfortable with my instrument.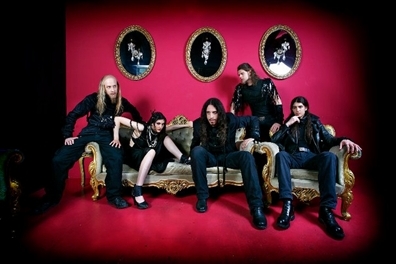 Robin: Well, I was really fascinated by one of the tracks that you wrote, "Letalis Malevolentia" (and we'll just pretend I pronounced that right), which is full of dark and seductive imagery. Would you tell us a little bit more about that track?
Angel: Of course. This track is dedicated to the danger of beauty. You know, femme fatale, the beautiful, but dangerous woman. So, this song is about that kind of creature. It reminds us the existence of the succubus, but, this time, I'm trying to tell the story from the angle of the killer herself, being more human than an evil existence. At the end, if you (for example) kill all your lovers, you will stay alone. So, she ends up being alone forever by choice, but it's still a doom, isn't it? Sick situation… Let's say, it's a bitter song, not sweet. Sometimes we all are turning into femme fatales. (all laugh)
Robin: Yes! Now, what are the types of things in your life that really ignite your passion to create, whether it's animation or music or poetry?
Angel: That is a very difficult question, I must say. I cannot say it's EVERYTHING, but it's almost everything. I'm spending a lot of time with myself, thinking and analyzing situations as a third eye or, sometimes, drowning into them just to experience how it feels like. But I can't forget that daily life, relationships, friends, maybe political or social issues are also an inspiration. What else? Personally, I prefer spending time alone and brainstorming, maybe after checking some references, whether they are visual or audio or interior.
Robin: Of the five tracks on The Passage, have Bare Infinity selected a single yet?
Angel: Nooooooo, and we are quite confused about one favorite, because we have some … I cannot say "many" because there are only five songs … but let's say we have some favorite tracks. We like very much "Father of Wrath" and "Awakening Moonlight". Oh, you know, it's the alpha and the omega of this EP. (all laugh) But, I think we won't actually make a single.
Robin: In addition to writing two songs for The Passage, you also wrote an original track for The Siren's Garden charity compilation by the members of Eve's Apple.
Angel: (laughs) I am very proud of it, because it's the first time I actually composed a full song that I'm sharing with the audience! That was a GREAT experience!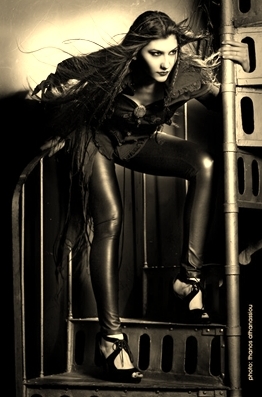 Robin: So for that track, you did everything? You wrote the lyrics and vocal lines and composition … all of it?
Angel: Yes, with an exception: Vasilis Q-Snc, a musician from Greece -- who is best known for his work on keyboards, ambience and orchestras in bands such as Kawir, Obsecration, Unholy Ritual, Daylight Misery and more, plus his personal project and his numerous releases -- has done the orchestrations -- meaning the orchestral parts of it that make the song more mysterious and ambient. But yes, the lyrics, the vocal lines, the harmony, and also the piano playing are made by Angel.
Robin: Nicely done on that! The good news for our friends in Europe is that there look to be a number of times they can see Bare Infinity live on tour in 2011. Would you tell us about some of your upcoming dates for Bare Infinity?
Angel: In August, we are playing for the first time in Cyprus, at the Ayia Napa Youth festival, sharing the stage with amazing bands such as Stratovarius, Rotting Christ, Sabaton, etc. Next, we are appearing at the Metal Female Voices Fest, being a part of a killer line up -- Xandria, Doro, Therion, Leaves' Eyes and many more! We've also arranged some live appearances in Finland, in December. For now, these are: 9/12 in Oulu, Nuclear Nightclub and 10/12 in Jyvaskyla, Lutakko. More dates are going to be booked soon. I might be more informing in the future concerning individual dates.
Robin: I think this is going to be the first year that an all-Greek band has played MFVF, is that right? Maxi Nil is also appearing, but Visions of Atlantis are an Austrian band.
Angel: Yes, it is the first time for a full Greek band. It was supposed to be last year, but we postponed for 2011. These are great news!
Robin: What are you most looking forward to with Metal Female Voices Fest?
Angel: I think the performance itself. The sharing of the energy; to go on stage, to perform and share the music, to feel the energy of the audience and, of course, to meet people. I really can't wait, seriously!
Robin: As a musician, do you prefer being in the studio or the connection of being on the stage playing out live?
Angel: (laughs) What would you answer to that?!? Of course, being on the stage, yes. I believe that the record is not enough if you cannot present who you are musically on stage. Recording music in the studio is nice, but the gigs are indescribable! I like this mood very much!
Robin: Do you have any little rituals before you take the stage?
Angel: Oh … (laughs) I cannot talk to ANYBODY, seriously.
Robin: Do you have to get your head and emotions in a certain place before you get out there and give it your all?
Angel: Uhm, I am not aiming to do that. Thoughts are always there… I just find myself unable to talk to anybody. (laughs) My mates are coming to see if I'm ready and after that…I have my isolation, some really calm time, calm moments before I go on stage. I don't know why I'm doing this. I am so stressed. I don't know if it can be considered as a ritual. It might be stress or isolation by some invisible force, but still a question unanswered. I don't know. (laughs)
Robin: Well, congratulations on all the wonderful things that have already happened this year …
Angel: Thank you very much!
Robin: … and it sounds like there may be a couple of major tours being lined up for 2012 in the European Union and also in Asia?
Angel: Yes, we are looking forward to actually book these dates. Still, it's really, really early to tell more about this. But it's our desire to continue playing music and sharing this in as many places in the world we can. Still, it's very early. It's just our plans written on paper.
Robin: Well, lovely Angel, our time together is nearly up. Do you have any final words for Bare Infinity's friends and fans at Sonic Cathedral?
Angel: I will say what I always say -- just keep listening to music, analyzing and, from now on, trying to consider music as a human being. I'm sure you will enjoy it more. And of course, come see us at Metal Female Voices or any other gigs that are closer to you! We'll be there, and it's going to be a BLAST. I'm really enthusiastic about it! And thank you for your support so far.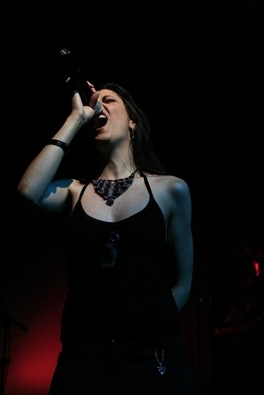 Robin: Thank you so much for chatting with me today!
Angel: Thank you so much, Robin!