Present - Toine van Poorten (Metal Maidens), Rommert van der Meer, Liselotte Hegt (both ex-CIRRHA NIVA) and Kristoffer Gildenlöw (ex-PAIN OF SALVATION)
Interview took place in the Netherlands
October 2007
DIAL INTERVIEW
When musicians open their heart and soul, they open their artistic mind to the max. They translate their deepest feelings into music, and put these feelings down on a silver disc. DIAL created their debut CD this way, which sounds pure as life itself. Sometimes it sounds happy, sometimes it sounds dark, while at other times it can make you cry or it may surprise you, but it will always touch you. We asked Liselotte and Kristoffer to introduce the band closer to us. They gladly took the time to tell us all of their secrets, until we were fully 'synchronized' with DIAL. Here's the story so far of this new art rock sensation. We hope you'll get 'synchronized' too with Rommert van der Meer, Liselotte Hegt (both ex-CIRRHA NIVA) and Kristoffer Gildenlöw (ex-PAIN OF SALVATION)….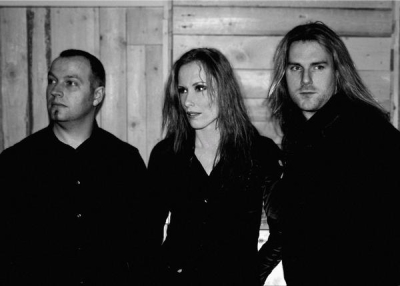 Toine: When did you start thinking about putting a band together again?
Liselotte: "Soon after I quit my band CIRRHA NIVA, halfway through 2003, I felt musical inspiration for another musical direction. I started to write lyrics and vocal melodies and at the same time Rommert (who quit CIRRHA NIVA not long after me) and Kristoffer also had ideas of their own. Just for the fun of it, we jammed together and got enthusiastic by the idea of making it an official project and see what the future would bring. We called it 'a forum for musical creativity' and formed it somewhere in autumn of 2003. The general idea was to make any kind of music without feeling bound to a certain genre or line up. We did home recordings and along the way we felt the result was actually pretty good. From that moment on, it all became more serious. By the end of 2004 we recorded our first demo in our home studio, but that one never left the mixing room. The year 2005 was used to continue writing songs, re-arranging the songs, when we had time between working and private activities."
Toine: Who came up with the name DIAL and why did you choose for this name?
Kristoffer: "We had been working on different ideas for a while and our first name was actually "Dune". But we got too many questions on the connection between us and the book, the films, the internet provider, the hip-hop group, etc. etc., so we decided pretty early on to change the name. I came up with DIAL on way to work one morning and it stuck in my head. Not dial as in dialling a phone number, but as in connecting; dialling in a frequency, a wave length. And it was also pretty similar to dune; short, starting with a "D" etc. etc., so we adapted pretty easy to it."
Toine: Did you ever think about going back to CIRRHA NIVA?
Liselotte: "Absolutely not. I have done great things with CIRRHA NIVA, but for me it's time to move on. DIAL gives me the opportunity to explore new and other musical territories then only metal. Not working in a tight schedule of a 6-piece band gives me more freedom as a musician and I can work with music whenever I feel inspired."
Rommert: "I think CIRRHA NIVA is a great band with a lot of creativity and it was a big learning experience. DIAL is a new adventure with much musical exploration. There's no change that I'm going back."
Toine: What's the biggest difference between CIRRHA NIVA and DIAL in your opinion?
Liselotte: "First of all the musical style is different. CIRRHA NIVA was very metal oriented while DIAL is an alternative progressive pop rock band. CIRRHA NIVA was also very bombastic and guitar oriented. The songs are long and complex arranged with many different ideas. I would say busy music. Mostly there was first the music and the vocals were written the last. With DIAL we actually go back to a more basic arrangement. It's very melodic and vocal oriented. When we write and arrange we focus on what does the melody/song needs. If it's only a piano, then it only will be a piano. CIRRHA NIVA always wrote songs as a band, while the band members of DIAL mostly write songs separately."
Rommert: "DIAL has a totally different approach in writing music. DIAL wants to create music that has no limitations in style or genre."
Toine: Kris, I'd like the same question to you. What's the biggest difference for you between DIAL and PAIN OF SALVATION?
Kristoffer: "It's all the differences in the world to me. The music is not the same, we "band" is not the same, the reasons and conditions are not the same. DIAL is more "me" than PAIN OF SALVATION was. Not because of the music, because DIAL is just one part of my music, just as PAIN OF SALVATION was. But because I put more of myself into this. I am more in control of what's going on and how I want it. Also, DIAL works more as a team when it comes to composing developing the music. PAIN OF SALVATION was more waiting for Daniel and hear what he had to say about it. And we've made sure that we write the music that we like, when we like it. There are no dead-lines, no pushing promoter or record company behind us trying to get us anywhere we don't want to be. We just do it as we like it."
Toine: And did you ever think about going back to PAIN OF SALVATION, when you just had left the band?
Kristoffer: "Secretly, you dream of having the guys crawling back on their bare knees, begging you to come back but… ;) I actually wanted to leave the band the year before that actually so I knew that this was the best solution for all of us. Also, even if they would have begged me on their bare knees, I'd say no. I like it the way it is now; I'm more relaxed and actually much more musically active than I was then. Since I got kicked out, I've recorded three full length albums and contributed on another two. We went from nothing to actually have a pretty respected album on the market with DIAL and I've shown the world that I have two feet of my own to stand on."
Toine: While listening to the CD, I recognized some influences that were kind of obvious, knowing your musical preferences like PINK FLOYD, KATE BUSH and TORI AMOS. Maybe you can add some more influences to this list, that are a little less obvious?
Liselotte: "For me, that would be DALBELLO and SIOUXIE AND THE BANSHEES. They have such a style of their own. But I do enjoy actually many different styles of music which might leave their mark on my own songs.. For instance I am also very emotional moved by the blues/soul/jazz albums of singer Eva Cassidy, who sadly died at a young age. Also the weird theatrical music of DEVIL DOLL is very inspirational. On the other hand live experience and emotions you feel are also a source of inspiration."
Rommert: "There are so many things that influence me. It's not just music, but life in general.
Toine: Bands and artists, that I really enjoy are the very old progressive rock band, such as GENESIS, KING CRIMSON, YES, JETHRO TULL, KANSAS, PINK FLOYD and so on. I'm really a big fan of RUSH, but I also like THE BEATLES very much. I like singer/songwriters such as Elliott Smith, Nick Drake and Jeff Buckley. Bands like PORCUPINE TREE, BLACKFIELD, THE MISSION, CARDIACS, ANATHEMA, OPETH, MASSIVE ATTACK. One band that has got my interest recently is SLEEPYTIME GORILLA MUSEUM and of course THE MARS VOLTA. I could go on for a while but that would be very boring I'm sure. In some weird way al these bands has some kind of influence when it comes to writing music for DIAL."
Kristoffer: "I get influenced by anything, even if it's not musically. Just happenings and how the world turns. With DIAL, I did put in some more obvious influences though. Like on "Hello", where I've taken some ideas and inspiration from the Swedish band DIVE. On "Childhood Dreams", you can clearly hear my roots in PINK FLOYD and on "Green Knees", I let my self get inspired by PORCUPINE TREE, BLACKFIELDand GREEN CARNATION. With "Points of View" and "Wish it Away", I just let things come over me. While arranging "Candyland", we surely took a peak over at QUEEN to see how they would deal with certain arrangements. But I get influenced by almost anything and everything. Maybe it's not obvious to hear in the music of DIAL but I always take all influences and experiences with me each time I play and make music and I use it as a bank of "can-do" and can't-do". I've surely had my dive into New Age (ENYA, ENIGMA), Jazz (EST, MILES DAVIS), Folk Music (GARMARNA, Ale Möller), Fusion (WEATHER REPORT, STRAIGHT JACKETS), Metal/rock/hard rock (MESHUGGAH, SKUNK ANANSIE, CLAWFINGER) , Soul/ R 'n' B/ Motown (STEVIE WONDER, ARETHA FRANKLIN), Classical Music (DVORCAK, BACH) and Pop (PETER GABRIEL, MICHAEL JACKSON) and much, much more."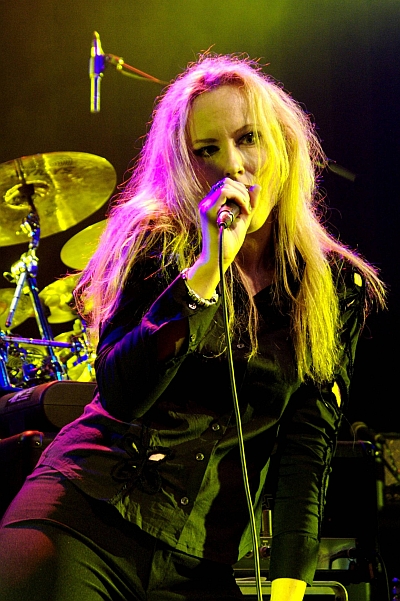 Toine: How would you describe the music of DIAL yourself?
Rommert: "I've never tried to describe the music of DIAL. I rather keep it the way it is. Too much thinking about what kind of music we make can only hold us back in creativity I think."
Kristoffer: "It's pretty hard actually.We've put so many different things in there that it's hard to pin it into one spot. But it's definitely alternative, some pop and some rock, some symphonic stuff and of course some of the progressive things. The over all feel is moody and sentimental and at some parts even dark. With "Candyland" as an exception to all of the above (smile) But there's also something very "dreamy" in there as flair over everything."
Toine: How did you get in touch with the other band members Rommert (van der Meer) and Dirk (Bruinenberg)?
Liselotte: "Well, Rommert was in since the beginning and he is also one of the founding members. I know Dirk several years. When I told him about DIAL he was very interested in recording the drum parts. When the time was finally there to concentrate on the drums we got seriously together. We are very happy to have Dirk around. He is not only a very professional and great drummer; he is also a great and fun guy to be with."
Toine: Did they also help you with writing the songs for the CD, or were all the songs written by you and Kris?
Liselotte: "Kris, Rommert and I wrote songs separately actually, that's why the album sounds so diverse. We all have our specific musical influences and creative thoughts. After the writing process we have been arranging the songs on a detailed level together, see what really works and what doesn't work. The fact that three musicians individually wrote songs makes DIAL special, I think. The interesting aspect is I come from a more female oriented rock/pop direction at this point while Rommert and Kris are more moving into a prog rock but also still a song oriented direction. During the pre-production and eventually the final recordings we tried to make the album cohesive with a kind of a DIAL sound but still presenting the songs as unique individual songs."
Toine: Can you tell us a bit more about the lyrics on the album. Who wrote them and what are they about?
Liselotte: "Most songs are based on reality, but sometimes with a dreamy touch. I guess "Candyland" is the most surrealistic lyric; a girl fantasizing about all the things she wants to do before she dies. A very girlish and dreamy atmosphere there. The rest of the songs are mainly based on personal emotions, feelings, relationships, losing dear ones, and personal thoughts. I present the haunting emotions you can have after breaking up a relationship in "Wounded". The theme death runs also through "Nature's Cruelty", which I wrote after a tragedy that happened to a dear friend of mine. I made it an ode to all the women in the world, who lost their unborn during pregnancy. Obsession is also a theme like in "Beautiful". It's about a girl, who is very obsessed about being as beautiful as all the girls in the glossy fashion magazines. A bit of a critic undertone towards our society that supports the beauty on the outside and plastic smiles on all levels. "Jewel" is a cover, but the lyrics are so cute. A person, that is so obsessive with something she has and can't get rid of it, even if she wants."
Kristoffer: "Green Knees" and "Childhood Dreams" both day-dream back on memories of a child hood. They also have some "carpe diem" in there, a sort of "enjoy it while you can";
"Hello" is about the relation/connection between two souls that inevitably has to be separate at one point. This is their longing and care for each other. In my version this is sung by a father to his daughter and their separation through death and life;
"Wish it Away" is about being stuck in a position you don't like to be in; in a place you don't belong; the longing of getting another chance, to start over again;
In 'Point of View' we take a look at the society and the life of a burned out person. Different personalities come by and give their version on how he ended up the way he did. People blaming society, people blaming the individual, the man him self trying to get his way back up to the surface and also the people taking advantage of the individual for their own personal gain."
Rommert: "Sadness" is a very emotional song with a very dark atmosphere in the lyrical sense. It's about never been the person you really are. Always pretend you are that person that others expect you to be. The person in the song is very lonely and feels almost isolated from his social environment."
Toine: Are the lyrics autobiographical or are they just (fictive) stories or thoughts/ideas from your own mind?
Liselotte: "Nature's Cruelty" is based on a real tragedy happened to my friend. The rest of the lyrics are not autobiographical but they are based on real feelings and emotions I think myself and everybody else can relate to."
Toine: How do you get to write new songs? Do you start with the music first or the lyrics and how does a song develop later on?
Liselotte: "I mostly start with a vocal melody and lyrics the same time after that the music. Mostly I have an idea what I want with the instruments. But "Wounded" on the other hand I started with a bass line I had in mind, followed by a drum loop, piano melody and latest lyric and melody."
Rommert: "It can be anything from just a couple of notes or chords to a complete song structure. Also things that happen to me or moods are very important when I am writing. I'm always searching for chord progressions that fits the feeling that I have by the song. Mostly a song is written around the lyrics that I already have written or are in my mind".
Kristoffer: "It's very different for me. Sometimes I have a riff or chord change (on piano or guitar or so) and then I build on that. Sometimes I work from a rhythm and sometimes I get a melody line in my head. It often starts with something very small and simple that I then work out and arrange to a complete song. Lyrics always come last."
Toine: When do you decide, that an idea is good enough to become a new song?
Liselotte: "When I still remember it after several months."
Rommert: "I go with the answer that Liselotte just gave you."
Kristoffer: "I like to work on my ideas until it either turns out to a song or I get stuck.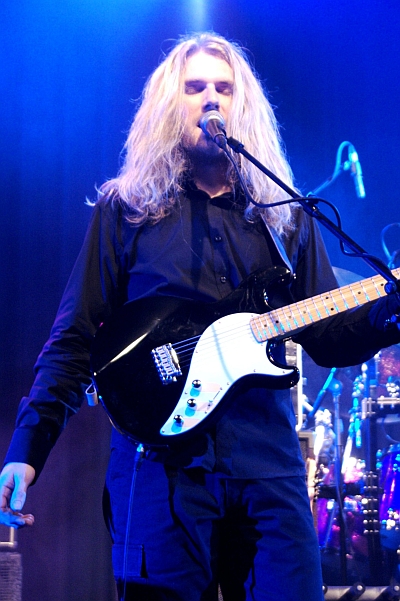 Toine: If it turns out to be a song, I look at the song separately and then decide what to do with it. I can't reject an idea just because it's the wrong type of music or doesn't fit in. I rather work it out completely and do what's best for that ideas or song and then decide if it fits or not.
If the idea gets stuck or doesn't turn out to a song, I put it aside until I get more inspiration or when I can use part of it for other songs."
Toine: Were there any songs left out of the "Synchronized" sessions, that didn't make it on the CD?
Liselotte: "There were more ideas but they weren't ready to see daylight yet and there are some songs we knew right away they weren't fitting the DIAL sound."
Kristoffer: "We just kept on writing all kinds of music to see what later on would fit together.
The songs on "Synchronized" are pretty far from each other as well and normally you'd say that they don't fit together. But we did some changes and rearranged it slightly so that they would fit and sound more complete. But there were ideas that we had to put aside as they were too extreme or too far away from the rest."
Toine: How did the first live shows go?
Liselotte: "Our first show was an appearance at the Headway festival in April 2007. It was a very interesting event actually. All the other bands were much more complex and technical oriented and DIAL was like something different and more calm music in the middle. Surprisingly, we got a very enthusiastic response both by the audience, press and festival organisation. The two shows we did with LANA LANE/ROCKET SCIENTIST right after were okay but we noticed not all the diehard progrock fans were into our style of music. They apparently prefer the more spacy, freaky synthesizer oriented songs. But we had an absolute highlight during the IO pages festival; full house and a very enthusiastic audience."
Toine: Do you play any material live, that is not on the CD?
Liselotte: "So far no. But some of our songs are played in a different version on stage. Not everybody necessarily play the parts he/she did in the studio. I don't play bass and sing the same time, so Kristoffer, ore sometimes even Dirk play my parts and I play bass in other songs where I don't have to sing."
Toine: Are you also planning to add PAIN OF SALVATION or CIRRHA NIVA songs to your live set?
Liselotte: "No, and actually it never crossed our mind."
Kristoffer: "I see no reason to do so. I've played PAIN OF SALVATION songs for eleven years now, time to do something different."
Toine: Do you have any show elements in mind for future shows, or is the music more important for DIAL?
Liselotte: "We don't work with show elements like CIRRHA NIVA or even PAIN OF SALVATION do. DIAL is not a band like that. We pay attention to our clothing and I mess around with funny eyelashes and make up but the main focus is playing the songs with a lot of emotion and atmosphere."
Rommert: "Maybe the only show element that I can think of is a sphere full use of light without being a distraction. I think the music has to speak for itself."
Kristoffer: "Just being there and making a connection with the audience is the only show we put up."
Toine: What was it like to work with Devon Graves (PSYCHOTIC WALTZ, DEAD SOUL TRIBE), and how did you get in touch with him?
Liselotte: "I know Devon since he was in PSYCHOTIC WALTZ. And since I am also writing for Aardschok magazine The Netherlands, I have done several interviews with him over the years. In January 2006 I went to a DEADSOUL TRIBE concert in Holland, catching up with Devon. I told him about my new band and spontaneously asked him, if he wanted to do a duet with me. He was curious, so later I send him our demo. He mailed me he was impressed by our musical ideas and offered to produce the album and do the recordings in his studio in Vienna. The duet never happened, but in the studio there were some spontaneous moments Devon grabbed the guitar. Kristoffer had written "Wish It Away" and felt that song would perfectly fit Devon's special voice."
Toine: Did he also give you some important advice that you used for the CD, or musical ideas maybe?
Liselotte: "First of all, it was really a big compliment Devon believed in our songs, when he heard our demo. In the studio I experienced Devon is really great in recording vocals. And for me it worked very inspiring. I felt comfortable and could open up myself totally. He pays a lot of detail attention to the vocals and knows how to catch the perfect take."
Toine: Will you be working with Devon in the future as well?
Liselotte: "At this point we haven't decided what we want with a second record so I think all options are open for know."
Toine: Are you satisfied with your debut album, and if you could have done something different, what would you change then?
Liselotte: "Of course, afterwards you always hear small details but I think looking at the circumstances and time we had to do the recordings; I am very satisfied with the result. Not to mention the importance of a very good mastering. We were very happy with that as well."
Kristoffer: "The distance between us and Devon is very big and if we would have had the chance to be involved more "hands-on" with the mixing process from the beginning, I guess we would have been able to go more into details. Also with some more time to prepare and to record, I guess we could have gone that extra 'yard' to get everything recorded that we wanted to record and in the way we wanted it to. But that's the way it always is and that's what keeps you going for a follow up album; to make it even better. But I'm very satisfied with the end result and can truly back it up with pride."
Toine: What's your favourite DIAL song, and why? (Mine is definitely "Childhood Dreams", because of the way it builds itself up to a very powerful climax, which sounds really perfect!!)
Liselotte: "Because all the songs I wrote are very different from each other, it's hard to pick out a real favourite. Each has its own charm. Though I am very proud of how "Candyland" turned out. Further I really like the emotions and lyrics in "Sadness" and "Green Knees"."
Kristoffer: "Green Knees" turned out very well and the lyrics are very personal to me."
Rommert: "I like "Green Knees" very much, but also a song like "Candyland", I haven't got a personal favourite, I like all songs especially when we play them live."
Toine: How are the reactions of the press so far?
Rommert: "I'm really excited about the reactions of the press so far. "Synchronized" is not the easiest CD to listen to and it takes some time to really dig the whole thing."
Kristoffer: "Most of them are very good. It seems like most of them were expecting something else due to our previous projects but most of them were happily surprised."
Toine: The cover song on the CD is not an obvious choice. Why did you choose to cover "Jewel" of MARCELLA DETROIT?
Liselotte: "When we decided to record our debut we felt we needed one song, a cover perhaps. We had several musical ideas of our own left but they were not fitting the DIAL picture. Taking a song of KATE BUSH, DALBELLO or SIOUXIE AND THE BANSHEES would be too obvious, plus that is holy ground for me! When I met Kristoffer he made me a CD with different pop songs. "Jewel" was one of them and I loved the atmosphere and lyrics right from the start. Picking out a cover I thought of this song right away. We tried to make our own interpretation of the song by giving it a more industrial touch and me singing it in my own way."
Toine: Did you also get any negative critics, and if yes, how do you deal with negative reactions? Do you take learning out of it or do you rather try to forget about it as soon as possible?
Liselotte: "You can't expect everybody in this world will love your music. And of course it's never fun to read something negative, but you just read it and get over it."
Kristoffer: "You get good reviews and you get bad reviews. People always have different taste and there's nothing to do about it."
Toine: How did you get in touch with Prog Rock Records, that released and distributes your CD? And are you satisfied with this label so far?
Kristoffer: "They actually contacted us.They heard through a friend that we were busy recording an album and jumped to it. Maybe they, too, were expecting something more in the style of our previous music, as we're by far the calmest band in the catalogue. But it works fine and we have a good contact and a great support from them. Also, they're very relaxed and there's no stress or pressure from their side."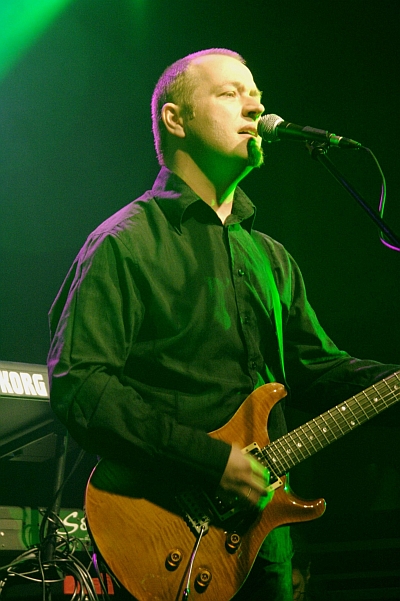 Toine: Are there any important gigs planned for the future?
Liselotte: "We will support RIVERSIDE for three shows in Holland in December. Hopefully, more gigs will follow…."
Toine: With whom would you like to go on tour, if you could pick a band yourself?
Liselotte: "I wouldn't say no to BLACKFIELD or PORCUPINE TREE. THE MISSION would also be fantastic! But there are many many other bands I would like to join on stage."
Kristoffer: "GREEN CARNATION would work as well. Maybe RIVERSIDE and of course any bigger arena-acts, such as ROGER WATERS for instance :) But I could easily go for bands like RADIOHEAD and COLDPLAY as well. I'm sure, that we have much in common actually."
Rommert: "I'm happy to go on tour or do a support with every band that makes music on a high level of creativity. Not just progressive rock bands but also alternative bands or anyone who makes interesting music."
Toine: Have you written any new material already, and are you planning to make a second album in the future?
Liselotte: "Yes, we all have new ideas we would like to work further on as soon as we have time for it. It would be great if we can release a second album but we don't have anything decided yet."
Kristoffer: "We sure have ideas but nothing worked out yet. At this moment we like to focus on "Synchronized" and getting it of the ground."
Toine: In which way will this new material differ from the songs on the debut?
Liselotte: "It's hard to tell right now because the ideas are in a premature stage. About my own ideas I can tell some will be in the same style but some others will have a different character. For the overall picture, I have no idea. There are no limits."
Kristoffer: "I think that we have a pretty good concept going and that concept would be that we take whatever suits us and put in there. Saying that, I think that our new material could go any direction….and that's the way I like it."
Rommert: "Personally, I haven't got a clue in what direction the music will take us. I really enjoy working with Kris and Lot and I hope we get the chance to make another CD and try to surprise ourselves again and hopefully the people who like our music."
Toine: About the CD cover: does the scrabble board forming the name DIAL (the letter A is placed upside down) refer to a deeper meaning here?
Kristoffer: "No, not at all. Just the stones lined up seemed a bit dull, so we just flipped the 'A' to make it stand out a bit."
Toine: "Liselotte, what's it like for you to judge and review bands for Aardschok, and being judged by your colleague writers now"?
Liselotte: "More people have been asking me lately, but actually I don't really think about it when I read reviews and interviews about DIAL. I am just surprised in general we got so much overwhelming critics and response."
Toine: What's the most weird situation you were in, when interviewing bands for Aardschok? I can imagine that you were in contact with some 'strange musicians' over the years? Maybe you want to share some stories with us here?
Liselotte: "Most interviews are phoners, so not much weird happens. During studio reports fun stuff happens. Especially with the STRATOVARIUS guys, who like to party and boozzzzz. Always something funny happens their. And there was Joey DeMayo (MANOWAR), who wanted to impress me by showing me his bass collection and later on, offering me to eat chocolate mousse with the same spoon. Too bad for him I was just interested in doing an interview. Being with EPICA in Mexico for a tour report was also a big and intense adventure in general. Ending up in clubs with dangerous power systems, walking through Mexico City together not feeling save, maniac fans and a singer, who was deadsick… What an adventure that was."
Toine: Kris, will you still remain part of the touring band of Lana Lane, now you're in a band of your own?
Kristoffer: "Sure, I toured with LANA LANE while playing in PAIN OF SALVATION already, so this is a totally different scene. It's not like being in a relation ship, like your sheeting on your band or so, just because you occasionally play with others. I'm open for any suggestion and any music."
Toine: You were in that band with Peer Verschuren and Ernst van Ee. What was it like to work with these guys? I think, they are two of the best musicians in the Dutch music scene, and especially Peer is much underrated in my opinion.
Kristoffer: "Peer is indeed one of the best guitarist that I've worked with and it's a shame that he's not more recognized. Both Peer and Ernst come from the older generation musicians and have a different way of seeing and playing music than I have."
Toine: Do you play in other bands besides DIAL or are you involved in other projects musically? (This question is for all of you)
Liselotte: "Earlier this year I have recorded the bass for one song of WORLDENGINE [Note editor: this instrumental track is called "Flash Before My Eyes"], a very talented Brazilian prog band. A lot of different 'famous' guest musicians will appear on their upcoming debut and I am happy to be part of it. I met the band through My Space actually, while we were very interested in each others music. Further I have just recorded vocals for the new AYREON CD. I was of course very happy and proud when I was invited by Arjen Lucassen. It was great and relaxed working with Arjen in the studio."
Kristoffer: "This year I've recorded two albums already. The first one with HARMONY (power metal from Sweden) and the other one with DARK SUNS (prog metal from Germany). Last year I also put a song on the compilation CD "European Bass Day" and played some bass for the Greek prog metal band IMPLOSION."
Toine: Do you have any hobbies or other interests besides playing music, listening to music, writing music, writing about music, etc. )?
Liselotte: "My daughter Ronja and socializing with my dear friends. I also am a music journalist for Aardschok Magazine, which is timeconsuming as well. I like to read thrillers (Nicci French for instance), visiting concerts, and in between I am having a part-time day job."
Kristoffer: "A good film is always welcome. I also like to do hands-on things like gardening, cooking, or working with wood."
Rommert: "My wife and two sons are very important to me. I enjoy every moment, that I'm with them. They are a great inspiration for me. Of course socializing with friends and family. I really enjoy reading and watching films and listen to music, especially old prog. I love our esse rangecooker and cook the most delicious meals for friends, when they visit us. Walking in the woods or a long walk on the beach and just enjoying nature."
Toine: Do you have any messages for our readers?
Liselotte: "I hope you all will be curious about our music after reading this interview. Thank you very much for the support!"
Rommert: "I'm really thankful for all the support that we are getting and I hope that we can surprise you with more music of DIAL in the future."
Kristoffer: "Please don't expect anything from our music. Just sit down with an open mind, listen and make your own conclusions."
Toine: The last words in this interview are for you…..
Liselotte: "First of all, we just filmed a videoclip for the song ,"Beautiful". D'iMages, a Dutch visual media company, who worked earlier with AYREON, AFTER FOREVER, STREAM OF PASSION, was in charge but the making of the screenplay was a full collaboration between D'iMages and DIAL. It was real great fun and these guys are very, very professional and great to work with. It will be a very interesting and rare clip with strange twists and turns. The release for You Tube and My Space is scheduled end of October 2007. And secondly: Metal Maidens has always been very supporting to me during the years and I really appreciate it! Thank you so very much, my friends!"
Questions by: Toine van Poorten/Metal Maidens Summer 2007.
Sonic Cathedral thanks Metal Maidens for teaming up with the SC Zine to spread the word!
Website: http://www.metalmaidens.com