Present - Herlaka Rose & Ipek
Interview took place via email
September 2007
Herlaka: How did you decide on your band's name, what inspired it?
Ipek: When I was forming the band someone heard my vocals and said that I sounded "wicked" like a "wicked witch". It stuck and then the band was named Wykked Wytch.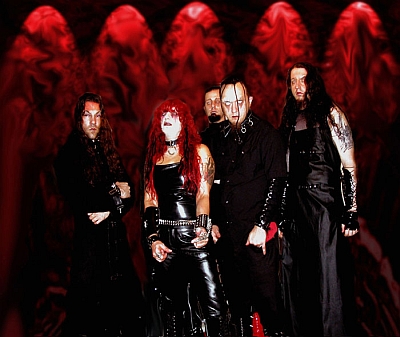 Herlaka: Do you prefer to remain a true underground band or would you prefer to become more well known in the DEATH*BLACK* METAL scene?
Ipek: Ipek: The style of music that we play is an underground style whether you want to label it death/thrash/black etc. I would love our band to be as recognizable and successful as it can be without watering down or changing our style.
Herlaka: What thoughts run through your mind when you're writing your lyrics? How does the writing process work for Wykked Wytch?
Ipek: The process is usually my guitarist brings some material that he has been working on with a drum machine and we go from there. Sometimes I'll already have some lyric ideas already written down and adapt them to the music as it grows into a song. Most of the time I like to hear basic riffs for the song before I write. Then my mood and music will determine the tone of the lyrics.
Herlaka: The title of this coming album was changed from "The Awakening" to "Memories of A Dying Whore" how did this this title switch come about?
Ipek: Well "The Awakening" was only a working title. As it came closer to time to record we decided on "Memories of A Dying Whore" because it really represented the album and the whole concept.
Herlaka: Tell us a little more about the new album, where did the title and concept come from?
Ipek: It's mainly about the killing of prostitutes and children. The inspiration is psychological, it's about what is going through the victims mind. I have a fixation with true crime. I read and watch a lot of documentaries
dealing with murder mysteries.
Herlaka: You cover the song "Sweet Dreams" on your upcoming CD, why did you choose this Eurhythmics classic?
Ipek: Actually "Sweet Dreams" came about as a goof. We were just fucking around and were like "lets do a cover of a cover" and "this could be a good black metal sounding song". After we started rehearsing it, we thought it sounded awesome and decided to put it on the album.
Herlaka: The album artwork & booklet were designed by Alexandra V. Bach can you tell us a little more about her and her work.
Ipek: Well I forget exactly how I found out about Alexandra. I stumbled onto her website or her Myspace and loved her style. We contacted her with a concept for the cover and she came up with exactly what we wanted. Her art and booklet design is a big part of the album and reflects the music and direction of the band. I know she has worked with bands recently like Anorexia Nervosa, Kamelot, and several others. Check out her site at www.ravendusk.com.
Herlaka: Do you have any tour support plans for the Memories of A Dying Whore cd?
Ipek: We're planning on Europe first before hitting the states. Our first major tour plans is to play the X-Mass festivals in Europe. We will be sharing the stage with Mayhem, Samael, Malevolent Creation and several other bands for two weeks. It's a great lineup. After that maybe one more European tour and then we want to focus on the US. Last year we did a US tour with industrial bands Hanzel Und Gretyl and Bella Morte, but we had some cancelled dates. In 2008 we plan on teaming up with some other bands for a full US tour.
Herlaka: What bands have Wykked Wytch toured/played with?
Ipek: Some bands we have toured with have been: Kreator, Sodom, Destruction, Six Feet Under, Nile, Dark Funeral, Dying Fetus, and Carpathian Forest. Much hails to the above-mentioned bands!
Herlaka: Does being a female in the male dominated genre of Black/Death Metal make it harder to come across with your point of view, as a female musician?
Ipek: It is always harder being a female musician. I've been doing this a long time and people have tried to put me down in the past. But I've never had a problem with my point of view. I always stand my ground and make my views known. My voice and brutality comes out in my music and in live performance.
Herlaka: You just started your own record label, give us some more details about that.
Ipek: We started our own label called Perish Music. www.perishmusic.com." Memories of A Dying Whore" will be the first release for the label. We were tired of dealing with labels and decided that we will release our own material so we can be more in control of it. In the future we plan on releasing other bands and projects.
Herlaka: The ball's in your court, spit your hails out to the world.
Ipek: Check out Wykked Wytch at www.myspace.com/wykkedwytch. New album "Memories of A Dying Whore" out this OCTOBER! See ya on the road!
Sonic Cathedral would like to thank Ipek for taking the time to perform this interview.