MFVF 11 – MFVF 11 Perceptions
Wieze, Belgium
October 18 – 20
There are more than a few who would argue that this was the finest MFVF of them all. Never has there been such a congregation of big names: Leaves Eyes, Delain, Anneke, Floor, Lacuna Coil, Sharon and Tarja to name a few. Of course, everyone has their own perception of an event, no two will agree on anything completely. So, in order to provide a slightly broader coverage of the event, we've expanded our coverage to include non-SC staffers ranging from actual vocalists from the bands to Apples and at least one Cockney Goth drummer from Sussex who I thought should get some ink. But, there was more to the festival than just the stuff on stage, although that clearly was the principal focus. It was a three day party, trust me, I'm still recovering. It started with the first performers and went to 0 dark thirty then continued full bore at the Hotel where the beer flowed and the party went until dawn. Then, the troops gathered and the battle renewed over full force metal. So, here are some thoughts on the devastation from the gathering of metal heads in congregation at Oktoberhallen and nearby locales.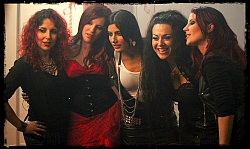 Doctor T: Sonic Cathedral writer:
For myself, the music was clearly the focus, and we've prepared several articles that address that part of the event. Beyond that were the incidents that will pass into Legend and Lore, both inside and outside the venue. Top on the list for me was the early Saturday morning when John Wolff, owner of Sonic Cathedral and I were visited by the ghost of MFVF present. It was early, the fog hadn't lifted from the previous night's frivolity and John answered the call of his alarm clock at pre-revelry hour heading for the bathroom. As he emerged from the friendly confines, he looked at me and said, "Terry, we're not alone." Clearly, there was no good ending here assuming he had maintained his sanity. As I turned to view his side of the room, the rather hairy leg of the ghost of MFVF present arose into view, followed shortly by an individual neither of us knew. The visitor was not Tarja, which was a serious letdown, but the phantom sleeper found a way to escape from our determined inquisition and has now passed into timeless lore.
It was that kind of event, at least for me. So let's hear how others perceived it:
John Thornburgh: SC writer:
This year I flew all the way from San Diego, California, to Europe for a long weekend at MFVF -- and it was totally worth it. MFVF XI was a weekend full of once-in-a-lifetime experiences: Liv Kristine opened the fest, and sang her Theatre of Tragedy classic "Venus." Twenty-one members of Eve's Apples -- including Charlotte Wessels, Marcela Bovio, Maxi Nil, and Ailyn -- then took the stage to do a fabulous show of classic covers, featuring Sabbath, Rainbow, and Maiden and also surprises like Janis Joplin. The next day, Charlotte's band Delain put on one of their biggest shows to date, including Sharon den Adel's first-ever MFVF appearance. Sharon sang "No Compliance" (as she does on Delain's album Lucidity) and then sang the Within Temptation classic "Restless," written when Delain's Martijn Westerholt was still in WT. The third day featured femme metal pioneer Anneke van Giersbergen, who performed "Strange Machines" from her days in The Gathering. Next up was Nightwish's fabulous new vocalist Floor Jansen and her band ReVamp, followed by original Nightwish vocalist Tarja Turunen. Tarja closed her set (and the fest) singing "Over the Hills and Far Away" with Floor. Tarja and Floor gave each other a big hug, seemingly making peace in the Nightwish world.
In other words, in one weekend we got to see Liv and Anneke, who pretty much created the female fronted metal genre; Sharon and Tarja, who took it to new levels of popularity; and Floor and Charlotte, who promise to carry it into the next generation. But those are just the most famous names. We also got to see lots of other outstanding bands. Among more established ones, I really enjoyed Stream of Passion, who sounded better than ever and shared material from their upcoming crowd-funded album; Cadaveria, who have a darker "horror metal" take on the genre; Imperia, whose singer Helena Iren Michaelsen sounded fabulous and was so joyful on stage; and Serenity, who should appeal to all fans of Kamelot with energetic, melodic music and the fabulous combination of singers Georg Neuhauser and Clémentine Delauney. Among newer bands, I was especially happy to discover Magion and Azylya. Magion's music is epic, and their singer Myrthe van Beest has a crystal clear and powerful voice. Azylya's music is dark and theatrical, as was their show, and singer Jamie-Lee Smit could be Daenerys Targaryen.
And that's just the music. Half of the MFVF fun is meeting and talking to the bands and fans from all over the world. MFVF is not just an event, but a community, one that welcomes anyone who loves this type of music. I had so much fun talking to people that I hardly slept the whole weekend. Bottom line, MFVF is a must-attend event for any fan of the genre who can possibly get themselves to Belgium in October. I'm already working on arrangements for next year.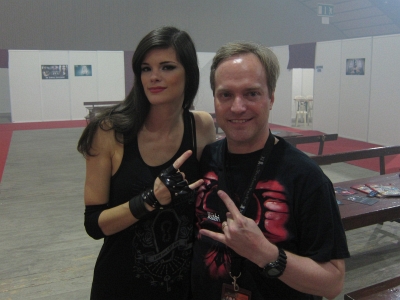 Mags: (Mags is a Cockney Goth drummer out of Sussex with the band Essence of Jane)
Being a MFVF virgin, Doctor T coerced, oops sorry asked, if I wouldn't mind writing a little something about my experience. Brave - he doesn't know me very well does he - buwahaha. Especially given the effects of sleep deprivation addling the brain in an unusually yet twistedly satisfying manner, which possibly only the hard core relish.
For me this had to be the friendliest festival ever. I felt so welcomed by everyone and even the organizer made time to exchange a few words though he must have been under immense pressure. Surely it didn't help stress levels that the lighting company let them down on Friday morning (wtf!) so had to quickly find a replacement and by Saturday everything was up and running. This would be an ideal opportunity for bad press if I knew the company name. *evil grin* But I digress. I had a VIP ticket which meant there was somewhere to sit unless you're a stand at the barrier 24/7 die hard. Yes there is the floor but it meant I didn't have to devise a master plan each time to negotiate getting up again in my New Rocks, which is no mean feat (or should that be feet) I can tell you. I was lucky enough to be spoiled by staying at the Hotel Ibis and having private transport to and fro. The parking was great, just a stone's throw away from the festival entrance. Food wise, well a veggi diet of chips and cheese baguettes for 3 days, but hey (hey! hey!).
So what of the music then. Oh yes. Well I'll leave that little number to Sonic Cathedral. Of course we all have our personal favorites and some great bands played but for my delicate ears the drums generally seemed to dominate the sound throughout the whole 3 days.
So now looking down the program I realize I missed The Doors opening three days running and Curfew headlining every night but that could possibly have something to do with insufficient coffee and excessive alcohol respectively.. (For those of you who don't get it, The Doors and Curfew are both bands) Yes, I know its a lame joke but it amuses me anyway, what more can I say?
Personally speaking and to sum up then, all in all a brilliantly fun weekend of utter madness only made possible by all the lovely people I met there :)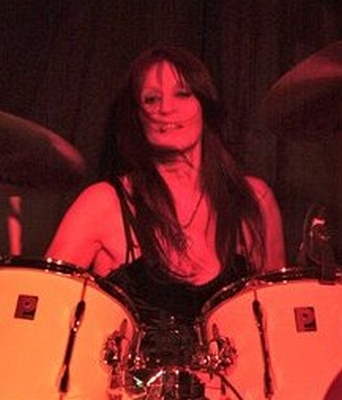 Annamaria Cozza - November 7 (Eve's Apple)
I've had the chance to experience the MFVF in 3 different ways in the past 3 years: in 2011 as a VIP guest, in 2012 as an artist on the bill with my band November-7 and finally this year on stage with my sisters from Eve's Apple. Every time it's been so special, so personal, so unique! One thing that surprises me each time: the family atmosphere in a festival with incredible headliners and bands, a helluva stage, awesome lights, huge venue.. It sounds like a contradiction in terms! But that's the MFVF and no other festival is like that. From this year's edition I'll remember all my Eve's Apple sisters who I met for the first time just some hours before the Eve's Apple show on Friday. I feel so lucky to be part of this community! Each one of the ladies is so different from the others, so talented, so passionate. What an amazing human adventure it has been, All concentrated in 3 days! I felt so alive, so vibrant, so extraordinary that I know this feeling has linked me to all these girls for the rest of my life. That's why they are all my sisters!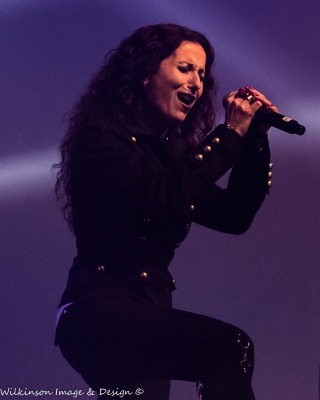 Karen and Margriet Mol: Asrai
Well I called with Margriet and this is our reaction about the festival: It was a really nice surprise when we were ask to play at the last moment at Female voices fest. The biggest female fronted festival, were a lot of bands dream to play. It was a great opportunity to introduce our new bass player Jett and our EP: Between Dreams and Destiny. We played in Wieze before and it was nice to see how the event has grown and yet stayed the same with the warm and friendly atmosphere. The stage was awesome and with a fantastic crew, who made it possible that the changeover runs so smooth that the audience didn't had to wait so long to hear the next band play. The video screen on the side line of the stage was really cool, especially that everybody in the venue could see what happened on stage. But what makes it really special is the audience. Although there is a big diversity in the crowd, they are all enthusiastic, loyal and warm for the bands. What shows with the signing sessions this festival makes it possible for the fans to be close to the bands, and for the bands to be close to the fans… Again we met so many great people and we had a lot of fun, while playing and afterwards, so thanks to everybody for this wonderful festival.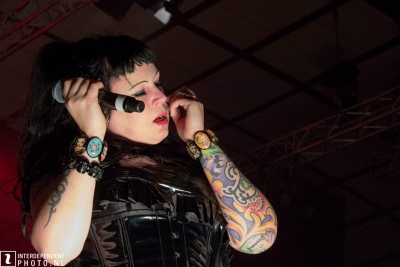 Jamie-Lee Smit: Azylya
This year, 2013, we had the privilege to play at the Metal Female Voices Fest. For this occasion, we wanted to highlight the AZYLYA history. The story of Azylya speaks of a little girl who lives in incest and is locked in an asylum where she will gradually lose her bearings, giving in to fear and insanity. We therefore wanted to introduce Ginger to the public. Cassandra Dieudonné, a friend and a longtime fan, took the stage during the introduction with her doll. We wanted to create a dark atmosphere from the beginning; Ginger was wearing a long shirt from the 1920's and was holding a scary doll from the same era. Cassandra displays a sadness which is reflected in her eyes. We knew she would play the role to perfection. Throughout the concert, we wanted to show through the anxiety, fear and unhealthy atmosphere. This is why we also used two dancers (Charlotte and Celine) dressed in black and wearing a white expressionless mask. They represented both the folly by their jerky dance but also the murderous ideas of Ginger, haunting and frightening ideas. The use of fire on stage was a first for me. I wanted (on the song " Darkness Ascending") highlight the arrival of the monks who come to asylum to exorcise Ginger. In my imagination, I saw the monks emerge from the night, carrying large candles, hence the use of the hands of fire. I hope we were able to reach the public through this scene.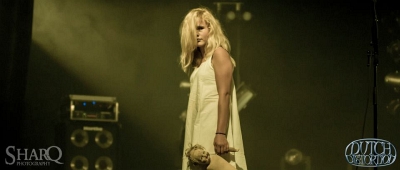 Laura Vargas – Sacramento (Eve's Apple)
While backstage you see the real action in this festival.. everyone getting ready for their shows, the anxiety, the adrenaline everything flows and takes over you. Walking through the people to get to the stage and see the audience's faces from one side of it .. through a curtain and then, on stage..! You forget about all the nerves you had a few hours, minutes or seconds before hitting the stage.. you are now completely possessed and it was then... just then, when I sang my lungs out and put all my heart and blood in every note .... I was having fun, I was talking to everyone down there and even more amazing, I was not alone ... I was with my sisters and a full band that put their sweat and time to make this Eve's Apple show come to life and make me feel more alive than ever .... Rock n' Roll !!!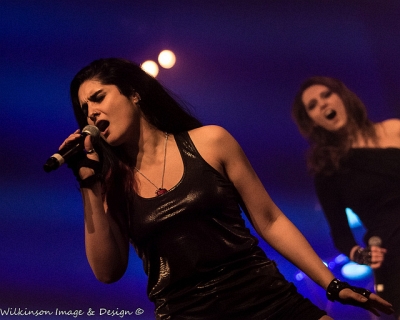 Cadaveria: Cadaveria
What a unique experience!
Let's start from the beginning: we were warmly welcomed by the kind people of MFVF staff in a quiet and properly set up backstage area. The whole organization was very professional, from the sound engineers to the cooks; the big stage and the technical support had nothing to envy to the biggest and most famous Metal festivals of the rest of the world. And what majestic light equipment!
On stage the adrenaline was tangible and all ran perfectly, despite a last minute issue to the guitar effects that occurred just before starting the concert. But you know the show must go on. The audience was simply awesome and showed us great support during the show and after our performance, assaulting our merchandise desk. It was nice to meet so many old and new fans at the meet and greet! We are still receiving tons of compliments through the social networks and an incredible number of cool pictures shot by the great photographers who where there. Many thanks and compliments to everybody. Really a 100% positive experience we hope to repeat in one of the next editions. A special thanks to all of the MFVF team.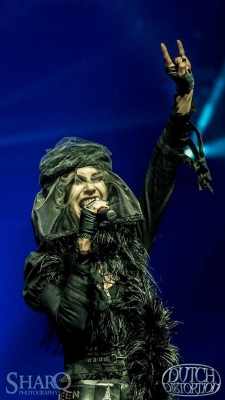 Helena Iren Michaelsen: Imperia
When I got the question of what my experience of female voices were, I though I need the space for a whole magazine to express that. But I had a good belly feeling since the morning of that Saturday. Not knowing what to expect of course. Before the show I met already some very nice people so even though the backstage was cold I felt warm and welcome. And its good Gerry the bass player is a big guy with a big warm jacket to lend me, he he. When I stood ready to wait for the intro to start I felt only joy and I wanted to start, now, he he. I saw glimpse of the wonderful audience there when I walked towards the mic. I already was overwhelmed by the reaction of the audience and I thought its good to come home, I feel home at stage and to share my emotions with that kind of wonderful audience. For the show itself we had put the breaks between songs short so we could play as many as possible songs in the 40 minutes we got. So I didn't have freedom between the songs cause of the short time we got. So that was something I missed. Several times I had tears in my eyes cause I felt so close to the audience and when you are a sensitive person you feel this kind of thing strongly. On Like Rain, Let Down and Out of Sight I nearly couldn't hold my tears back. I still feel the joy and positive energy and I will never forget. The deepest meaning for me by doing music and performing is that the songs can open peoples hearts and mind, and I felt in this show at Female Voices that me and the audience where like one. It was also fun to see how much the rest of Imperia enjoyed themselves on stage. I'm so grateful to meet the people I met and hugged, and so nice to see them in person instead of only at Facebook. And without you and them and all the rest of the perfect audience the evening would had been totally different. But it turned out to be one of the most wonderful and deepest emotional days in my life. So I'm so thankful and honored that I could share that day with you, and when I should go for sleep that night I'm sure I fell asleep with a smile. All the love, warmth and many bear hugs, Helena.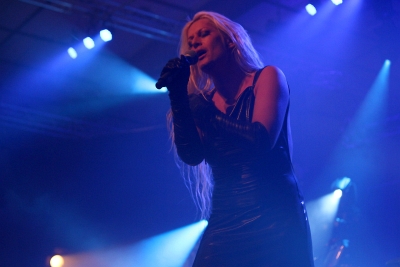 Kassandra Novell – Mill Dogs (Eve's Apple)
This was my second year at MFVF and it has started to feel like home. There were familiar faces of people who attended in 2012, and we shared countless hugs. The music this year was over-the-top, and (of course) I had a blast during the Eve's Apple set. I cried like a helpless baby throughout all of Stream of Passion's performance. The banter backstage in the VIP area is always warm and welcoming, and the after-party at the Ibis is always... hazy. For the parts I remember, I know I had a lot of fun, and I do remember the man behind the magic at the Hotel bar is named Sam. He makes very good "juiced vodkas," as he called them. Us Americans call them "screwdrivers." Yet there's one thing I can never talk enough about: the food trucks. The bands may change up every year, but please, oh please, don't get rid of that pasta truck!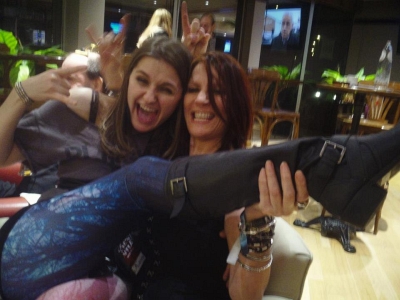 Grace Meridan – soloist (Eve's Apple)
This is my second time at MFVF. The first year was completely surreal. I came with Lindsay Schoolcraft, Melissa Ferlaak, VK Lynne and Kassandra Novell and it was like being little girls in a candy store. The notion of meeting singers in your genre from the other side of the globe was just beyond comprehension. When we arrived, we hit the hotel and got on our bus to meet the rest of the apples – you can only imagine the shrieks of all the singers meeting each other, some for the first time. Especially, after communicating online for years. Initially, you have the pre-show jitters but then you hit the stage. The lights blind you and you hear the crowd cheering but immediately, it feels like home. The support of the ladies behind the stage is comforting. The last two songs we do as a group truly give this feeling of sisterhood, lifting you up! We hit backstage, where we meet many of the bands and artists of the line-up (some Eve's Apples), you sometimes get sidetracked by the press and photographers but you can't help it because they are such genuine people. Finally, to go support your fellow female fronted vocalists, you enter to the audience to watch their performances. It is exhilarating and at times emotional. Fans come up to you to introduce themselves but for the most part, you become a fan yourself watching the artistry of the show. The last day is hard from all the camaraderie you've gained and having to return home, but well worth the experience. This year, I came in with a similar expectation – but it was so much more! Meeting the Apples again was heart wrenching. Being reunited with some of my best friends, a friend that I have waited to meet for years (bringing tears to my eyes) and performers whom you can talk to about all facets of music. This went beyond an experience but into a true performance. For the loyal fans, with a great band, with Apples equally professional and dedicated. Having more Apples this year, there were girls from other countries and similarly we had all expressed interest and intrigue in the Headliners. Women who pioneered the way for us, nearly 20 ago! The true essence of Stage Presence! Past the show, we were given the chance to work with dedicated, professional photographers and media. Our nights consisted of mingling and networking at the IBIS. The line between Musician and Fan melted away as laughter and at times deep conversation ensued. Finally, many of us ended the fest with a BANG, whether going to Brussels or Bruges – there is nothing like leaving a treasured memory with a little sightseeing with those who touch your heart.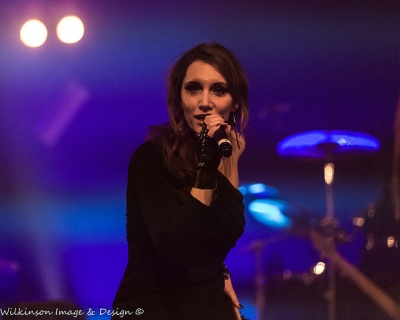 Angel Wolf-Black, Seduce the Heaven (Eve's Apple)
Its dates are almost near Halloween, but it feels like Christmas! For the world of metal, where women rule, Metal Female Voices Festival is the event of the year. I'm visiting this festival since 2009 either to listen to the music or perform on stage and every time it's a unique experience. In 2011, I played there with my previous band, Bare Infinity, and, in 2012 & 2013, I joined Eve's Apple for two shows.
MFVF XI was for me a long waited meeting with great friends; listening to amazing music and enjoying meeting new people and play music for them. While on stage, I was feeling the strong vibe coming from the audience and I felt like I was having the time of my life! I feel grateful and blessed for being part of this huge event that celebrates metal and music it-self.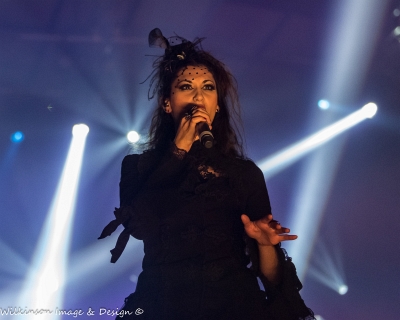 Well, those are just a few comments from participants from across the range of groups at this year's MFVF. Of course, there were as many stories as there were participants; some are probably better not told (what happens at the Ibis stays at the Ibis). But it was a great time, as always. And, as we return to our "other lives" it's pleasing to think back to the fun. . . .and anticipate another round next year. See you at Oktoberhallen next October.