New Sounds and Emerging Bands from MFVF XI
MFVF XI Wieze, Belgium, October 18 – 21, 2013
MFVF has to be one of the finest bangs for the buck in music. . . anywhere. We got a total of 23 individual acts over three days, and I don't know how many combination performances by the Eve's Apple girls on Friday night. I quit counting at about 10 and they were still going strong. And most people probably came for the headline bands, Tarja, REVAMP, Anneke, Lacuna Coil, Delain and the rest. Of course, others had favorite bands they wanted to see, many like the harder Gothic sounds we get from bands like Cadaveria for instance.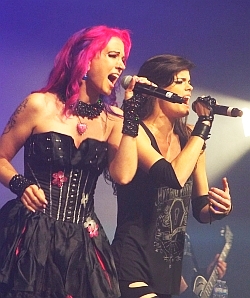 Within the Sonic Cathedral staff there were similar trends with several preferring the music of Kobra and the Lotus or Kontrust. My interest trended more towards bands I've worked with on reviews and interviews, the aforementioned Cadaveria, Azylya and Magion to name a few. But, to some extent, that reflects my interest, I prefer working with newer bands, emerging sounds, rather than established bands like the headliners. So, I was already pretty familiar with the music I got from those bands, even if their stage performances were new to me.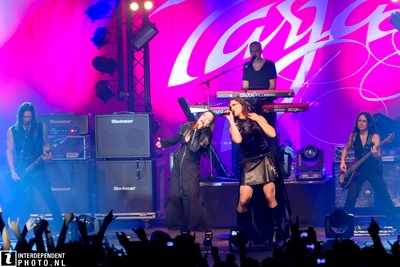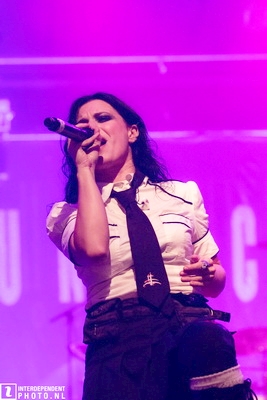 But, there were also bands that I was not familiar with who made an impression and I'd like to share a little about some of these acts as well. You may be familiar with some but I doubt you're familiar with all. And, believe me, there were NO bad performances during these three days. So here are some thoughts on bands that were NOT big names, at least not to me, but who made a solid impression.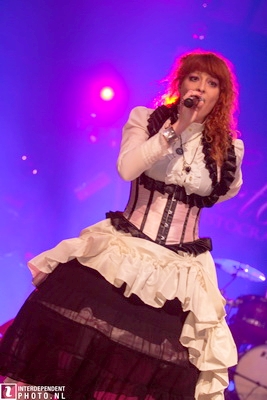 Clearly for me, one of the highlights was Victorians (Aristocrats' Symphony). The band is from Poland and we stumbled across their release Revival last year. I didn't get to do the review but it remains one of the best of the year for me and I was a little concerned that they couldn't sound as good live as they did on the CD, something that does occasionally happen. I've seen videos so I was anticipating that they'd show up in the "Victorian" / Vampire style clothing they exhibited in those videos, and they didn't disappoint. The band is a 4-person contingent, with vocalist Eydis doing the singing in a truly interesting costume. But, beyond the obvious visual appeal, the band sounded every bit as good as they do on the CD. . . .there is clearly a lot of "sample" work providing the symphonics as they have no full time keyboard player. Even more to my liking was getting to know the band a little; we spent some time together, even drove to the Venue together one day and spent time over dinner. They gave me a copy of the CD (I only had a promo download) and I was able to get more familiar with the lyrics, which are outstanding. And, I wasn't the only one impressed, they appear to have drawn top marks from other commenters as well as from many I talked to who heard their performance. This is a band I really expect to go far.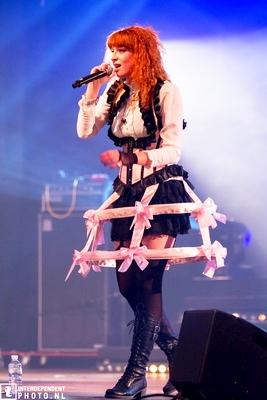 Dalriada was another band that was entirely new to me, although I suspect I may be a minority in that assessment. Robin Stryker dragged me out to see this band saying it was right up my ally. She knows me well and she hit the nail on the head with this Hungarian bunch. The music is classified as "folk metal" and I guess that works with me. That seems to be a bigger musical style in much of Eastern Europe; the Russians have a number of bands that fit that description. Well, anyway you classify it; we heard solid material from a very professional and seasoned bunch of musicians. There was a female lead but for much of the time there were multiple vocalists. I didn't hear a lot of English and was concerned that we wouldn't be able to talk to the band but Robin and I were finally able to get hold of the drummer who's English was quite good (my Hungarian is limited) and he promised us a CD and said he would work with us on an article. The CD didn't arrive, they were already sold out when he went to get it, but expect a review of their latest at some point in the not too distant future here on the Zine. I have no idea how they sound from a studio, but, the live act certainly suggested something interesting.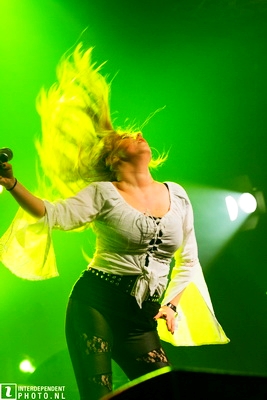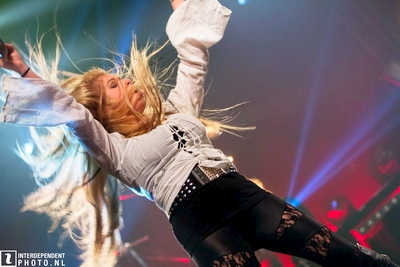 Crimfall was another band I wasn't familiar with although it appears I was pretty much the only one who fell into that category. Seeing them march up to the stage bloody and looking like the winners of a biker bar fight kinda put things in perspective. The set was something of a B & B delivery with some outstanding background instrumental material. And, their stage presence was as lively as the bloody visuals. The band is from Finland so the visuals were Viking I guess. But I doubt the Vikings did a lot of music like this. Lead singer, the diminutive Helena, was full of energy and provided a Ying and Yang look when compared to the massive male vocalist. We spoke to her after the performance; she's a very friendly type. And, I spent a lot of time with her Sunday evening downstairs at the Ibis. . until about 6 in the morning to be accurate. We had a lively conversation, as I recall, however, several days later it was announced she had left the band. Didn't say a word to me but who knows how these decisions come about. Too bad, a solid sound in so many ways.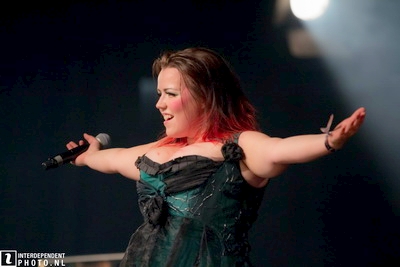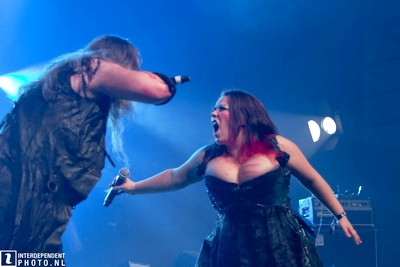 Chaostar was another new sound for me. And, they were one of the bands that contributed to the diversity of the sound found at MFVF 11. Again, I had no background with the band but was highly entertained by the sound. This was not strictly metal, it sure wasn't death metal, it was pretty light on the Goth. I'd call it Avant Garde in some respects, some call it ambient/ darkwave, although they did have the requisite instruments to make a metal sound on occasion. I'd seen the lead singer, Androniki, in the lobby at the hotel and thought they might be Reggae given the long, twisted dreads. But, they're Greek and their performance featured more instruments than pretty much any other band on the bill. Androniki is a highly trained classical vocalist whose operatic sounds came in some 5 different languages as I recall her telling me. A full review of their latest should appear shortly on these pages.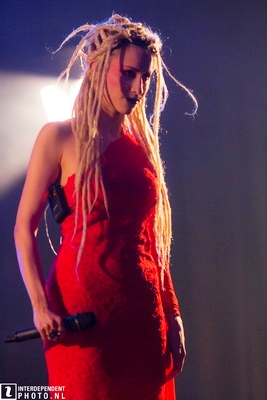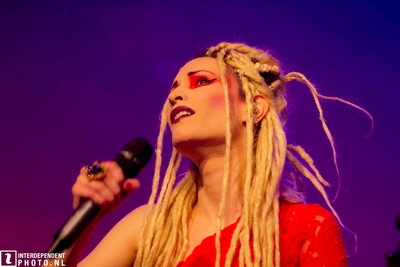 One band I didn't hear but really wanted to (hangovers can be a terrible thing) was L'Endevi from Valencia, Spain. I did speak to a number of people who did hear them and they got ringing endorsements. I've since listened to a number of tracks and they are clearly as good as the best from the southern part of the continent. Having lived in Valencia, I usually try to work with bands from that area and a review of their latest may appear here at some point.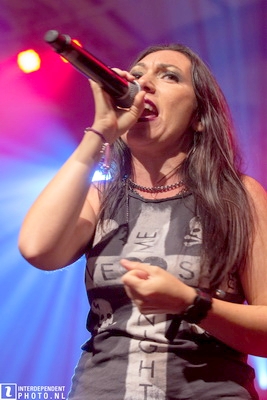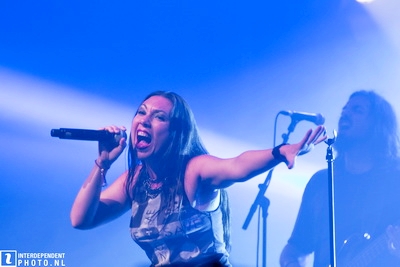 Finally, I was pleased to see the solid performance from the Japanese band Eleanor. I did a review of their latest several months ago and was anxious to see what they could do in a live venue. They work primarily with two vocalists, both Japanese women. The lead came out in a Japanese style costume, the backup in a slinky black dress. I don't know which was more interesting. The sound was solid metal, but with a Japanese flavor to the vocals, beyond the Japanese lyrics. The lead singer worked diligently to converse with the crowd in English, sometimes from printed cheat sheets, and the effect was more than a little entertaining. There's a lot of great Japanese Femme Metal bands and I suspect, given Festival Coordinator Helcanen Val's interest in that part of the genre, we might be seeing more in the years to come.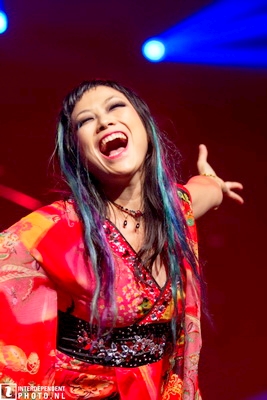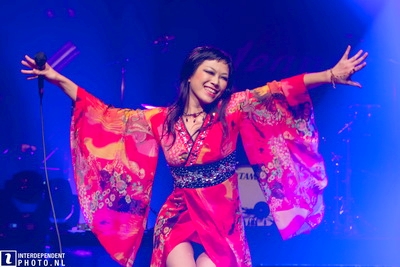 Just a couple last words on two other bands that were mentioned above. One was Magion who released their second CD after opening the venue on Saturday morning. Lead vocalist Myrthe van Beest was just 5 weeks removed from delivering her first child, now that's putting it on the line. Their new release is excellent and, although I was concerned about how Myrthe would hold up on stage, they put on a solid show. And afterwards, Myrthe showed me pictures of the little darlin', just one added benefit of being at the show.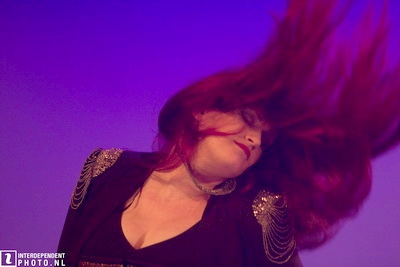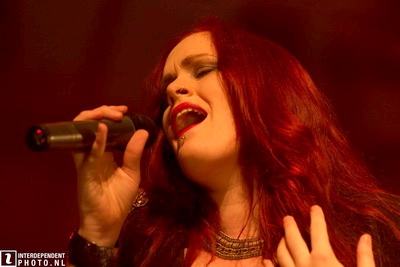 The second was Azylya. Their first full release is Sweet Cerebral Destruction and the release is about a little girl in an asylum in the 19th century; very dark, as Gothic as it gets. And, their stage show reflected that as a beautiful young blond girl, Cassandra Dieudonné, came out on stage holding a teddy bear. As she left the stage the band cranked it up, often with the help of two nicely coordinated dancers on each side of the stage. Great music, but certainly one of the best visual presentations of the event.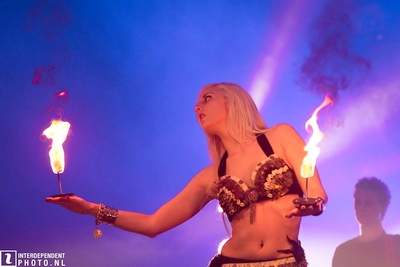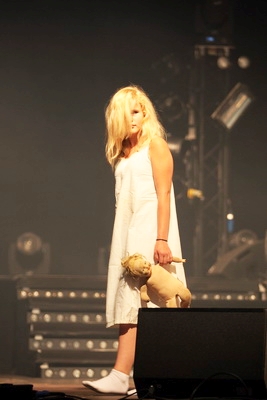 There were obviously a lot of big names at this year's events. They got the headlines, the drew the biggest crowds, they'll undoubtedly get the most print in reviews. And that's probably as it should be. But, there was a lot more talent there to be enjoyed, and most of it was as enjoyable as the bigger names, at least to me. So keep your eyes on these names, I think they're going to be around for a while.