Magion: A New Mother's take on Performing at MFVF XI
January 2013...
I remember it like it was yesterday. Outside it was snowing and I'm in my house staring outside the window where I can only see a big blizzard surrounding our apartment. In my hand I'm holding a positive pregnancy test. I can hardly believe that by the end of this year I will become a mother. In my head there is also a storm of emotions and thoughts. I always wanted to have a baby and I can't really believe how happy I am and I can hardly imagine what kind of an impact this will have on my life. What should I tell my band? Will I still be able to continue with my music?
When I tell the guys the big news they are really excited and they assure me everything will be fine. It turns out that my pregnancy is not the only big news for the band this rehearsal. Our synth player Joop tells us (almost jumping up in down in excitement) that we will probably be playing on the metal female voices fest this year! I am also very stoked with this news. This is something we wanted for a long time. And finally we get the chance to do so. In the back of my head a tiny voice says to me "But what about the baby, your due date is on September 12".
I shrug my shoulders and dismiss my doubts. "Come on Myrthe! You're not the first metal singer to have a baby. Many have gone before you!" Think about Sharon den Adel, Anneke van Giersbergen and Tarja Turunen. If they can combine having a child with singing in a metal band, then so can you!
October 18
It is Friday in the afternoon and tomorrow is Magions big day. Finally we will be playing at MFVF. Next to this we will also release our new album "A Different Shade of Darkness" and play some new songs that we've never played live before.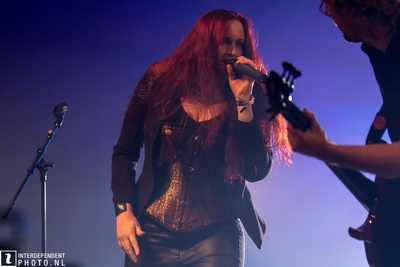 Suddenly I'm feeling very insecure. My pregnancy turned out to be a lot harder than I had imagined, and only 5 weeks ago I gave birth to my beautiful daughter Maeve and this will be the first time I have to leave her with a babysitter (grandma). Besides being a new mom I'm totally not in my usual shape. I even had to go shopping for new gig clothes, since I was still living in my pregnancy sweatpants. I also got to do just one rehearsal with the guys before this show. I've never felt so ill prepared for a gig, especially for something as big as MFVF.
I decide to go to bed early, so I will have the energy to do well. Unfortunately my baby girl has other plans for me and decided to go binge milk drinking all night and sing me the song of her people.
October 19
Since we are the opening act today we had to get up very early to pack our stuff and drive to Wieze. Lucky (or unlucky) for me, I was already awake at 5 o'clock. At 6.30 I give my daughter a kiss and head over to our pigeon infested rehearsal space where we load our whole backline into our van. At 7 we start our journey to Wieze. I had planned to get some rest on the way over there, but because we are all so very excited and unable to shut our mouths this plan failed as well. Joking around, we even decide to place a bet on how many people will show up at our gig. David is a bit pessimistic when he says 20 people will be there at the most. Menno is feeling quite positive and sets his number on 181, the prize for the winner will be a tray of beer.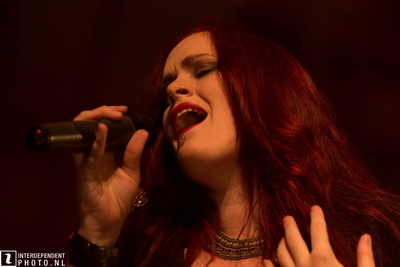 When we finally arrive at the Oktoberhallen, I have only one hour to prepare myself, set up my system and sound check. At this moment I am stressed out of my mind. Armed with my bag full of stage outfits (cause I was unable to choose just one and you never know if your tight leather pants won't fall apart at the last minute, believe me I've been there) and my breast pump (cause I don't want my boobies to explode on stage, even though that would have made for an awesome and very original show element) I burst into our very own dressing room, shaking with adrenaline. How do these other metal mommies pull this off? Do they have their own styling team or something?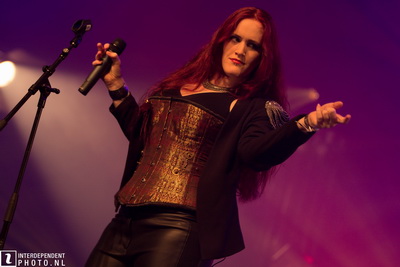 Luckily help arrives in the form of our wonderful merch-babe Nathalie, who squeezes me into a tight corset while I'm trying to do my make up in a teeny tiny mirror that I brought myself. There seems to be no mirror in our dressing room, which to me is pretty weird, considering this is a female fronted event. I'm still getting my make up right when In the background I hear my band mates shout that it is time to hit the stage. When our intro starts I'm hiding behind the side curtains of the immense stage and wait for my queue, hoping I won't make a total fool of myself. I did not even have the time to warm up my voice properly. This is gonna be a total disaster.
Once I hit the stage my fear quickly disappears. Wow what an audience! None of us expected to see so many people at this early hour. I guess David owes Menno a crate of beer now. I get even more excited when I see the positive reactions we're getting from all these people. What an awesome way to get back into live performing. For 30 minutes I'm not the washed up new mommy with bags under her eyes and baby spit in her hair I was just a few hours ago. At this moment I am a singer again and I am enjoying every minute of it.
After an awesome gig I quickly make my way to our merch-stand to see how our new CD is selling. Here I find our two merch-sellers Nathalie and Martin who look a bit sweaty and stressed out. It turns out that our CD is selling like hot muffins. In the back I hear our Belgian neighbours Azylya start their set. But unfortunately I don't have much time to watch their show, because we are scheduled for a signing session. I figure that it can never take too long, since we are not very well known, but it turned out I was very wrong. The line for our signing session is longer than I could ever have imagined and for a minute we feel like a total rock stars. Even though my thoughts are still at home with my baby, but when my hubby tells me that my mom called and that she is doing very well, I can finally relax and enjoy my one day of fame. He quickly pulls me back to the ground by saying "Don't get too diva'ish, you'll be home changing diapers again in a few hours".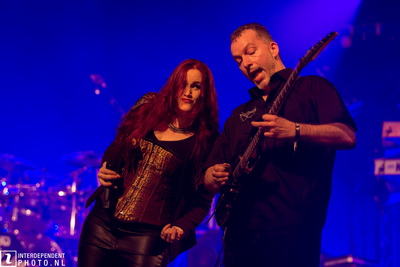 But nothing can break my spirit today. The people who responded so well to our performance totally made my day and I was humbled to meet so many new friends and fans. I didn't even have the time to check out the other bands. I got to catch a glimpse of Imperia and the ever brilliant Serenity, but after that I had to call it a day and return home to my little bundle of joy. I can't wait to tell her all about this festival, even though she doesn't understand a word I'm saying. One day I hope she'll get to see her mommy perform and I hope she'll be as proud of me, as I am of my wonderful band today!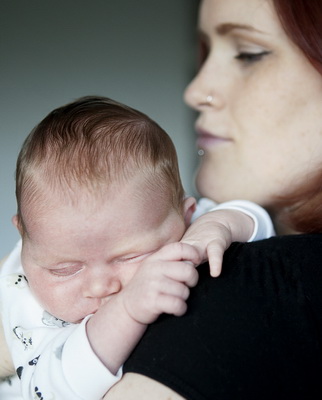 I want to thank everyone who made this gig a success, my mother for watching our little Maeve, Nathalie, Martin and Carolyne for their help at the merch-stand, MFVF for giving us the chance to perform and Sonic Cathedral for getting our new album "A Different Shade Of Darkness" out there! Hopefully we'll meet again next year!
Kisses Myrthe Magion
More and larger photos of Magion's gig @ Metal Female Voices Fest