Masters of Symphonic Metal
Pratteln (20/10/2013) - Live report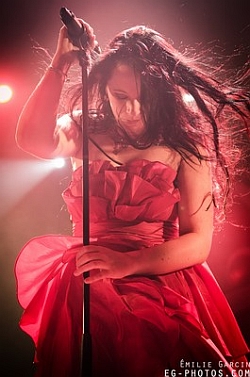 While many people were at Metal Female Voices Festival that weekend, I decided to attend the Masters of Symphonic Metal night in Pratteln. Five bands were playing that night: Deep Sun, Elferya and Lunatica from Switzerland, Serenity from Austria and Xandria from Germany. Visions of Atlantis were also supposed to be there, but cancelled the show a few days before for personal reasons. Then, each set was extended, and both Serenity and Xandria played 1h30.
As I said before, the opening band was Deep Sun, a band from Switzerland that was founded in 2006 but whom I had never heard before too. Deep Sun is a female fronted Metal band made up of six members with high and operatic notes. That positively surprised me, and the audience seemed to like them too; some hands were raised and were moving along the music. Soprano Debora has a nice voice with a beautiful vibrato and is easily able to sing high notes alongside a loud and symphonic music.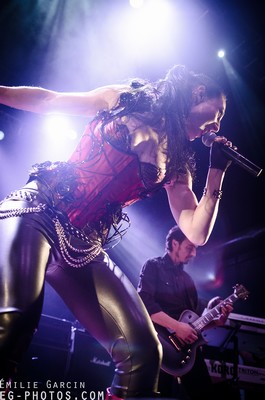 The rhythm was sustained and the songs were quite lively, a good way to start a promising night. For an opening band the lights were very good, which allowed Deep Sun to demonstrate their worth. Sometimes the lights and sound are so bad for supporting bands, that you can't really enjoy their show, and I think that it's a good thing to give the same chances to everybody. I particularly liked "Circle of Witches"; the chorus was very rousing, with higher and higher notes, and even after the show, I could hear it again in my head.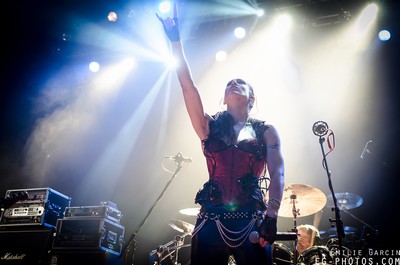 Deep Sun played half of an hour with a total of six songs all taken from their debut album called Flight of the Phoenix. I advise you to check out this band if you don't know them yet. In my opinion, they've got some good potential and deserve to go further.
Setlist:
Flight of the Phoenix
Forbidden Love
Circle of Witches
Fading Away
The Pattern
Walking Dead Man
Deep sun
The second band going on stage was Elferya, a band from Switzerland who released their first album entitled The Straight and Narrow last year. They also recently unveiled a videoclip of the song "Fairytales" and are currently quite active on the Swiss scenes. (They even played with Eluveitie a few months ago.) They already have a great fanbase and many people in the audience already knew them that night.
Therefore Elferya were warmly welcome and started their show with the introduction "Once Upon a Time", a beautiful melody including symphonic and epic elements as we go along and that was immediately followed by "Deep Water Traveler", a progressive song which is in my opinion one of the best songs from this album to start a concert with: the rhythm went faster and faster as we went along; the song and the chorus was very powerful. This song is my favorite one of the album by the way.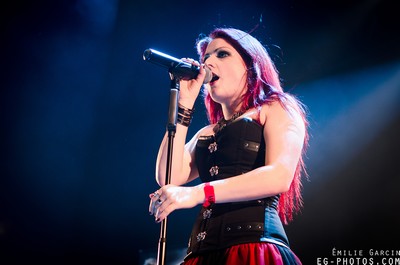 Elferya's songs are quite diversified while keeping a certain identity; as some of them are fast and powerful, other ones such as "Butterfly" and "Master of Death" are slower and heavier. This diversity didn't make one second of the concert boring: in the middle of the set, we could even enjoy an instrumental song with the intervention of talented violinist Mathilde Sonney. This song was really compelling and even reminded me from time to time Celtic tones. This solo was probably the climax of this concert. Mathilde was acclaimed by the audience when she ended it, and then the rest of the members were back on stage for their next song, applauded by their fans.
The guitar (Valery Veings) and bass (Thibaut Jehanno) were clearly audible, as were the keyboards mastered by Lionel Blanc. Gregory Turini was also flat out, giving all that he had to make strong percussions.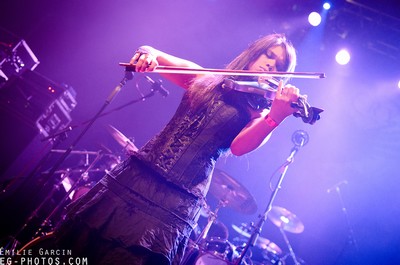 There was a nice cohesion between the members who were all feeling very comfortable and were obviously taking pleasure playing in front of so many people. On top of this, clear lights and good sound made the show very enjoyable. Claire-Lyse's talent is incontestable; as a lyrical singer she's able to sing high and clear notes while moving and headbanging during the instrumental parts: that is not given to everyone!
Setlist:
Once Upon a Time
Deep Water Traveler
Afterlife
Butterfly
Luna
Master of Death
Mystic Land
Fairtytale
The Silence of the Night
Lunatica was the third band that was playing that night. After a break of one year in 2011, they were back in 2012 announcing that they were working on their forthcoming album; since then they played a few concerts and I just couldn't wait to see them. They don't play that often and I like their music quite a lot, so I really felt happy I had the chance to finally see them.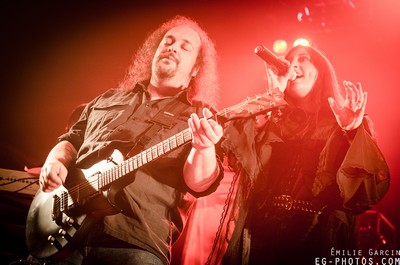 Lunatica started their show with the song "New Shores" taken from their latest album of the same name and that was released in 2009. I noticed many people in the audience wearing Lunatica shirts; the Swiss band seems to have loyal fans! The setlist was well-balanced and gathered songs from several albums: amongst other songs "Avalon" and the last song of the set "Hymn", from Fables & Dreams; "New Shores", "Incredibles" and "My Hardest Walk" from New Shores; "The Edge of Infinity" and "Sons of the Wind" from The Edge of the Infinity; and even "Silent Scream" from their debut album Atlantis which came out in 2001… making the oldest fans of the band return to the past.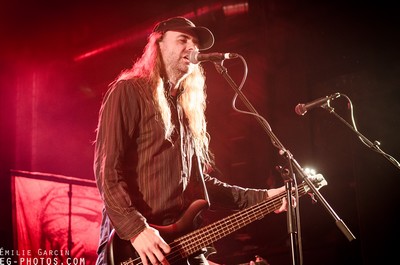 Lunatica displayed nice presence on stage. Guitarists Sandro and Oli were also were also moving on either side of the stage as well as bass player Emilio. The audience was also very enthusiast, they raised and clapped their hands all through the concert. Vocalist Andrea sounded great and interpreted each song with a deep and intense voice. She didn't move that much, but still managed to have a good stage presence and to be close to her audience. From time to time, she talked in German with them, but sadly I couldn't understand a word. What I'm sure of is that people definitely enjoyed this concert, even asking for more songs after the last song of the set, "Hymn".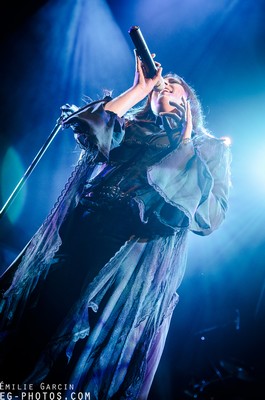 The concert lasted a bit more than one hour from what I remember. Lunatica played a really nice show, and I really hope to see them again, hopefully in France or maybe in other parts of Switzerland in the future.
Setlist:
Intro/New Shores
The Spell
Avalon
Together
Silent Scream
My Hardest Walk
Sons Of The Wind
Edge Of Infinity
Words Unleashed
The Chosen Ones
The Incredibles
Hymn
Then was Serenity's turn to enter the stage. The last time I saw them was 6 months before, in April 2013 (in Pratteln again), and as I had said in a live-report of that concert, I had loved their performance. Therefore I knew in advance I had no reason to be disappointed in their show. Serenity are still promoting their latest album War of Ages which was released in early 2013 and that is definitely one of my favorites of the year.
For this concert, Mario Hirzinger had joined again Serenity. If you haven't heard the news yet, he left them in 2012, but they all still remain good friends and occasionally keep on performing live together. The setlist was a bit different from last April's: more songs from the older albums were played, probably because Mario knew them better I guess. Still it was a good one; it's always nice to hear old songs and I enjoyed it. Then the concert started with "Rust of Coming Ages" taken from their second album Fallen Sanctuary. A good way to start a concert since this song is really energetic and immediately made some people headbang and move.
Serenity belongs to these bands that are as good on stage as they already are in studio. They literally take you with them, bewitching you with their songs full of energy and that all tell a different story. Clementine also took part with two songs in which she didn't initially appear, giving the line to Georg and making us enjoy all her vocal capacities: not only she's got a high technical level with her clean voice but she also growled a few part of "Rust of Coming Ages" and also sang the lyrical introduction of "Wings of Madness" with ease. That's what I call a skillful singer.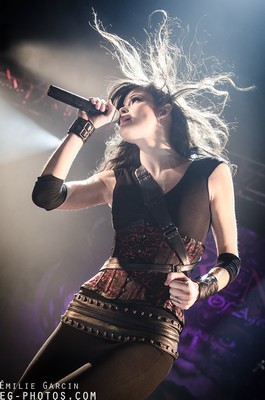 Let's come to Georg, who's also definitely an impressive singer. His majestic interpretations of the songs made us live every note, every line of lyrics. His proximity with the audience was also highly appreciated, playing with his mike's stand and obviously taking pleasure in the audience. He also directly talked with some people, apparently saying funny things. But since Pratteln is in German Switzerland, everything that was said was in German, and sadly I didn't understand a word of it. Anyway and whatever was said, it's always something good to see a band so close to their fans.
Georg and Clémentine were as always accompanied by their loyal choirs who were nobody else but Fabio (bass), Mario (keys) and Andreas (drums). Fabio also sang a part of the chorus of "Wings of Madness" - the driving single of War of Ages - demonstrating his nice vocal capacities and making the whole even more original. Guitarist Thomas didn't take part to the choirs but was obviously taking pleasure being here, playing along with Fabio, having fun with him and going there and here on stage.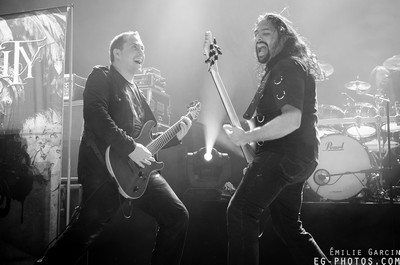 Although Clémentine is now a permanent member of Serenity, Georg sang a few songs alone such as "Coldness Kills" or "Reduced to Nothingness" since there are no female vocals in their studio versions. However, Georg gave her the cue on most of the other songs, such as the renowned songs "The Chevalier" and "Fairytales". "Age of Glory", which was the introduction and first song played at the concerts of last April, was also played at the end of the set and was highly appreciated by the audience.
The band left the stage a few seconds after "Velatum" and then came back amid a round of applause for the last song: "Serenade of Flames". And like last time, it seems that the bet was won: all through the concert, the audience looked delighted, raising their hands and singing their favorite songs.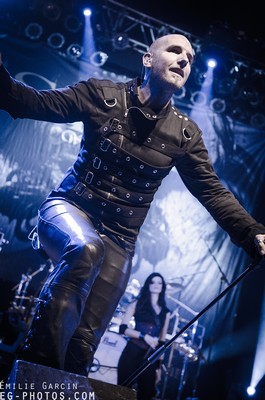 Serenity were as always very communicative with the audience, spreading to them their good mood and having fun with them. The atmosphere was also very friendly ; it must be said that Serenity have already played several times in Z7, so this probably helps the band to get closer than what they already are to their fans there.
Serenity have already announced that new dates in Europe are already booked for April 2014. I definitely have the feeling that we're going to hear about them for a while, and they deserve it: I've no doubt that their talent and simplicity will take them to the top.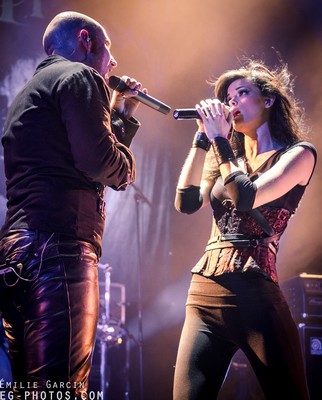 Setlist:
Rust Of Coming Ages
The Matricide
Far From Home
Coldness Kills
Forever
The Chevalier
Fairytales
Reduced to Nothingness
Heavenly Mission
Engraved Within
Wings Of Madness
Age Of Glory
Velatum
--------
Serenade of Flames
A few minutes after Serenity ended their show, the last one started: Xandria. Using the word "last" is quite appropriated since -nobody knew at that moment- this last concert of the night was also the last concert of Xandria with Manuela, who left the band a few days after and who was replaced by Dianne Van Giersbergen.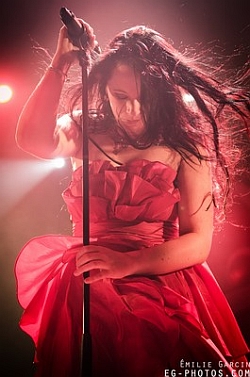 As usual, the show started with the wonderful song "A Prophecy of Worlds to Fall" taken from Xandria's latest album Neverworld's End, and that is my favorite song of it by the way. The introduction immediately takes you to another world, a kind of magical and symphonic world soothed by quiet violins... until the song starts for real, with powerful and strong guitars surrounded by a fast rhythm. Let's be back to reality: at that same moment the musicians came to the stage; Gerit sat down behind his drums while greeting the audience, then guitarists Marco and Philip and bassist Steven Wussow (who had replaced Nils Middelhauve) followed. They were immediately acclaimed by the audience. A few seconds later Manuela appeared in a red dress and started singing. She was as always very smiling and communicative with her fans who were also very responsive, singing along the music and headbanging along the rhythm.
(Photo14)
Most of the songs that were played that night were taken from Neverworld's End. A few other songs ("Firestorm", "Ravenheart", "Now and Forever", "India") were also taken from old albums and the audience -probably a bit nostalgic- loved them as well. A mix of energetic and quiet songs made the setlist quite consistent: the quietest ballad of Neverworld's End, "The Dream is Still Alive", was played in the middle of the set, so the band and the fans could take a new breath before diving back in an ocean of pure symphonic Metal with "Soulcrusher". Then we went back to the past with "Ravenheart", which was beautifully interpreted by Manuela. This song always moves me a bit at its end, and it was also the case at that concert.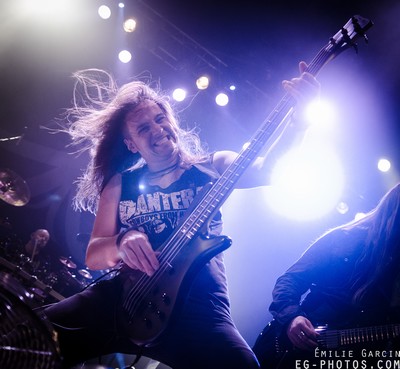 All Xandria members had lots of fun that night. It was the first time I was seeing Steven Wussow since he joined the band a few months ago only. He seemed to be subjugated by the music, living each note of his own instrument and being very energetic while headbanging and sometimes playing it alongside Marco and Philip during the guitar solos. He was apparently feeling very comfortable and totally integrated into Xandria. Meanwhile Marco and Philip remained true and played nice solos in several songs ("A Prophecy of Worlds to Fall", "Soulcrusher", "Forever More" etc).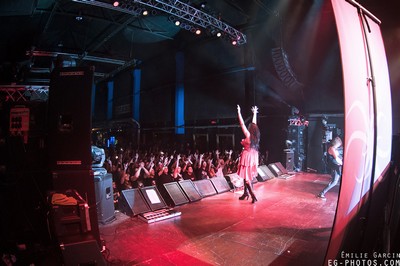 When the song "Cursed" came, Manuela made the audience participate by asking them to sing the tune to the chorus. People were having fun and followed her. When "India" ended, Xandria left the stage, acclaimed by the audience asking for more songs. And after a few seconds, they came back and started to play the last song of the setlist: "Lost Elysion". Gerit ended with concert with the few last notes of percussions left. And still people were asking for more. But every good things comes to an end, and after a last curtsey, Xandria took the pose for the final photo and left the stage.
The band isn't really the same as they used to be - heavier, faster with an operatic voice - Manuela has now gone but is replaced with talented Dianne who's like her an operatic singer but still, people love this new material, a kind of second life. It's really interesting to see the way Xandria has changed and how they managed to keep most of their old fans and to attract new ones.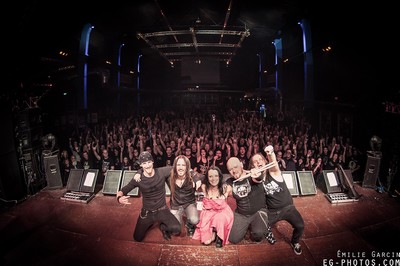 I definitely feel lucky I attended the last concert of Manuela with Xandria. Not only is Manuela a great singer, but she's also a nice person. I think we'll hear about her again soon - she recently recorded a song with Heidi Parviainen from Dark Sarah, will take part to her clip and will probably have personal musical projects too. I wish her the best of luck. Meanwhile, let's warmly welcome Dianne to Xandria, who's also a really talented and charismatic singer. To be continued then...
Setlist:
A Prophecy of Worlds to Fall
Valentine
End of every Story
Firestorm
Blood on my Hands
Forevermore
Euphoria
Save my Life
Cursed
The Dream is still Alive
Soulcrusher
Ravenheart
Now and Forever
The Nomad's Crown
India
--------
Lost Elysion