Lyriel Exclusive
February 2013

Needless to say I was pretty thrilled when Lyriel's manager approached me and asked me to join the band for their upcoming video shoot for "Wenn die Engel fallen", to do some behind the scenes photography. This was about a month or two before the actual shoot , and I did not have any information other than the date in early September 2012, and that it would happen somewhere in the Cologne area. As the day came closer, and more bits and pieces of info became available, the whole thing started to take shape. I was still pretty clueless, though, when I hit the road a day early to head to the pre-shoot barbeque. All I knew was that months earlier they had already shot some material with lead vocalist Jessi and guest singer Thomas Lindner of the German Medieval Rock band Schandmaul.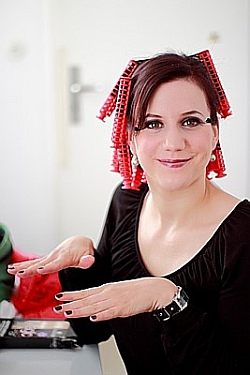 Link to VIDEO

See all behind the scenes pictures on the band's Facebook page.
Get the EP from iTunes here or from Amazon here.
I was picked up at the station and taken to a nice suburban house some minutes from the shooting location, where we were all to stay for the night. I expected everything to turn super busy once I arrived, but instead I spent the first hour in a deck chair in the sun, playing with the kitties. Our host Tim (guitar) and Linda (cello), who were both directing the video, were the first ones to arrive, and they brought bad news. The make-up artist had fallen sick, and she would not make it to the shoot. Luckily, after a few phone calls Linda had found a new girl for the job. With that problem solved, we could turn to this day's most important issue: food. After a while some more Lyriels and crew people showed up, we had a nice BBQ, and went to bed early as we all had a long day ahead of us. I got to sleep down in the studio, the very place where the latest Lyriel album Leverage was recorded. Fidi (drums) crashed in the other room next door, on a makeshift bed level musician - a bunch of sound dampening mats and a blanket.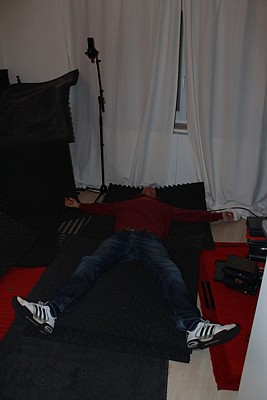 My alarm went off at 7am, and it only took a few more minutes until people started invading my "bedroom". By the time I got back from washing up, Disturbed was blasting and gear was being moved around. When we left at 7:50am we were perfectly on schedule. A short drive later we arrived at the shooting location, the town's civic center, where everything was unpacked and set up so quickly it really surprised me. The rest of the band and crew showed up soon, everyone moved into the dressing rooms (one for the girls, one of the boys), and the last few things were prepared. The band was lucky as part of the set and the lighting were already set up from another event and only needed small adjustments. While the girls had their make-up done, the guys started rehearsing (and later shooting) the first scene to be shot – the shadow screen scene.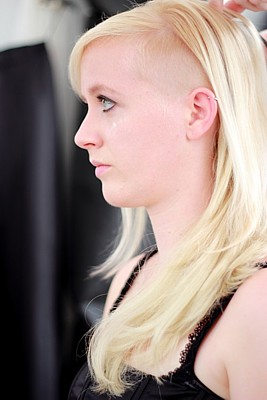 Much as the name suggests, in this scene the band was standing behind a shadow screen so that only their silhouettes would be visible on video. If you have seen the video, this is where you go 'wait, what?', because unfortunately, this scene never made it into the final version. When shooting it, each member was standing individually in a separate slot of the screen. In order for the effect to look good, they had to stand insanely close to the screen, sometimes in quite awkward positions, and watch their every move. Of all the scenes that were shot this one seemed to need the most preparation and caution. Every motion had to be exaggerated, otherwise it would be barely noticeably in the video. Yet it still had to match the song, which is a ballad after all and requires softer moves.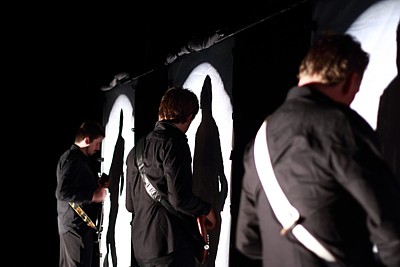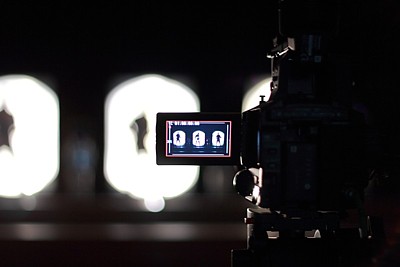 This seems a good time to talk a little about the song. "Wenn die Engel fallen" (English: When the angels fall) is one of the few German songs Lyriel have. It is unusual in a few other ways as well. It is also a duet, and has a guest vocalist, something that Lyriel have done only once before. For a guest singer they made a very special pick: Thomas Lindner of Schandmaul, one of the most accomplished bands in Medieval Rock that Germany has to offer. His very characteristic voice is sure to be recognized by anyone who is familiar with this sub-genre of the German alternative music scene, and probably also by a lot of other people. In order to accommodate his schedule, they shot his parts of the video in advance, so he was not there for this shoot.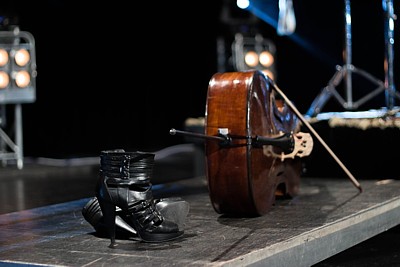 Taking pictures kept me pretty busy as there were things worth documenting all over the place. I spent a lot of time running back and forth between the dressing rooms and the hall, where the video was being shot. After a while, someone had brought a coffee maker and buns for breakfast, and Linda, Olli (guitar) and Joon (violin) started making sandwiches – using little plastic spoons as there was a lack of knives. More equipment arrived, and all of the sudden the stage became a no-go zone. This was because they started setting up a very special piece of equipment (more info below), and had to remove some of the latticework on the ceiling.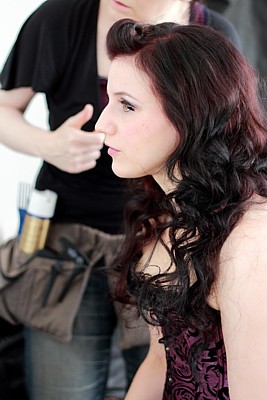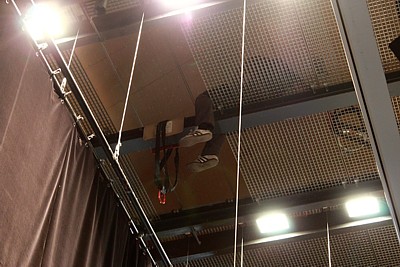 After the shadow scenes were all done the screen was removed, and the stage set up with drums and other instruments. The band performance scene was the next thing to be shot. This may be the time to go into some detail of how a typical take was done. The band was set up in their usual stage positioning. In front of them was some extra space, where a camera cart could be moved to and fro. Once video and sound were running, someone would start the playback (another job of mine at times) and the band would play while the camera cart was moved in front of them. The whole procedure was repeated a few times (usually around 3 takes per scene) to make sure there was enough good material to pick from in the end. Sometimes the camera would be set up on an elaborate type of tripod, and sometimes they would use a crane, but the basic steps remained the same.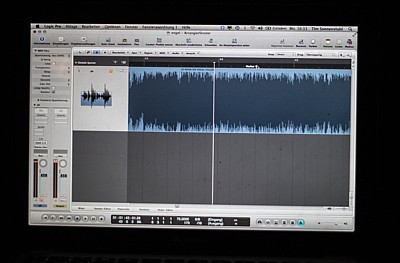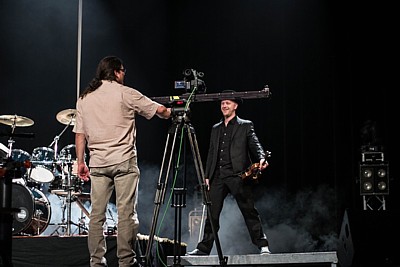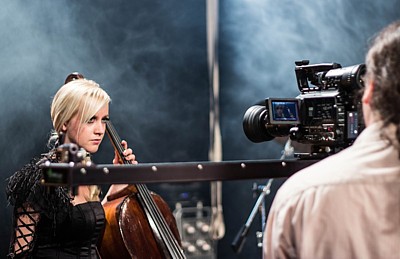 After the regular band scenes were done, it was time to bring in the most special element of the video. An aerial contortion performer (Zaida, who had arrived from Berlin the day before) was supposed to do her performance right above / behind the drum kit while the band was playing in the foreground. In this subtype of acrobatics, two ribbons hanging from the ceiling are used to work oneself upward and perform various routines up in the air, supported only by the ribbons and one's own strength. Said ribbons were the piece of equipment mentioned earlier, and the reason why they pronounced a lock-down over the stage area; for safety reasons. The setup had to be done by someone with a special training and authorization, which one of the crew members fortunately had.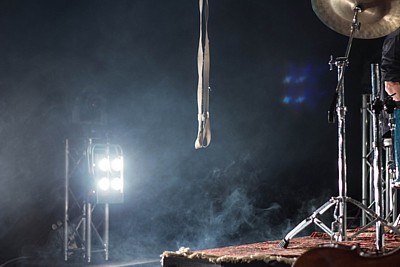 And speaking of special training, a lot of it is needed to perform the kind of acrobatics that we were about to witness. On top of that, it requires a lot of balance, physical strength, and body tension. Zaida had worked out a choreography that went with the song, and she was to do it with and without the band, in two separate takes. When the song started, she began twirling her way up the ribbons, thus wrapping herself up in them. Right when the chorus started, with the lyrics "Wenn die Engel fallen bin ich hier" (English: "When the angels fall I'll be here"), she let go, quickly unwrapping from the ribbons and 'falling' to disappear behind the drum kit. The sight of it was amazing, and it is probably the most impressive moment in the entire video.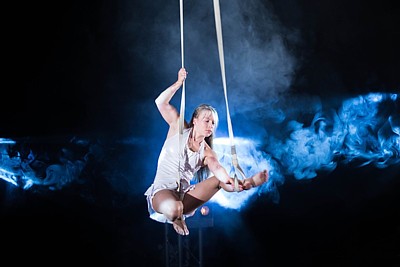 While the band was doing individual performance shots with one member at a time, or small groups of up to three people, the others were going about their business elsewhere. Olli kept rehearsing the piano intro of the song, as he was supposed to play it in a close up for a scene that was to be shot later on. Steffen (bass) and Joon joined me in the photo-team, and Jessi and I had a short tongue-in-cheek photo session outside, where a pseudo-jail bus was parked. Zaida kept stretching to prepare for her single performance scene, Tim and Linda always stayed close to the set and had an eye on the filming, and Fidi had taken over the playback-job. It was hard to keep track of who was doing what, and what was happening where, because with seven band members and a bunch of crew members getting everything on photo was very much like herding cats. Every once in a while everyone did flock together though; every time that the camera crew signaled that there was now some time to re-watch a scene.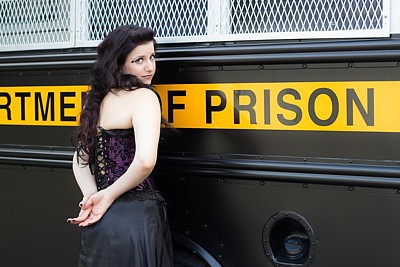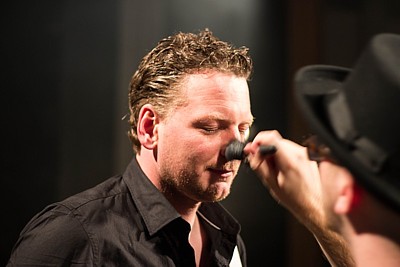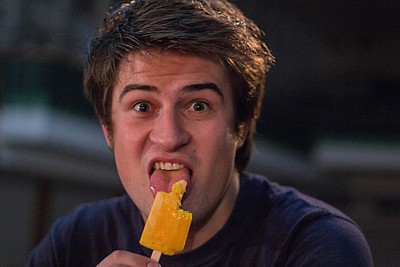 As it got later - although it was hard to tell how late it really was because the whole thing made you lose track of time completely - more and more band members were done with their scenes for the day and changed back into their normals clothes. That was how I could tell we were making good progress and were moving towards the end of it. Jessi, who had been waiting around all dolled up for hours, had her single performance scene done, and with that the band was more or less finished. When the stage was cleared of all instruments, it felt like the beginning of the final countdown. There were three major scenes left to shoot: Zaida's solo-performance, a scene with her and Jessi, and the piano-scene with Olli playing the intro. Everyone gathered to watch Zaida do her full performance, which was way more elaborate now that her space was not restricted by the drum kit and other arrangements anymore. Apart from her routines up in the air and the major drop, she also did the splits "floating" over the stage, each of her feet wrapped in one of the ribbons. On top of that there was a part when she (literally) dropped to the ground and did a routine with her upper body dragging and rolling over the stage and her feet still secured in the ribbons. In the scene with Jessi, she just slowly worked her way up and down while Jessi stood close by, watching. This scene was one of the quieter ones overall. Finally, she did a routine with a particular light arrangement at her back. White stage lights, set up in the shape of a V, gave her white wings of light.

Next was the final scene: the piano scene. This was no regular piano though, but a shiny black concert grand whose value I later heard was a six-digit number in euros. Before they could get started, the last traces of fingerprints and other spots had to be polished off its varnish. Linda was the first to grab a pack of tissues and get rid of the most visible stains. I made myself useful and helped her some. It was decided that only the areas that would be most visible in the video needed to be cleaned, so the job was done within a few minutes. Olli, who had been rehearsing the piano-intro all day on and off in between scenes, was to play it now for the opening sequence of the video. Even though the sound would not appear on tape, he needed to hit the right notes, as a close-up of his hands was to be recorded. A few takes were done, some with and some without Jessi, and at the end of it, it was a wrap.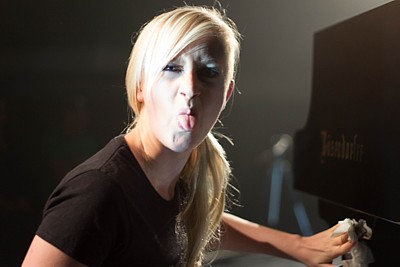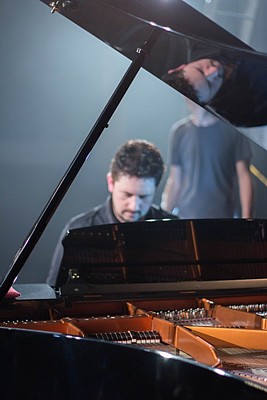 Altogether the shoot had lasted twelve hours, and another hour later, at 9pm, everything was packed up and packed off. Later, and the next day, everyone would agree that everything went smooth. It was quite obvious that the band had gained some routine and experience in doing videos, this being their third. The planned time schedule was met with the proverbial German efficiency, and all the takes had gone according to plan, without any major screw-ups. Apart from some bad timing here, or an accidental glance into the camera there, all the scenes that were shot two or three times were just back-up to have a better choice in the end. Whenever there was some material to watch on the little screen of the tracking equipment, everyone's faces were all smiles and satisfaction. What had looked impressive in real life, looked even better caught on tape. With everything packed up and loaded into the cars, it was time to celebrate the successful day of work. But if you think we raided a liquor store and drank ourselves senseless you are mistaken. We had barely eaten throughout the day (even though someone brought popsicles!), so we set off to find a restaurant. After a short walk through the little town we found a nice place. We watched some more of the material, being one of those obnoxious loud groups you usually hate when you go out for dinner, and no single table scrap was left that night. When we were back at the shooting location it was time to say goodbye for a bunch of us; and even though we had just spent hours and hours together, it still felt too soon to me.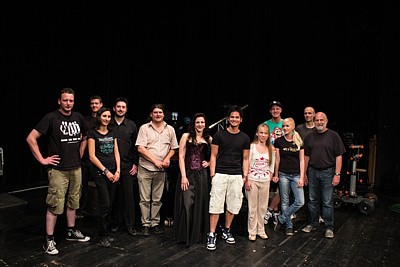 The next morning I finally got to see some of the scenes they had shot before, with Jessi and guest vocalist Thomas. Even though they are pretty different from the newer material I could see how they fit the theme nicely and would go well with the video. Later that day everyone went their separate ways, and thus ended my little adventure with Lyriel, to whom I am deeply grateful for letting me be part of their video shoot. After following their musical journey for the past eight years, this experience has shown me once more that this is just a stage in their development, and that they will probably come a longer way still.
Lyriel are:
Jessica Thierjung – vocals
Oliver Thierjung – guitar, backing vocals
Linda Laukamp – cello, backing vocals
Tim Sonnenstuhl – guitar
Steffen Feldmann - bass
Markus Fidorra – drums, percussion
Joon Laukamp – violin