Live in Paris January 13, 2013

I saw Fenrir open for Tristania last September, and was happy to see them again as one of the headliners for a French folk and pagan metal show at Le Klub in Paris. The concert was billed as a warmup for the Cernunnos Pagan Fest set to take place in Paris (with different bands) on February 24.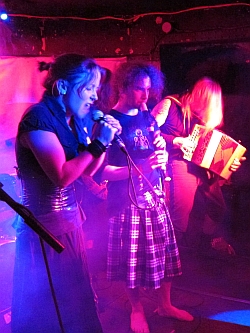 While Fenrir is French, their songs (written by Sylvère Jandel, a.k.a. Thalion Fenrir) are in English and have a strong Celtic influence. On stage, many of the band members wear kilts and mark their faces with blue war paint, like the Scots in Braveheart. Their lyrics often focus on fantasy, mythology, or history. For example, "Morrigane's Fury," from Fenrir's 2012 debut Echoes of the Wolf, is a prayer to the Celtic goddess of war Morrigane: "Swift and soft, our weapons are whispering your name…Morrigane, free your fury!" Their self-titled song "Fenrir" is about the fearsome wolf from Norse mythology foretold to kill Odin during Ragnarök, and "The Battle of Stirling" is about William Wallace's fight for Scottish independence.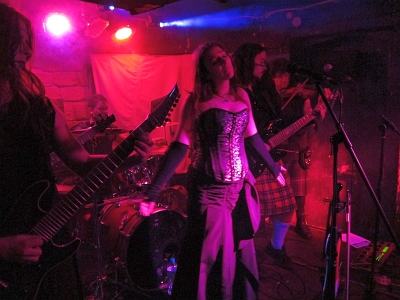 As a folk metal band, Fenrir incorporates traditional instruments, melodies, and themes into their songs. Violins play a prominent role, and they had two at the concert, one played by Bruno Giglio and one played on some songs by vocalist Elsa Thouvenot. The band did a great job reproducing their lively sound, and Elsa has a beautiful minstrel's voice that suits the music perfectly. She was also striking in a black and silver corset with black wristbands. I also love how blissful she looks while performing, and she is an excellent headbanger as well.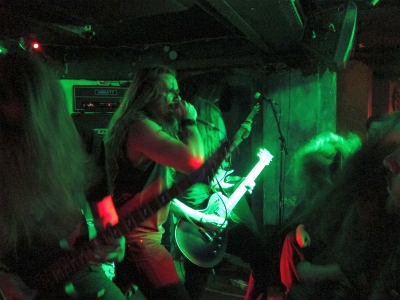 I started this review with Fenrir even though they closed the show since they are the band I came to see, but I also enjoyed the other four bands (all French) that played first. Happily, this has been true for almost all my Paris concerts. Plus, it turned out that three of the five bands were female-fronted, making the concert more interesting for this site.
The male-fronted band Bor got the night off to a good start, having a good time and warming up the audience. Next up was female-fronted Niflheim, who played fun, pirate-themed metal. Not only did they have a good female singer, they also had a cool female violinist in a pirate costume. Their songs had fun titles like "Happy Drunk Friend," "Holy Mushroom," and "Dancing with a Troll." The crowd loved it.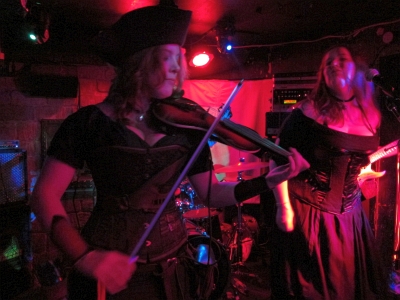 Next up was Dur Dabla, whose female singer did all growls (like Angela Gossow of Arch Enemy). Her fierce vocals were in sharp contrast to her demeanor between songs, when she seemed sweet and almost shy; "c'est tout, merci" (that's all, thank you) she said in a small voice after finishing a primal scream. I think a lot of metalheads are really quiet intellectuals who release their aggressions and passions through music. Dur Dabla also featured an accordion and a flute, the latter played by a musician wearing no shoes, hobbit-style.
The final band before Fenrir was male-fronted Lappalainen, who played especially brutal metal and worked the crowd into as big a frenzy as I've seen. I was up front, but on a raised platform at the side near a wall, so I didn't get clobbered. Unfortunately, I'm not big enough to join the pit. (Incidentally, I liked Le Klub since it had various raised areas to give a good view of the stage. )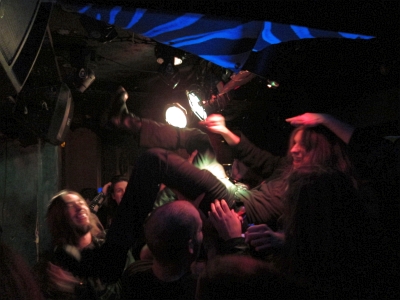 Overall, I had a great evening. I also think it is interesting that this is a part of French culture that 99% of Parisians would deny exists. Metal is underground in France but very much alive, with lots of great bands and fans.