November 4, 2012
I am going to focus this review on Xandria since my colleague T.S. Johnson covered headliner Kamelot recently. But I will still have a few words about Kamelot as well as opening bands Blackguard and Triosphere after I discuss Xandria.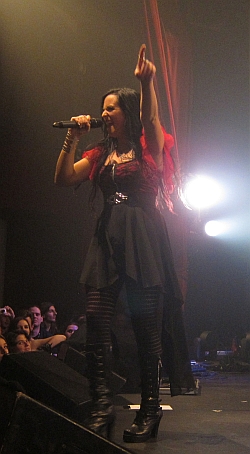 Two weeks after seeing Xandria perform at the Metal Female Voices Fest in Belgium, I was very happy to see them again in Paris. They have become one of my favorite live bands. Manuela sings beautifully and powerfully live, and you can feel your hair blow in the thunderous wind created by the band (sort of like the old Memorex commercial).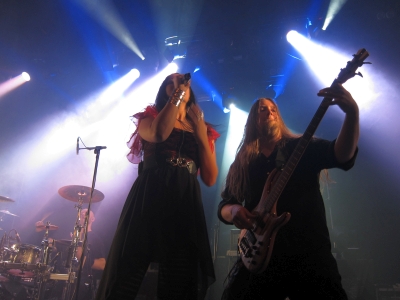 Xandria is really not the same band they were before the current album, Neverworld's End. The new singer, soprano Manuela Kraller, is more operatic, and the band is much heavier and bass driven. This probably explains why Xandria's Paris setlist consisted entirely of songs from the new album. They didn't even play their hit "Ravenheart" (which they did play at MFVF). This probably also explains why the band is already preparing for a fast follow up to Neverworld's End, even though it is only six months old.
Anyway, I love the new material, and Manuela and the band perform it flawlessly live. Standout songs for me were the intense "Blood on My Hands" and the melodic "Forevermore," which was still a headbanger. "Soulcrusher" amped things up even more. Xandria got a great reaction from the Paris crowd.
Some say that the new Xandria sounds too much like the old Nightwish (and perhaps the future Nightwish, with Floor Jansen). But I don't agree. With the possible exception of "Slaying the Dreamer," Nightwish has never been this heavy.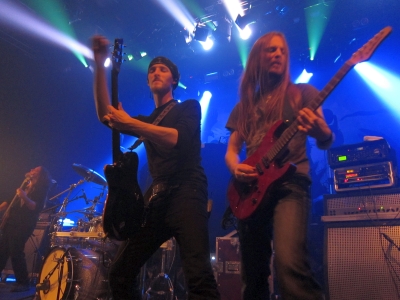 As at MFVF, Manuela also did some more great headbanging, and had another great outfit, including her very cool boots.
Xandria was also good about hanging out with fans, signing, and posing for pictures after Kamelot's set. I got my CD signed and had a long and interesting chat with the new bass player Lance (an American living in Germany).
Xandria will make their live U.S. debut next September at ProgPower U.S.A. in Atlanta.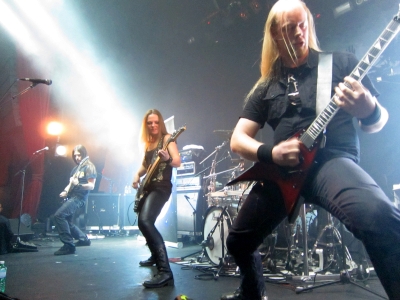 After Xandria, it was time for headliner Kamelot. They came out of the box full of energy and got the crowd going crazy. Bass player Sean Tibbetts in particular is a blur of energy. But each Kamelot member has a different personality. In contrast to madman Sean, Oliver Palotai is the reserved maestro. Leader Thomas Youngblood exudes determination.
Meanwhile, Tommy Karevik is a PERFECT replacement for Roy Khan. He sounds great, and his look and moves are well suited to what Kamelot fans expect. Guest Elize Ryd (of Amaranthe) also did a great job with accompanying vocals. I was happy when Elize came forward to sing more, and I'm looking forward to seeing Amaranthe in Paris next Spring. I never got a perfect picture of Elize because I preferred just to watch when she came to our side of the stage.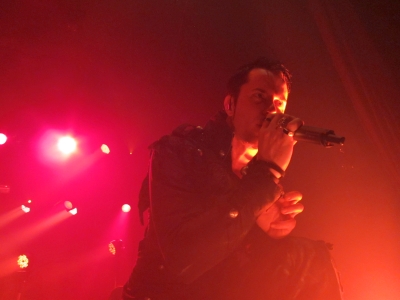 Kamelot closed with the powerful "March of Mephisto," as they often do. Blackguard vocalist Paul did a great job with the growls (and energetic headbanging). Still, I would have liked to see Alyssa from the Agonist, who sang this part on Kamelot's recent U.S. tour.
Blackguard, a melodic death metal from Montreal, was the first band of the night. They spoke a little French, which the audience of course appreciated. I enjoyed their set.
The second opening band was Triosphere from Norway. When singer and bass player Ida plants her (cool) boots as shown in my picture, you know you're about to get some galloping bass (which reminds me a bit of Steve Harris). I enjoyed their set too, and have subsequently enjoyed their YouTube video for "Marionette."
Finally, I complained a bit about the sound mix at Le Bataclan in my Therion review, but I thought it was very good tonight. Not sure if it changed or if the difference was me being right in front this time. On another note, being up front in Paris venues is great because you are right up against the stage. The only downside is there is no photo pit. This made it hard for the professional photographers next to me, and frankly they got a bit in the way of fans (one of them even brought a stool to stand on). I can't say I was sorry when they left after Kamelot's third song, but I also did have sympathy for their difficulties.