Metal Female Voices Festival X
October 19-21, 2012

Sonic Cathedral has been a sponsor and partner of the Metal Female Voices Fest since the beginning, but for the first time in SC history, more than two staff members (six, to be exact) found themselves in the same place at the same time, which just happened to be the festival's tenth anniversary show! Not only did we have a good time meeting and getting to know each other, we also got to watch no less than twenty two bands and a ton of phenomenal women rock the Oktoberhallen in Wieze, Belgium over the course of three days!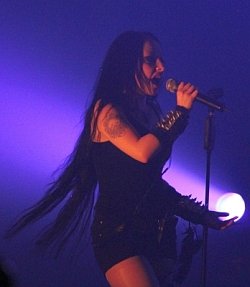 It'd be nearly impossible to compile all of our thoughts and experiences of the festival, but two of our writers, John Thornburgh and Max Levites, have put together their impressions of the festival and of each band they saw to share with the masses.
Note: not every one of us saw every band (to do so may have killed us), so if you only see one review of a band instead of two, it's because one of us was taking a well-deserved break and/or was too busy being starstruck to notice that another band had started their set.


Overall impressions:
John: What an experience! Not only did I get to see extra special shows from two of my favorite bands (Delain and Epica), I got to see about a dozen new bands that I loved, and spend the weekend talking to Facebook/music friends from around the world along with a couple dozen really cool musicians. I felt a little like a mortal in Olympus.
Regarding the music, I have comments about specific bands below, but overall I was just blown away. I loved everything (except the guy in a kilt who mooned us!). The bands were just excellent, the sound was perfect, the lights were spectacular.
The adventure started when I arrived at my hotel in Aalst, Belgium. One of the singers, Paula Vilches of the band Denun, from Chile, had been delayed in transit and had missed heading to the venue with the other musicians. I offered her a ride, and we made it in time. I enjoyed getting to talk to her during the weekend, and have enjoyed her music video on YouTube for the song "Distant Memories."
I also got to talk to lots of the other musicians, including Charlotte and Timo from my favorite band at the festival, Delain. Hanging out with musicians and other music fans kept me up until about 3:30 a.m. the last night of the festival even after standing and watching bands for about thirty hours over three days!
The festival took place near the town of Aalst, Belgium, which is charming and scenic and about 15 miles from Brussels. People mostly speak Dutch in Aalst, though they speak French in Brussels. (I learned that Brussels is a French enclave in the Dutch part of Belgium.) Frida Eurenius of the Swedish band Lapis Lazuli did a great job hosting the show, with plenty of charisma to spare. I also loved the dramatic artwork created by Helcanen Val to adorn the venue, Oktoberhallen Wieze, and I thought the aircraft hanger look of the hall was cool too. The food and drink were great.
I have just three nits to pick: I think there should be a free water cooler (like ProgPower USA); at least non-alcoholic drinks should be sold outside with the food; and I wish the audience were a little closer to the bands on stage (there was a very large photo pit).
Overall, it was an unforgettable experience. I really want to find a way to come back next year from California!
Max: Attending MFVF has been my dream since I got into the scene about 5 years ago, and now it finally came true! I was lucky enough to be spending this semester in Paris, so Brussels is just a short train ride away. Unfortunately, I planned my trip a little too late to be able to get a hotel in Aalst (also, I had to be back in time for class Monday morning...) so I didn't really get to experience the after-parties with everyone. Shame, because I heard they were a hoot! Also, due to bad planning on my part, I unfortunately had to miss the Eve's Apple performance on Friday.
I didn't let that get me down, of course. The weekend itself was absolutely fantastic in every way possible! Bands I love seeing live, band's I've been waiting to see, and bands I've never really listened to before all performing on one stage, playing their hearts out to a crowd of loyal lovers of female-fronted metal. There's really no other festival like it!
Meeting tons of different people, whether they were other journalists, fans, or members of the bands themselves was almost surreal! I don't think I've ever been in one room with so many musically like-minded people. Not to mention, I finally got to meet a few of my co-writers here at Sonic Cathedral in person! Overall, I had a great time and very few complaints. But now, let's get into the bands themselves (in order of appearance):
Friday:
Eve's Apple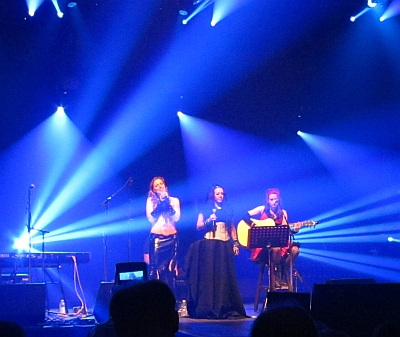 John: The first night of the show was an acoustic performance by Eve's Apple, an organization of female musicians. They had never appeared before together, so it was very special. They were all very good. This is confirmed by the fact that they opened a metal festival without an electric guitar, and everyone was happy! I also think it's really cool how the Apples are so supportive of each other. One highlight of the Eve's Apple set was original Xandria singer Lisa Middelhauve, who sang "Eversleeping" as a moving tribute to her first love, who recently passed away, making her keenly aware of mortality. But that didn't stop her having fun at the festival. She was a riot backstage. Hanging with Apples also made me realize that being a rockstar is not ALWAYS glamorous, but it is fun! I enjoyed getting to spend time with Lindsay Schoolcraft of the band Schoolcraft (also a Sonic Cathedral writer), Melissa Ferlaak of the band Plague of Stars, Kassandra Gruszkowski of the band Enemy Star, and Sabrina Valentine of the band Seven Kingdoms (which writes songs inspired by "A Game of Thrones").
Saturday:
Anwynn
Max: Opening the festival were local Belgians Anwynn, who came out onto the stage in kilts and warpaint, swords in one hand and mics in the other. Frontwoman Amandine sounded great throughout the set, contrasted by the harsh growls of male vocalist McBouc Overall. They put on a fun show, though the music isn't really my cup of tea. I found myself wondering whether they were cold in just kilts and whether they were wearing anything underneath, a question that was soon answered when McBouc mooned the crowd. All in good fun, of course, but I did have to go and wash my eyes out afterwards.
Benighted Soul
John: I enjoyed listening to Benighted Soul, from France. I bought their CD and was able to get it signed.
Max: After Anwynn I found my way backstage and was a little too busy meeting everyone to catch the beginning of Benighted Soul's set, but I did come out from the VIP section about halfway through. What I heard was good, and the band was quite fun on stage, putting on a good show.
Crysalys
Max: Crysalys was the first band I was really looking forward to this weekend, and boy, were they great! The band started the set off with a new song from their upcoming album, which showed a really promising direction. Chiara's voice was phenomenal and seemed to win over many in the crowd who'd never heard of this band before. I'll admit, their brand of opera metal (more like metal opera) is a bit hard to get into, but if you like that kind of thing, these guys are amazing!
Seduce the Heaven
John: Seduce The Heaven, from Greece, was new to me, but very impressive! Vocalist Elina Laivera was full of energy. In fact, I don't think she ever stopped moving. I'm looking forward to their first CD, which should be released soon. They already have a very good video on YouTube for the song "Illusive Light."
Max: Seduce the Heaven had made quite a buzz in the scene this year, so I was curious to see what they could do live. Well, I have to say I was certainly impressed! Elina, while a bit nervous, sounded great and moved all around the stage, interacting with the crowd. The audience was very supportive and enthusiastic as well. Overall, a great set!
Lahannya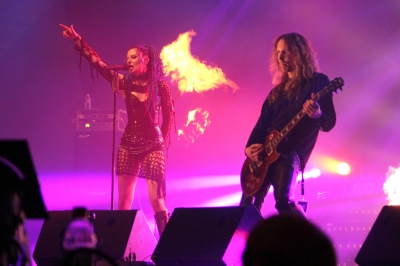 John: Lahannya, from Germany and the UK, put on a very intense gothic show. I couldn't help but think of the bar scene in the movie "From Dusk Till Dawn." Bands sometimes have fire between them and the audience. I thought having flames behind the band, the way Lahannya did, was very dramatic, and certainly made for cool photos. Lahannya was new to me, and I bought their new CD Dystopia after the show. I've also been enjoying their videos on YouTube for "Save Me" and "Cocoon."
Dimlight
John: Dimlight is a new band from Greece. I bought their CD too (which is about to be released to the public).
Max: Though I once more accidentally skipped half the set, I was very impressed with what I did end up hearing! Sanna was very charismatic and the band looked like they were having a ton of fun. The highlight of the set, of course, was when they invited fellow-Apples Grace Méridan (Candlelit, ex-Shield of Wings) and Angel Wolf-Black (ex-Bare Infinity) on stage for a song. The three of them together sounded simply magical!
Skeptical Minds
John: Skeptical Minds put on another cool set, playing in their home country of Belgium. Only a few members of the audience were vaporized by lasers. Vocalist Karolina Pacan is like a metal elf! She is also a member of Eve's Apple, and several of her sisters joined her on stage. I bought Skeptical Minds's CD, and was able to get it signed.
Amberian Dawn
Max: Here's another band I've always wanted to see live, though admittedly I got a little bit bored with their music after a few albums. Little did I know this would be their last show with vocalist Heidi Parviainen, which made it even more special! The band sounded wonderful, with Heidi's vocals soaring over the shredding power-metal prowess of her band-mates, and the light show going on behind them was pretty cool too. It's a shame to see Heidi go, but we'll soon see what the future has in stock for this band.
Arkona
John: Arkona, from Russia, plays folk metal. I enjoyed it and think I got the idea even though I couldn't understand the Russian lyrics!
Max: If you've read any of my reviews of this band, you'll know that I'm slightly obsessed with them. It might be our mutual Russian heritage, my love for truly genuine folk-metal, or just the fact that they're downright awesome, but I'm always pumped to see Arkona perform live! This was my third time seeing this band, and, though I didn't think it was possible, the show was the better than the last two times I saw them. The crowd seemed really into it too, as they banged their heads and chanted loudly to what was easily the highest-energy set of the night. By the end of the show, I was already ready to collapse from the amount of fun I was having, but I most certainly had to keep my energy up for the next band!
Delain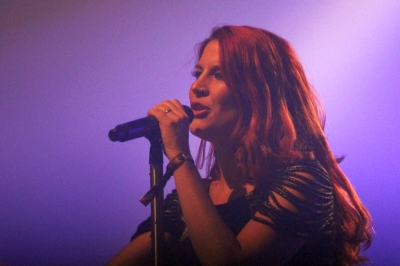 John: Delain was beyond awesome. They were basically worth the trip for me, with everything else a HUGE bonus. Let me count the ways: (1) they had amazing energy and the crowd out of control; (2) they nailed my favorite song, "Pristine"; (3) they covered a Within Temptation song ("Deep Within")! And they did it with George Oosthoek, who originally sang the song with WT back when Martijn Westerholt was Within Temptation's keyboard player! Delain needs to do "Enter" and "Candles" next! (4) Charlotte brought back my favorite dress (the gold one I saw at ProgPower USA) and also remade her amazing paper dress for "We Are the Others"; (5) they had fire! And lasers! And such cool lights! (6) They closed with Charlotte's best note ever on "Not Enough." But as they said, the only flaw was it was Not Enough!
Max: Delain was the band that both me and John were looking forward to the most this weekend, and we were certainly not disappointed! The crowd went wild as Charlotte and the band came out to "Mother Machine" and the energy did not let up for the entire set. They even had a few surprises for us to celebrate the festival's 10th anniversary, including some cool pyrotechnics, a rendition of Within Temptation's "Deep Within" featuring George Oosthoek, and Charlotte wearing a self-made version of the paper dress from the "We Are The Others" video (thankfully it didn't catch fire)! Needless to say, Charlotte sounded exceptional, and the band put on an amazing show that I would definitely say was the best of the weekend. Like John said, the only flaw was that it could've been longer!
Arch Enemy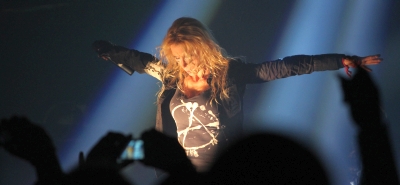 John: Arch Enemy (from Sweden) is very different from most of the bands at the festival. They play melodic death metal, but it is still death metal. Angela Gossow growls fiercely. They are not trying to be beautiful. They also emphasize individualism, defiance, and release of anger. I love it! Angela said we were polite, like a Japanese audience. The crowd was actually very enthusiastic, but I guess MFVF fans are not like typical death metal fans.
Lacuna Coil
John: I haven't been happy with the live vocals of Lacuna Coil in the past, but both Cristina and Andrea did an excellent job at MFVF, including a nice acoustic set.
Max: To say I was deathly exhausted after Delain would be an understatement, so I decided to skip Arch Enemy and rest myself a bit. By the time their set ended, I was still extremely tired, but since Lacuna Coil is one of my absolute favorite bands, I struggled out of the VIP lounge to catch their set. This was my third time seeing the band, and even though I watched them from the back of the venue (not something I'm used to…), they were wonderful! The band knew they were playing to some old-school fans, so they mixed a couple old favorites in with their newer songs, and even featured a short acoustic set in the middle! The last time I saw the band, their set lasted two hours, so this eighty-minute set felt a bit short, but nonetheless, it was a fantastic end to a fantastic day!
Sunday
Note: Given that we were painfully tired (emphasis on 'painfully') after the epicness that was Saturday, both of us ended up missing Sunday's opener, Valkyre.
November-7
Max: Swiss band November-7 were the first band I saw on Sunday, and though I couldn't really move my arms or my neck, I enjoyed their set quite a lot. Annamaria was very energetic, running all over the stage and interacting with the audience. The band even brought the audience a gift, joking that Switzerland was famous for two things: their cows and their chocolate, and since they couldn't bring a cow, they brought the latter, which they threw into the crowd and probably enjoyed a good chuckle while watching all of us scramble for a piece. Everything is better with chocolate, after all! Not that the band needed that particular element to put on as good a show as they did.
Meden Agan
Max: Many people joked that this year's festival was "the Greek invasion" given the amount of bands and singers coming out of Greece. Meden Agan was the last of these, but by no means the least! Playing an epic style of symphonic metal, the band won the crowd over with their energy and vocalist Iliana's warm charisma, and not to mention her phenomenal voice! They even brought fellow Greek vocalist and Eve's Apple members Maxi Nil (Visions of Atlantis) and Karolina Pacan (Skeptical Minds) for a beautiful rendition of Within Temptation's "Somewhere." Definitely a band to keep an eye (ear?) out for!
69 Chambers
John: This band out of Switzerland plays straightforward guitar-driven hard rock. I'm always happy to see women playing guitar, which is rarer than singing. I enjoyed their set.
Trillium
John: Amanda Somerville, from the US, has a new band called Trillium. She has an incredible voice, and I enjoyed their show. I first saw Amanda sing for Epica in San Diego when Simone was sick. She has also made guest appearances on Epica's albums. Sander Gommans, previously of After Forever, made a special appearance with Trillium.
Max: Though I was always a fan of Amanda's voice, I never really got into any of her projects. Trillium was no different when they released their first album, but after seeing them live, I'd be a fool not to give them another chance! Amanda is a great performer and sang her heart out. It was a very emotional show for the band, since it was their first after the tragic loss of their keyboardist Simon Oberender, but the band played well, and the touch of sadness in Amanda's voice only added to the emotional impact of the music. It was also a treat to see Sander Gommans shred on a few of the songs.
Sarah Jezebel Deva
Max: I saw Sarah Jezebel Deva about a month before the festival opening for Tristania. I enjoyed her set then, and I enjoyed her set at MFVF as well. I'm not particularly into her black metal-influenced symphonic style, but it's not at all bad in a live setting. Sarah has a very commanding presence on stage and, of course, a great voice, which kept my attention throughout the set, though I wish she'd move around a bit more.
Trail of Tears
Max: Trail of Tears have been around longer than most of the bands at this festival (since 1997) and were part of the "golden age" of gothic metal, but for some reason I'd never really given them a listen before. How silly of me! The band played an extremely energetic set full of interesting songs and definitely won me over. Female vocalist Catherine Paulsen and male growler Ronny Thorsen played off each other and the crowd and put on a show that was fun for everyone involved. Definitely a band I'll have to look into.
Diabulus in Musica
John: Diabulus in Musica, from Spain, put on a very interesting set, including metal flute played by vocalist Zuberoa Aznárez and live mini-choir. Melissa Ferlaak, former vocalist of Visions of Atlantis and now part of Plague of Stars, also made a special guest appearance. Her voice and Zuberoa's were very complementary.
Max: I was very impressed with Diabulus in Musica's 2010 debut album Secrets but admittedly not particularly enthusiastic about their newest release, The Wanderer. Still, I was eager to see them live, and I was pleasantly surprised. The show was very theatrical and dramatic, featuring a small live choir and a few guests, including Melissa Ferlaak (Plague of Stars, ex-Visions of Atlantis, ex-Echoterra). Zuberoa sounded brilliant and even played a few passages on her flute. I really enjoyed the set!
Xandria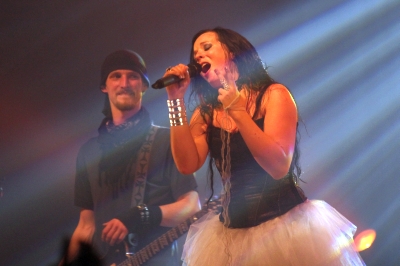 John: Xandria put on an amazing show with new singer Manuela Kraller. You could tell she was just a bit nervous (this was a big deal for her), and she totally delivered, as did the band. Her voice is powerful, her headbanging is dramatic, and the band is heavier than ever. The crowd loved them. Backstage, Xandria got a standing ovation when they walked into the bar. I was also happy to get to see them again two weeks later in Paris with Kamelot (more about that soon). Xandria will also make their first U.S. appearance next year at ProgPower USA.
Max: Seeing Xandria was definitely the highlight of my Sunday. I always liked them, but after hearing their new album, I fell in love with the band all over again (despite it being very Nightwish-y)! Manuela was absolutely superb vocally, if a little nervous. My only complaint was that, even though they had an hour to play, the set only featured two old songs, "End of Every Story" and "Ravenheart". It would've been interesting to see Manu's version of some of the old favorites, but the set consisted mostly of songs from Neverworld's End. However, the performance was still magnificent!
Epica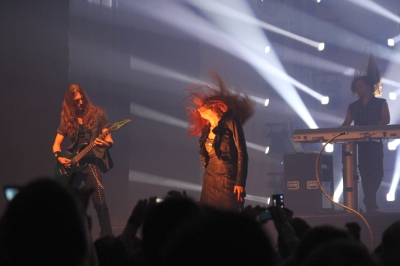 John: Epica was even more Epic than usual! They were at MFVF 1 and headlined 10. This was my sixth time to see them (four times in California, twice this year), making them the band I've seen the most. I also plan to see them twice more while in Europe (in Paris and at their 10th anniversary show in the Netherlands). They played flawlessly, Simone sounded more perfect than ever, and they had an extra special show, with a huge bank of lights and both fire cannons and fog cannons. The fog cannons created clouds that swept toward the audience. It was very dramatic to see them coming, and they felt good too since it was hot! For our readers in the U.S. and Canada, Epica is now touring the North America. Check them out!
Max: This was my third Epica show, but the first on this album cycle, so it was fun to hear some of the new songs live as well as some older favorites. In celebration of ten years of MFVF, the band put on a huge show, with tons of lights, smoke, and fire! They even played a "party version" of "The Phantom Agony," which got the crowd jumping up and down. The band sounded amazing, and Simone gave a flawless performance. It was definitely an Epica show to remember, and I couldn't think of a better way to close this very special edition of the festival.
A VERY Special thanks are extended to Phil & Val of MFVF, the bands, the crew, & the fans for making this event the best yet. See you next year @ MFVF XI.