Metal Female Voices Festival X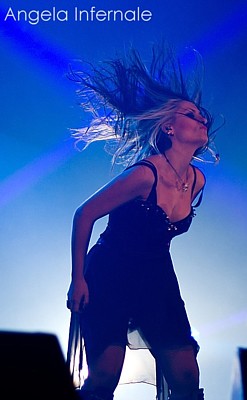 When: Friday, October 19th – Sunday, October 21st, 2012
Where: Oktoberhallen, Wieze, Belgium
Who:
Day 1: Eve's Apple, with Angel Wolf-Black, Clementine Delauney, Elina Laivera, Grace Méridan, Iliana Tsakiraki, Kassandra Gruszowski, Lindsay Schoolcraft, Lisa Middelhauve, Marcela Bovio, Maxi Nil, Melissa Ferlaak, Paula Vilches, Sabrina Valentine, Sanna Salou, and VK Lynne.
Day 2: Anwynn, Benighted Soul, Crysalys, Seduce the Heaven, Lahannya, Dimlight, Skeptical Minds, Amberian Dawn, Arkona, Delain, Arch Enemy, Lacuna Coil
Day 3: Valkyre, November 7, Meden Agan, 69 Chambers, Trillium, Sarah Jezebel Deva, Trail of Tears, Diabulus in Musica, Xandria, Epica
My first Metal Female Voices Fest was back in 2005, and I went again in 2007. In those days, the festival lasted only for a day (2005), there was no camping, and but only one little fries stand outside to grab a bite. Over the years, when for one reason or the other I could not go, I saw it grow steadily, with first one day and then another being added to the fest. I felt like it was time to attend again, and when the line-up was complete and it became clear about half of the Sonic Cathedral staff would be there too, there were no questions left to be asked.
When I arrived at the hotel, hours late due to a delayed train, I ran right into Sonic Cathedral's lovely interviewer Robin Stryker, who handed me right over to our boss and guru Sonic John. There were a few hours left before the doors opened for the 10 year anniversary party, which meant enough time to get ready and also forge some new contacts and friendships that were to last all through the weekend and beyond.
Eve's Apple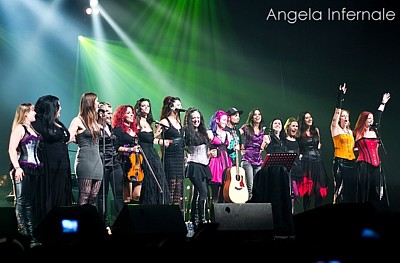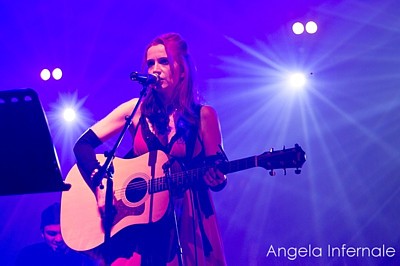 This year's festival being the 10th anniversary of MFVF, the first night featured a very special performance. Everyone who is not yet familiar with Eve's Apple will soon regret their ignorance once they hear the names of the ladies that are members of this female Metal singer collective. Among an abundance of talented vocalists the 'orchard', as it is often referred to, offers Charlotte Wessels, Lisa Middelhauve, Manuela Kraller, Marcela Bovio, Melissa Ferlaak – all of which were present at this year's MFVF. Lisa, Marcela and Melissa came together with 12 other girls to perform the first night.
In total, 15 ladies performed in groups of two or three to the acoustic tunes of guitar, violin, and piano. VK Lynne deserves special mentioning here, as she learned all the songs on guitar in a very short time and did a great job playing the whole set that night. The songs performed were mostly cover songs of established Female Fronted Metal acts such as Evanescence and Within Temptation, but this should not have anyone fooled; all the ladies have great songs of their own in their respective bands and solo projects. Lisa Middelhauve sang "Eversleeping", a classic by her former band Xandria, who were to perform on day 3.
New Discoveries
Festivals are great to discover new bands that you have either never heard of, or just never taken the time to check out. As shaming as it may be, with a busy life it sometimes takes someone to shove a band into your face for you to take the time to give them a thorough listen. And seeing them live is one of the most effective face-shoving activities.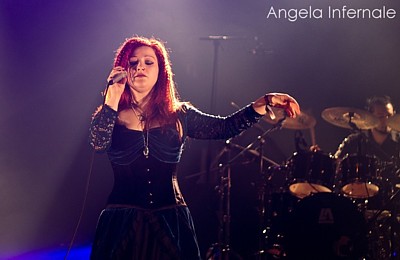 Crysalys (day 2) were one of the bands that I had never really paid much attention to. I remembered having checked them out at some point. I was vaguely aware that they were an Italian band with a redhead singer that did opera vocals, but it also ended there. When I saw them, I was immediately taken by Chiara's voice. She has one of the really big voices that you rarely get. A lot of vocalists sing opera style, but only few can pull it off well. And she can. She also manages to maintain a good stage presence while taking her voice to ever new heights and stretching her tones to astonishing lengths. Her voice is in fact so big that it dwarfs the music that goes with it a little, and the band could well put some more force into that aspect of their repertoire too. This is not meaning to complain, as I enjoyed their show anyway.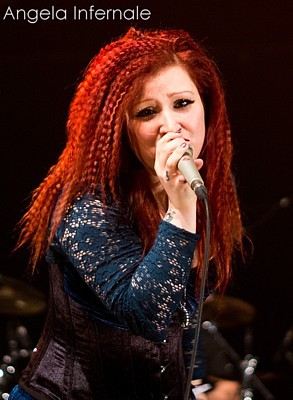 Dimlight (day 2) were a band that I had never actually heard of. I have to admit that the only reason why I paid some special attention to them was that Grace Méridan, one of the apple ladies, was to join them for a song. As soon as they started playing, though, they provided me with enough reasons of their own to stay interested. It was their music that appealed to me most. Taking the entire festival line-up into account, Dimlight were on the heavier end of the scale, which is what made them interesting for me. A lot of their songs were fast-paced, with double bass that gave them a nice drive. Slower passages with softer vocals in between created a nice balance between the heavy and the melodic.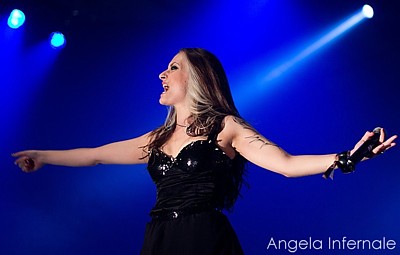 November 7 (day 3) from Switzerland brought chocolates for everyone and tossed them into the crowd generously. There was no need to bribe the audience, though. Their music, vocals, and performance reminded a lot of old Lacuna Coil, to be sure, but they never came across as copycats. There was an originality to them that left no doubt that their style was the result of organic development. They were one of the bands that seemed to be Metal rather than Female Fronted Metal, as in they did not seem stylized to be a band with a female singer, but only happen to have a girl for a vocalist. As far as I am concerned, their set could have been a lot longer than the 35 minutes they had as the second band for the day.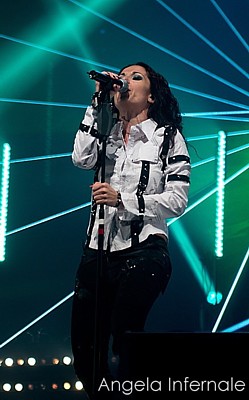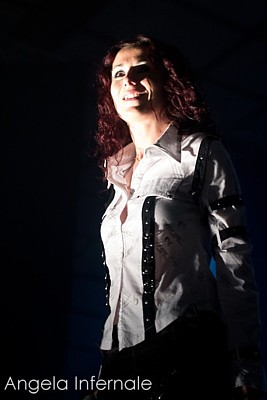 The Top Five
Even though all the bands I saw, which were almost all the bands that played, put on really good shows, there are always some that stick out. Whether it is because they are an amazing band you never heard of and take you totally by surprise, or because they are your favorite band that you are dying to see, it is those shows that make a festival a great musical experience. Here are the bands that made the biggest impression on me for Metal Female Voices Fest X.
5. November 7 (see above)
4. Xandria (day 3). Before they released their current album you had not heard much of Xandria for several years. When they finally did release their new album Neverworld's End with the new singer Manuela Kraller, I was pretty curious. And I really liked the new tunes. They were one of the bands on my must-see list for MFVF. And they did not disappoint. They performed with ease and Manuela interacted with the crowd a lot. It was mostly new songs they played, with two old songs ending the set. "Ravenheart" made a perfect finale to their show. When the band stepped out into the VIP area after their set, the entire hall rang with applause, like in one of those cheesy movies.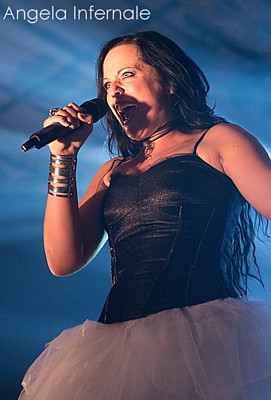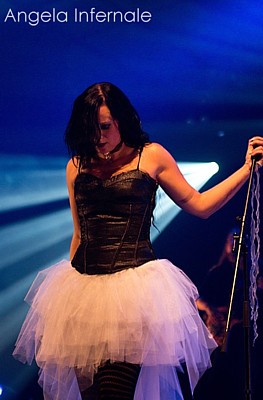 3. Arkona (day 2). I have a soft spot for Folk Metal and related genres, and was pretty bummed I had missed Battlelore and Kivimetsän Druidi the year before. Arkona were to make up for that, and I was really looking forward to their set. Singer Masha was easily the most energetic person on stage for the entire weekend. She was hardly ever in the same spot for more than a few seconds, and watching her dart back and forth on the stage was much like watching tennis. Arkona were also the band to cause the first (and only, I think) mosh pit of the fest, a happy dancing pit driven by the bagpipes and flutes as much as by the guitars and drums. I just wish I knew Russian, so I could also understand what their songs are about.
2. Lacuna Coil (day 2). As one of my favorite bands for years, Lacuna Coil were not to be missed. And this was a very special show for them as well. They are having their 15th band anniversary tour, and celebrated by playing a bunch of old classics. "Heaven's a Lie", "Entwined", and "Swamped" took me back to seeing them after the release of their Comalies album. In between, they slowed down a bit and played two acoustic songs, just to pick up the pace again with "Our Truth". As much as I enjoyed the show, there was some room for improvement, mainly because two band members were missing: Marco (bass), who has been having trouble with his arm and has been absent from most (if not all) shows since spring, and Criz (drums). While there was a replacement drummer, the spot on the bass stayed vacant, and a tape had to suffice.
1. Arch Enemy (day 2). After a lot of symphonic or otherwise rather soft Metal, I was ready for some aggressive music to wake me up after a night of little sleep and a long day of falling in and out of weariness. Arch Enemy with their rough vocals and heavy music spiked with double bass and defiance were a welcome change, and when someone asked me later if I did Arch Enemy, I replied that they did me, which should tell it all. After playing one of their biggest hits, "We will Rise", my namesake Angela was surprised by some of Eve's Apples, who presented her an award for being outspoken for the notion that talent should matter more than looks when it comes to female musicians. She accepted it gladly, and used the chance to point out how the looks and image of the front singer should not overshadow the rest of the band. "We are one," she concluded, which made the perfect transition to their final song "Nemesis", which features those words in its lyrics. It was my second time seeing Arch Enemy, and also my second time witnessing Angela say something that I deeply support, which makes her stand out, whether she likes it or not ;-).
What Happens at MFVF Stays at MFVF
Almost everyone you ask will tell you that a festival is about the atmosphere, the people you meet, and the fun stuff you do just as much as it is about the music and the bands you see. I can only agree with that. I met some amazing people in those few days, and a lot of silly deeds were done. There is no need to go into the specifics, just let it be known that Metal Female Voices Fest is not a place to be shy and hide in a corner. Also, the good organization and other perks of the festival left nothing to be desired. A most welcome surprise was the Napalm Records booth and its sale, with four CDs for 10€, and later even one CD for 1€. Another sale was going on at the official merch stand, where I got last year's hoodie for the amazing price of 3€. When I checked out of the hotel on Monday morning, I saw some people booking their rooms for next year's fest already. And I think this might just be a really good idea.
Too short a review? Don't fret – my metal (female) voice is not the only one to be heard; Sonic Cathedral has other staff already working on another review – so stay tuned!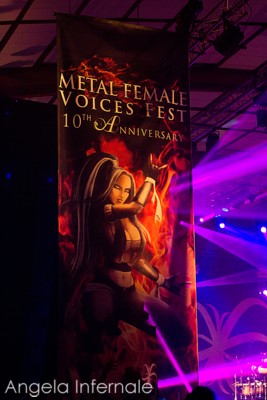 Photo Credits:
For full gallery of Angela's MFVF X photos click here