Lacuna Coil in Paris


Seeing one of your favorite bands live never gets old. Thus, though this was my fourth time seeing Lacuna Coil and I had literally just seen them the weekend before at MFVF, I was quite excited to go to yet another show. Hell, I had even caught the Dark Legacy tour on its US circuit already too (on my birthday, no less!), but I wasn't going to miss a chance to see a personal favorite of mine once again. So, on a cold October night, after I got back from the muddy trenches of the Somme (seriously, we had a field trip that day), I waited in a rather long line at the Alhambra in Paris for what promised to be a great show. I should know, I've seen it already.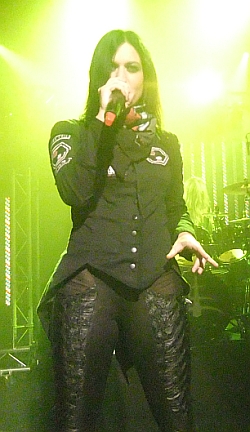 The opening act was an American group by the name of This Is She. Given that they're from LA and only have one EP that just came a few months ago, I wondered how they had gotten the support slot for a relatively big band like Lacuna Coil on their European tour. Well, if the music is anything to judge by, I can see why. Though not what one would normally call metal, This Is She play a very interesting style of alternative electro-rock with periodic hard-hitting beats and catchy melodies, led by the ethereal vocals of dynamic lead singer Alana Grace. The band put a ton of energy into their performance, with Alana jumping and dancing around the stage and even managing to play two instruments during the same song.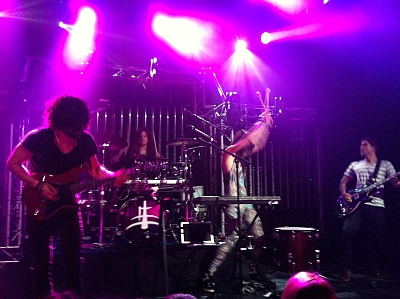 You could tell they were having a blast just being up on stage. I was definitely impressed, and the band seemed to have won over the French crowd as well, judging by the volume and length of the cheers they received. Perhaps they're not the generally the metal crowd's cup of tea, but I highly recommend looking them up and giving them a chance (http://www.facebook.com/thisisshemusic)! What could it hurt (http://www.youtube.com/watch?v=M37oyte1nGA)?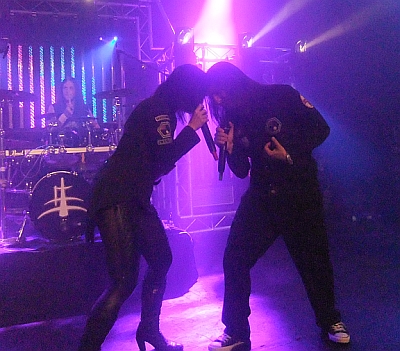 Finally it was time for Lacuna Coil. The stage lights dimmed and the crowd roared and pushed toward the stage as the intro started to play. The band came out one-by-one to cheers and applause and dove right into "I Don't Believe in Tomorrow." Cristina and Andrea ran around the stage, reaching their hands out to the fans, who were going absolutely wild! Even the band was impressed with the crowd's reaction, saying this was one of the liveliest Monday nights they'd ever experienced in the 15-year history of the band. And it was this history that the band was celebrating on this tour, including songs from almost all their releases in the set. After a few of the new songs to start the night off, they played the Italian-language "Senzafine" from Unleashed Memories, three songs from Comalies and one from Karmacode before entertaining us with a5-song acoustic set that included old favorites like "Falling" (a song they hadn't played live since the band's very early years) and "Closer" and a few newer songs. Cristina and Andrea sounded great, harmonizing perfectly when the songs required it. After the acoustic set, the band came back out to their hit "Our Truth" as the crowd regained its momentum, moving about and banging their heads. I was half expecting to see a mosh-pit! The band and the crowd fed off each other's energy and everyone was having a good time. This third part of the set included old goodies like "To Live is to Hide", "No Need to Explain", and "Swamped," mixed with a few live favorites from Shallow Life and the new album Dark Adrenaline. Overall, the set lasted about two hours and ended with the emotional "My Spirit," which the band dedicated to the late Peter Steele of Type O Negative and to anyone in the crowd that had ever lost someone special. It was a great way to close the show, for sure, but strangely there was no encore.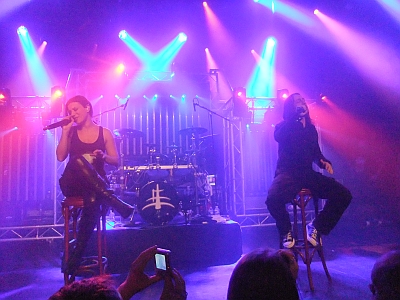 As far as the setlist goes, compared to the one I heard them play in the US, I was happy to hear Lacuna Coil added a few of the heavier songs off of Karmacode ("To the Edge" and "Fragile," two of my personal favorites) and "Swamped" from Comalies, but I was also disappointed to see they'd left out songs like "Circle" and "1.19" which I think the European crowds would've definitely appreciated. It was also a shame to see the band play without their bass-player Marco (currently recovering from a bad case of tendonitis) and with a replacement for their drummer Cristiano (who, on a happier note, just became a dad!), but I guess the old clichés stand true: life if life, and the show must go on! And man, does Lacuna Coil put on a show.
Setlist:
I Don't Believe in Tomorrow
I Won't Tell You
Kill the Light
Senzafine
Heaven's a Lie
Self Deception
Entwined To the Edge
Give Me Something More
Acoustic set
Falling
Closer
Within Me
End of Time
Shallow Life
Our Truth
Upsidedown
To Live Is to Hide
Fragile
Swamped
No Need to Explain
Survive
Trip the Darkness
Spellbound
My Spirit