In This Moment - Live in Concert
December 8, 2010 - Crocodile Rock Cafe; Allentown, Pennsylvania
It was a blistering 29 degrees outside and I was sitting, huddled up in my tiny car, outside the Crocodile Rock Cafe in Allentown listening to In This Moment's latest album, "A Star-Crossed Wasteland." I had driven all the way up from Delaware and arrived just a bit too early, so it was a good hour before anyone decided to get in line for the show. As soon as I saw someone approaching the under-21 entrance (the entrance that also happens to get you closer to the stage), I bolted out of my car and ended up 5th in line to see In This Moment, who were playing as direct support for fellow metal act Nonpoint. It was another 40 minute wait in the freezing weather before we were finally let it. Now that's dedication.
This Moment has created quite a buzz in the American metal scene over the last few years, even breaking a bit into the mainstream with their latest album, which made it to #40 on the Billboard top 200. Their melodic metalcore sound is just the type of sound that might appeal to fans of both American metalcore and melodic European female-fronted metal, and there was a good diversity of fans at this particular show. It was going to be an exciting night.
The show started off as soon as we entered the venue with two local bands called Beyond the Element from southern New Jersey and Silas from Lancaster, PA playing back-to-back. After that came Taking Dawn, a band from Las Vegas, who have themselves created quite a stir on the scene, and for good reason! I've heard the band was good, but that doesn't begin to describe their live performance. This band was so full of energy and just happy to be playing, prancing around the stage and diving into the ground during their set. The music was energetic and fun and got everyone excited. I really couldn't think of a better support act, and now the crowd was riled up for In This Moment.
The band came on stage a short time later, starting off with the song "Just Drive" off their new album. Maria Brink, In This Moment's frontwoman, had been sick the past few nights and still didn't feel too well, but you couldn't really tell from the energy that she put into singing that night. The performance seemed flawless, and the band had great chemistry on stage. In This Moment have a number of songs that are seemingly made for live performances, including "Blazin'" and "The Gun Show," which got the crowd banging their heads like maniacs. When they began to play "The Promise," Maria introduced their special guest, Adrian Patrick, who sang the duet with her on the record and joined them for that night's performance. Most of the songs played were from "A Star-Crossed Wasteland," but the band did go back to their first two albums, playing "Beautiful Tragedy," "Forever," and closing with "Daddy's Falling Angel." During the latter, Maria left the stage and stood on one of the barriers between the over and under 21 sections, standing above the crowd and singing as many in the audience formed a circle pit.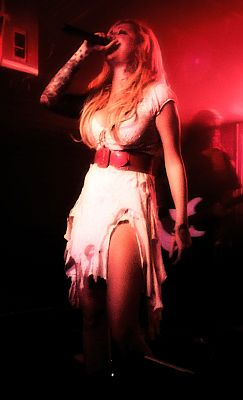 After that, the band said good night and cleared the stage for Nonpoint. I didn't stay for the headliner, deciding I would drive back home before it got too late. Overall, it was a great night, and I can't wait to see them again. Hopefully it won't be too long until I do, and next time, I hope they headline!
Setlist:
Just Drive
Blazin'
The Rabbit Hole (interlude)
Iron Army
Beautiful Tragedy
Standing Alone
Forever
The Promise
The Gun Show
Daddy's Falling Angel