Epica - Live in Concert
November 2010 - The Trocadero; Philadelphia, Pennsylvania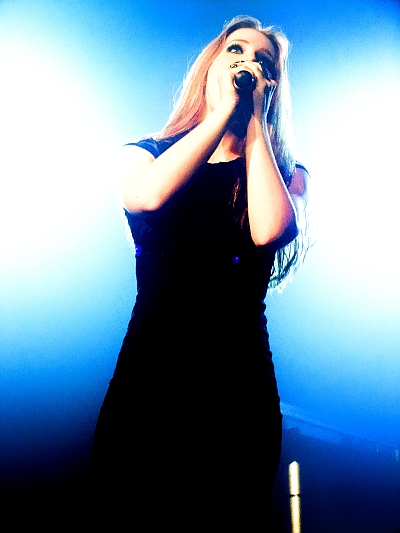 A mere nine months since their last US tour, Epica returned to give us another great show. Of course, just as last time, I bought my VIP tickets and found all my unsigned Epica albums/merch and drove into Philly expecting another fantastic concert from a band that has over time become one of my absolute favorites.
And, just as last time, Epica brought a number of bands along with them on tour. This time three, which meant that thankfully, they probably wouldn't have time to make us suffer through any local bands. And fortunately, after waiting in line, meeting the band, getting autographs and pictures, racing to get a front row spot, and a little bit more waiting, the show began.
First up was a recent addition to the tour, The Agonist, a female fronted quartet out of Montreal who, a month previously, had performed at this year's Metal Female Voices Fest in Belgium. I normally either don't know or don't like the bands that normally open for some of my favorite acts, but I happen to have become quite a fan of The Agonist over the last year, and was very excited to see them. And great they were! Frontwoman Alissa White-Gluz rocked the stage with her unique combination of screaming and singing, helped along by guitarist Danny Marino, Chris Kells on bass, and Simon McKay on the drums. Twenty minutes later, by the time the band's unfortunately short set was up, the crowd was warmed up and ready to rock and I'm sure a number of people had found a new band to add to their playlists.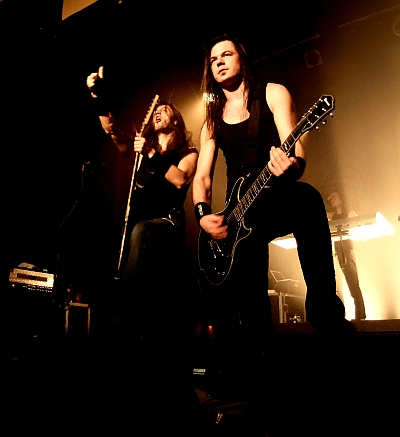 Next up was Blackguard, who opened for Epica on the last tour as well. Although I'm not a big fan of their music, there is no doubt that these guys, also from Montreal, do a fantastic live performance. Frontman Paul Ablaze was a blur on the stage as he jumped around and head banged to the music. I've never seen anyone with quite so much energy. After Blackguard, Sweden's Scar Symmetry took the stage with their melodic death metal sound and gave an equally lively performance.
And finally, after all that waiting, the lights darkened and the intro "Samadhi" began to emanate from the speakers and the crowd went wild, cheering and clapping and waiting for the band they came to see to take the stage. The band plunged right in with "Resign to Surrender" as the lovely Simone Simons came out to cheers from the audience. Between the songs, the band talked with the crowd, Simone telling us about how much she loved our famous Philly cheesesteaks, but eating one might make her look like she was pregnant. Epica always has a great connection with their audience, something that a lot of the more mainstream and popular bands seem to lack.
Having seen the band less than a year before, I didn't really expect anything new, and the first few songs were the same as last time. However, they did play "Fools of Damnation" this time around, as well as "Blank Infinity" and the epic "Kingdom of Heaven," which they did not play last time. The latter was particularly impressive, as the multi-talented drummer Ariën van Weesenbeek replaced Mark Jansen on the growls in the first part of the song and did an equally good job of it. Those thirteen or so minutes were some of the best of the night, and as the band left the stage, the crowd began to chant "One more song! One more song!" After about a minute, keyboardist Coen Janssen came out on to the stage and asked the crowd "Do you want one more song?" The crowd replied with a loud scream, to which Coen answered "No! You want six more songs!" Unfortunately, they did not play six more songs, but merely two, "Sancta Terra" and the ever-popular closer "Consigned to Oblivion." Though I'm sure everyone wanted more, it was time for the band to leave the stage for good, and everyone left happy and satisfied, especially me, with my two new t-shirts, four signed albums (one from The Agonist), a picture with Epica and one with Alissa White-Gluz, a signed poster, and a huge smile on my face. Until next time, Epica!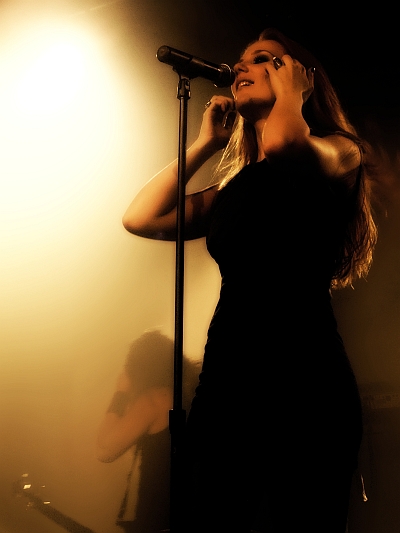 Setlist:
Samadhi
Resign to Surrender
Sensorium
Fools of Damnation
Unleashed
Martyr of the Free World
Cry for the Moon
Blank Infinity
The Obsessive Devotion
Kingdom of Heaven
Encore:
Sancta Terra
Consigned to Oblivion