Sirenia - Live in Concert
April 10th, 2010 - Principal Club Theatre
Thessaloniki, Greece
In the past few years Greece has seen a new musical invasion. After Evanescence's breakthrough everyone in that country know who Tarja is and also who Tuomas is and which band they come from. As a result, I was expecting to see many people head banging at Sirenia's show. The time was 7 o'clock and I had just arrived at Principal Club Theatre, the venue for the nights show. The doors had been open since 6:31, but two supporting acts were scheduled to play prior to the Sirenia. So, I made sure I was not late for Sirenia's segment of the show. Sirenia took the stage exactly at 9 o'clock. Aylin was the last one to come out onto stage. I was left speechless by her stage attire… She was wearing a beautiful white dress and looked very happy to see us in attendance. The show started with the song "The Path to Decay" and in my opinion it was a great song to start the show. "The Path to Decay" is their most well known song from their last album and it seemed to make sense to start their set with this song. Aylin seemed to be very happy and pleased with the fans and the turn out for the band. At the end of the song it was Morten's time to thank the Greek fans for the warm welcome the band had received. The following song, "Sundown", was taken from the album "Nine destinies and a downfall" and Morten's grunts were really exceptional live on this track. Also, I was curious to hear how well Aylin could perform a Monika Pedersen song. Sirenia has changed vocalists 4 times and Aylin seems to me to be the most talented of all up to this point. Consequently, Aylin passed my first "test"!
Next, came the song "Seventh Summer". I believe that this song is also one of their best from their last album. The song contains great vocals, lyrical, & choir arrangements, and Morten performed his best vocal. After that masterpiece came "Star-crossed", a song from their second album entitled "An Elixir For Existence". Henriette Bordvik was the vocalist who originally performed that song on the album but Aylin delivered a powerful live version. The pre-recorded parts were very prevalent throughout the song and that ruined it for many fans. After that song it was time for another song from their album "Nine Destinies And A Downfall", entitled "One By One". In that song Morten tried to get in touch with the crowd. He came in the front of the stage and delivered to the crowd a solid guitar solo. Morten seemed to be a little out of touch with the rest of his band mates during the show. On the opposite end, Aylin was thanking the crowd and offering her hand to the fans and head banging along with them. Next track up on the set list was "Lost In Life" followed by another song from the album "Nine Destinies and A Downfall"- "Absent Without Leave". In that song Morten delivered a great vocal and guitar performance to the crowd at which point he tried again to be crowd friendly and get in touch with his audience but it seemed that too was in vain. It seemed the crowd wanted to hear a CLASSIC Sirenia song, so when "Meridian" from their first album was started the fans responded very positively especially during the well-known melody of that classic Sirenia track.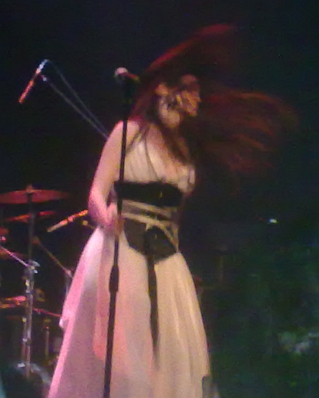 "Wane...all the lights they seem to fade all so dim and all so frail they all seem to pass away I can see them getting weaker every day" is my favourite lyric line from "The 13th Floor". Lucid Door and Led Astray were the next two songs delivered. "Lucid Door" was the worst song of the whole show for me and Aylin did not sing it well at all. At the end of the song there was some whistling that could be heard through the PA. In the following song the problem seemed corrected and on "Led Astray" she performed much better. Sirenia continued with another nice song from "Nine Destinies And A Downfall" named "Downfall". This song has amazing lyrics. Aylin was really getting into the song and she was feeling every word she was singing. The performance continued with the song "Sister Nightfall". It was time for Morten to shine! He sang and played this Sirenia classic very well. For the encore the band performed two more songs from their album "Nine Destinies And A Downfall". The first song was "The Other Side" and the second "My Mind's Eye". Aylin's vocal performance on both songs was stellar and dismissed every doubt I had previously about how well she would sing Monika's songs. Aylin gave her best, she was full of energy onstage and she did not stop smiling to us the entire time. This was her first tour with a metal band and she responded really well to the fans. She performed her parts and appears to be a top-notch vocalist live on stage. On the other hand Morten was looking like he had something happen that night that soured his mood. But other fans told me that he is always like that at shows. I was not satisfied with him in this regard as I was expecting much more from him. The other guitar-player, Michael Krumins, had a lot of moments where he looked like he was uncomfortable during the set. He did not show any sign of enthusiasm, although the fans were very friendly to him. Last but not least, Sirenia's drummer, Jonathan A. Perez, has to get my congratulations because he had many technical problems (during the set there were onstage drum-techs and they were trying to fix the problems) and he continued playing the best way he could. Also, as mentioned earlier, the entire set contained quite a few pre-recorded parts. In every song there were taped parts for choirs, bass, & synth. Their live set could be better if they would hire a session bassist in the future (when I saw that there was not bassist for the live shows I was very surprised - in a bad way -). They played for exactly 80 minutes and their set list consists of 14 songs. Sirenia gave a nice performance and they are a very promising band for the futures so, stay tuned people!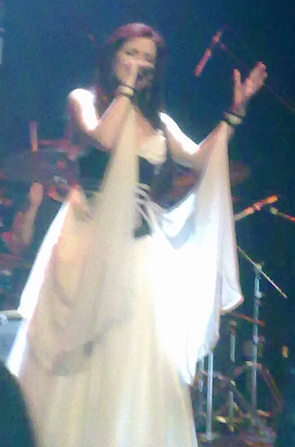 Set List:
The Path to Decay
Sundown
Seventh Summer
Star-Crossed
One by One
Lost in Life
Absent without Leave
Meridian
Lucid Door
Led Astray
Downfall
Sister Nightfall
The Other Side
My Mind's Eye