We are the Fallen - Live in Concert

May 2010 - Chameleon Club; Lancaster, Pennsylvania

I had literally discovered We Are The Fallen the day before the concert at the Chameleon Club in Lancaster, but needless to say, I liked them enough to buy a ticket to see them live the next day. Actually, I had heard the song "St. John" at FYE earlier in the week, and I remember it had caught my attention, since the only female fronted rock/metal band they'd ever play at the mall was Evanescence. I'll admit that I mistook Carly Smithson's voice for Amy Lee's at first, but then realized that it wasn't Amy. A few days later, I found the band and checked their myspace. To my surprise, I heard "St. John" again, and the rest, as they say, is history. Kind of.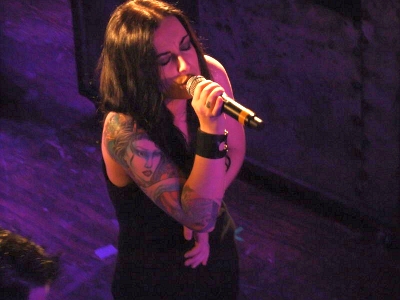 Anyway, I bought a ticket and drove a good hour and a half to Lancaster, Pennsylvania. Why any band would play out here is a mystery to me, but even though I got there more than an hour early, there were already ten or so people waiting outside the venue. Soon after I got in line, a girl with a Nightwish shirt (which I, too, was wearing) got in line behind me. I wasn't the only one into the female fronted metal scene here tonight, although I found out later that not too many others were. Shame.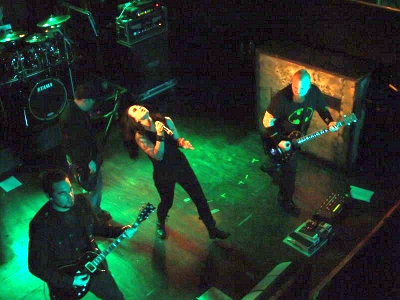 When the doors finally opened, I was disappointed to find out that under 21's had to stand up on the balcony and not in front of the stage, but above it. That, of course, annoyed me, since I could easily have come an hour later and still gotten the same spot. Either way, the opening band began playing soon after, and then another. And then another. Three opening bands? Far too many, in my opinion, especially since none of them were anything close to the type of music that We Are The Fallen plays. Then, finally, the intro to We Are The Fallen's set began to play, and the crowd erupted in screams. Ben Moody (guitars), John LeCompt (guitars), Marty O'Brien (bass), and Rocky Gray (drums) made their way onto the stage and began playing "Burn" as Carly Smithson ran onto the stage and began to sing. It must be noted that the girl certainly has a voice, and she sang her heart out on stage that night. Not a missed note as far as I could tell, but then again, we were all busy rocking out to the music to notice if there'd been one. All the band members moved around a lot, especially Carly, and their energy fused into the crowd's, making the atmosphere in the small venue rather electric as they began playing "Without You." Next was an interesting cover of Madonna's "Like a Prayer." Definitely not a song I ever expected to hear a metal version of, but it was awesome nonetheless! The crowd seemed to enjoy it too!
The band certainly connected with the crowd, with John and Ben encouraging everyone to put their hands in the air and pump their fists or clap and Carly making eye contact with every fan in the room, not something that happens very often. I've seen a lot of bands where the vocalists tend to just look out at no one in particular throughout the entire set, making them seem a bit distant. The members of We Are The Fallen, however, didn't hesitate in connecting with their audience. Add that to it being a tiny venue, and the whole thing seemed very intimate.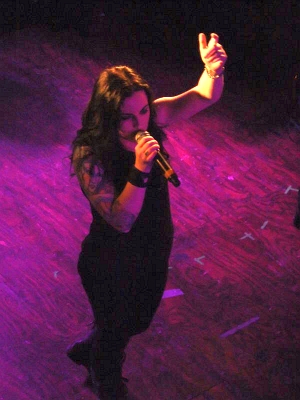 The band played every song from their debut album, Tear the World Down, at the show, including bonus tracks and three covers: the aforementioned Madonna cover, Journey's "Separate Ways," and Iron Maiden's "Flight of Icarus." Ballads were mixed in with heavier tracks, going from Carly's soft crooning on "I Will Stay" to the crunching guitars of "Through Hell." Overall, it was a great mix of songs. "Sleep Well My Angel" was introduced with a piano interlude played by Ben, soon joined by Carly's emotion-filled singing and soft backing from the rest of the band. The set ended with the epic "Tear the World Down," and we all left wishing there was more the band could play.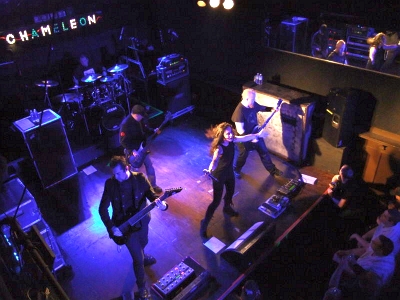 Afterwards, a few of us went around back to meet Carly and Ben in front of their bus. After pictures and autographs and an exchange of words, I headed home, satisfied and listening to my new autographed copy of Tear the World Down, which played twice all the way through by the time I got home. All in all, a great night. We Are The Fallen have proven that they are a fantastic live band and worthy of any fame they get.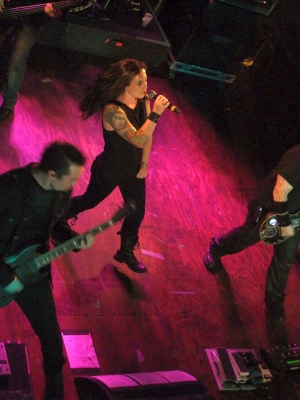 Setlist:
Intro
Burn
Without You
Like a Prayer (Madonna cover)
Don't Leave Me Behind
St. John
Samhain
I Am Only One
Separate Ways (Journey cover)
I Will Stay
Through Hell
Bury Me Alive
Paradigm
Sleep Well My Angel
Flight of Icarus (Iron Maiden cover)
Tear the World Down