Edge of Attack Interview
Performed in June 2012 via Skype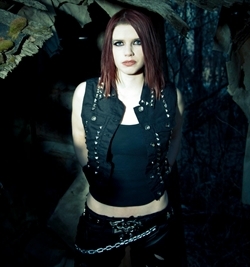 Every time Facebook seems like an endless time-suck of useless gob, someone slips us a band recommendation that makes our ears prick up with interest. One of our latest discoveries is the power metal quartet, Edge of Attack, from the snowy plains of Grande Prairie, Alberta, Canada. These newcomers were on the eve of releasing their self-titled debut with vocalist, Roxanne Gordey, when they were snapped up by Spread the Metal Records. (Having legions of rabid fans probably didn't hurt matters.) They are now headed back into the studio to re-record Edge of Attack. If the new version is even better than their stellar self-produced version, I'll be first in line to get it.
Sonic Cathedral's Robin Stryker sat down with Roxanne Gordey (lead vocals), Jurekk Whipple (lead guitars/vocals) and Denver Whipple (bass) to chat about their recent tour, the making of Edge of Attack, championship go-karting, the wonders of cake, and much more. Dive in for a behind-the-scenes look at all things Edge of Attack!

Robin: Sonic Cathedral is so happy to have Roxanne, Jurekk and Denver from the Canadian band, Edge of Attack. Jumping right in, please tell us about your band.
Roxanne: We are Edge of Attack. My name is Roxanne, and I am lead vocals. Jurekk and Denver are with us … Jurekk is lead guitar, and Denver plays bass. Trevor, our drummer, has one of those job things, so he can't be with us right now.
Robin: If my guess is correct, Jurekk and Denver are brother and sister. Did I guess right?
Roxanne: Yes.
Robin: Does that mean that, when you're on tour, they play Slug Bug and other things that siblings tend to do on long road-trips?
Jurekk: We're more of a Pictionary duo. We're both big fans of Pictionary!
Robin: Edge of Attack just wrapped up your Attack the West tour last Saturday, with an appearance at the Calgary Metalfest. For each of you, what are some of your highlights from the tour?
Roxanne: Oh wow, I think the biggest highlight for me was probably in Lethbridge. We actually had a crowd moshing for us, which we don't really get a lot because, well, we're power metal. We're not death metal, so we usually don't get moshers. But we had moshers, and that was really different!
Jurekk: I'd say that, for me, my favorite part was actually the first show we played with Unleash the Archers in Vancouver. We're on the same label as them, and they're all cool dudes. It was just really fun, and a really neat venue, too.
Denver: I'd have to agree with Jurekk and say the first show, just because it was such a perfect fit and the crowd reaction was incredible. It was a great way to start off the tour!
Robin: Congratulations on having been signed to Spread the Metal Records. You announced that the band would re-record Edge of Attack and add some new tracks. What are you going for with heading back into the studio?
Jurekk: I think we have a chance to revise it again; right? I don't know. I think every musician would understand that, if you have a chance to go over it and look at it, there are certain things you'd change -- which there is, 'cuz when we started playing live on the road, there were certain changes we made just because it sounded cool during rehearsals. So those are on the album. Since then, me and Denver have been working on a whole bunch of new songs, and they're turning out good. So we figure that we might as well throw them on.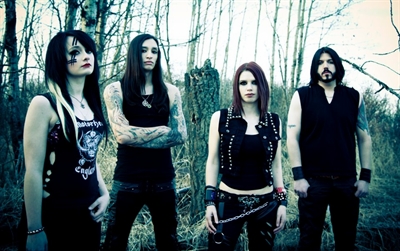 Robin: Jurekk, is it correct that you actually did all the guitar and bass on the current version of Edge of Attack?
Jurekk: Yeah, I did both. I did all the guitar and all the bass, but on the new [version], Denver will be playing all her bass lines on it.
Robin: What does re-recording mean for the three tracks that currently have guest vocals on them?
Jurekk: I think we are only keeping one. (To Roxanne) Aren't we?
Roxanne: Yeah.
Jurekk: I think we are keeping "Demon," and the rest are just kind of give-aways because we just wanted to make room for new songs, and people like free stuff, so we might as well give them more of it.
Robin: Was there any element of good-news/bad-news in re-recording? I imagine that you were pretty excited for the album launch on May 22, 2012, which has been delayed a few months until the new version is done.
Roxanne: I think, for us, it was nothing but good feelings. To appease the fans … we didn't want to upset anybody … we put out the new track, "Set the World Aflame," and everybody seemed to be pretty happy with that. So we haven't received any negative feedback from delaying the album.
Jurekk: We just want to give the best album we can. If that means two extra months, for me, I can't really complain because I get to play music. It's better than working at Walmart or something.
Robin: Is there a ballpark date for when you will release Edge of Attack? I think I read that it might be out towards the end of summer.
Jurekk: I think so, yeah. We're just starting to wrap up writing the new songs and making all the changes. I think we'll start tracking in the next few weeks, and then there is the mixing and mastering. So we're thinking September-ish.
Roxanne: Yup!
Robin: Who is doing the heavy lifting on the writing? And who writes the music, versus who writes the lyrics?
Jurekk: It depends, really. I do most of the music writing. The lyrics are just kind of a contribution by everybody. I'm not a big lyrics guy; I like writing the music.
Roxanne: There's lots of mixing and matching.
Jurekk: Everybody throws in little ideas, too. Denver has been helping a lot, seeing as how she does live here. It's nice to have her work with me here. Everybody has their little tidbits that they throw in that make it different, but usually I end up showing up with the song.
Robin: Edge of Attack recently released the video for your first single, "Forever." Tell us about that video shoot, please. (laughs) I'm always amazed that video shoots seem to only be in the dead of winter, when it's freezing cold.
Roxanne: Yeah, funny how that happens! (laughs) Well, it was early March when we shot. As you can see, it was in a hollowed-out industrial shop. I wasn't well-dressed myself, and it was cold! I mean, the shoot wasn't terribly long; we were only out there for a few hours.
Jurekk: A few hours, but it was freezing outside. It was covered in snow elsewhere … outside the shop.
Roxanne: If you watch carefully, there are actually parts during Jurekk's solo where you can see his breath. (all laugh)
Robin: I'm going to go back and watch it reeeeally carefully now.
Roxanne: Watch carefully, and you'll catch it!
Jurekk: It looks cool! It looks like I'm a dragon or something.
Roxanne: So no, it was definitely cold, but we powered through it. I mean, the result was pretty good, all things considering.
Robin: Roxanne, you've described yourself as a combination of metal and geek. What is your favorite way to geek?
Roxanne: Well, there's a lot of different ways. I've always been into PC and console gaming, and I play Magic: The Gathering. (It's a popular trading card game.) I've played Dungeons & Dragons too, so I guess I geek pretty hard! (laughs) I geek pretty much as hard as it is possible to geek, if you want to put it that way.
Robin: Do you have any fellow-geeks in the band?
Denver and Jurekk (in unison): No. Nope. No.
Roxanne: No, and they won't admit to it. Everybody does a little bit of console gaming here and there, but that's pretty mainstream and accepted.
Jurekk: I play a little bit of Call of Duty, but mostly we're car enthusiasts.
Denver: I'm not. I don't know WHAT I am.
Roxanne: Well, Trevor does a lot of console gaming too, actually.
Jurekk: Oh yeah, I guess he does.
Roxanne: But nobody gets into the traditional geek like I do.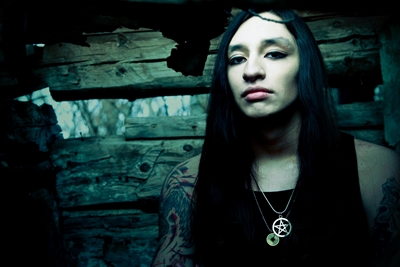 Robin: Awww, because being on tour, with quite a distance between Vancouver and Calgary, you could have so much fun with fellow-geeks in the van.
Roxanne: Oh, I mean, that's how I feel about it too! You can lead a horse to water, but …
Jurekk: They mostly sleep on the drives.
Roxanne: That is true, actually. We do love sleeping! I do a lot of reading, actually.
Jurekk: Then when we get to the cities, we like to go around and see what is going on. You know, check out the tattoo shops and stuff.
Roxanne: And see the landmarks. (laughs) We're like tourists when we're on tour.
Jurekk: Total tourists!
Robin: Not being that familiar with Grande Prairie (Alberta, Canada), what is the town where you're from like? I've heard that it is more of a country & western town than a metal town.
Jurekk: Just to give you an idea, everybody here drives a jacked-up pickup truck with HUGE mud tires on it. That's about it. It is a huge country-western town with nothing to do for activities, whatsoever. Like NOTHING.
Roxanne: Yeah. It is all about industry here, so everyone who is here is really doing it for the work. So we don't really have much of a culture to Grande Prairie; it's pretty dry that way.
Jurekk: It's pretty boring, so that's why we like to leave. (Roxanne and Jurekk laugh)
Robin: Considering that sort of culture, how did the four of you even wind up finding each other?
Roxanne: When you consider it that way, if you have four metalheads in a place without metalheads, they are bound to find each other eventually. Right? (laughs)
Jurekk: It took a while, though. Me and Trevor met years upon years ago … I was like 14. He lived next door, and he heard me and my old friend just jamming away. He called me over, and we jammed out some Megadeth. Then years later, we met up again, and he started drumming for us. We actually stole Dallas (our rhythm guitarist) from another band. I completely stole him.
I knew Roxanne and knew she was a singer, so one day I just called her over because I wanted to do guest vocals. Then I ended up saying, "Do you want to do it?" (all laugh) Sorry, scratch that. I asked, "Do you just want to be the singer?"
Denver kind of lives with me, and I know she's been playing bass. That was just the easiest find ever … walking upstairs, "Hey, do you want to be our bass player?"
Denver: Yeah.
Robin: It's great to put a band together and jam, but do you have to jump in the van and head out when you want to play live, or are there at least a handful of venues for metal bands?
Roxanne: There are a couple venues in Grande Prairie that do metal shows. We've done a few local shows at BJ's Q Club, and they've been really successful. I think the reason is that you don't get a lot of metal shows in Grande Prairie that people want to go see. So, when they find out that we're playing, we usually get a good turn-out. Lots of them are friends … you know, friends of friends and things like that … but they come out and support us. Every now and then, it ends up happening and works out for the best.
Robin: For each of you, which track from did you have the most fun performing during the last tour?
Roxanne: Oh wow, that's a tough one! I think "Demon" has always been my personal favorite. I think it's because of the flavor of the song.
Jurekk: It's also right in your nice vocal range. Right in that spot where you sound your absolute best, and you're not trying.
Roxanne: Yeah, it's really comfortable for me to do. But I think it really is the upbeat nature of it. We always open our shows with "Demon", and it sets the tone really nicely for us.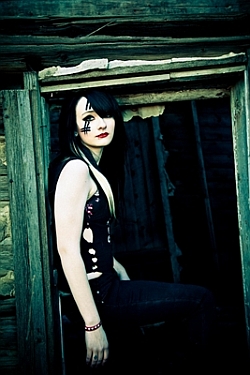 Robin: How about you, Jurekk and Denver?
Jurekk: Yeah, uhm, I'd have to say my favorite one is "Take Me Alive" because, during the verses you can headbang so HARD. And then, during the chorus, you can sit there and bob your head, like you're an idiot. There are two different solos that are really long, and I love guitar solos! So that's probably my favorite one to play live … that or "Rise Above." That breakdown at the end of "Rise Above" just makes me happy.
Denver: Again, Jurekk stole my answer! So, those two songs for the same reasons. You can get right into the verses and headbang really easily. "Take Me Alive" has this really awesome bass line that I love to play. We had an opportunity to play one of our songs that has a guest vocal on it called, "The Damned," and I love to play that one live because it's just so heavy and we never get to play it.
Jurekk: I don't like to play that one, because it means I have to play that RIDICULOUS … I wasn't thinking about it in the studio, but I made a ridiculously hard riff to play, and then decided that I would sing the song. So when we have to play the song, I'm like: "Awwww, damn!"
Robin: Too much multi-tasking?
Jurekk: It's not overly hard. It's just that I can't do anything cool, because I really do have to think about what I'm doing. And I rarely think. (all laugh)
Robin: I love seeing how many cool new bands are coming out of Canada … Unleash the Archers (with whom you gigged), Kobra and the Lotus, Mary and The Black Lamb, Modified, and so on. What are they feeding you people up there, that you get good metal, and I have no metal nearby?
Jurekk: I don't know what it is. Maybe it's because we have nothing to do up here because it's so cold.
Roxanne: Yeah, it is. It is almost like we are deprived. In Europe, they get to go to all the good shows and all the good festivals, and they get exposed to it every day. But, up here, if we really want good metal, we have to make it ourselves.
Robin: Tell us about the Calgary Metalfest. That sounds like it was a great deal of fun!
Roxanne: Yeah, we really loved it!
Jurekk: I love festivals. I like the ones that have a lot of people on the bill. There is that fine middle ground … 5 to 8 is too many for a single metal show, but 8-on is fine because you can just hang out and chill. I met a lot of cool band there, actually. Our merch booth was set up right next to …
Roxanne: Throne of Vengeance.
Jurekk: They are really cool dudes!
Roxanne: Are they a thrash band out of Calgary?
Jurekk: Yeah, they're pretty thrash.
Roxanne: They're pretty thrash. But yeah, we met them, talked with them, picked up their album, and found out that we really liked it. That's the best thing about festivals is that we get to build our contacts and meet new people.
Robin: Okay random question … for band yukking-it-up activities, would you rather go-kart together or play paintball?
Roxanne: We go go-kart ALL THE TIME.
Jurekk: We did go go-karting, and we went to Laser Quest (I think) in Calgary.
Roxanne: We played laser tag.
Robin: Who is the band's go-kart champion?
Roxanne: Denver is!
Jurekk: She is NOT the champion. What she does is: she gets Dalin (our father figure of the band) to block everybody off from getting past her. She is not in any way, shape or form a quick go-karter. It's just that he is really good at not letting anyone go by him.
Denver: That's filthy lies! You guys are just sore losers.
Roxanne: Okay, so here is what really happens: Denver wins, and we all call "cheater". So, it's a disputed title, but yeah, she is currently the champion.
Robin: If we were going to bait a trap for Edge of Attack, what kind of cake would we need to bring?
Roxanne: I LOVE cake! (laughs)
Jurekk: It can be anything for Roxanne; it just can't have lactose in it.
Roxanne: Yeah, I have a problem with dairy. I can't eat dairy, but most cake is usually okay. I really love cake, and I'll eat any cake.
Jurekk: I don't eat cake.
Robin: Well, that's more cake for Roxanne, then.
Jurekk: You just need something shiny to distract me. Just shine it in the light, and I'll start going "woooo" and run after it. (all laugh)
Robin: So I should bring the laser pointer that I tease the cat with.
Jurekk: Exactly! That thing amuses me for hours.
Roxanne: He loves that shit.
Robin: (still laughing) What is coming up next for Edge of Attack. Obviously, you're heading back into the studio and writing new songs.
Jurekk: After we are done with the album, I think we're just going to tour around some more. We really want to get down to Mexico and South America in the near future. There are a lot of people down there who really would like to see us. But yeah, just gigging and stuff. I think we'll just be really busy for the next year or so, just playing shows all the time.
Roxanne: We're trying to get some more Alberta shows hooked up, like Edmonton and Calgary.
Jurekk: Some fillers in between, while we're recording.
Roxanne: And then touring after that.
Robin: Where would you really, really like to go in South America? I hear that Brazilian fans are just INSANE.
Jurekk: I want to hit São Paulo; that's my goal for life. If I can hit São Paulo, then I'll be good to go. That would make me happy for about the rest of my life.
Robin: Please don't forget the US. We're kind of on the way to Mexico.
Jurekk: We'll be there pretty soon, for sure.
Roxanne: Yeah. I think after we're done touring Canada, we'll probably head into the US, and then Mexico might come after that.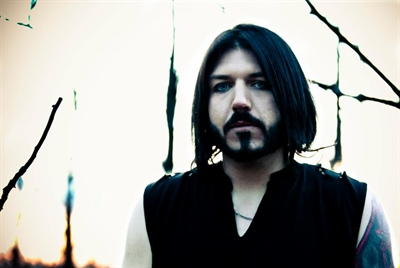 Robin: What final words do you have for your fans out there?
Roxanne: We haven't had the opportunity to see our fans in Mexico or South America yet, but we want them to know that we are coming to see them. As soon as we are done recording the album, our tour will take us there and we are very excited for that. Secondly, we want to thanks all of our fans, supporters, and our new label, Spread the Metal Records.
Robin: Sonic Cathedral hopes that the muses are smiling on you, and we're looking forward to hearing the new Edge of Attack debut album. Thank you so much for talking with us today!
Jurekk: No problem!
Roxanne: Thanks so much.
Denver: Thank you.
Many thanks to John F. Davies (Sugar and Spikes Radio Show) for the recommendation!
Photo credit: Alicia Beisel Photography/Samantha Keller

Official Website
Facebook
Reverbnation