Performed by Phone in June 2012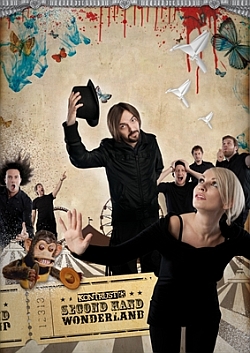 The Austrian cross-over band, Kontrust, is such a quirky mash-up of musical styles that one has to wonder how the band formed in the first place. Since it is more fun to just make up an origin story than to do actual research, that is what we decided to do. So here is our wholly fictitious account of how Kontrust came to be: Members of a yodeling troupe, reggae band, pop group and metal band met up in a bar, and proceeded to challenge each other to drinking games. After endless rounds of keg-stands, beer pong and quarters, someone decided to up the ante. "Hahaha, we should all write songs together." "Nah, that would never work!" "C'mon, it'll be fun." And so they did, and their songs were infectiously fun, indeed. The end.


Sonic Cathedral's Robin Stryker sat down with male vocalist, Stefan, for a behind-the-scenes look at the wacky world of Kontrust. Dive in for a closer look at Second Hand Wonderland, life on the road, lederhosen, sock puppets, and much more! Enjoy.

Robin: Welcome, Stefan! We're so happy to have you here at Sonic Cathedral to talk about Kontrust's new album, Second Hand Wonderland. For those who are unfamiliar with your band, would you give us a quick introduction?
Stefan: We are Kontrust, a cross-over band from Austria. The members are Agata, our female singer; Manuel on percussions; Mike and Roman are our guitarists; Gregor on bass; and me on male vocals. Kontrust was founded in 2005, so we've been playing since then all over Europe. Second Hand Wonderland is our third studio album. Yeah, we are getting really a great response for this album, and we are very satisfied with it ... so far, at least.
Robin: I'm curious about your vocal background. There seem to be a lot of reggae influences in your singing, which is not something I would have expected from an Austrian band.
Stefan: (laughs) I don't know. I just don't know, because every one of us is listening to lots of different styles of music -- reggae, rock, dancehall, and Agata likes hip-hop -- so it's just a combination of the band members. So that's what the Kontrust sound is made of. But, you're right, there are not so many reggae bands in Austria, at least not good ones.
Robin: The writing process for Second Hand Wonderland was a bit different than for Time to Tango, in that you and Agata wrote the lyrics and vocal lines, then passed them to the rest of the guys to work their magic. Did you have an idea in your mind of what the songs would sound like at the end of the process?
Stefan: Yes for, let's say, half of the vocal lines and vocal parts. But the other half, I had no idea what they were going to do with it. They really had to use their brains this time. (laughs) So yeah, there were lots of surprises when I first heard what they stuck with my vocal lines. They really tried hard, and I was satisfied.
Robin: Second Hand Wonderland is just so much FUN. What song were you most surprised to hear in its final form?
Stefan: I really can't say which song is my favorite song, but I can tell that I was really surprised about "Monkey Boy". This song really made a big step in the studio. When we started recording vocals, I was not sure at all about this song. But in the end, I really said "okay, it was worth putting on the album," and I really like it now! So it's maybe the biggest surprise. But there is not a favorite on the album.
Robin: Who is the history dork on the writing team? If I caught the lyrics to "Rasputin" correctly, it sounds like it is about the plot to assassinate him.
Stefan: It's me and Roman (our drummer), who's got a university education in history. I think the character of Rasputin is quite well-known in Europe. If you're reading the story about Rasputin, he was a very strange person, on one hand. On the other hand, he was an intellectual person. So when we got the chance to write a new song with an Austrian band called Russkaja … two members of them are Russian … we just thought of this song and called it "Rasputin." (laughs)
Robin: Kontrust rerecorded Time to Tango in Polish (as Czas na Tango). Are there any thoughts to do a Polish version of Second Hand Wonderland? Also, what is the big draw with Poland?
Stefan: Well, we don't have any let's call them "written plans" of doing a Polish version of Second Hand Wonderland, but we'll see. Maybe one day we will record a Polish version also. The thing is that our female singer Agata was born in Poland, so she speaks Polish fluently and has good relations there, and we also have a big fanbase there in Poland.
It was just an idea (I think) to play with different languages, so we said "okay, let's try a Polish version of this album. It's gonna be fun!" The people in Poland really like it, so whenever we play concerts there, we play also a few songs in Polish. Of course, they really enjoy that.
Robin: The biggest concert that Kontrust -- or any Austrian band, for that matter -- has ever played is Przystanek Woodstock in 2011. Will you be playing the festival again this year?
Stefan: No, not this year, but we're looking forward to coming again next year. Anyone from the States on holiday in Europe during the summer should check out this festival! It is near the German-Polish border; there's free entry; and it's just TONS of people. All-in-all, it's about 701,000 people, so it's really great! There is no security there, but everything works just fine. There are lots and lots of volunteers, and it's just a big party. We are looking forward to playing next year again!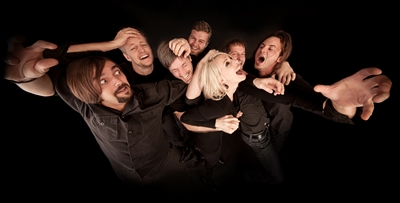 Robin: What was it like, being on stage with a sea of 301,000 music fans watching Kontrust play?
Stefan: (laughs) Well, it's just AMAZING; there is so much energy in the air. Of course, it is much more difficult to communicate with people than on a smaller stage, but it works. It was just great to play there in the evening and to catch the mood of all the lighting. It was a performance to remember!
For us on stage (of course), it was a show like any other show because we are gonna play our set … the set length was for one hour … but you realize it more after the show, when you see the pictures. When I first saw videos, I just thought, "Whoa, that MANY people?! I can't remember them all." It was really nice.
Robin: The thing that first made me first fall in love with Kontrust was the ridiculously quirky video for "Bomba."(laughs) What's up with the lederhosen?
Stefan: We had the idea already a few years ago, but we just didn't have the right song. We thought, "Okay, this one could fit with the image of lederhosen and the pictures." When we had "Bomba," we asked our producer whether it possible to make a radio edit. He said "okay", he would try it.
Again, it was just a lack of money. (laughs) So we said, "Okay, we have to do a funny video because there is not enough money left for a big video production." We had this idea with the lederhosen to just try it. We thought we'd do it … win or lose, it was worth the effort. Of course, it was a lot of fun to shoot this video. There was a lot of alcohol for part of the day. (all laugh)
Robin: That does always seem to make a video shoot go better!
Stefan: Yeah!
Robin: Okay, are lederhosen as uncomfortable as they look?
Stefan: Yeah, they are really; I won't recommend lederhosen. You can invest your money in whatever, but DON'T buy lederhosen. They are just not comfortable.
Robin: The video for the first single off Second Hand Wonderland, "Sock 'n' Doll" is all done with little sock puppets of the band and audience. Were you there for the video shoot? With all the members being puppets, no one would know whether it was your hand in the Stefan puppet or not.
Stefan: Yeah yeah, we played ourselves in the video because we thought it would not be possible for someone else to synchronize our lips and the instruments. We are the ones who know this song best, so we've got to play ourselves in the video. And it was really hard because it was really hot.
Robin: So what the process like? Were all of you standing under a platform with your arms sticking up for hours at a time, while shooting?
Stefan: How can I say it? It's an experience that I really don't miss because we were shooting this video in September last year, and we had one of the hottest weekends in Austria. We had 34 degrees [93 degrees Fahrenheit] or something like that outside. We were in a small hall, and had to close every window and every hole to the outside because we had to try to get no light inside. We were about 70 people there in this small hall, all under this construction. I don't know how many degrees we had in there, so I really don't miss this experience. (laughs)
It was the first and last one with sock puppets, actually. Maybe we'll switch again to lederhosen; they're more comfortable than sock puppets. (all laugh)
Robin: Did you at least get to keep your sock puppet? I hope you teased your band mates about their puppets not actually wearing pants.
Stefan: (laughs) Yeah yeah, you're right; we did. A few of them didn't wear pants. Lots of joking was going on. As the shooting was really hot, these jokes we really necessary, so we had to entertain all our helpers and all our volunteers because they were sweating like hell. We had fun with the go-go puppets.
Robin: Right before Kontrust's tour in the Netherlands in late May, you did a gig in Poland, which is 12 hours away. What do you guys do to amuse yourselves when you're on the road for 10 or 12 hours heading to your next gig?
Stefan: Most of the time, everyone tries to get some sleep. At least we have got a driver, and we always try to have one person inside so that he can keep the driver awake. As you said, we had a 12 hour drive from Poland to the Netherlands. We played there in Poland around midnight, so we went to the hotel for one hour's sleep, got a shower, and started at 3:00 in the morning. Yeah, we were really tired that first day, so we all slept.
But usually, there are some laptops and we have a big flat-screen in our bus. There is always a discussion … Mike, our second guitar player, lived a few years in the States, so he always wants to watch films in English. So there is always a discussion of "do we really want to watch films in English or the German translations?" It takes about one hour to decide whether English or German, and it takes another hour to decide which film. (all laugh)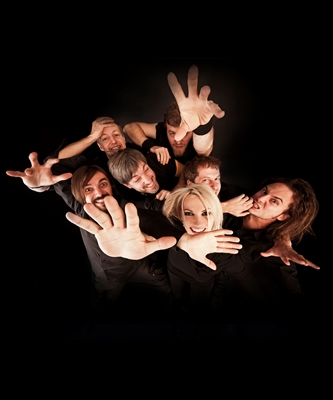 Robin: With all the band members having such wildly different taste in music, are there bands that you can agree on to listen to in the bus?
Stefan: Yeah, there are. What do I recall from the last time? We had some German bands, an English band … what else? … we had the Foo Fighters. Yeah, the Foo Fighters are one band, and Molotov. It always depends on the time of the day; during night, it's more ambient sounds. But there are lots of bands that we all like to listen to and can agree on.
Robin: What is coming up next for Kontrust?
Stefan: The next thing is a new video for a new single. We had the release of "The Butterfly Defect," which is available as a single version now on iTunes and whatever, and we're already working on the next album. We have a lot of material left from the last two albums, and of course, we are writing new stuff.
Robin: Is the upcoming video for "The Butterfly Defect," or do you have to keep the title secret?
Stefan: No, because we released the video for "The Butterfly Defect," which is a kind of a live video with pictures from the Woodstock festival in Poland. I'm going to keep the title a secret for right now, but it isn't "The Butterfly Defect." We'll see. Normally, we decide which video we are going to shoot at the location, rather than right now.
Robin: Do you have any final words for your Kontrust fans, Stefan?
Stefan: I would like to invite everyone who is in Europe for a few days to visit a show of Kontrust. Check out our website on www.kontrust.info or our Facebook site, and watch our videos. Just stay crazy and have fun! Thank you all!
Robin: Thank you so much for talking with Sonic Cathedral today, Stefan!
Stefan: Thank you.
Photos by: Christoph Stiller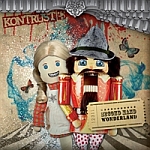 Kontrust official site
Kontrust on Facebook
Kontrust on MySpace