Hailing from Switzerland, November-7 deftly mixes metal, melody and electro elements in a winning combination. Season 3, the band's full-length debut has enough simmering menace and jagged bite to power a small city. Check out the videos for "In My Mind" and "Parasite" for a taste of what you're in for … "You filthy parasite / licking the dirt / Tell me is it good?" Methinks the dirt-licking parasite in question is probably still hiding in a cave somewhere.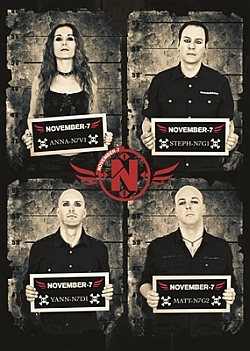 Sonic Cathedral's Robin Stryker sat down for a long chat with November-7's vocalist, Anna. Dive in to learn what Anna said about Season 3's harder sound, working with Rammstein's producer Stefan Glaumann, hedgehogs, Marilyn Manson, and much more!
Robin: A warm welcome to Anna from November-7. We're so happy to have you today to chat with Sonic Cathedral about Season 3 and the band's exciting upcoming plans! For folks who have not yet discovered November-7, please give us a little background on who you are.
Anna: That's always the first very difficult question to ask a group. Who we are? We are a bunch of enthusiastic people who got together to play the music that we like. The core of the band is Stephane (the lead guitarist and composer of everything that is music in the band) and myself (writing lyrics, vocal lines and singing).
Originally, we were playing with two other members, who then left the band because they had other engagements or other personal projects that they wanted to pursue, so we hired two more people. Now we have Matt, who joined us two years ago on the second guitar; Sieg on drums, who joined in 2009; and just recently, in 2011, we also incorporated a fifth member, who on stage is doing everything that is connected to sampling. So he's launching the sampling and taking care of the special sound and light effects, and he is called Machine Man.
We all like rock and metal, but I also like some pop stuff, I have to admit. So we have very different influences, and probably you can hear that in the different songs that we have composed so far.
Robin: So, what's a nice gal from the coast of Italy doing in land-locked Switzerland anyway?
Anna: I have no clue! (laughs) No, you know, I think nothing happens by accident in life, even if in the beginning it did look like an accident, me coming to Switzerland. Nothing in my life seemed to indicate that I would EVER live in Switzerland one day, but it actually happened. After I finished university, my dream was to move to the US. I wanted to move to the West Coast (somewhere between Seattle and Los Angeles), and at that time, I studied English and Spanish at university, so I was all set with all the needed skills to be successful in that part of your country.
Then I started sending out applications, and it turned out that they hired me from Switzerland, and I decided to join that company that hired me many years ago -- 12 years ago -- because it was an American company, and I thought: "Okay, if I have to transit through Switzerland before moving to the US, that's what I'm going to do." At the end of the day, I stayed because it's really a great country! I like it a lot.
Robin: November-7 has taken an interesting path, in that you had two EPs, a live album and a live DVD before ultimately releasing your first full-length album, Season 3. Was that a deliberate choice, or is that just the way the road led you?
Anna: Well, in the beginning, the idea of releasing two EPs was because we tried to start with a small project, and we wanted to record the songs we already had composed. We didn't want to wait to have 12 or 11 songs before having something concrete in our hands, so we decided to have one EP out and then the second one.
Once we actually had a lot of songs and we might have decided to record an album, we realized that it was quite difficult for the bookers to book a group that they didn't know. So we thought: "Maybe if we record a live DVD and a live CD, they will get a better idea about how we are like on stage." We would probably have more opportunities to play, because that's what we wanted to do to begin with. That's actually also right now the main interest for us in being in a band.
We like to be in a studio, but I guess for all groups, being on stage is really that special thrill that gets you going. So that's why we recorded this live CD and DVD. Then at the end of this looooong path, I would say, "Now we are ready!" The two EPs and the live CD+DVD were excellent tests for us in terms of mix, production, etc. Through them, we gained a lot of experience. So when we started to work on Season 3 also, at a music level, we were ready to really put together all the songs that we wrote so far and to produce an album.
Robin: Listening to your earlier work versus Season 3, there definitely is a harder, meatier edge to your sound now. Why?
Anna: I guess it was a natural evolution. If you also listen to the live DVD and CD that we have recorded, it's quite far from the quality that we can provide today when we are on stage. That's great, because it means that the group has evolved! As far as the music and this harder aspect that you mentioned, I guess that comes also with the confidence that you start building as you write.
It also comes from the fact that, when we produced the album, we invested a lot of time searching for the sounds that we wanted and -- cherry on the pie -- we contacted the producer of Rammstein to ask him to mix our songs, and he's really done an outstanding job! In the beginning we sent to Stefan Glaumann just a couple of songs, because we wanted to give it a try.
When we listened to the first song he mixed, we were speechless … it was just (gasps) "OMG, these are our songs!" It was incredible because we have a lot of tracks in our songs -- samplings, guitars, bass, and the guitars are recorded on different tracks with the re-amp technique and stuff like that -- so we really have a lot of tracks. We really had the impression, when we listened to this first song that Stefan Glaumann mixed, we could hear every all the small details, and all the small details could just blend together in such a consistent piece of work that we didn't have before.
In the previous mixes, it was always: "The bass is too weak, or the guitars are not strong enough, or the drums are bizarre." But you don't really know what you have to do [to fix it]. What really makes the difference, in terms also of the harder edge that we now have, is also the mixing engineer, who really made a huge and great job!
Robin: Yay, Stefan!
Anna: Yeah, another one! He's the third one of the band. (laughs)
Robin: Is Stefan/Stephane the only dude name in Switzerland?
Anna: (laughs) I don't know. Stefan Glaumann is from Sweden, but maybe he has a Swiss ancestor or something like that.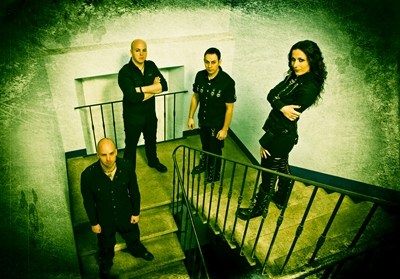 Robin: I understand that you originally wrote stories and poetry. Are there songs on Season 3 that started their lives as poems that were not intended to be song lyrics?
Anna: Absolutely! "Amber Light" is one good example because the whole … argh, what do you call it? It's not the chorus, but the … aaaah, sometimes I miss the words! If it's not a chorus, it's a …?
Robin: Verse?
Anna: Yeah, that's it! So, the whole first verse of "Amber Light" is actually a copy-paste of … I don't want to call it a poem, because it sounds really pretentious. I haven't been writing poems all my life, but I've always kept a diary where I would write random sentences or groups of sentences. I never really had the pretension of saying "I write poems"; it was just thoughts I would write down. Instead of writing down what happened to me every day, I tried to sort of translate it into "what does it make me think of?" or "how does this make me feel?" So I tried to transpose what happened into thoughts or emotions that I would get.
Very often I'm the first one who is surprised by the association of thoughts that an event or a word trigger in my mind … "Amber Light" is a good example, but there are also some other sentences (for example) from "Angel" and "Untie Your Hands." Well, "Untie Your Hands" is much more recent. But, in many songs, there are words or combinations of words or entire sentences that really come from my writings sometimes from far away in the past.
Robin: What was it that you were capturing when you first jotted down the thoughts or emotions that became "Amber Light"?
Anna: It's something very personal, but I've always been somebody who is really focused on the future. In general, I am a very optimistic person and always think that tomorrow is going to be better. But I always have this sort of melancholy that is taking me, because I think that what is passed, will never come back. Probably, this is the type of feeling that I tried to capture in my everyday notes. It's like a sort of sadness that I tried to express because the day was past, and that day would never come back. So, even if it had been a very sad day, something had happened that would never come back. And that is, for me, really the essence of melancholy in itself. So that's the main thing that I was trying to capture, I think.
Robin: The two extremes of the album are probably my favorite tracks on Season 3 -- "Amber Light", which is one of the softest ones, and then "World in Agony", which is on the other end of the spectrum. Would you tell us a bit about that song?
Anna: "World in Agony"?
Robin: Yes, please.
Anna: "World in Agony" was a song that doesn't come from the past at all. I think that Stephane composed the music maybe in a couple of hours or one day, or something like that. The lyrics also came very easily, so it was probably overall a two-day work to write the first draft. As far as the lyrics are concerned, it's a song that is about the state of our planet.
I am a person who is really interested in alternative energies and in maybe not wasting every object that we have. I'm not somebody who buys a lot of stuff. So it's a whole theme that is important to me: the state of the planet. Of course, if we look around, we can see for example what happens to our climate today, to the weather. We understand that it's kind of crazy.
I don't know what happens in the US now, but here in in Europe, we have moved from 30 degrees to now 80 degrees, and today is 20. So it's a little bit bizarre. Again, I'm an optimistic person, so I don't want to say that there is no hope. But I really think that there should be a radical change in the way human beings think and behave. To me, this is something that is really important and is something that I try to practice every day, even if I'm aware that I am a polluter, but I try to be as conscious as possible in small things.
The fact that our world gives signs of agony is for me really sad, especially for animals. They are the first victims of the agony of our world -- the polar bears that don't have any more ice and all the species that we destroyed with our irresponsible behavior. So that's what "World in Agony" is about. Man did a lot of bad things to the planet but man also did a lot of good things in terms of progress and discovery, and this is something that I recognize. So I truly believe that there's hope!
Robin: Speaking animals, November-7 did shows last year as part of the Shares for Bears Tour, which I'd love to hear more about. Would you like some of our bears? I live near Canada, and we have plenty of bears to share.
Anna: (laughs) Well, I can tell you that my garden is already very crowded. I have five random cats that came to the right address one day, and I'm taking care of them, feeding them, and taking them to the vet. I also have four or five hedgehogs that are in my garden as well. One of them is called Iggy, because of Iggy Pop and also because "Igel" is German for hedgehog. So, if you want to send a bear, I think I can find some space for him or her as well. No problem!
Robin: November-7 have been working on new material, and are taking a little different approach this time. Instead of going into the studio and recording an entire album in two or three weeks, you have (for example) recorded the drums for four tracks, with the guitars and other instruments to be recorded later. Why did you decide on this approach?
Anna: I think that one of the things that we learned with the recording of Season 3 is that, first of all, we have found the right mixing engineer for us. So, the first decision that we took is to continue working with Stefan Glaumann, no matter what. The second decision was that, at the end of the recordings after (I think) one week for the vocals and four days for drums and maybe one week for guitars and bass, we were completely WRECKED.
We didn't remember our names anymore. There was a huge wine festival in town, and I remember walking as a zombie in the noisy crowd … I felt like I was walking on foam or something… So a lot of stress and at the end of the recording it was difficult for us to have that kind of detachment or objectivity that you should have to make the final choices. We are very happy with the result of Season 3, but we think that we can come to the same result … or even to a better result, because the goal is always to improve ourselves … working in a more (I would say) rational way. Now we can do that, because we have a stable line-up and we already know how to proceed and who we want to work with.
We have all the songs that are ready for the next album. But as you said, only on four of them have we recorded the drums. So we want to take it one step at a time. We want to practice the songs (for example) in our rehearsals before we actually record them. We have already started to integrate some new songs in our sets now. And we want to take the time to work on the different sounds.
Robin: November-7 have some exciting live shows coming up, including a slot right before Marilyn Manson, a tour with quite a number of European dates confirmed, and of course my favorite festival ever, Metal Female Voices Fest! Please tell us about your upcoming plans.
Anna: Right now, we are working really hard to make a good impression because we are going to open for Marilyn Manson, so that is going to be a venue where a lot of people are going to be there. It's going to be in our city [Neuchâtel, Switzerland], so people know us and are sort of going to say: "Hmmm, I wonder what they are going to do this time?" Because it is really something big. We have opened for other big bands, such as Within Temptation and Lacuna Coil, but Marilyn Manson is something huge, so we are really excited about that!
Right now, we are working on the new songs that we have integrated into the set, and we are working on the old songs to have an even better interpretation and stage presence and maybe also play them in a different way or jumping around. We try to add something to the sets that we have not done so far.
Then, we are also getting ready from an administrative point of view, and it's actually a complete nightmare because we are realizing all the red-tape we have to go through to export and re-import again our material. That's the not funny part, so I don't want to talk about that. (all laugh)
Robin: What countries have you confirmed for November-7's upcoming European tour?
Anna: We have the UK with five dates that have been confirmed. Then we have Germany with one gig so far, Holland with two gigs, Austria and Belgium with one.
Robin: And, of course, Metal Female Voices Fest!
Anna: Yeah, that's the one gig in Belgium that I was talking about. That is also a very huge thing because all the greatest female metal bands are going to be there. We're going to meet up again with Lacuna Coil, and we had really a GREAT contact with them last time we played before their performance. So we are really looking forward to that! Phil [the festival organizer], I met him last year because I went as a guest to his festival, and he is really a great person. So I also look forward to meeting up with him again.
Robin: Late last year, November-7 did a showcase in Seattle. What was that about, and might we get another chance to see November-7 here in the US?
Anna: (laughs) I hope you will get A LOT of chances to see us live in the US. I don't know when, but I really hope it is going to happen sooner or later and will include more than one date, as we did at the end of last year. So, the showcase of last year was a gig that basically we found through my contacts: I've lived in Seattle for one year of my life, some years ago in the mid-90s … 1995, I think …
So the opportunity came up, and I said: "Hey, let's do it!" And it was actually a very good show. It was in a pub ... and the local PR person invited people from the radio and the press, so we were really received in an excellent way.
For me, there was no doubt about that because I know Seattlites, and they are really great and friendly and enthusiastic about European bands. But for the other members of the band, it was quite a surprise. Actually we played there in a reduced formation: just Stephane, Machine Man and myself. The rest of the instruments was in playback. We had never tried this before so it was also the opportunity for us to try something new. In that setting, a reduced formation worked out very well! But next time we need to come with all the other November-7 members!!
Robin: We would certainly welcome November-7 back! I have heard that, although the band's name does not refer to a date, 7 is your favorite number, and there are a lot of positive events connected with that number. What is one of your best "number 7" experiences?
Anna: I have a lot of them! For example, concerts. I remember that the first concert that I saw of one of my favorite bands … and, again, I'm talking about the '90s … it was on the 7th of March of maybe 1993. Then, I also received a very good news on a 7th of December. The good news was that I could go for six months to Spain for a scholarship. Then, what else? There were a lot of minor events linked to a person who I wanted to contact and hadn't contacted for a long time. Then it turned out this person sent me an email on the 7th of a certain month, or the 17th. I also have 17 as a lucky number. Then when I moved out from my parents' I had a small apartment at no.7 of a busy street in Bologna… Gosh, I have to write all of this down one day…
All of these "coincidences" that actually are not accidents … because I do not believe in accidents in life … I thought that I wanted to sort of honor them. Okay, the number 7 has given me so much, so now I'm giving it back something in return. So it's a sort of honor that I wanted to pay to the number 7.

Robin: We have about reached the end of our time together. Addressing Sonic Cathedral readers directly, what would you like to tell them?
Anna: Hey your readers!! What a great community Sonic Cathedral is!! No wonder we -- because I am a reader too -- like to spend time surfing it! You rock, and we'll always roll for you!
I would also like to say that it's great that Sonic Cathedral exists and you always have reviews and interviews about great bands, whether new bands, unknown bands or very known bands. I have the impression that it brings together all these different groups in a big family. For me, that is what music is about, especially metal.
We were talking in the beginning of our discussion, before you started recording, that sometimes people have some prejudices about metal music. But to me, metal music is really an environment where people are really honest and peaceful and are doing something because it makes them feel ALIVE. I don't know well the other music environments, at least as an artist, so I cannot really make a comparison, but I know that I am exactly where I'd like to be. And it's great to know that Sonic Cathedral is bringing together all these passionate people under the same umbrella. So thank you, guys, for being there. It was my honor for giving you this interview today.
Robin: Thank you so much for talking with us today, Anna! We wish you great success on November-7's upcoming shows and album. We'll see you at Metal Female Voices Fest in October!
Anna: You bet!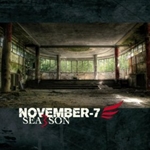 Photo credit: Stephane Berginz
Sonic Cathedral's review of Season 3
http://www.youtube.com/watch?v=zdUKQ41YQVk
http://www.youtube.com/watch?v=moE6kc-PrKM
Band official site
Band Facebook
Band ReverbNation