Sara Letourneau & bassist / singer Ida Haukland
Performed in April 2012 via phone
It's been two years since Triosphere released their second album, The Road Less Travelled. Judging from the record's universal critical acclaim as well as the touring slots with Kamelot, Sonata Arctica, and Crimson Glory, those two years have been unforgettable for the Norwegian quartet. Fans may not be surprised, though. The Road Less Travelled is (in my opinion, as well as many others) one of the most stellar female-fronted albums of recent times. It's an example of excellent songwriting, musicianship, and overall sound quality made even more awesome by Triosphere's signature sound: classic, melodic heavy metal with progressive twists and the towering voice of bassist Ida Haukland. I'd give more reasons for why it's so good, but my review of The Road Less Travelled takes care of that.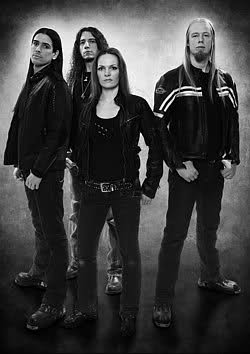 Now in 2012, Triosphere is wrapping up promotions for The Road Less Travelled with a new music video. The band is also looking toward the future: They're currently writing songs for their third album. In an exclusive phone interview for Sonic Cathedral, Ida Haukland gave us the inside scoop on both events, as well as a glimpse into the band's creative process and hopes for the future. We admit there aren't many spoilers, but just enough to satisfy your curiosity. So, be one of the first to learn what to expect for Triosphere's next album!
Sara: Hello, Ida! Thank you for talking to Sonic Cathedral today to give us an update on Triosphere!
Ida: Well, thank you for having an interest in talking to us! The pleasure is ours.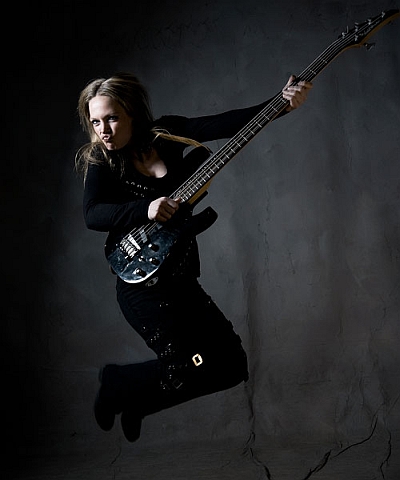 Sara: Before we talk about the upcoming video and the next album, let's discuss The Road Less Travelled for a few minutes. It's been out for almost two years now, correct?
Ida: Yes, it was released more or less two years ago, at the end of May in 2010. Our main focus since then has been promoting it with live concerts. After all, that's why we're making music. We like to play live! (laughs) If it was possible, we would have toured all year long! We did a few concerts in Norway in the summer of 2010 and throughout the fall. Then in the spring of 2011, we did two European tours. The first one was with Sonata Arctica, and that was a really awesome tour! We played in several countries that we never had the pleasure of playing in before, for instance England and Scotland. In general, it was just a really, really great tour that was well organized and with excellent people, both musicians and crew! We got to spread the word about ourselves and our music and the new album in a very efficient way, you might say.
Then, just a few weeks after the tour with Sonata Arctica, we went on a new European tour with American hard rock / heavy metal legends – in my book, at least – Crimson Glory. That was also a fantastic tour! I've always been such a huge fan of Crimson Glory, and they're just some of the nicest people we've ever met! I'm not sure if you've heard of them yourself?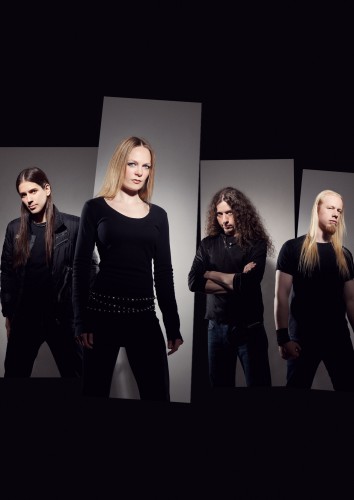 Sara: Not too much. I do know that one of their former singers sang with another female-fronted band I listen to. So I've heard of Crimson Glory, but never really listened to them.
Ida: OK! Some of their albums are just pure magic! After their original singer passed away a few years ago, they've found this new absolutely amazing singer called Todd La Torre, and suddenly we heard rumors that they were planning to come play in Europe for the first time in a very, very long time! We were really happy to land the support slot for that tour, to say the least!
After we had finished the spring's touring, we also did some festivals in the summer of 2011. We had the great pleasure of playing in Poland for the first time. However, the most grand event was playing at Wacken Open Air in Germany, which is Europe's biggest heavy metal festival. That was a mind-blowing experience! It's one of the absolute biggest metal festivals you can do in Europe, with close to 81,000 metalheads attending. So yeah, we've basically been busy promoting the album with shows and of course on the Internet, and absolutely working on new material.
Sara: Another festival you played at last year was Metal Female Voices Fest in October. How was that?
Ida: That was also a really great experience. Not too many people in Norway know about that festival, but obviously we did. (laughs) Since we are a female-fronted band. We were very happy to get the invitation to play there. And it was a really great experience: great crew, very well-arranged festival, very good audience, and very nice musicians and people we met down there. And fantastic lights! The lighting techs did a fantastic job, I have to say. Really something out of the ordinary. So, yes, a great experience!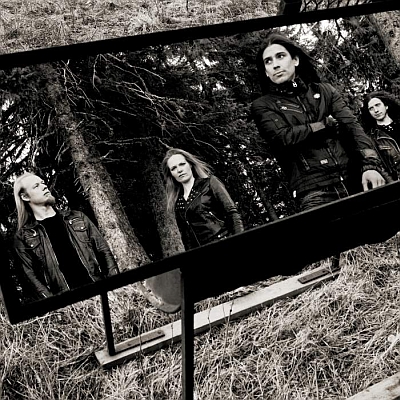 Sara: You've received a lot of critical acclaim for The Road Less Travelled since its release. I don't think I've read a single bad review of the album.
Ida: Yeah! It's been overwhelming. It really has. We were very happy with the reviews we got for our debut album. And of course, we hoped to get similar good reviews for the second album. But they blew our expectations! [The response] has been so good that we're starting to get nervous about the third album! (laughs) We can only hope that our third album will receive the same kind of response – or better. I'm actually speechless sometimes when I read some of the reviews [for The Road Less Travelled].
Sara: What I personally like about The Road Less Travelled is not only the band's overall performance and the songwriting, but the combination of heavy metal with the right amount of atmosphere and also a lot of emotion. Was it an emotional album for Triosphere to make?
Ida: I wouldn't say we were going through a period that was especially emotional in that way. But we were very…
Sara: Inspired?
Ida: Yeah, we were very focused. When we recorded our first album Onwards, we had only played together for a short time, and the album was produced fairly quickly. So when we started working on the second album, we had had more time to grow together as a band. We knew each other's strengths and weaknesses, and we had developed a much better approach to working together. So we were more focused during the writing period, and we had more of a plan on what we wanted [The Road Less Travelled] to be. I was working a lot more with the lyrics and the vocal melodies. And we wanted to capture more emotion absolutely, and more atmosphere. That was another thing. When we wrote and recorded the first album, we were perhaps more focused on technique than the soul of some of the songs. So we decided to take a different approach to the songwriting and recording sessions on the second one that naturally became a more mature approach. So, more emotional… Yes, because we wanted to capture the emotion in the music. And thank you so much for noticing that. It's really great to hear!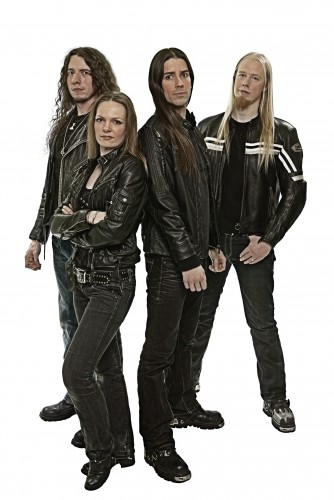 Sara: You're welcome! One other thing that I liked about The Road Less Travelled was its theme based on the title. I know it wasn't a concept album, but there was a main theme that appeared throughout the album: the idea of following your heart or vision, even if the journey might be challenging. You've already discussed this theme in numerous interviews, so let me ask a different question: How do you think the idea of "The Road Less Travelled" applies to you and your own life?
Ida: Ah! (laughs) I think it's difficult to write lyrics without having a trace of yourself and your life in them. I always have some part in the story in the lyrics in some way. For me, I've always lived by the rule that if there's a will, there's a way. You just have to believe and be persistent. The lyrics are also about utilizing all of the opportunities that come your way – or at least make some kind of evaluation whether it's something you should grab or just let go. I've always been very aware of all of the possibilities and opportunities that are around me, and I try to make the most out of them. I think that's what "the road less travelled" means to me: Take charge! (laughs)
Sara: One reason why we're talking today is that Triosphere is about to release a new music video. Can you tell us which song it's for?
Ida: I was thinking about that earlier today. I would love to tell you – but we promised our label [AFM Records] that we wouldn't make the song name official until the video's released. It's been a little delayed due to some endless adjusting of details. So, according to the original schedule, it should have been official by now. But since it's not, it still has to remain a surprise.
[Editor's Note: After this interview occurred, the video for "Marionette" premiered on May 15th… Click here to watch it!]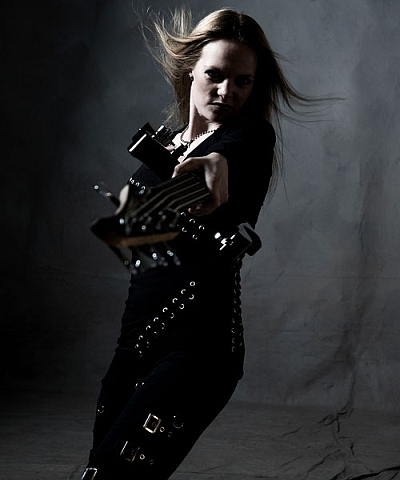 Sara: (laughs) That's OK!
Ida: We think the choice for the video is a song that perhaps people won't expect us to do a video of. And we're very happy with the way it came out. It's not a spectacular video, but we think we've managed to, like you had mentioned earlier, capture the emotion and the atmosphere of the song. So stay tuned, it's going to be made official very soon.
Sara: That was one of my next questions: When is it coming out?
Ida: Let's see. Today is Friday the 24th [of April]. It should be out by this time next week or the beginning of the week after that. And hopefully it's going to be spread out everywhere.
Sara: Could you tell us anything about the concept of the video?
Ida: I can tell you that much, yes! (laughs) Our focus was to capture the atmosphere of the song. We haven't used a specific storyboard or green-screen effects or anything like that, but it's a kind of performance video. We wanted to make a clean, tasteful video that delivered something real, and we believe we managed exactly that with the help of a very good video production company here in our hometown of Trondheim called Gammaglimt Productions.
Sara: I think I have an idea which song it is – but I'm not going to guess! I'll wait and find out with everyone else.
Ida: I hope you won't be disappointed! (laughs)
Sara: (laughs) I'll look forward to it no matter which song it's for.
Ida: That's great! Good to hear. (laughs)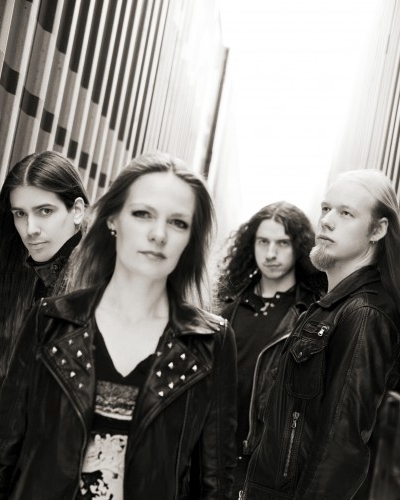 Sara: The other reason for our chat today is the next Triosphere album. I know that the band is in the middle of writing new songs. How is that coming along? How many songs do you have so far?
Ida: We have two-thirds of the album ready. I haven't made that many vocal lines yet. But in terms of the music, the arrangements, and the riffs, we're more than two-thirds done. So we have much of the album done already. Of course, there is a large amount of details that are yet to be made and decided on. I'm not quite sure of what the expression is in English, but in Norwegian we say "the skeleton of the song is done." If you understand what I mean. (laughs)
Sara: Yes, I do.
Ida: Yeah, the basic ideas. I think it's sounding very cool. Right now, it appears to have more bite to it than many of the songs from The Road Less Travelled. The focus still is and probably always will be on big melodies and big choruses – to maintain the Triosphere style.
Sara: You actually just started answering my next question: How are the new songs different from those on The Road Less Travelled?
Ida: There are a lot more details that I know are going to be worked into the songs before we're done. We're going to add some strings. There are going to be more melodies and choirs and such, but I think the overall sound of the new album might have a bit more bite and more edge than The Road Less Travelled. It's definitely going to sound like Triosphere, nevertheless.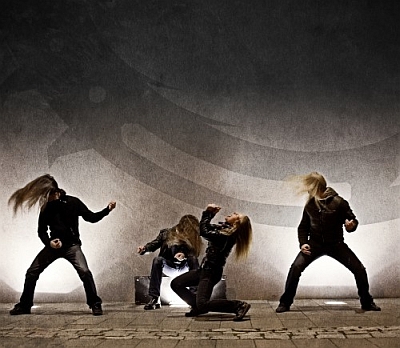 Sara: How does Triosphere write songs? Does one member in particular take the lead? Does everybody work on them together? Or, does it happen in different ways? How does the magic happen?
Ida: (laughs) Thank you using that kind of word to describe it! Marius [Silver Bergesen], the lead guitarist – and the so-called "leader of the pack" – he's really productive, and he always makes extremely good stuff. So it's basically him who comes up with the riffs, and works on his Mac with putting together the arrangements, what he thinks will work, and presents it at rehearsals. And then we work on the songs, and things get more or less altered along the way. Ørjan [Aare Jørgensen], the drummer, works on his things, and I write all of the vocal lines and the lyrics. So Marius has the overall vision and ideas. But of course, we work together on everything and come up with the end result in union, you might say.
Sara: Any idea when you might enter the studio to start officially recording the new album?
Ida: Well, when January came, we thought that entering the studio probably wouldn't happen until the end of the year. But then suddenly things happened very fast. We got together and rehearsed a lot of songs in a short period. I would really like [the recordings] to happen towards the end of summer or sometime in early fall, so I think we'll really try to make it happen around that time. Like I've already mentioned, even though we have the basic ideas for the songs, there are a lot more details that have to be planned, so we still have quite a bit of work left.
Sara: So is it safe to say right now that we can expect a new Triosphere album in 2013?
Ida: Oh, yes! Absolutely. We'd actually like to have it out this year. If it's doable. (laughs) If we really try. Of course, the thing is, when we deliver the master copy of the album to the record company, it takes a few months before it's out on [record store] shelves. Everything takes time. (laughs)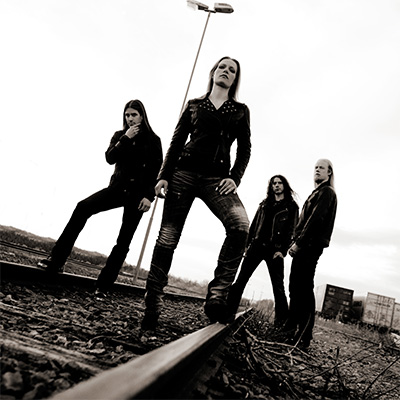 Sara: In addition to singing, you also play the bass in Triosphere. What drove you to try and play the bass instead of the guitar or another instrument?
Ida: Well, I did start playing guitars. So it was the other way around, you might say. I played the guitar in an all-girls band when I was 16 and did some backing vocals. And we rehearsed in a big cellar, a basement where also other bands rehearsed. One of the neighboring bands was a heavy metal band, and they needed a bass player. So one of the guys there came over and asked, "OK, you play guitar. Can you play the bass?" I said, "Sure! I'll try to play the bass. No problem!"
(both laugh)
Ida: So suddenly I became the bass player of that band, and I was doing double duty [with both bands] for a while until I moved from my hometown in northern Norway down to Trondheim, where I met Marius. So when we formed Triosphere, he naturally took the position as the guitarist, and I as the bassist. So I can play both, but I'm a better bass player than guitarist. (laughs)
Sara: I've seen a couple live videos of Triosphere, since I live in the U.S. and haven't had a chance to see one of your shows yet.
Ida: Hopefully we can do something about that this year or next year! (laughs)
Sara: (laughs) We'll talk about that in a little bit. But, is it difficult to play the bass and sing at the same time? Because when I watch those videos, I can see your fingers moving quickly, and I think, "Wow! How does she do it?" (laughs)
Ida: (laughs) Well, thank you! As I had said, I started as a guitarist and did backing vocals. So, in a way, I always sang and played an instrument at the same time. It's been natural for me, always. I actually feel naked without an instrument when I sing. (laughs) I'm used to it. But of course, when we make a new song and especially if it has difficult parts, I need a little time to adjust the rhythmic patterns that I'm doing on the bass with the phrases in the vocals. Because sometimes they're quite different. (laughs) What happens with the bass and the voice. But I've always been used to doing two things at the same time, and I imagine I draw some strength out of it. It's a bit difficult to explain, but for me I think it helps me more than hurts.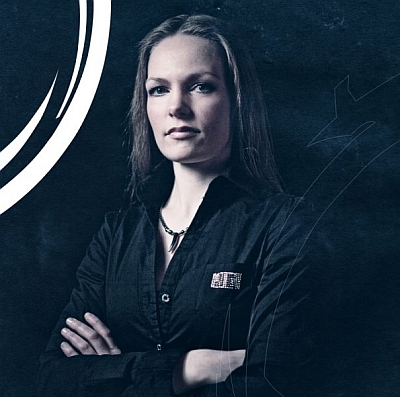 Sara: People sometimes have a perception of what female-fronted bands sound like. Normally, when they hear a band is female-fronted, they'll think it's a gothic metal band or a symphonic metal band. Triosphere is not either kind at all. So when you play in front of a new audience and people are hearing you for the first time, are some people blown away because they're completely surprised by your sound?
Ida: We certainly have gotten that kind of feedback at concerts. That's always really awesome to hear. And I'd like to say that that happens without exception, but that's not completely true. I know that – at least in the beginning, before anyone in Norway knew who we were – there were sometimes people in the audience who didn't bother to stay and listen when they saw a girl like yours truly enter the stage. And even worse, if a girl was going to play the bass in addition [to singing]. (laughs) But thankfully, we've worked up the reputation of being a good live band without any focus on being female-fronted, and we have only been directly approached by people who say that they get very pleasantly surprised [by our music]. I think that's really cool.
Sara: So for 2012, Triosphere will continue working on new songs and start recordings for the new album. Any other plans? I took a look at your tour schedule and saw what looks like a festival date. Any more live dates coming soon?
Ida: Yes. We're definitely trying to find a new European tour. And of course, I said before that we'd really like to come over and play in the United States. But that's a really big financial challenge, to get to the U.S. and play there. We haven't managed to find a financial arrangement that works yet and make it happen. But we definitely want to see if we can do that sometime this year and also tour Europe. And do a lot more concerts in Norway, at least. Last year, out of the 40 gigs we did, only two were in Norway. It's actually a bit difficult for a more melodic heavy metal band to go out and play in Norway. There is definitely an audience for our genre, but nothing compared to the rest of Europe. I think it might have been easier if we played extreme metal. (laughs) But we're definitely going to have a much bigger focus on playing live from the summer on, both in Norway and abroad.
Sara: You know a good U.S. festival that I think Triosphere would fit very well on? ProgPower USA.
Ida: Oh, yeah! We'd love to go and play there! (laughs) The thing is, from what I understand, a part of the reason why bands are picked for ProgPower USA is because people talk a lot about them at the ProgPower online forums. Not too many know about us yet. I think we've been mentioned by some at the forums, but there has to be a bit more buzz about us before we eventually get an invitation, I think. But we're always checking out the possibility of playing there, because it's absolutely somewhere we'd like to go. Our friends in Pagan's Mind and Jorn, we've heard all about it from them. So we definitely hope we can go there soon. Maybe write this down for your readers: "Go to the [ProgPower] forum and ask them to have Triosphere play!" (laughs)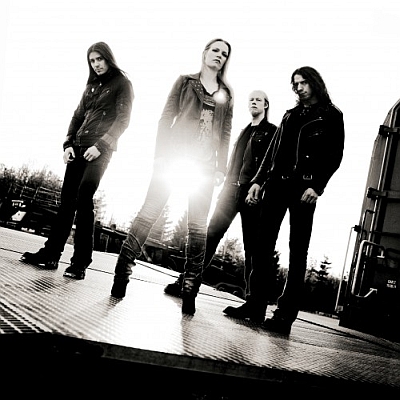 Sara: (laughs) Well, sometimes the organizers can surprise the fans. I know that Above Symmetry recently cancelled their appearance at this year's show, and they were replaced by a brand new band called Beyond The Bridge, who have put out one of the best albums of 2012. It's a mind-blowing record. So, you never know if ProgPower is keeping an eye on you.
Ida: Exactly! I'm hoping, absolutely. We're doing the best we can to convince them that it's not a bad idea to have us over. So we'll keep our fingers crossed absolutely.
Sara: We've reached the end of the interview, Ida. Is there anything you'd like to say to your fans and to our readers at Sonic Cathedral?
Ida: Well, first of all, thank you very much for the interview. It was really great to actually talk to you. And to the readers, we do hope that it won't be long before we can come over to the U.S. and hopefully see many of you at our concerts. And keep an eye out for the new video, the new material and any news about all that on our official webpage and Facebook page. It's going to come quite soon, hopefully. We're definitely going to do our best to satisfy everyone who's waiting for the new album. And yeah, we just really hope to see as many of you at our next concerts and on the road.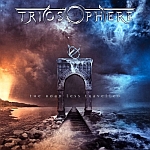 Many thanks to Ida Haukland for taking the time to call us for the interview! Make sure you check out Triosphere online at the following locations:
Official Website
Facebook
Myspace
ReverbNation
Twitter
YouTube
LastFM