Having released their debut album in 2008, Finnish symphonic metallers, Amberian Dawn, are still relative newcomers in the metal scene. But, my oh my, have they been busy! (Four full-length albums, three European tours, festival appearances, and their entire discography available on Rock Band … it's exhausting just to think of the band's whirlwind schedule.) Lucky fans in Europe can already buy Amberian Dawn's newest album, Circus Black, while North American fans will have to be patient a little longer.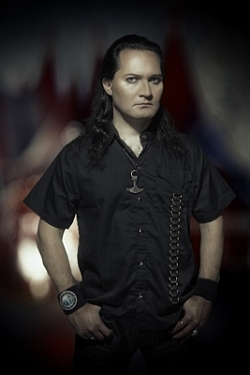 Sonic Cathedral's Robin Stryker chatted with founder/composer Tuomas Seppälä about the making of Circus Black, his cranial radio station, flaming trousers, and much more. Dive in for all the details!
Robin: Hello Tuomas, and thank you for joining Sonic Cathedral this morning to talk about Amberian Dawn's fourth studio album, the soon-to-be released Circus Black. You have describe this album as being the "most massive and symphonic" Amberian Dawn album to date. What makes it so?
Tuomas: This new album has the biggest production so far. We have put so much effort on the recording phase, and we have used (for example) real choirs. So the production is our biggest so far. Also, the style of music is very symphonic, which it hasn't been on our previous albums. This new album represents maybe a little different side of AD. When I was composing those songs, I didn't have any specific goals on my mind. I just wrote something that I felt was "right" at that moment. I was just feeling maybe a little symphonic when I was writing those new songs.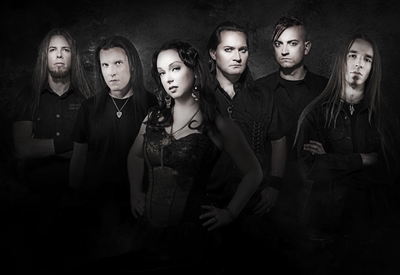 Robin: The Amberian Dawn albums, despite being rather complex works, have been released nearly every year since the band started. How do you manage to be so prolific? Do you just constantly have songs going through your mind?
Tuomas: Yes, I have a personal radio station inside my head! (all laugh) It's very natural for me because I've been playing music since I was 4 or something, and I started to play piano at the age of 5. I've been composing music since about the age of 13, so it's very natural for me to compose music. When I'm driving my car for example, I may realize that I'm thinking about a new song. I might compose many songs during my driving, but usually when I come to my home or something, I have forgotten all those ideas.
Usually it happens that, when I get these musical ideas, I often forget those and then the best ideas keep up coming back again later. For example, if I am playing my guitar or keyboards and I get some idea that I think, "yes, that's a very great chorus part" but I don't record it right away, I might forget it. But then after maybe a week or even a month have passed by, the same theme might come on my mind again, but this time it has varied a little. Maybe it is some kind of a brainstorming inside my brain going on, so those musical ideas keep evolving somehow inside my head. And when I'm ready to record that stuff, I'll produce a pre-production of those songs at my home studio. So, composing music is a continuing process for me, and I do it all the time. Maybe that is the reason we've been so productive and released 4 albums in 4 years.
Robin: The Circus Black album has some exciting guest musicians on it! Would you tell us about those collaborations?
Tuomas: Okay, first of all, we have Jens Johansson [of Stratovarius] on board. I met the guy a couple of years ago here in Finland, and I think we are a kind of friends nowadays. We have the same kind of natures … with the same kind of stories to tell and same taste in music ... we are quite the same as persons, I think. I really look up to Jens as a musician. He is a REALLY talented keyboard player, and I was really happy to hear that Jens also likes my playing and the music of Amberian Dawn.
That's why I asked Jens to record something on our End of Eden album, and he recorded two solos. When we were starting with this new album (Circus Black), I was once again in contact with Jens and asked him if he would like to do it again, and he agreed. I think that in the future we are going to hear more of Jens's playing on our albums.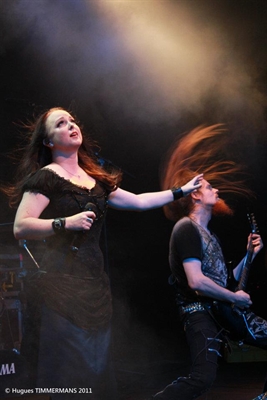 Robin: Did you and Jens get to do any keyboard duels on the new album, like you did on End of Eden?
Tuomas: No, unfortunately not. There were not suitable slots for that because, when the recording phase starts, the structure of the song is already completed, and we record the drum parts first. It's real hard to make any changes after drums are recorded because they are the base structure for everything else. Usually, there are one or two solo slots on every song. But this time, there was no natural place for this keyboard duel part. I usually work in a way that everything must be natural for me ... I don't like to force things. For example, I would definitely WANT to do another keyboard solo battle with Jens, but if there is not a natural slot for that, then I don't plan to do it.
Robin: Would you tell us about the guest vocalists on Circus Black?
Tuomas: Yes, we also had some guest vocalists, like Timo Kotipelto of Stratovarius, Nils Nordling and Tuomas Nieminen. About Timo, it went that when we were recording the pre-production of "Cold Kiss," Heidi came to my home studio to record the vocal parts, but we soon realized that the song needed a male voice to support Heidi's singing. So far, we had used Peter James Goodman a lot on our previous albums. So Peter came to my home studio, and he sang those male vocal lines, and it was good (like always). Peter is always such a great singer!
But Peter cannot sing such high notes that were necessary, so I needed some other singer who could sing those high notes. That's why we started to look for another singer, and our manager Jörg Michael (who also used to play in Stratovarius as a drummer) gave me a hint that maybe Timo would be suitable. That's how I contacted Timo, and he was happy to be part of this album.
Robin: "Cold Kiss" is the first music video from your new album. Where is the music video in the process of being released?
Tuomas: The video is supposed to be ready at the end of this month, so at this point it should almost be ready. We have already recorded the band parts. We were in a Finnish venue called Nosturi, which is a quite nice-looking venue in Helsinki, and we shot the band-playing parts there. I think tomorrow the production team is going to shoot the parts with the actors.
There are five or six actors appearing in this video, so the video isn't "just" about the band playing. There is also a story behind it, and that's why those actors are appearing on this video. They are shooting these acting parts tomorrow, and after that, we have maybe 10 days or something for the production team to do the last editing parts. Also Timo Kotipelto is making an appearance on this video.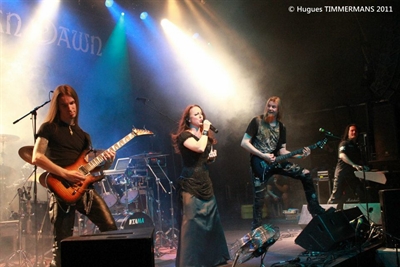 Robin: Would it spoil the surprise if you told us what the story is of "Cold Kiss"?
Tuomas: I think I'm not the best person to make any comments about any lyrics, because our singer Heidi writes all the lyrics. But I know that the story of "Cold Kiss"is actually a vampire story. It's surprising, but if you're thinking of those lyrics, it's in fact quite obvious. It's a vampire story.
Robin: That's going to be a fun video, then!
Tuomas: Yeah, I'm very much forward to it because we put so much effort in the production of the album and this video too. We got some really talented guys to take part in that process. There is this guy called Ville Lipiäinen, a Finnish filmmaker who has been working with several big bands and doing stuff for MTV for example, so he is a kind of hot shot. (laughs) I'm expecting only a very awesome video from him!
Robin: Will this be Amberian Dawn's most elaborate music video so far … almost a short movie?
Tuomas: Yes, in a way. It has a clear story for it, so I think it is some kind of mini-movie.
Robin: On all of the previous Amberian Dawn albums, there was at least one track that paid homage to the epic Finnish poem, Kalevala. Does Circus Black also contain references to the Kalevala?
Tuomas: Hmmm, I'm not sure. There might be one reference or something ... I'm not sure. Anyways, there are fewer references to Kalevala than before. Heidi could answer more specifically about the lyric stuff, but she's not available just now.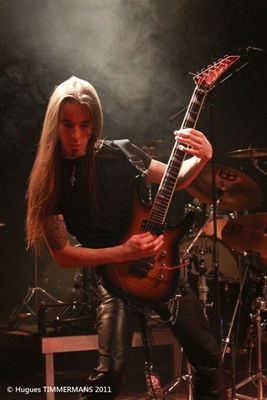 Robin: It was a welcome surprise to read that I is the first Amberian Dawn album where the CD is expected to be released in North America fairly close to the European release dates. Are there any plans for perhaps an Amberian Dawn tour in the US?
Tuomas: Of course it is possible that we will play there. But maybe it takes something extraordinary to happen because, as you know, it's really hard for bands to go to any different country to play music. It takes a lot of money to tour, and (usually) it is record companies that are financing those tours. I'm not sure about the situation with AD. It's all about whether this record label of ours has enough faith for us. And also, it's about the selling amounts of course. It's possible, but I don't think it's going to be happening this year, at least. Maybe later, if we are selling something in the US.
Robin: We certainly hope that a North American tour will happen! Speaking of tours, it looks like Amberian Dawn had a marvelous time on the Out of the Dark Festival tour last fall with Xandria, Serenity, Tristania and Van Canto. What were some of your personal highlights from that tour?
Tuomas: Nothing comes to my mind right away, but it was a different tour compared with our previous tours because we had more bands together on that tour. We had five bands together, which is quite many, so it was harder of course to do everything right there. One of the highlights on this tour was when Heidi burned the trousers of our drummer (our ex-drummer Joonas Pykälä-aho was filling in for our current drummer Heikki Saari), which he used on every gig on the tour. After the last gig, we all were fed up with the smell of those trousers, and that's why Heidi set those trousers on fire after our last gig. Of course, Joonas was force to take those trousers off first!
Robin: (laughs) A few years ago, you decided to hang up your guitar for live shows and play the keyboards. Do you ever miss the energy of being at the edge of the stage with your guitar and able to move around more?
Tuomas: Yes, of course I do. In Amberian Dawn, I play both guitar and keyboards, and I have the freedom to do anything I like. So in the future, if I'm feeling that I would like to play guitar on the stage again, it's possible for me. In fact, I've been thinking about that … maybe in the future, I could play both guitar and keyboards on stage. It's really different to play guitar and keyboards on stage.
I play keyboards in the front of the stage, which is not so usual. Normally, the keyboard player is playing behind the guitarist and bass player. When I was thinking about the possibility to play keyboards on stage, I immediately thought that "why should I position myself into back row?" I think that my place is in the front of people, and that's why I play the front. But like you said, perhaps I miss a little bit playing the guitar on stage, and that's why I probably will do it again later.
Robin: The instrumental track called "Rivalry Between Good and Evil" was actually something that you wrote about 20 years ago as part of a rock opera project. What made you decide to include that track on Circus Black?
Tuomas: This track was originally composed maybe about 15-20 years ago, but it has never been released before on any album. Like I said before, some things that I compose keep on coming on my mind again and again. The same thing happened with this song, so I just wanted to do this song with AD because I had this song going on my personal radio for some time. It is a little bit different song … maybe because it's so old, it has a little bit different feeling on it. The song is heavily influenced by Yngwie Malmsteen's style of playing. Do you know him?
Robin: Oh, yes!
Tuomas: When I was a teenager, I was a big fan of Yngwie Malmsteen, and my music was very influenced by his playing. His playing affected a lot on my playing at that time, and perhaps that's why this song may remind people of Yngwie Malmsteen's songs. It was written during my biggest Malmsteen-fan-years.
Robin: You've previously said that you would like to try playing all the instruments on a track, at least once. Did you perform most of the instruments on "Rivalry Between Good and Evil"?
Tuomas: I just played the guitar parts and the keyboards, but there was still one guitar solo slot for Kasperi Heikkinen. Originally, I was planning to play also drums and bass guitar, but then I decided not to do it because I didn't have enough time to start practicing playing drums again. I haven't been playing drums for 10 years, so I would need time to do some necessary rehearsals first. But I think that every multi-instrumentalist would like to record at least one song on which they are playing all the instruments by themselves. I think it's quite cool! (laughs) It's really challenging of course. Maybe in the future I'll do it, let's see. At least I am really considering about doing it.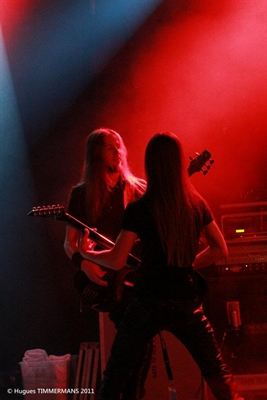 Robin: I was curious about how Amberian Dawn got involved with Rock Band. It appears that you have more songs on the Rock Band Network than any band in any genre, and people love trying to perform your music. How did that video game tie-in start for you?
Tuomas: It started maybe a couple of years ago when we were contacted by some fan of ours who was working somehow related to RockGamer Studios. She asked us whether we were interested to do some co-operation with RockGamer Studios, and we decided to do it. The first two songs we got there were: "River of Tuoni"and "He Sleeps in a Grove."
Those songs sold quite good there, and RockGamer Studios encouraged us to arrange more songs for Rock Band Network. One thing led to another, and now we are in a situation where we are bringing ALL our songs to Rock Band Network. It is a really nice thing because it's something new and different for us too. I don't have my own Rock Band playing console here yet, but I'm planning to get it. (laughs) It would be nice to play my own songs on Rock Band.
Robin: I was going to ask whether you guys ever got together for a video game competition to play Amberian Dawn songs on Rock Band. (laughs)
Tuomas: Yeah, it would be really nice to do ... perhaps someday when we're having a party among all AD members. I would like to get the whole band playing some of those Rock Band songs together, and we could also shoot a video of it. It would be a nice project.
Robin: Amberian Dawn picked the most metal day of the year -- Leap Day -- to release Circus Black. In the nine days between now and the album release, do you feel like a new father waiting for your "baby" to be born?
Tuomas: It's really exciting of course, and I'm really waiting for all the comments from our fans! It is exciting to make notifications of all those comments on YouTube, on different forums and blogs of what people are really thinking about this album. I don't read so much criticism of our songs in reviews anymore. Instead of that, I like to read comments of common people who listen to our music.
It is really like having a baby when you have a new album coming out, but the most exciting moment is not the release date. The biggest moment is when the album is recorded and we are entering the studio for the mixing phase. The moment after the first song is mixed by our mixing engineer, then we can say the baby is born. When the album is finally out of the studio, it is the greatest moment -- not the releasing date, if you know what I mean.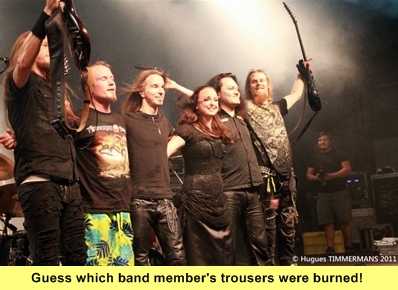 Robin: Tuomas, our time together is passing all too quickly. Talking directly to you fans, what would you like to tell them?
Tuomas: I would like to say that we do this music for you guys! Personally, when I'm composing music, of course I am doing it for myself first, because I like to compose and play music. But always, I think this music is for people who are listening to music and appreciating it. That is the reason I'm doing it, so the fans are the most important thing to me.
Robin: Thank you so much for talking with Sonic Cathedral today, Tuomas. We wish you and all of Amberian Dawn wonderful success with your new album!
Tuomas: Thanks!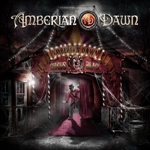 Photo credit for promo pictures: Toni Härkönen
Photo credit for live pictures: Hugues Timmermans
Amberian Dawn official site
Amberian Dawn on Facebook
Amberian Dawn on MySpace