We at Sonic Cathedral have been keeping our eyes and ears open for The Mariana Hollow for a while. First came their 2009 debut album, Coma Heart, which whet our musical appetites with the band's blend of alternative metal, progressive elements and structures, dynamic twin guitars, and a female voice that's simultaneously gritty and graceful. Two-and-a-half years later (a.k.a. now, in 2012), The Mariana Hollow have finally released their second album, Velvet Black Sky. This time, the songs are tighter, the volume louder, and the coupling of dark moods and introspective lyrics even more effective. And not only are The Mariana Hollow proud of this record, they're itching to get out in their native London, United Kingdom to play it live.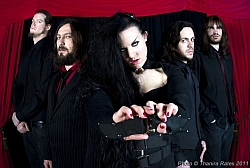 Before Velvet Black Sky's release on February 13, Sonic Cathedral staff writer Sara Letourneau had the chance to catch up with five members of The Mariana Hollow: vocalist Rebecca "Spinky" Spinks, guitarists Richie Walden and Danny Russell, bassist Scott Chesworth, and drummer Adam Lawton Stanley. Each member provided in-depth insights into the making of and inspirations behind Velvet Black Sky. Throw in hints of future touring plans, stories of missing snares and "hairy" gigs, and fears about falling through a barn floor, and you've got a glimpse into one of the UK's most promising bands that's both enriching and entertaining!
Sara: The last time we spoke, The Mariana Hollow were in the middle of recording Velvet Black Sky. Now that the big day is around the corner, how does it feel to finally have this record out for your fans to enjoy?
Adam: Because we've sat on it for some time and spent so much time arranging the music, it's a massively exciting and relieving feeling to have it out there. We've already heard and played the songs so many times during recording and mixing, so we forget that most people haven't heard it at all, which is so exciting! Not even a lot of our friends [have heard the whole album]. So yeah, it feels like a mixture of Christmas morning and the day after Boxing Day, if you follow.
Sara: The Mariana Hollow are also about to embark on a headlining tour of the United Kingdom to promote the new album. Can you give us any details (when and where it will start, how long it will last, etc.) yet?
Richie: We're really excited to say that we've been offered a support slot on Breed 77's 'unplugged' tour during April. We were absolutely stoked to be given this opportunity, and we're looking forward to playing at lots of different places around the UK. It kicks off on April 16th in London. We'll also be going to Birmingham, Manchester, Grimsby, York, and Cardiff, with possibly a few other dates to be added. We're currently working with a PR firm to get some proper publicity for the new album and video, which will hopefully put us on the right road to securing some more shows of our own. We hope to announce other live dates around the UK over the spring and summer also, but those dates are still in the pipeline. We all still work and study, so touring is unfortunately arranged around that right now.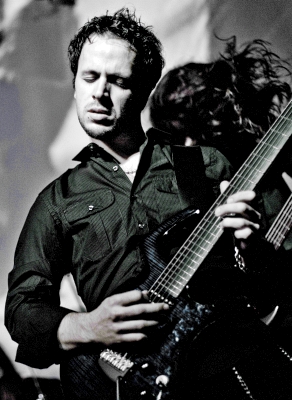 Sara: Let's talk about the album itself. Velvet Black Sky is darker, more intense, and more band-oriented than your debut album, Coma Heart. Other than the fact that it sounds incredible, what influenced you to take this direction musically?
Richie: I think from a guitar point of view, both myself and Danny were going through some tough times personally, and I suppose that it led quite directly to the darker, more melancholic tone of a lot of the initial song ideas. When we wrote Coma Heart, a lot of the material was finished before we had the other members in the band (Spinky, Adam and Scott). For Velvet Black Sky, however, we were able to present ideas very early on to the rest of the band, so everyone has had direct input into every song. I think it makes the music much more rounded and a lot stronger this time. We all had a real shared vision of where we needed to go with this record, and I'm very proud of what we have achieved with it. Everyone really pushed themselves in terms of writing their own parts and contributing to the songs as a whole.
Spinky: I think the musical direction of this album represents a more organic approach, as all five of us worked on all of the songs from the very beginning, adding our individual preferences and ideas. Also, we had all got to know each other very well by the time we came to creating the songs for Velvet Black Sky, so I suppose we were less intimidated in presenting our ideas and more comfortable in writing together. Velvet Black Sky is perhaps darker and more intense because we wanted to challenge ourselves more with our individual parts.
Adam: Thank you very much! Danny and Richie formed the base of the band, creating these intricate guitar-based songs before the rest of us joined, and most of which comprised Coma Heart. So when we came together, that first album was us finding our sound and learning how each other thinks and plays. In some ways, those songs work better recorded. We saw this and wanted to write something that was by all five of us, even though the guitar roots remain strong. We wanted to play more directly and write more universally timeless songs, but because we all like progressive music, that was still coming through – in some ways, more so. In a nutshell, because we grew together, the playing and arrangements automatically became heavier, more intense, but also more considered. We found ourselves!
Sara: Think back to when you were writing the new songs. Which one provided the first "a-ha!" moment, when you realized that this was exactly the sound you wanted for the second album?
Richie: For me it would be "Weight of the World." It was one of the first songs we'd started work on for Velvet Black Sky, and originally it had a very different, less groovy feel to the second half of the song. It wasn't really working, so we took our time and really thought about how we wanted the song to feel. Danny and I wrote the basis for the midsection one evening, presented it to the other guys, and as soon as we started jamming it in the rehearsal room the rest of the song fell into place really naturally. For me, it really set the tone in terms of songwriting, power, and mood for what was to come. And as soon as we started playing it live, we had a great response to it. I actually think we captured something a bit special with it. Definitely one of my favourite songs we've ever done!
Spinky: It's difficult to think of one to be honest, as I think the album varies quite a lot from song to song. But in terms of general vibe, I would go for either "Weight of the World" or "Stand Your Ground." I really enjoyed the creation process of both of these contrasting songs and felt that they really stepped us up a gear from our first album. I remember feeling very excited about that.
Danny: Richie and I wrote all of the guitars and the arrangement for "Dead Reckoning" from scratch in one evening. I remember thinking that showed a great sense of self-confidence and understanding between us.
Adam: Definitely when we started playing "Dead Reckoning" together for the first time, that song just got to the point. "Back of the net!"
Scott: Somewhere, I've got an old recording of us jamming the chorus riff of "From Failing Hands" at the end of a rehearsal. It's horribly distorted, sounds like it was taken on someone's phone, but the memory it conjures up for me is so vivid that I can almost smell the room. I remember thinking at the time, "Holy shit, this riff makes us sound unstoppable!"
Sara: I love the title Velvet Black Sky. It fits the new music so well. Tell us how you came up with that phrase as the title.
Spinky: I was trying to think of something that would involve all of the songs on the album, something that represented the overall feel without being too obvious a statement. Velvet Black Sky represents a "calm before the storm" idea, which many of the lyrics make reference to. I feel I can speak for the other members of the band in saying that we are often appalled and angered at some of the things that go on in the world, and these often leave us with a feeling of unrest and perhaps nervousness as to what the future will hold for all of us. Velvet Black Sky represents the beauty of our world, but the dark side of it too, as we sadly seem intent on destroying it and each other.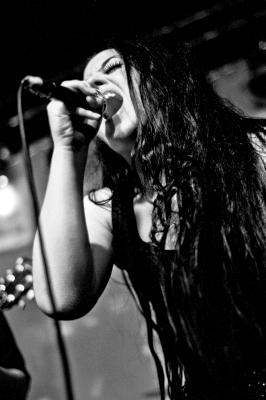 Sara: Spinky, as you had hinted in the previous SC interview, your lyrics on Velvet Black Sky deal more with a wider range of subjects, including social unrest and humanity. Could you elaborate on these themes as well as whether the band's heavier direction influenced the ideas that inspired you this time?
Spinky: Yes, I would say that the style of the songs definitely had an influence on what I chose to write about. I felt that heavier songs such as "The Line of Fire and Blood" lent themselves well to a more weighty lyrical content. Lyrically, the songs on the album deal with the issues that I was affected by emotionally whilst we were writing them and things I was reading about and observing on the news, such as war and death, struggle and hardship, rebellion, greed, etc. The theme of the majority of the album is my personal reflection on what has passed, and a general frustration that we don't (as a planet) seem to learn from our mistakes. A few of the songs look to the future, one with optimism (such as "Second to None"), but some with fear and apprehension (such as "The Fate of Man").
Sara: You rounded up an impressive team to help finish Velvet Black Sky. Brett Caldas-Lima (Kalisia, Arch Enemy, Megadeth) mixed the album, and TesseracT guitarist Acle Kahney took care of the mastering. How did you get both fellows on board, and what was it like to work with them?
Danny: As with Coma Heart, I had every intention of mixing myself after production was done, but as with our debut I found myself losing objectivity when it came to mixing something that I'd been heavily involved with since the writing stage. So, I reluctantly began to look around for a mix engineer. I have to thank Tom MacLean from To-Mera for pointing us in the direction of Brett Caldas-Lima of Tower Studio in France. I absolutely love the sound of Transcendental (the debut To-Mera record), which Brett produced and mixed. I imagined how we could sound with that tighter, more modern, and more focused mix, and it excited me. He loved the stuff we sent him, and we did a deal for a 'quick mix,' which turned into a long and drawn-out affair, as we're all so exacting. Brett was amazingly patient and professional, though, tweaking some tracks well into double figures. He's nailed the overall sonic punch I was looking for.
Acle Kahney was a guy I'd contacted around the time of exploring the possibility of someone else mixing, just as his band TesseracT was starting to take off. I was delighted when he said he'd still like to be involved and master the album through his company 4D Sounds. He's added a great professional punch to the whole thing, and Scott and I had a cool day out to Milton Keynes to finish the album!
Scott: I went along, quietly hoping that Acle's bass player would be there. He's like Hugh Grant 2.0 Metal Edition, sent from the future to dazzle mere mortals with superhuman musical chops. No luck on that front.
Sara: Adam, you created the abstract cover and artwork for Velvet Black Sky. What was the idea behind this? How does it relate to the album title, music, lyrical themes, etc.?
Adam: The art came from some of the lyrics and conversations Spinky and I had about how things are these days. Without getting too flowery, I don't always have a lot of faith in people as a collective, and some things going on in the world are heartbreaking. We never seem to fully learn from the past, and I think there is a tremendous dearth of spirituality out there. At the same time, hope's a beautiful thing. ;) So, I just started drawing what it feels like to think about where people are headed. After that, I started doing some photography and merging the two and ended up with what you see. Also, the band couldn't agree on other artwork ideas, so I thought, "Why not just do it ourselves?"
Sara: You filmed a video for the song "Your Halo" last year. Though you had done a live montage clip for "Come Undone" from Coma Heart, this was your first actual music video. Could you tell us about the concept and your experience with the video shoot?
Spinky: The concept was fairly basic, really. We just wanted to capture the energy of the song in a live performance. We wanted us all to feature in the video and for our individual characters and styles of performing to shine through. We had two locations for the shoot: one in a dilapidated barn, and one outdoors nearby. The experience of making the video was absolutely fantastic, and we definitely chose a brilliant team to shoot it for us. They were patient and very professional! We filmed the video across a period of about 8 hours, finishing about 3 AM, and it was pretty tiring but really good fun. We feel it came out even better than anticipated, and we're really stoked with the finished product!
Adam: Danny had found the terrific location, as well as some other videos by the director (Colin Arnold). Spinky and I sat down and did a little screenplay, while Danny got busy with visualising how the set would work in terms of angles, light, dressing, and some tricky logistics, and then we asked the director what we could and couldn't manage. The work was pretty hands-on and tiring, but so much fun. There were a few hairy bits where we didn't know if the floor would actually hold us up!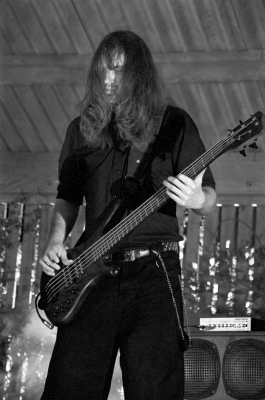 Sara: It's not fair to pick favorites, so I'll ask a different question: Which song(s) on Velvet Black Sky are you most proud of, and why?
Scott: So essentially, "Which song is your favourite, and why?" Right, Sara? :p I'll go with "Dead Reckoning," because it's the song that leaves me with a three-day long neck ache after every gig.
Richie: I'd say "Stand Your Ground." On the first record, Spinky performed all of the vocals, but this time around I sang backing vocals on most of the album. I'm really proud of the verse harmonies on "Stand Your Ground," and I think our voices sound great together. Plus, the pre-chorus is one of my favourite riffs that I've ever written! I love Spinky's lyrics and melodies on this song; I really think it shows how incredible and dynamic she is at both writing and performing.
Spinky: I would probably say I'm most proud of "The Fate of Man," "Weight of the World," and "Stand Your Ground." Though lyrically, "From Failing Hands" is probably my fave!
Adam: For pure songs, I would go with "Weight of the World" and "Dead Reckoning." As a drummer, I'd go with "Second to None" and "The Line of Fire and Blood" 'cause I get to show off!
Sara: I love a number of the new songs, but there are two in particular I'd like to ask about: "The Line of Fire and Blood," and "The Fate of Man." They're two of the album's longest tracks, and very different in composition and style. Could you tell us about the story behind the lyrics as well as the writing process for each song?
Spinky: The lyrics for "The Line of Fire and Blood" are about armies being readied and sent to war for reasons that many people do not agree with. It deals with the problem of people feeling like they don't have a voice or a means to express their anger and disdain about way political decisions are made, and indeed the "behind-the-scenes" motives that may or may not ever be revealed to them. "The Fate of Man" looks, fairly bleakly, towards an apocalyptic landscape, and one that exists after the last war has been fought, after we have drained our planet to its very core, and in the aftermath of natural disaster.
Richie: The origins for both songs actually predate Coma Heart, but we couldn't quite find where they needed to go at that time, so we shelved them until the band had been playing together a while and it felt right to attempt them. We'd really gelled together by that point, and it made writing things as a collective much easier. "The Line of Fire and Blood" was gradually hammered out in the bandroom until it was really kicking our arses!
"The Fate of Man" was a little different. It actually began one rehearsal, when Danny and I were in [our previous band] Paperplane. He just started playing the first part of the song – that descending guitar line – and I really heard something special in it, so I recorded him playing it and wrote my guitar line at home later on. We jammed it here and there ever since, but it wasn't until we sat together in the studio to record the song for Velvet Black Sky that we came back to it proper. I started recording my guitars, but it didn't feel quite right. We then decided to play my guitar parts for the first half of the song on piano, and it all fell into place from there. When I first heard Spinky's vocals on it, I had goosebumps like you wouldn't believe. It blew me away completely. It still does.
Danny: Richie and I had done a guitar demo of "The Fate Of Man" way back in 2009 or so, which we called "Uberballad," an apt name for a very different style song for us. I'd like to try exploring this direction more in the future, as I think it works really well. The loops in the background of that track are made up variously of the sound of unplugging leads and thumping a guitar. A nod to Trent Reznor. ;)
Adam: Richie and Danny had already come up with this fairly sprawling beast of a song for "The Line of Fire and Blood," so I guess the rest of us basically chipped in to make the arrangement more epic and dynamic. "The Fate of Man" is really Danny, Richie, and Spinky's baby. I think it's amazing.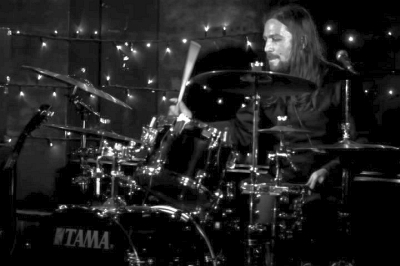 Sara: If I had to give an award to the most killer intro on Velvet Black Sky, there's no doubt in my mind which song would take that prize: "Second to None"! Who thought of the massive guitar build-up at the beginning? (I assume it was either Danny or Richie?) And, do I hear the "wah" technique in there somewhere?
Richie: Yep, there's a whole heap of epic "wah" from Danny! The five of us actually had already written the rest of the song together in the rehearsal room, but we couldn't figure out how to start it. Danny and myself went away and ended up coming up with two or three intros to present to the other guys. Initially, we thought it might be a bit too bombastic compared to the others, but everyone jumped on it straight away and made it sound huge! We very often open with "Second to None"; it feels great to start a show with that intro!
Adam: I was trying to do all this pretentious stuff when we started writing it, and then the penny dropped that it just needed to rock the fuck out. I think I suggested the chord hits in the beginning, added some crashes and cheeky fills to say "Hello!", and then Danny put that screaming "wah" over the top which just sent it over the edge. I might have it wrong, though...
Sara: Last year, in addition to finalizing Velvet Black Sky, The Mariana Hollow played a couple acoustic gigs. What was it like to play your songs in a different, more intimate manner? Do you plan to play any more shows like this in the future?
Richie: It's one of my favourite things that we've ever done, and it was really fun to present the songs in that way. I think it's a good test of how good your writing actually is and the songs stood up really well. Hopefully we'll record some of the acoustic versions, as they are somewhat different to the originals, and it would be great to get them out there for the people that are into us to hear.
Spinky: It was brilliant to play the acoustic shows, and I hope we get to do lots more this year! It's really important, I think, to be able to play our songs like that and to still keep people interested at the shows. I believe that we have a number of songs that translate incredibly well to acoustic, and it's a pleasure to re-work them in this way. It's also nice for the audience to hear the parts in more detail, and for us to show a different side of ourselves.
Scott: I had way, way less neck ache after those gigs. Kinda makes me wonder whether I'm built for metal.
Adam: I think the songs really speak for themselves this way. It was so satisfying to hear that they worked in different ways, and also to play with a little finesse and let Spinky's voice shine. I think we'll do a lot more acoustic gigs. There's so much you can do with them, and also different gigs you can do.
Sara: A couple of fun questions for you now. First, if you could open for any band, who would it be? And why? Dream as big as you'd like on this one! (winks)
Danny: Type O Negative... (sighs)
Richie: It would have to be Alice in Chains for me. I absolutely love the band, they're incredible live, and it would be such an honour to play alongside my heroes! Plus, I'd like to think that their audience would really get us.
Scott: You definitely wouldn't print my dream answer, so I'll stick with reality and say Karnivool. They're the tightest band I've heard in years, and I'm pretty sure the bar being set that high would have a positive effect on us.
Spinky: Unrealistically I would have loved to open for Marilyn Manson on the Antichrist Tour, or perhaps Pantera – because their tour videos are insane! That would have been a lot of fun. In the current day, I would be honoured to open for The Haunted or for Nightwish.
Adam: For the good of the band, I'd say someone like Opeth or Lacuna Coil. Personally, it'd be Muse, the Foo Fighters, Biffy Clyro, or Die So Fluid, though I'm not so sure how we'd go down at some gigs.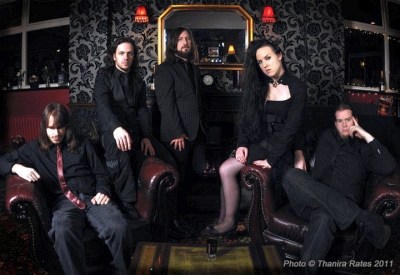 Sara: What is the most embarrassing moment you've had during a TMH gig?
Richie: Breaking a string in the first second of the first song at our headlining show in Camden last year, swiftly followed up by subsequently breaking a string on my second guitar. Plus, nearly going arse-over whilst headbanging and crashing headfirst into the crowd during "Second to None" when we supported Theatre of Tragedy. I was a bit overexcited! I also once inhaled a load of my hair up my nose for most of a song. It wasn't a great feeling.
Spinky: To be honest, nothing too terrible has happened so far – famous last words! I quite regularly choke on my hair whilst it's flailing around onstage, which is always a bit embarrassing! In one of my old bands, I ripped my skirt during a gig – in a rather compromising place – which was pretty bad.
Adam: I forgot to put my snares on at the start of a song once. I stopped and restarted the song in a way that wouldn't have been out of place in a 1940s comedy. Nothing worse, thankfully!
Danny: Ha ha! I thought you did that deliberately to make us sound like Korn!
Sara: On the flipside, what has been your most rewarding or favorite moment so far while being in The Mariana Hollow?
Richie: Being in this band with my friends, playing shows, and making music that I love are constant rewards. It's an amazing feeling every single time that someone comes up to us after a show or emails us from abroad to say how much they like the band – and it's beginning to happen more and more, which is mind-blowing! We've had some great reviews and overwhelmingly positive support for the band, and of course that it makes me very proud of what we're doing. Playing in Birmingham for the first time at the Femme Metal Festival and having people sing along to "Come Undone" was also incredible!
Spinky: I would say to date the most rewarding thing has been the positive response to the video and also to the limited edition copies of the new album. The fact that we have sent copies all over the world (to Japan, USA, etc.) has been just unbelievable. It is amazing to hear that people are enjoying it. My favourite moments in the band otherwise would be the experiences we've had at gigs. The Femme Metal Festival at Birmingham in May 2011 springs to mind, as we had a blast and met some great people there.
Adam: In terms of gigs, I reckon opening for Theatre of Tragedy at the Underworld was an unexpectedly amazing show. Otherwise, it would be holding Velvet Black Sky in my hand and seeing the release of the video.
Scott: Mixing with Chris Sheldon, asking him for things that weren't possible, then hearing them materialise in minutes. On a less muso-geek and more personal level, I got an SMS from one of my little sisters the other day that just said "Really proud of you bro x" after she saw our video on TV. Short and totally to the point. That's how I like praise. ;)
Sara: Looking ahead, what are The Mariana Hollow's goals for 2012?
Richie: Gig as much as we can to promote Velvet Black Sky, and start writing for the third album!
Spinky: Just to get out there and play more so that we can spread the TMH word! I also hope for success with the album and to make another video, for a second single (whatever it may be!).
Adam: I'd like to tour with some great bands and be at least a recognised name by the end of the year!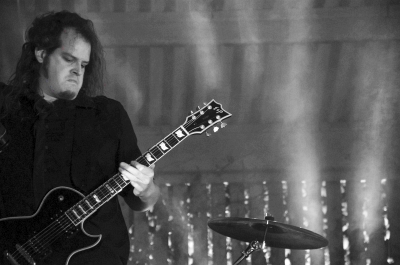 Sara: We've reached the end of the interview. Thanks again for your time! In closing, what would you like to say to your fans and to our readers in Sonic Cathedral?
Danny: Thanks, Sara. Your support and interest in us has been inspiring at times.
Richie: Thank you SO much for your support! We don't take it lightly, and it really means a lot to us.
Spinky: Just a massive thank you for supporting us, for being interested in what we do and in the music we make. It is a real honour, and we can't stress enough how grateful we are. We just hope to be able to travel one day so we can play some shows for you!
Adam: Can't wait to meet you!
Sara: Thanks once again to The Mariana Hollow for taking the time to answer our questions! It was a pleasure to interview you again, and we wish you luck with Velvet Black Sky!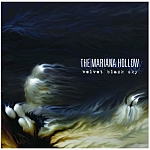 Photo credits are as follows:
Color photos – Thanira Rates
Black & white live photos of Richie Walden and Scott Chesworth – Adam Lawton Stanley
Black & white live photos of Spinky and Danny Russell – Matthew Golowczynski
Black & white live photo of Adam Lawton Stanley – James Laidlaw
Check out The Mariana Hollow at the following websites:
Official Website
Facebook
Myspace
ReverbNation
Twitter
LastFM