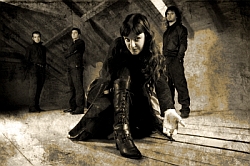 What a difference a year has made for Diabulus in Musica. At this time in 2009, the symphonic metal quartet (now a quintet) was putting the finishing touches on its debut album "Secrets." Since then, the band made a guest appearance at last year's Metal Female Voices Festival, signed to Metal Blade Records, and released "Secrets" – one of the best female-fronted albums so far this year. No wonder Diabulus in Musica is the talk of the female-fronted metal scene right now.
Recently, Sara Letourneau talked with Diabulus in Musica singer Zuberoa Aznárez and keyboardist/grunter Gorka Elso. They talked about "Secrets," the band members' musical influences and histories, and Diabulus in Musica's recent shows in the Netherlands and Mexico – the band's first concerts outside of Spain. Read on to learn more!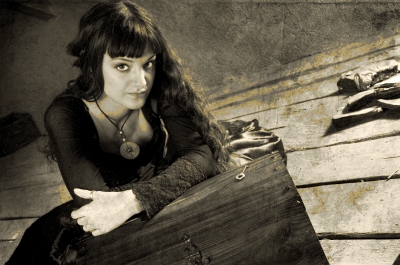 Sara: Let's start by going back in time. How was Diabulus in Musica founded?
Zuberoa: Diabulus in Musica was founded in 2006. I started the project because I wanted to develop my own ideas and express myself through the music I liked: metal and classical. All the members knew each other from the local metal scene of Pamplona, and most of us were friends before creating Diabulus in Musica. Gorka [Elso, keyboardist/grunter] played in two well-known power metal bands in the city. I started to sing in one of them, and Adrián [Vallejo, guitarist/screamer] started to play the guitar in the other. Both bands disappeared, so Gorka and I decided to invite Adrián to join us in the new project we were about to start: Diabulus in Musica. Xabi [Jareño, drummer] joined us while recording "Secrets." He was Adrián's friend; they also played together in a cover band and Alex [Sanz, bassist and Diabulus in Musica's newest member] also knew Adrián because they had worked together in another rock project. We had another drummer and bass player before, but they had to leave the band due to personal reasons. 
Sara: "Diabulus in Musica" is a very unique band name. How did you come up with it?
Zuberoa: Diabulus in Musica is a Latin medieval word, which means 'the devil in music.' It was like that as they called the triton or the interval of the augmented fourth. The medieval ear was used to hearing perfect fourths and perfect fifths. The augmented fourth, being halfway between these two most common intervals, was about the worst discord imaginable. That's why they thought that the devil was inside the triton. As early music is my favorite style in classical music and actually is what I usually sing in the choir I sing in, I chose this name. It was perfect for us not only because of the meaning it has to me, but also because it sounds a bit dark, as our music sometimes. We like this 'dark romantic aesthetic' as well as early music, so we thought Diabulus in Musica was the name that fit us the best.  
Sara: The number of symphonic female-fronted metal bands keeps growing every year. What sets Diabulus in Musica apart from the others?
Zuberoa: We have never thought about being extremely original, but only about writing the music that flows through our veins. It sounds like a cliché, but we do what we want to do. We only think if we like what we have done or not. Besides, we all are very open-minded in the musical field, and we have no boundaries in creating music. We like to experiment with music and sounds, and you easily can see that when you are listening to "Secrets." It's a very varied album with many influences. You can expect anything from Diabulus in Musica, so this could be maybe what makes Diabulus in Musica different. 
Sara: Which bands and singers are your biggest musical influences? Why?
Zuberoa: Our influences are mainly metal and classical music, although some ambient or ethnic sounds can also be found in our music. I suppose that all the music you listen to during your life influences your music in one way or another, but I don't think about any specific band or genre when I write the songs. The same happens with the singers. I've sang and listened to classical, heavy, folk, jazz… So I think that something of what you listen to remains as well in you and influences your way of singing. On the other hand, I think it's one thing is to love a voice and a very different thing to try to sound like a voice you like. This is dangerous in my opinion. Every singer has his or her own voice, and trying to change it is not good at all. Obviously, you have to try to improve your vocal abilities (and sometimes listening to other singers can help) but always trying to keep your own voice. That's why I don't think that any singer can influence me a lot, although I love his or her way of singing. Anyway, I suppose that my main influence in singing is my vocal coach! 
Sara: Zuberoa, how were you introduced to metal music? Our readers at Sonic Cathedral are always interested in finding out how the female members of the bands we cover get into the scene.
Zuberoa: I was a child when I was introduced to metal. My sister, who is older than me, was a real metal lover since she was a teenager, so heavy metal was the music I listened to as a child. I started listening to hard rock bands (we had tons of vinyl's from the 80s at home!) and then discovered harsher metal styles while growing up. 
Sara: Diabulus in Musica has only been together for a few years. Yet, your songs are of high quality, and your sound is tight and cohesive. Did you have that feeling when you all started working together that you had found something special?
Zuberoa: We started to write and write, and I think we never thought about anything else than writing until we decided to record "Secrets." That's when we realized that we had more than 20 songs and had to select some of them to be included in the album. We started to think about arranging the songs in that moment. We had to stop and try to see the songs in an objective way and slowly arrange them, thinking whether every element really fit the song or not. It's then when we saw they were special. Everyone added their ideas, and the result was great! I think in writing stuff, we are the perfect team, because we know how to work together and how to find the balance between all the elements our music has. We complement each other, and that's not always easy to achieve!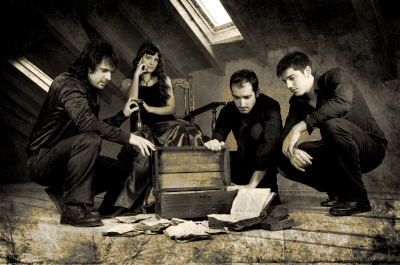 Sara: Alex Sanz, the bassist of Diabulus in Musica, is the newest addition to your line-up. You've played a few shows with him since he joined. How have his presence and abilities made your band stronger?
Zuberoa: Alex joined us about 6 months ago. So when he started, "Secrets" was recorded (Adrián recorded the bass lines as well as the guitars on the album) and he couldn't add anything new. Before Alex joined us, we had to play a few shows without a bass player, and obviously the shows aren't the same without that member. Alex has a huge stage presence, so we are now complete as a band in live shows. We searched for a good musician and a good performer, and Alex was exactly what we were searching for. He is also a great songwriter and has written some stuff for the second album. 
Sara: What other experience do the Diabulus in Musica members have as performers and musicians? Were you in any other bands previously?
Zuberoa: As I said before, Gorka, Adrián, and I played in some local heavy metal bands since we were very young. We knew each other because of that. I'm also a member of the official choir of my region and have been singing in choirs since I was a child, because my mother conducted one. We always have been involved in different musical projects. We love music and cannot live without it! 
Sara: Diabulus in Musica recently released its debut album "Secrets." Was this the first time any of the band members recorded an album? Could you tell us how the recording process went for "Secrets"?
Zuberoa: It wasn't the first time for Gorka, Adrián, and me because we had recorded with the previous bands we had, but in a very different way. Actually, if we decided to record "Secrets," it's because we didn't want to repeat our mistakes of the past. I mean, we were not happy with our previous works and wanted to do something good and work seriously to achieve it. Xabi and Alex had recorded some demos before, but not an album. So, for Xabi was the first time, and for Alex it will be with the second album of Diabulus in Musica.
Gorka: As we didn't want to repeat the mistakes we made with our previous albums, we spent lot of time at the studio, but not actually for recording. We needed time to find the sounds that fit better with the general sound we wanted to achieve. For example, we spent about one month and a half to find the appropriate sound of the guitar! Once we found the sounds, the recording went quite fast. 
Sara: "Secrets" is a simple yet thought-provoking title. It made me wonder what kinds of surprises or twists and turns I'd hear in the music. How did you come up with this as the title?
Zuberoa: To be honest, it was our designer who proposed the name. He asked me about the lyrics and I told him, so he proposed "Secrets" as the title of the album. I thought that it was nice because there are different 'secret' aspects of my mind reflected in the lyrics, with one thing having nothing to do with the other, a good reflection of my messy brain. (laughs)
Sara: Your song lyrics cover a wide range of topics, from love to introspection and social issues. Where do you get your inspiration for the lyrics?
Zuberoa: The songs of "Secrets" had been written in different periods, starting from when we started with the band in 2006 until we started the recording in 2008. So, the lyrics were written in different periods as well. Depending on my mood in those moments, I wrote one or another lyric, but all of them reflect my main worries and thoughts about life. 
Sara: Gorka, I was very impressed with your piano-playing on the album. Did you have any classical training prior to joining Diabulus in Musica?
Gorka: Thanks for the compliments! Yes, I started taking music lessons when I was 8, and one year before I started with the piano lessons. At the age of 18, after I obtained a piano medium degree, I had to leave the piano lessons because I was at the university and I didn't have enough time to practice. But, I continued with complementary subjects as chamber music, harmony, music history, etc. I've never considered myself an 'impressive' pianist. (laughs) I only try to play what each song needs. 
Sara: I'm sure it's difficult to pick favorites, but what are your favorite songs on "Secrets"? And, why?
Zuberoa: You're right, it's hard! (laughs) Well, for me, maybe "Ishtar" because it was the second complete song I wrote (the first one wasn't included in "Secrets"), and I really liked the result. It was exactly what I was searching for. "Evolution's Whim" as well, because I think it's really expressive, and maybe "The Forest of Ashes," which reflects perfectly my darkest states of mind and because my friend Maite Itoiz [a soprano singer and one member of the classical folk duo John Kelly & Maite Inoiz] sings in it.
Gorka: For me, I'd say "Evolution's Whim," too, and also "Nocturnal Flowers" because of its single potential. I like also "New Era"; it works really well live! 
Sara: In the song "New Era," I think I recognize the voice in the speech excerpts during the bridge. Is it U.S. President Barack Obama? If not, who is it? And, why did you choose to use excerpts from this individual's speech(es) in "New Era"?
Zuberoa: Yeah! You have good ears. At the beginning, there was a keyboard solo in that part. When we sent the songs to Ad [Sluijter, former Epica guitarist] for him to do the mix, he proposed to remove that solo and include a speech. He asked me about the lyrics of "New Era" and found this speech that was related with the topic. I wasn't sure to include any political speech because, to be honest, I don't like politicians very much. But, I saw that the message was in fact related with the ecologist message of "New Era," so no politics there. Besides, [President] Obama's voice fit the song very well! We really liked the result and decided to keep the speech.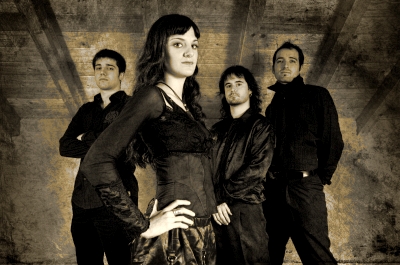 Sara: I also picked up on some cabaret and theatre music influences in "St. Michael's Nightmare" and "Lonely Soul." Are you fans of musical theater? How did you get the idea to incorporate these sounds into your music?
Zuberoa: We never thought about it. It wasn't at all deliberated, but when we finished "St. Michael's Nightmare" we realized that it sounded a little bit like theatre music, as you say. The song tells a story, and there are characters. So, it's cool that without thinking about it, it worked out like that!
Gorka: As Zuberoa had said, you could expect anything from Diabulus in Musica. 
Sara: A lot of up-and-coming bands will envy the production team that helped your band on "Secrets." Epica's former guitarist Ad Sluijter mixed the album, and Sascha Paeth (who's worked with Epica, Kamelot, and countless other metal bands) mastered it. How did you get the chance to work with Ad and Sascha?
Zuberoa: Working with Ad and Sascha has been a great opportunity for us. We never thought that it could happen! Actually, we were going to do everything (recording, mixing, and mastering) with our producer Iñaki Llarena. When Iñaki was mixing the album, we realized that the mix was not exactly what we were looking for. The first mixes were good, but there were some aspects that weren't as we expected. Iñaki contacted Ad (we knew that he was interested in producing) to ask for advice related with the mix of the choir and the orchestra. He thought that thanks to his experience with Epica, he should know how to mix all our classical and metal elements.
Gorka: Ad proposed to do the mix of one song. We were so pleased with the sound that we proposed him to mix the whole album. And, he accepted!
Zuberoa: After mixing the album, Ad told us that Sascha would be the right person to do the mastering. He called Sascha, and when he answered he was going to do the mastering we almost couldn't believe it! Sascha is a very busy person, so we were lucky to work with him as well as Simon Oberender and Michael (Miro) Rodenberg. 
Sara: You also had quite a few guest performers from the classical music world on your album, including soprano Maite Itoiz. What was it like to have so many talented musicians take part in your project?
Zuberoa: It was really great! Some of the musicians were friends of ours, and Iñaki recommended others. For us, the most special collaborators were Laura Vallejo [a violist from the London Philharmonic Orchestra] and Maite. Maite is a very dear friend of mine and a fantastic singer with a very beautiful voice that could fit perfectly with our music. She volunteered to collaborate with us when we were about to start the recording. We were really enthusiastic about it, so we prepared a duet in one of the tracks. As for Laura, we are really lucky to have one of the best violists in the country 'inside the family,' as she is Adrián's sister. Apart from her classical career, she is a true metal lover! As you can imagine, working with them was very easy and funny because of the nice relationship we have together. We also learned one from the other and had a great time in the studio.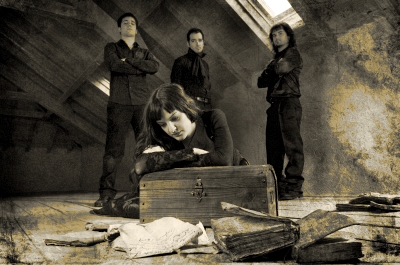 Sara: You've played some shows leading up to the release of "Secrets." How have audiences reacted to the material?
Zuberoa: The reaction has been better than expected! We did a release party in our city, where symphonic metal is not popular at all, and we were surprised because many people came and bought CDs. Besides, we had the chance to play with a choir, a violinist, and the special guests in the album (Maite Itoiz and grunter Iván Marauri from the Spanish metal band Kizio). So, it was a very nice show, the audience reacted really well and the critics in the press were fantastic! 
Sara: Many bands from Spanish-speaking countries often perform songs with Spanish lyrics. Have you ever considered performing in your native language?
Zuberoa: Not really. When we started, we knew that we were going to sing in English. It doesn't mean that we cannot do a song in Spanish or in Basque (our local language). Actually, we have thought about it, but the main used language will be always English. We think it fit the songs better. Try to translate them and, believe me, it sounds really crappy! (laughs) Besides, singing in English is easier to reach to more people and spread our music abroad. 
Sara: How does it feel to be a part of Metal Blade Records? It's one of the big-name labels for metal bands today, and it also has a long and successful history.
Zuberoa: Yeah! We feel really honored and proud of that! Actually, symphonic metal is not the kind of genre you should expect at Metal Blade roster. That's why we feel more than honored for being the only symphonic metal band they had signed! Metal Blade is made of true and open-minded metal-lovers. We are a metal band, so as Metal Blade once said, in the end it´s the quality that matters, not the style. Nowadays it's not easy at all to find a label, and it's more difficult to find a big one being a new band, so we couldn't believe it when we were signing the contract. We are really happy to know that we'll be able to make more and more music, because there is someone strong behind who supports us. 
Sara: A couple weeks ago, Diabulus in Musica played at Dokk'em Open Air in the Netherlands and opened for Theater of Tragedy in Mexico. Were these the first shows you played outside of Spain? How did they go? What was it like to play in these two countries?
Zuberoa: We felt really excited and a bit nervous because Dokk'em Open Air in Holland was going to be our first show abroad. The response was really cool, since we are a new band! People were clapping and head-banging during the whole concert! The following week, we went to Mexico City, and people were awesome there as well. They are really warm and screamed and clapped a lot between songs. We took many pictures with fans after the show. The two concerts have been a fantastic experience for us, and we are looking forward to repeating!
Gorka: After the shows, some people told us that they didn't know the band yet, but after the shows they became true Diabulus in Musica lovers! 
Sara: Your band has also been confirmed for this year's Metal Female Voices Festival (MFVF) in Belgium. How exciting is this news for DiM?
Zuberoa: When we started with the band, it was like a dream for us to play there. Actually, it was the first objective we had, although we knew it was really difficult. Last year, we sent a demo with four songs before finishing the recording, only to try but without almost any hope because we knew they receive tons of CDs. We got extremely surprised when Phil, the promoter, not only told us that we were confirmed to play in the 2010 edition, but also that he wanted to be our manager and invited us to attend the 2009 festival to meet him. He really liked our stuff and relied on us and our music from the very beginning. That confidence meant and still means a lot to us. We are really grateful. Now, he and the crew of MFVF are members of Diabulus in Musica's family. 
Sara: I heard that Maite Itoiz will be a special guest during your MFVF set. Is that true?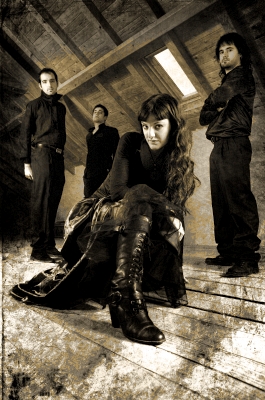 Zuberoa: Yes! She wouldn't miss something like that! I told her since we knew we were confirmed and as it was long time ago, she could manage and has since decided to come. It's a festival dedicated to female singers, so it's a special and very appropriate event to sing together again. 
Sara: What is the metal scene like in Spain? There seems to be several other female-fronted bands making a name for themselves in your country.
Zuberoa: Well, there are a few nice female-fronted metal bands, but not many. In Spain, the most successful genre in metal is the national one: mostly traditional heavy metal bands who sing in Spanish, as you said before. There are also some new cool metal bands, but I don't think they are supported enough here. I'd say that both the new and the not so new styles are not very popular. Little by little this is starting to change, or so I hope. Fortunately, we have some nice independent webzines and radios that are helping unknown bands of different styles, and this is the beginning of the change. 
Sara: What other plans does Diabulus in Musica have for 2010 and beyond? Any possible tours, videos, etc.?
Zuberoa: Our manager Phil is working on a tour for 2011, but nothing is confirmed yet. For the moment, we are writing more stuff for the second album, and I guess we'll enter the studio again in 2011 and possibly prepare a video as well, as we couldn't do it for "Secrets." 
Sara: Diabulus in Musica is already working on its second album? That's great news! Can you tell us anything about the new music, even though it's very early in the album-making process?
Zuberoa: Well, maybe it's too soon to talk about the second album, but what I can say is that it's going to be a conceptual one. We have finished about five songs, but haven't entered the preproduction phase yet, so they could change once the recording starts. There will also be surprises as there are in "Secrets" and new elements. We like a lot how it's working out right now. 
Sara: More and more female-fronted bands from Europe have had the chance to tour North America in recent years. Any chance we might see Diabulus in Musica on our side of the Atlantic sometime in the future?
Zuberoa: Oh, we'd love to! Who knows? We couldn't have imagined that we were going to play in Mexico so soon, so it could happen! It would be fantastic! Cross your fingers! 
Sara: Muchas gracias para la entrevista! (Thanks very much for the interview!) Is there anything you'd like to say to our readers at Sonic Cathedral?
Zuberoa and Gorka: Muchas gracias a ti! First of all, thank you so much for your questions, Sara. It was a pleasure to answer them. Also, thanks to all the readers and female-fronted metal fans. Your support means a lot to us! Hope we can see you soon on tour! 
Thanks once again to Zuberoa and Gorka for their time, and to Phil at 2Wild4 Productions for helping to arrange the interview. Buena suerte (Spanish for "good luck") for 2010!
To learn more about Diabulus in Musica, click on the links below:
Diabulus in Musica's Official Website / Diabulus in Musica on Myspace / Metal Blade Records