Interviewer: Sara Letourneau
Elysion Interview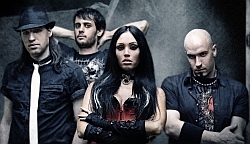 Sara Letourneau talks with Christianna and Johnny Zero

When a single band grabs the attention of the entire Sonic Cathedral staff, you know it must be a good one. This year, that band is Elysion. This Greek alternative metal quartet released its debut "Silent Scr3am" through Massacre Records just before the end of 2009, and as 2010 progresses more and more people are discovering Elysion and its dreamy yet straightforward sound. Now, Elysion is preparing to take advantage of all the buzz and reach out to fans worldwide. "Silent Scr3am" was released in Japan shortly after Easter, and the band is planning possible tours in Europe and North America.

Recently, Sonic Cathedral contributor Sara Letourneau talked with two of Elysion's key members: singer Christianna, and guitarist/founder Johnny Zero. They discussed "Silent Scr3am," the band's history, touring plans, and the one band Johnny would love to open for someday. Read on to learn more!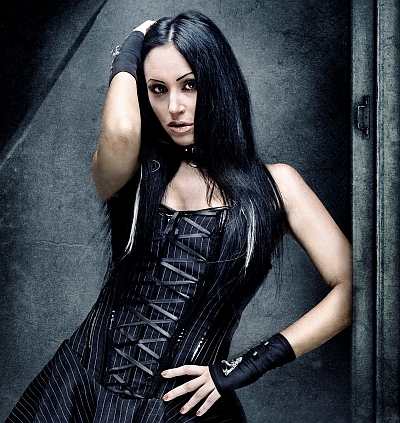 Sara: Tell us about Elysion. How did the band get started?

Christianna: To begin with, "Hi!" to everyone and thank you for having us! Our history dates back in 2006, when Johnny Zero and our former singer, Maxi [Nil], founded Elysion. Our bass player FXF and our drummer Petros Fatis joined Elysion right away, and the journey began. After a great number of gigs, awesome feedback, and the recording of our demo, Elysion was blessed to sign a record deal with Massacre Records and began the recordings of the debut album. That was the point when I joined the band, forming the final line-up as it is now. At this very moment, we are very excited about our debut album called "Silent Scr3am" being released a couple of months ago, and we are about to start touring and share all our energy with everyone!

Sara: How did you come up with the name "Elysion"?

Johnny: Well, the name Elysion has a kind of mythological reference. Actually, one of the reasons why we chose it was because we treasure all this dreamy concept behind it, thinking it is a perfect match for our somewhat romantic perspective of things. In detail, in ancient Greek mythology, Elysian fields were supposed to be a place of rest for the virtuous after their death. We love the fact that there is a strong sense of hope and promise behind all this, but other than that it is the human soul and its feelings that inspire our music.

Sara: More female-fronted metal bands are joining the scene every year. What makes Elysion unique from the others?

Christianna: It is true that things are getting very crowded in this industry, with competition constantly rising. Standards continue to go up, too. But i am rather thankful for it because it is all a constant challenge and an inner stuggle to improve. What separates a band from the similar bands of the genre is up to the people to discover, not for us to say. It is rather the unique atmosphere of the band, the way a band manages to communicate its music with every listener individually. It's the magic music can make, not some solid characteristic. It is either in the air...or it simply isn't.

Sara: Which bands and singers have influenced you personally?

Christianna: Well,we are all pretty open-minded about music, and I guess this is prominent in "Silent Scr3am," where many varying approaches of atmospheric metal and rock are blended together. Our backrounds as musicians vary. It is this combination of different elements that forms our musical identity as a band. Our sources of influence could be anything that sounds good to our ears and is likely to reveal a strongly emotional atmosphere, since the album is all based on a very emotional platform.

Sara: Christianna, the readers at Sonic Cathedral are always interested in finding out how the singers of the bands we cover get into metal music. How were you introduced to metal?

Christianna: I guess I have always known music would be the love of my life. My dad was an opera singer. My very first memories as a child are full of him singing to me songs and lullabies he used to write for me. When I turned 6 years old, I got a synthesizer as a Christmas present, and my dad started teaching me some theoretical things about music. I remember we would sit down for hours and record songs we sang together. Later on, I had piano, harmony, and history of music lessons. By the time I was 15 years old, I had already come up with a plan. I began to study like crazy, all sorts of different vocal techniques I found interesting, from funk and soul music to power metal, trying to absorb any good element but also find my personal identity as a singer. Today I'm still learning, and I know I will always be.

Sara: Many new female-fronted bands have taken a progressive, heavier, or more complicated approach to their music. Your band, however, keeps it more simple and straightforward. What inspired you to go in this direction?

Johnny: In general, we have never tried to label what we play. We just feel free to express our feelings through melodies without worrying of what the outcome might be. One of our main concerns was to keep things simple. We wanted our music to be clean and straightforward rather than complicated. We wanted to let the beauty of the songs speak by itself.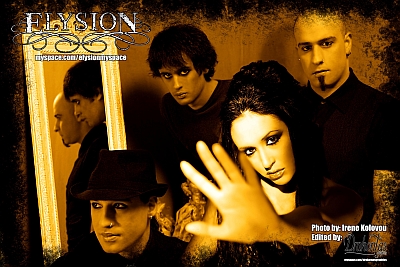 Sara: You had to replace your original singer Maxi Nil (now with Visions of Atlantis) before you signed with Massacre Records and recorded your debut album "Silent Scr3am." How did such a big change affect the band? And, what about Christianna made her your choice for the new singer?

Johnny: Indeed, we had to change our singer, but this was not due to any unfortunate event. It just happens in bands that sometimes when there are different points of view, there is a need for the members to part ways. Christianna was no stranger to us, because in the past we had shared the stage before – not belonging in the same band, that is. [NOTE from SC: Christianna was previously the singer in the Greek power metal band Bare Infinity.] When we approached her in fall 2008, we were extremely honored to join such a talented and promising musician. She entered the studio right away to record the vocals for "Silent Scr3am," which made us overly excited but also conscious to both respect the original atmosphere of the songs and at the same time blend our ideas and character as a singer to the final outcome.

Sara: Your debut album "Silent Scr3am" was released late last year, and I think it's fantastic! Can you describe the album for anyone who reads this interview and does not know much about your music?

Johnny and Christianna: First of all, we would like to thank you for supporting us and for your kind words, too! "Silent Scr3am" to us is a fluid ray of light sneaking into a dark room…

Sara: How did you come up with the title "Silent Scr3am"?

Christianna: [We wanted] something simple but beautiful, quiet but strong and alluring at the same time. Picking out two words contrasting one another for the title best communicates this element. I guess this, as well as the outcome of the entire album, was a team work. "Silent Scr3am" is what each of us would like to whisper, sing, or cry out to life, hoping to be heard.

Sara: What are some of the lyrical themes on "Silent Scr3am"? From what I've heard and read, you talk about relationships, feelings, and following your dreams.

Johnny: In "Silent Scr3am," I was the main composer, with a great help of Elysion's ex-singer Maxi in some songs. She also came up with some wonderful lyrics. However, it is important to point out our sound as an outcome is the result of the contribution of all Elysion, each of us blending our ideas and musical personalities with the rest. This is why I think that this album contains the very best of all of us! As for the lyrics, I believe that one of the most beautiful things about the album is that it lets people listen to what they want to hear out of it. Some see melancholy and sadness, some see a form of romantic hope in it. We ourselves simply see it all. "Silent Scr3am" has a very strong emotional platform. It is a celebration of the human soul in all its moments of greatness or weakness.

Sara: Do you have any interesting stories of inspirations behind any of your songs?

Christianna: There is no such thing as a "strict" concept. However, we feel that there is one strong atmosphere behind "Silent Scr3am," and this is prominent in every song of the album. Although our songs combine a variety of different elements and music influences, our overall mood is always a somewhat romantic view of our feelings and dreams, making it very easy for anyone to relate to our lyrics and emotions revealed.

Sara: You had a stellar team behind you when you worked on "Silent Scr3am." How did Mark Adrian (producer/mixer) and Ted Jensen (mastering) bring out the best of Elysion?

Christianna: We were blessed concerning our collaborations for this album. We managed to work with a highly qualified producer, Mark Adrian, who really did an amazing job bringing out the best of us throughout the recordings, both technically and emotionally, and also worked miracles with mixing the album. Then I guess I don't even need to introduce Ted Jensen,who did us the great honor to master "Silent Scr3am." We never dreamt that the genius who has worked with Iron Maiden, Madonna, Slipknot, and so many others would put his talent and knowledge down to making our sound exactly as we wanted it to be. We totally trusted him to come up with a crystal clear and balanced result which focuses on the music rather than any instrument, and listening to the album fully completed for the first time was a moment of thrill. We couldn't have asked for more!

Sara: I'm sure you have favorite tracks on "Silent Scr3am." Let's put a different spin on that question: Which song (or songs) do you think is the truest representation of Elysion's sound?

Johnny: Hard to answer because each song has very emotional moments for me in it. If I definitely had to pick the most favorite song, that would probably be "Killing My Dreams" because I consider it to be the one to best represent Elysion's style, and it was also among the first songs written for "Silent Scr3am."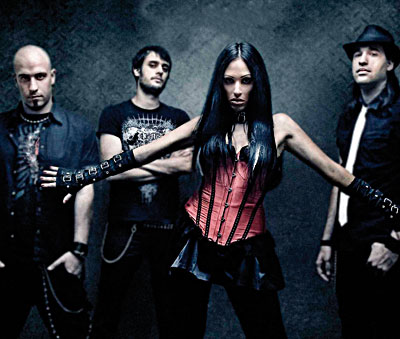 Sara: How did you get noticed by Massacre Records? And, how does it feel to have a strong label like Massacre supporting your music?

Johnny: Once our demo was recorded, we drew the attention of a number of labels, for which we are more than grateful, of course. One of the labels interested in Elysion was also Massacre Records, who came up with a very honoring deal and really ''swept us off our feet''! It was some of the greatest news we had ever received, and a great way to make our entrance to the scene. As for the contract, I can only say that the number of albums is flexible but we can say we hope this to be a long lasting cooperation.

Sara: You've played some shows to promote "Silent Scr3am." How have fans responded so far?

Johnny: Up to now, we had a lot of great moments with the fans, and we like to say a very big "thanx" to all that helping and supporting us! Hopefully, if someone liked "Silent Scr3am," he has a great time at the show. We try our best to maintain the album's quality in sound and hope we are doing a good job because we are very respectful towards anyone who comes to see us and feel we owe it to ourselves to measure up with any good thing we've done in the album and not offer anything less than our best. We care to create a fully energetic and emotional atmosphere, and people are the ones to thank 'cause they make the magic happen.

Sara: I've looked at some of your past tour dates, and you've opened for bands such as Draconian and Septic Flesh. Is it difficult to play with metal bands whose style is different from yours? Why or why not?

Johnny: I don't think that really matters. Elysion were lucky enough to share the stage with The Gathering, Christian Death, Diary of Dreams, Star Industry, Septicflesh, Moonspell, and many others even before our album was released, and all these were very important moments for us.

Sara: I read on your Myspace page and in other interviews that Elysion hopes to tour in Europe and possibly North America in the future. How are these plans coming along?

Christianna: Live dates are to be announced any day now! Touring is our top priority at the moment, starting with Greece and having our European tour follow right after that. An American tour is probably going to follow in second half of 2011, so we are thrilled about this all and looking forward to visiting as many countries as we possibly can.

Sara: Which bands would you love to play with one day? How about Iron Maiden? I heard Johnny is a big fan of them.

Johnny: Oh Lord! That it will be great! Well, OK, you got me here. That's true, and I cannot really help it because every day it is proven to me what a huge influence this band has been for almost every band in metal up to today. Oops, I did it again… the Iron Maiden speech. *laughs*

Sara: It seems like there are more and more outlets where female-fronted metal bands can be discovered. There are festivals dedicated to showcasing bands like Elysion, and entire websites such as Sonic Cathedral that promote female-fronted metal music. How helpful do you think these resources will be in getting Elysion's name out there?

Johnny: You can't imagine! It is important to say that we cherish every webzine, magazine, show, etc. and honor individually everyone, because it is the people that make our music meaningful.

Sara: What other plans does Elysion have this year?

Christianna: This is our number one reason to be excited at the time being! Our European tour is bound to begin sometime later within 2011, as starting from now we have planned to tour as much as we can in our homeland and get to thank everyone for embracing us, so we cannot wait to get on the road and visit as many countries as we can! We also got some plans including appearances in some European festivals during the summer, so we hope a full schedule is soon announced! We wish our path leads us to your country the soonest possible,so we will get to make a live date with you all and hopefully make you scream – not silently, but really really loud!

Sara: Thanks very much for the interview! Is there anything you would like to say to fans and readers at Sonic Cathedral?

Johnny and Christianna: Elysion would like to thank you for this interview, as well as for all your kind patience and support! We hope to be able to meet you in person one day. Thank you again for everything! Take care!

Once again, Sonic Cathedral thanks Johnny and Christianna for their time, and also Tom Hack at Massacre Records for arranging the interview. Best of luck to Elysion in 2010!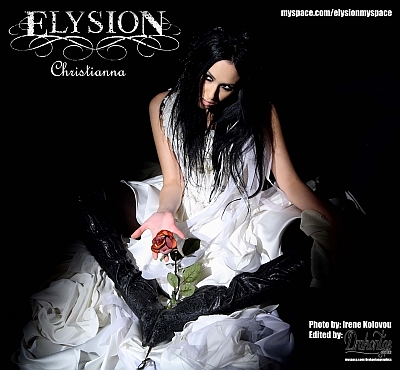 To learn more about Elysion, visit the following websites:

Myspace: http://www.myspace.com/elysionmyspace
Facebook: http://www.facebook.com/pages/Elysion/100952843663
Massacre Records: http://www.massacre-records.com/