Regardless of Me Interview
Sara Letourneau chats with Emiliano Sicilia, Pamela Manzo, and Enrico Cassano
2009 was a banner year for Regardless of Me. The Italian metal band released its debut album "The World Within" to solid reviews and enthusiastic fan response from the local Italian scene to Spain. And that's just the beginning. Regardless of Me is planning shows in Europe and North America later this year to introduce its brand of progressive/alternative metal to wider audiences. So believe it when Sonic Cathedral says this band is on the verge of a major breakthrough.
Recently, Sara Letourneau interviewed three members of Regardless of Me: guitarist/founder Emiliano Sicilia, singer Pamela Manzo, and bassist Enrico Cassano. Read what they had to say about "The World Within," touring outside of Italy, and what to expect on Regardless of Me's next album.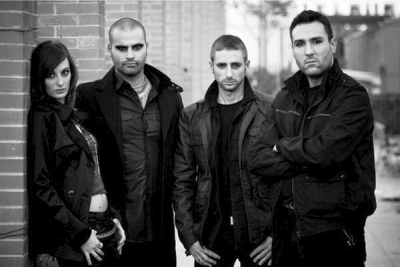 Sara: Tell us how Regardless of Me was founded.
Pamela: First of all, thanks for the interview. Three years ago, me and Emiliano met in Moonhouse Studios in Milan. He wanted me to collaborate in his solo album "Devotion, Materialize" as lead and back vocalist in three tracks. We had so much fun in making this album 'cause it's eccentric and crazy. If you listen to it, you'll understand! Then, as Emiliano felt the need to change something in his music life, he called me, Enrico, and Fulvio [Torresani, Regardless of Me's drummer], and created the "Regardless Of Me" project with the aim to give a new power and different influences to our music.
Sara: Your band combines an interesting mix of musical styles and influences. How would you describe your music? What bands have influenced you the most?
Pamela: Our music is a mixture of different styles: gothic, metalcore, trip-hop... In fact our influences in terms of bands are different, as you noticed. My favorite bands are Muse, Metallica, the Foo Fighters, Placebo, Depeche Mode, and R.E.M. Regardless of Me's style gathers many other musical nuances like Katatonia, Killswitch Engage, Massive Attack, Meshuggah, Portishead, Nickelback, and Linkin Park. This particular kind of non-defined genre allows each of us to give a personal contribution in terms of atmosphere in conveying our message to people.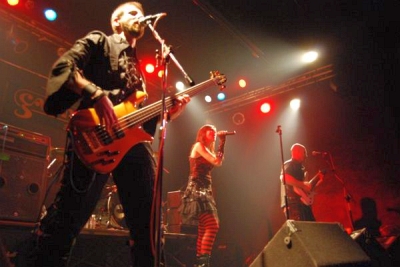 Sara: What sets your band apart from other female-fronted metal bands?
Pamela: I think our power is the passion and the comfort we create playing together. Personally, while singing I enter in another dimension. I forget everything and concentrate on making people feel what I feel. Maybe this could sound poetic or fictional, but that's what exactly happens every time, as the rehearsal room is like a big stage. And Emiliano, Enrico, and Fulvio have been friends for years, so this makes feelings and emotions come out with a disarming ease.
Sara: Your band name "Regardless of Me" is very unique. How did you come up with it?
Pamela: The world goes on regardless of us. The message we want to give is to fight every day against a world that's trying to suffocate our thinking with politics, religion, press, and television, all of which, for the most, deliver a distorted truth. Everyone should find a kind of truth inside in a world that he/she builds everyday with his/her personal thoughts, actions, and interests.
Sara: There's an interesting biography for Regardless of Me on the band's Myspace page. It discusses the real world, humanity, and finding meaning in everyday life – the themes we can hear in the lyrics on "The World Within." What is it about these ideas that have inspired you so much?
Emiliano: Well, you perfectly hit the nail on the head. Lyrics are really important for Regardless Of Me. I'm not talking about trying to catch the sight of the people, I'm talking about life. The more you try to find the meaning, the more you'll discover a disconcerting truth. We're here, but things happen regardless of our desires. You will find this message reading our lyrics, and you have to make a choice: To believe it or not.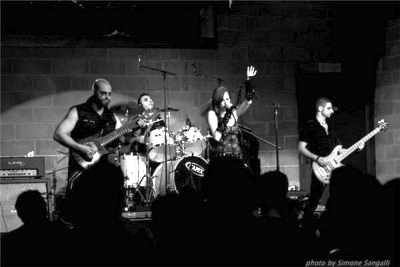 Sara: How did you choose "The World Within" as the title of your first album, other than it's the name of the album's final song?
Emiliano: Yeah, the final song is the most representative [of all the songs on "The World Within"]. I'm talking about the lyrics again. Reading the lyrics of this song, you'll discover the entire message of the album.
Sara: What are your favorite songs on "The World Within"?
Emiliano: I really like "City of Glass," "So Cold," and "For Eternity," but I have to tell you I love the instrumental song named "The Counterfeiter." There's something dark and strong in this track. It's difficult to explain to you what I feel when I listen to it. I think I've topped myself by composing this track.
Sara: You have some outstanding choruses on this album. They grab the listener's attention and are driven by great harmonies. How important do you think it is to have a strong chorus?
Emiliano: Well, thank you for the question. I love the chorus. There's something epic in it or something like that. During a live concert, you can listen to how we sing these songs together. It's really important to have a great chorus. I love them. You can find them in each song.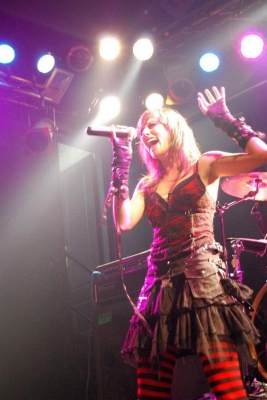 Sara: I have to ask you about "The Counterfeiter." It's a stunning instrumental. How was it composed?
Emiliano: Well, we usually play it as an intro during live gigs. Yes, it's a great piece, as I told you before. It's something like a soundtrack for a dramatic movie, I think. The reaction of people to this song was great. I imagined a thriller film when I composed this song. It would be great to have this track on a soundtrack for a famous movie. This could be happening in the near future.
Sara: What were people's reactions to Regardless of Me's music when you first started playing live? Was it difficult to get noticed at first?
Enrico: Everyone in this band has had many previous experiences with other projects, and we all know that is not easy to be noticed in the first place when you're not playing cover tunes. But with Regardless Of Me we've been really lucky, and from our first gig the reaction from the audience has been always overwhelming. I think that's because our music is very varied, and we can be appreciated by everyone who loves rock and heavy metal. In Italy, for instance, we played in a festival headlined by [the Swedish thrash/sleaze metal band] Hardcore Superstar. We had no expectations since our music is far from that genre, but the kids supported us and gave us a great response!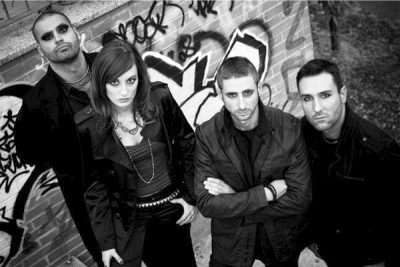 Sara: Your band is signed to Locomotive Records. How did you get the label's attention?
Enrico: I think the key to it is the response we had on our Myspace site, which has been surprisingly good from the beginning. We've been approached by thousands who demontrated to appreciate our music. I think that's one of the main reasons why Locomotive signed us. Otherwise, it would have been very difficult to be noticed by as many people as we did, that's for sure. We had about 10 other offers, but we decided to pick Locomotive 'cause it certainly is a prestigious label. Since we are at our debut with "The World Within," this deal is a very good starting point!
Sara: Regardless of Me had a short tour in Spain last year. How did that go?
Enrico: I tell you, it was a fantastic experience! It was our first experience outside Italy, and it all went really good, over our expectations. We were all very pleased with the response we had from the audiences we played for! They were loud, man. They dig our music for sure! From then, we played some other gigs abroad, and every time the band comes out from these events energized and stronger as a unit. We'd like to play everywhere!
Sara: Rumor has it that your band may also play in the United States this summer. Is that true?
Enrico: Yes, the rumors are true! I can't confirm it to you yet, but we're in the process of negotiation for a tour of at least 8 dates in California. It's likely that we'll be there the first two weeks of August. We can't wait to play in the mighty U.S., the promised land for every rock band! We're at the final steps, and we'll keep you updated on our website!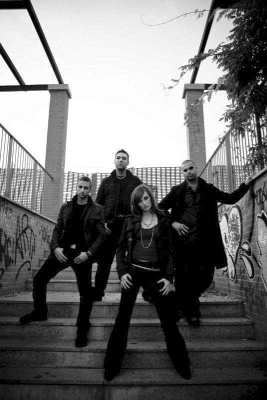 Sara: What other countries are Regardless of Me hoping to tour this year?
Emiliano: Well, we have been in Belgium just for one date. It was a great experience for us, and I think we will be in Croatia and in Germany for two mini tours. We love to play abroad, people are so f***ing hot!!!!
Sara: What other plans does Regardless of Me have for 2010?
Emiliano: Well, right now we're recording a new EP. I have to tell you that many bands after their first record begin to slack off, to "smell the roses," you know what I mean. But we chose a different path. You will discover an aggression shift, a modern metal sound, more raw, more powerful. In the long run, you'll realize that I was right in changing our sound a little bit.
Sara: Emiliano, you released a solo album back in 2006 called "Devotion Materialize." Tell us a little about that. How is it different from Regardless of Me's music?
Emiliano: There's a huge difference between my first record and Regardless Of Me, you know. I mean that my first record has been just like a joke. No lucidity, no rationality in recording it. Just improvisation, instinct. I think it is a great solo album. The bar has been raised. With Regardless Of Me, I found my dimension. This band, this music is a part of my life, and listening to it you will find a modern metal sound. I'm very proud of it.
Sara: Are the other members of Regardless of Me involved in other bands as well?
Emiliano: Not at the moment. We're only involved in Regardless Of Me. This means [we can always be] on the same page. I think this is one of the most important things for a new metal band.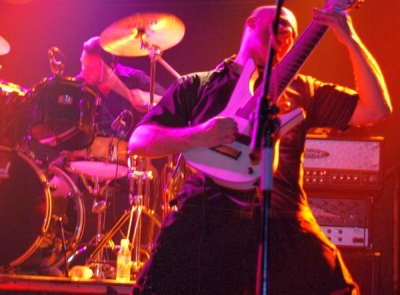 Sara: What is the metal scene like in Italy? Are there any other Italian bands (female-fronted or not) that you would recommend to Sonic Cathedral readers?
Emiliano: I don't like the Italian metal scene. This is the reason we signed for Locomotive Records [based in Spain]. There are so many places where bands could play live gigs, but I have to tell you it's really difficult to fix them in Italy. Clubs want only cover bands. I hate cover bands and this kind of mentality.
Sara: Thanks very much for your time! Anything you'd like to say to your fans and anyone who is reading this interview?
Emiliano: Well, thank you so much for this interview. It has been a pleasure for us. We put everyone on notice that we are here. We're so f***ing true right down to the core. And keep supporting Regardless Of Me. You will never be disappointed.
Thanks to Emiliano, Pamela, and Enrico for taking the time to complete this interview. Sonic Cathedral wishes Regardless of Me the best in 2010 and onward!
To learn more about Regardless of Me, including tour dates, song clips, and where to purchase "The World Within," click here to visit the band's Myspace page: www.myspace.com/regardlessofme