Epica Interview 2009
Sara Letourneau chats with Vocalist Simone Simons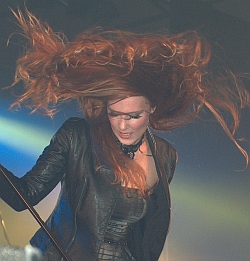 Epica is undoubtedly one of the biggest and most respected names in female-fronted metal these days. And so far 2009 has proven to be their year. Their latest album "Design Your Universe" has received rave reviews from fans and critics alike and is selling well in Europe and the U.S. In fact, "Design Your Universe" debuted in mid-November on the U.S. Billboard Heatseekers Chart at #12 and on the Hard Music Albums Chart at #47. And to top it off, Epica's recent European headlining tour was a big success, selling out in several cities.
Now, Epica is gearing up for a busy winter, touring South America in December and North America in January and February. Just days before Epica flew out to South America, Sonic Cathedral's Sara Letourneau talked with Epica frontwoman Simone Simons about the new album, the upcoming shows, and the band's evolution. Read on to learn more!
Sara: First of all, congratulations on the release of "Design Your Universe." I already have a copy, and I think it's Epica's best album so far.
Simone: Thank you! We're also very happy with it.
Sara: How has the response been so far?
Simone: Really great! It's been a little bit of a new direction for us because it's even heavier than the previous album ["The Divine Conspiracy"]. We have a new band member, Isaac Delahaye, who's our new guitar player, and he's been involved in the writing of the songs. So it still sounds like Epica but heavier in every aspect of our music. And of course you don't know if fans think it's getting too hard, but I think out of all the Epica fans we've had only three who like the older albums more. So overall, we've been very happy with the results. We've gotten really good reviews, good marks in the big magazines. So the critics love it, we love it, and so far only three emails that said "Eh, we like the old albums more."
(Sara and Simone laugh)
Simone: But I think that's also the same for me with certain bands. Sometimes you like the older albums more.
Sara: I was on the Nuclear Blast website last week, I think, and they announced that "Design Your Universe" had a good week on the U.S. Billboard charts. It debuted at #12 on the Heatseekers chart.
Simone: Yes.
Sara: That's pretty good! I know it's hard for bands like Epica or when After Forever and Within Temptation came to the U.S., it was hard at first for them to chart. How did the band react to this news?
Simone: Yeah, we got the scores from Nuclear Blast, as you were saying. We sold many more copies [of "Design Your Universe" in its first week] compared to "The Divine Conspiracy." So I guess Epica is slowly becoming more popular here in the U.S. Last year, we had to do a tour with a different singer (Amanda Somerville Interview), but now we're coming back with all of the members. I hope for [the upcoming North American tour] that more people will come. In the U.S. you have to tour many times, and it's so big so you've really got to work on it to get more known and get more fans in the U.S. So far it's growing, so that's a good sign.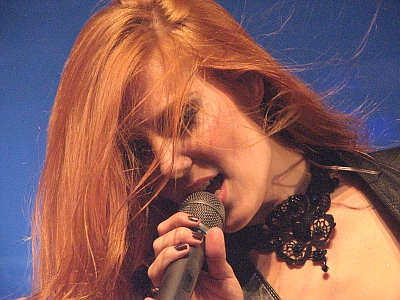 Sara: I'm sure. I'm hoping to see you guys when you come to the States next year.
Simone: Yeah, it will be cool. It's going to be a big tour. If you want to get known in all the states, you have to play in all of them. (laughs) So that's what we're going to do.
Sara: Let's talk about "Design Your Universe." As you said earlier, it's your heaviest album so far. It's also more epic and more diverse than your previous albums. What did Epica want to do differently when you went into the studio this time?
Simone: Well, we don't write the songs in the studio. They are almost finished when we enter the studio. This year in January, we went into the studio for a week to finalize the songs and to make a selection because there were many more songs. There was only one song, the ballad "Tides of Time," that we finished in the studio. Coen [Janssen, Epica's keyboardist] wrote it three days before we started recording, so there was no time to finalize it. But, if you compare "Consign to Oblivion" to "The Divine Conspiracy," you'll see a more heavy progression. That's the same with this album. Also, besides Isaac we have a new drummer [Ariën van Weesenbeek] who was involved in the writing process. And you know, Epica is a metal band. We're no alternative rock band. So I think with this album, it was a natural evolution for us. And the new band members put their own sound into the band. I think that's how we wanted it to sound and how we do sound. It's not like we deliberately chose to write heavier music or we deliberately not write commercial music. We write music which we like and which comes from our hearts.
Sara: So it was a natural evolution.
Simone: Yeah, I would say so. And with "Kingdom of Heaven," Mark [Jansen, Epica's guitarist/grunter] had a side project and already composed some music for it. As time went by, the project didn't really work, so he also used some of the stuff in the Epica music as well.
Sara: You worked with Sascha Paeth again as your producer. He's done all of your albums so far. What do you like about working with Sascha?
Simone: Sascha's an honest man. He's very talented. He has a good eye and ear for the music, and he's reliable. We've used him from the start, so he has seen Epica grow. He's seen how we've evolved. So we've worked with him from the start, and it worked out well. And the whole thing of making an album, recording it and changing stuff, producing, mastering, mixing, all that stuff is very intense. You have to have a connection with the person you're working with. There has to be chemistry, musical chemistry, and we have that with Sascha. Besides that, we always have so much fun working with him. And we know in the end how the product is going to be, and that it's going to be good. So that's why we choose over and over to work with him again. Because we know in the end that we're going to be satisfied.
Sara: Your last album "The Divine Conspiracy" was a concept album. "Design Your Universe" isn't so much of one, but lyrically it has some common themes. What are some of the things you talk about on "Design Your Universe"?
Simone: The lyrics, well, Mark has continued [the series] "A New Age Dawns." That started on the second album "Consign to Oblivion." It was taken from the Mayan culture, and Mark has read many books about that. On this album he expanded his knowledge a little bit. He's also talking about quantum physics, the circle of life, and freedom of speech. Freedom in general has always been a big topic in our lyrics. As for my lyrics, well, "Burn to a Cinder" is about one of my favorite movies, "Interview with the Vampire." "Our Destiny" is more personal. It's about me and Mark. We were in a relationship many years ago. So it's about surviving and still having Epica in the end. When a normal couple breaks up, you don't want to have anything to do with each other anymore. But to break up and still be in a band together, that's quite intense. But we managed and made the best of it. And, let's see… "Kingdom of Heaven" is also about a near-death experience. So the new album has politics and religion, but not so much this time, science, and a little bit more personal lyrics on it. It's a lot, but not a concept album.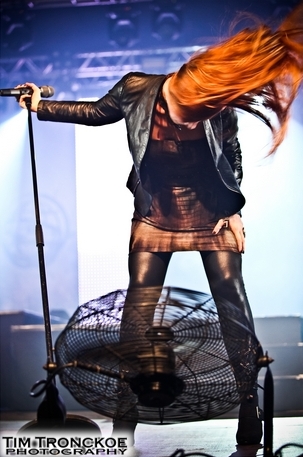 Sara: If you had to pick two or three songs on "Design Your Universe" that you're most proud of, what would they be?
Simone: Musically wise, "Kingdom of Heaven." I think that's a really beautiful journey you make when you listen to the song. It never gets boring, in my opinion. Vocally, I would say the ballad "Tides of Time." In that song I get a lot of space to show what I can do with my voice. It's also one of the songs where the emotion really hits me when I listen to it. I can't really listen to it because it's too personal. Most people, even when they haven't read the lyrics, they've said, "Wow, this song gives me chills!" That's what you want to achieve, you know. You want to really feel it.
Sara: Yeah, absolutely.
Simone: So those two songs I'm very proud of. I'm proud of the whole album. I think there are only one or two songs that I don't like as much, but all the rest I love. (laughs)
Sara: I was actually going to ask you about "Tides of Time," because I think that's one of the best songs on there as well. The first couple times I listened to it, I almost cried.
Simone: Yeah! That's what I mean. (laughs)
Sara: (laughs) But yes, it sounds like a very personal and special song to you. I can tell just from the way that you sing it.
Simone: Yeah, that's true. And like I said before, the song was written by Coen, and he handed it to the band a couple days before we entered the studio. And when we went to work on the song, a dear friend of ours – a family member of one of our band members – passed away. So we were all in a very sad mood. And sometimes that gives you a lot of inspiration at that moment. Music comes from the heart, and that's how I felt at that moment. And I think it's also a little bit like a tribute to that person. And a couple months later, my grandmother passed away, so we played that song at her funeral. A lot of people were touched by it, and I think that's a good thing. It's a very honest song.
Sara: Let's talk a little about your vocals on the new album. Like you said before, on "Tides of Time" you used your voice in different ways than you had in the past.
Simone: Yeah.
Sara: And it sounds like you do that a lot on the new album. There are a lot more classical vocals this time, and you also use some lower-range vocals on songs like "Martyr of the Free Word" and "Burn to a Cinder." Did you plan on using these various techniques when you were working on the new songs? Or they did evolve that way?
Simone: Well, last year I was singing in a musical, and I worked with a new vocal teacher. I really liked working with her, and I got much more out of my voice than I thought I would, and I told her I would like to work with her on the new Epica songs. So when the songs were finished with the vocal lines we had, I spent a day with her singing the songs. She said I could do this or that, or do this a little differently. For some songs, I started singing them a certain way, and she would tell me "No, try it in a different way. You can do it." And I would tell her "No, I can't," but she'd always say "Try it." She taught me a couple new techniques, and they worked! I was really amazed by that. So when I found out I could do more with my voice, I just decided to show all of the sounds that I have. (laughs)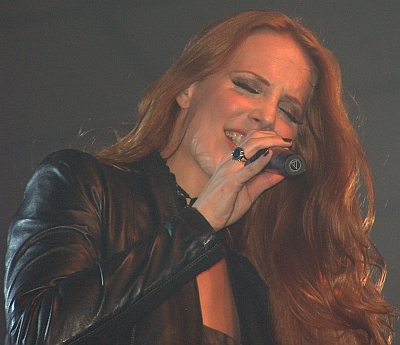 Sara: Just so we know, the musical you're talking about, was that "Equilibrio" with the band Xystus?
Simone: Yes. We had five shows. It was only a short project, but it was really cool. It was a new experience for me. And I got to know the singing teacher, which in the end for Epica was a good thing.
Sara: You talked a little while ago about Isaac, the new guitarist for Epica. From what I've read, it sounds like the original band members. He does a great job on the new album, too. How do you think he has benefitted the band?
Simone: He's just a very friendly, happy, talented musician and person. He fits into our group really well. He's always in good spirits, and he's always up for performing, which influences us in a positive way. And he's fun to hang around with. He's full of good ideas. He's like the perfect package, and we're very happy to have him. We already knew him quite a long time. Many years ago, he substituted for Ad [Sluitjer, Epica's former lead guitarist], who had a family event that he couldn't cancel. And Coen went to the same music conservatory as Isaac, so that's how we met him. After that one show, we felt there was a kind of chemistry between him and the band. Now, many years later, he is really an Epica band member. We've been on tour with him now, and it's been a blast. It's nice to have somebody around you who is always in a good mood, always thinks positively. He's very caring, and he's great on stage. So he's really the perfect package.
Sara: That's great.
Simone: Yeah, and at the end of the writing process [for "Design Your Universe"], Isaac changed up some stuff here and there. Because he had joined the band in January of this year, and that was very close to me and Mark going into the studio for preproduction. So he didn't have that much time, and he managed to change quite a bit and put his own sound in our music.
Sara: The first single from "Design Your Universe" is "Unleashed," which is a very good song. Why was that chosen as the first single?
Simone: I think "Unleashed" is the song that sticks to your mind the most after you've listened to it only once. Because most of the songs on the album are quite complex and long. This one is… I hate to say it, but the most commercial one. (laughs) It has no grunts in it, so it addresses a bigger audience. And it's just a powerful, catchy song. We were already saying during the preproduction, "Yeah, that's gonna be the single." (laughs) So it became our single.
Sara: Epica has put out a video for "Unleashed" as well. In the video there's a little bit of the band playing, but it's mostly this guy who seems like he's haunted by ghosts.
Simone: Yeah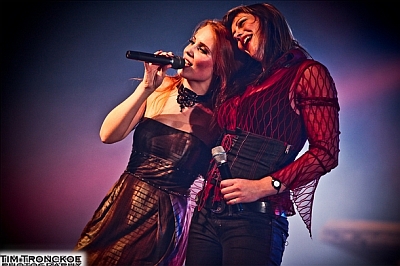 Sara: And the band members are playing the ghosts. How did you come up with this idea?
Simone: Well, we were brainstorming about how we could somehow make the lyrics, like rewrite it into a video clip. We had many ideas, and then Coen came up with having this guy sitting in an asylum, and he's seeing people all the time who are not really there. Since we wanted to play a bigger part in the video rather than only playing, we wrote the story and sent it to the directors, and they rewrote it. The story is basically that the guy comes home with his wife and sees that someone has broken into his house. He sees a shadow and runs after it and gets shot, and he dies. But his soul is still wandering the Earth. So he's in his house with his wife, but she doesn't see him. She's drinking tea, and he's sitting next to her, but she doesn't know he's there. Then he sees me suddenly, and we [the band members] keep on coming back like images. In the end, we come for him and take him with us. So it has a little bit of a "Sixth Sense" feeling in it. It's kind of spooky.
(Sara and Simone laugh)
Sara: Nuclear Blast has shown a lot of support and belief in Epica since you signed with them a couple years ago. How does it feel to be part of one of metal's biggest record companies?
Simone: Good! (laughs) Because these guys know what they're doing. They have some big bands signed at Nuclear Blast like Nightwish and Dimmu Borgir. Since they are one of the biggest record labels in the metal scene, they have great contacts, of course. They have the gear to bring a band to the next level. And that's what they're doing now. It's a big company with a lot of people working there. It's totally different from what we were used to. We are also one of many bands there. With our first record company [Transmission Records], we were one of the bigger bands. It was a smaller company, and they did great work for us in the beginning. But we have some setbacks because they went bankrupt, and we didn't know if we would make it. With Nuclear Blast, we've reached the next level.
Sara: I read in a recent interview that Mark said Nuclear Blast may be reissuing some of Epica's older albums. Is that true?
Simone: ...are working on it, yes. They are in contact with our former record label boss. I don't know when they're coming out or which CDs are going to be re-released. But I've heard that it's in progress. (laughs)
Sara: That's good! Does that mean we might see the Paradiso DVD, too?
Simone: Yes, eventually. It's a little bit complicated, since the DVD was not finished yet. In order for it to be finished, there's money involved. But those things are being worked out as we speak between Nuclear Blast and our former record boss.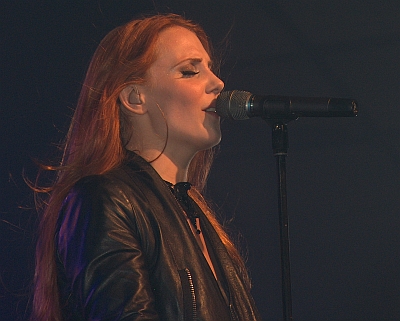 Sara: Great!
Simone: Yeah. I really hope [the DVD is released] because that was such an amazing show. So many people are always asking me when the DVD is going to be released. It was three years ago now. That show was sold out. There were so many fans who wanted to be there at that show, and this DVD could have been their souvenir. I'm positive it will be released one day, but I can't say if it's within one year or within five years. (laughs)
Sara: Epica recently finished their first European tour to support the new album. How did that go?
Simone: Very good! We had only one little setback. I got some weird virus which took away my voice. The singer of Amberian Dawn [Heidi Parviainen], at the beginning of the tour, she had the same [illness]. So they had to skip two shows, unfortunately. But the tour started off great. We had five shows in a row, and then slowly I started developing a cold. I didn't get really sick then, but after the show in Milan, Italy, the sixth show on the tour, I woke up and I almost didn't have a voice anymore. I sounded horrible! (laughs) I went to a doctor, and he said "You have to take a Cortizone shot. You can sing tonight, but tomorrow your voice will be gone again." So we had to do two shows without me, in Barcelona and Bilbao, Spain. The boys played without me, and they rearranged the set a little bit. The next two shows after that were cancelled, and they were in Madrid and Lisbon. After that, we had a day off, then five more shows. Four in France, and one in Switzerland, and we finished those. So the tour was really successful, except for the middle when I got sick. But we've rescheduled those shows already for next year.
Sara: Didn't the guys do something similar for the European tour when you were supporting… I think it was Sonata Arctica? [Note: Epica supported Sonata Arctica during their fall 2007 tour in Europe.]
Simone: That was the end of that tour, yeah. I was in the hospital. (laughs) They did a show without me, and I think Tony [Kakko] from Sonata Arctica came onstage for "Quietus" and sang along. It was quite funny. But yeah, that was the start of me being sick with MRSA. That was not a nice period.
Sara: Yeah, I can only imagine what was must have been like. Speaking of Tony Kakko, how did the idea for "White Waters" come about, to have him sing on that song with you?
Simone: We were on tour together and we became friends. And Mark asked him once if he would be interested in working with us and singing on our next album. Tony said, "Yes, why not?" So when we were writing the songs for "Design Your Universe," there were two options for him to sing on. One of the two songs did make it to the album, and it was "White Waters." I sent the song, the lyrics, and the story to Tony, and he loved it. Unfortunately there was no time for him to come to Germany [to record his vocals with us]. But luckily there are lots of recording studios in Finland, so he recorded his vocals in Finland and then sent them to us via email. Then Sascha put Tony's vocals in the song. So that's how it worked.
Sara: Next up for Epica, you've got some more tours. You're starting one this weekend in South America, correct?
Simone: Yes, yes. We're leaving on Wednesday.
Sara: And you'll be in four or five countries over the next two weeks or so?
Simone: Yes. We're going to Venezuela, Colombia, Costa Rica, Guatemala, and Mexico. So yes, it will be five [countries]. It will be a three-week tour with 11 shows, so lots of airports for us. (laughs) We'll have to fly a lot, but it will be lots of fun because the fans in South America are amazing. They're very enthusiastic, very wild. (laughs)
Sara: And then you'll be coming to North America in January and February.
Simone: Yes.
Sara: And it looks like you're hitting a few new cities this time. It seems like a bigger headlining tour than your last one.
Simone: Yes, that's true. It's going to be five weeks. So there will be many shows, and we're going to see many sides of America.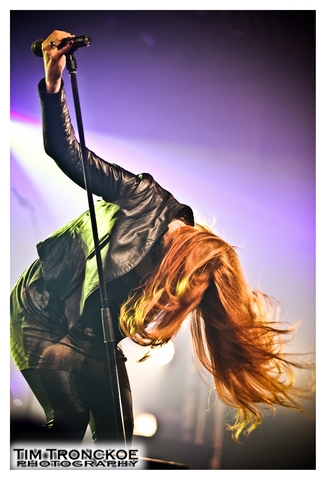 Sara: You also headlined the Metal Female Voices Festival back in October. How was that?
Simone: Yes. That was one of our special shows. There were a lot of preparations for that show. We had special decorations, special lights. We had pyro, we had guest musicians. Floor Jansen came to sing "Follow in the Cry," and our former guitar player Ad was there to play "Consign to Oblivion" with us. And that show has been videotaped. We want to gather a lot of live footage for a live DVD. And we've played there… This was the seventh edition, and the sixth time we've played there. The very first time the festival was organized, it was still very small and only in a little club. We headlined that first edition, so it's a bit of a circle for us which has been completed.
Sara: It seems like the Metal Female Voices Festival gets bigger every year.
Simone: Yeah.
Sara: It's now a two-day festival with lots of bands, and three headliners this past year: You on one day, and Doro and Tarja Turunen the other day. How does it feel to be part of such an important festival that focuses on female-fronted metal bands and allows little-known bands to get discovered?
Simone: It's great. And we've been involved from the start, so we've seen the festival grow. And we're also friends with one of the organizers. He had already planned shows for Epica when we were still known as Sahara Dust, so he's been a great supporter of Epica. And it's always a great pleasure to play at that festival. I think he came up with the idea… And now there are several little festivals that were kind of inspired by this concept. So I really wish them much success, the MFVF keeps getting better and bigger with every year. And this year they gave out awards for the first time. Epica won the award for Best Live Act.
Sara: That's right. I remember hearing about that.
Simone: Yeah, so that was really cool.
Sara: One more question for you as we wrap up this interview, Simone. What can expect from Epica in 2010?
Simone: Lots of touring. We're going to tour as much as we can to promote our new album. And… That's basically it. (laughs) Touring, touring, touring!
Sara: All right. Is there anything you want to add, anything you want to say to your fans and anyone who will read this interview at Sonic Cathedral?
Simone: Just that everyone should check out our website. We're going to tour all over the U.S., and it would be a shame if some people didn't know we were coming. We can't wait to see our American fans again.
Sara: Well, thank you very, very much, Simone, for taking the time to talk with Sonic Cathedral again this year.
Simone: No problem! And thank you.
Thank you once again to Simone Simons for her time and also to Loana V. at Nuclear Blast USA for arranging the interview. Check out Epica at these websites for song clips and the latest news on the band.
Official Website: http://www.epica.nl/
Epica on Myspace: http://www.myspace.com/epica
Nuclear Blast USA: http://www.nuclearblastusa.com
All Photos used were taken at Metal Female Voices Festival / Wieze Belgium by:
Sonic Cathedral or Tim Tronckoe and CAN NOT be used without written permission.