Delain - CD Reviews
Moonbathers

CD Info:
Album: Moonbathers
Artist: Delain
Label: Napalm Records
Genre: Symphonic metal
Language: English
Tracks: 11
Total time: 49:15
Rating: 10 of 10
The year 2016 has been quite an eventful one for Dutch symphonic metal powerhouse Delain: not only does this year mark a decade since the release of their first album, but the year has been filled with milestones of its own. Starting off 2016 with the release of their EP Lunar Prelude and following that up with a North American tour opening for Nightwish, Delain was on the go and showed no signs of stopping. As the band continued to tour all over the world, they also had time to launch a PledgeMusic crowd-funding campaign to not only promote their album-in-the-making, but a possible live DVD (the first-ever in the band's career) to commemorate the band's 10-year anniversary. One might wonder how Delain would find the time to make a new album, let alone when it would get done. However, one thing no one can ever say about Delain is that they allow any dust to settle on them! No sooner than Lunar Prelude was on the shelves and fans were enjoying the new material, than it was announced that the album was ready and would be released in late August, just 6 months after Lunar Prelude.
Describing the material as darker in nature, Charlotte Wessels explained the ethereal album title by saying it was the opposite of the term "sunbathers", in that it was "a metaphor for those who find comfort in the dark"; explaining that "negative emotions are a trigger for my creativity", and that oftentimes listening to sad music made her feel better when she was down. She also went on to say that many of the album's lyrics pertained to death, almost "to the point of being morbid". The title was a nod to those who soaked up the beauty of the dark in order to find the light; for those of us out there who frequently hear the confused inquiry from people around us who fail to understand why such music moves us: "why do you listen to such 'depressing' music?", or armchair psychologists who seem to think that metal heads are so unhappy because we listen to "all that doom and gloom".
With cover artwork that was reminiscent of the Mexican holiday Dia de los Muertos (which perfectly captures Charlotte's sentiments so perfectly, as it is a holiday that celebrates death and honors the souls of the departed), it was very apparent what kind of musical direction Moonbathers promised to move towards: something darker, heavier, and more gothic—all the things that their fans love about them in the first place.
"Hands of Gold": Right off the bat, Delain's trademark symphonic bombast ushers in a super-heavy album opener. On the verses, Charlotte's voice is more subdued, but that's just before she builds up to the mighty chorus, where she turns her vocals on full power. Just when you think this song couldn't possibly be more kick-ass, along comes Alissa White-Gluz with her insane growls to give the track that extra punch; working in tandem with the orchestral instrumentation, it has so much heaviness, so much drama, that you wonder how the rest of the album can possibly top this. But it will, and it does!
"The Glory and the Scum": The first single, this is vintage Delain: heavy as all get-out, yet filled with catchy hooks. Only Delain can write tunes that make you want to both headbang and dance in the same song! With lush orchestration and ripping guitar riffs, this is sure to be a fan-favorite that gets the crowd positively wild at live shows.
"Suckerpunch": If you already heard this song on Lunar Prelude, then you're already familiar with it. As I wrote in the review for that album, the song is aptly titled: it hits with full force from the second the band starts playing. All the classic Delain trademarks are there: Charlotte's powerful voice, a memorable chorus, orchestral work that offers a heaviness of its own right alongside the fierce guitar licks and pounding drums.
"The Hurricane": My favorite Delain songs tend to be the ones where Charlotte uses the subtle nuances of her voice, and this is one of those tracks. While she can belt it out with the best of them, it's her softer voice that has a greater intensity; as can be heard on songs like "Start Swimming" and "Don't Let Go". The guitar part in the middle is absolutely heart-wrenching, and then Charlotte gives it her all towards the end. I definitely consider this a favorite.
"Chrysalis—The Last Breath": Subtle piano and Charlotte's voice combine to make for a dark gothic ballad that is quintessential Delain. This easily sounds like something that could have been on Lucidity, or maybe even the Phantasma album.
"Fire With Fire": Easily one of the heaviest Delain songs ever written, this song was released to the public a few weeks before the album, and fans are already crazy about it. With good reason: it starts off right away with lightning-fast guitars and thunderous drums. Charlotte does some vocalizations that resemble chanting or yodeling of some kind, yet as only Charlotte can do, it sounds positively enchanting. The chorus is hard-hitting and the way Charlotte sings "fire with fire!", that is going to be great for sing-alongs at live shows.
"Pendulum": Did I just say the last song was the heaviest Delain song ever written? OK, so maybe I was a little too premature in my assessment, because this song is both heavy and dark as hell! Yet, at the same time, it's got melody and is filled with more hooks than a tackle box.
"Danse Macabre": Charlotte does some more of those yodeling/chanting vocalizations, and she sounds so captivating. You can almost picture her doing some kind of sensuous dance as the verses wrap around and invite us to the happiest chorus I have ever heard about "the art of death". Who else but Delain can make the darkness seem so bright?
"Scandal": This song is a close contender for a favorite after "The Hurricane"; it's '80s pop meets symphonic metal, and it's such a fun tune! It's bouncy, it's snappy, it's easily stuck in your head…all the great things about a well-crafted song that Delain particularly does so well.
"Turn the Lights Out": Again, if you read my review of Lunar Prelude, there is not any difference here. It's a slow song that builds up and centers around Charlotte's higher register. Having heard this song live since the last review, it is one of the highlights of the band's set. It's already become a fan-favorite and promises to become a future classic.
"The Monarch": The final track, it's a haunting ballad that is just a little under 4 minutes. Considering the theme of the album, it's hauntingly beautiful; simplistic yet powerful. Charlotte's voice doesn't even start in until more than halfway into the song, but quality over quantity is the key component here. Musically, it sounds just like what you would hear on a film score as the end credits scrolled across the screen, which couldn't be more perfect.
Overall opinion: Delain has another winner on their hands, and quite possibly their heaviest album to date. Moonbathers is a journey through darkness and despair, yet finding the beauty in that sliver of light. Full of rich orchestration, "bombastic" doesn't even begin to describe how huge the band's sound is on this album. Everyone is on their A-game here. The guitar tag-team of Timo Somers and new girl Merel Bechtold is absolutely killer, and the two of them sling their axes with deadly accuracy to make for some of the most forceful riffs on a Delain album. Martijn's creative genius is hard at work, crafting these gorgeous melodies disguised as earworms that start to work at once on sticking in your head as soon as you hear them. The rhythm section of Otto and Ruben are holding down the fort with roaring assertiveness. Then, of course, there's the force of nature that is Charlotte Wessels, and her ability to seduce the listener with heartbreakingly soft voice in one moment, then grabbing you by the throat and pulling you in with her dynamic vocals in the next. There's a reason why Delain has become one of the most respected bands on the scene in the decade since they first began, and if you need any proof of that, just listen to Moonbathers and hear the evidence for yourself.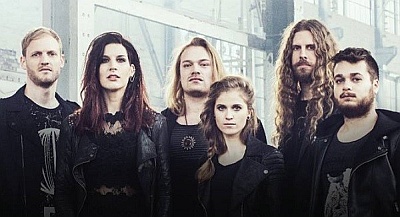 For more information on Delain, visit the band's website.