Edge of Paradise Interview
by Robin Stryker June 19, 2014 (via Skype)
The Los Angeles-based hard rock/metal band, Edge of Paradise, might have come together through a series of happy accidents, but the mark they are making on the music scene is anything but an accident. Hard work and a single-minded focus on developing their sound, honing their stage presence, and winning over fans is more like it. Fans who already love Edge of Paradise's debut album, Mask, will be in for a bit of a surprise with Immortal Waltz, which redefines the band's sound. With Michael Wagener (Metallica, Dokken, Ozzy, etc.) in the producer's chair, Immortal Waltz is sure to please.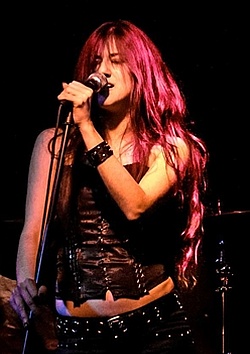 Sonic Cathedral's Robin Stryker rounded up with vocalist/keyboardist Margarita Monet for a mid-week chat. Dive in for a sneak peek at Immortal Waltz, Margarita's fascination with ancient Egypt, the hazards of video shoots, and much more!
Sonic Cathedral: Welcome back to Sonic Cathedral, Margarita! I understand that Edge of Paradise have just wrapped up recording your upcoming album. Would you give us a sneak peek at Immortal Waltz?
Margarita: Well, first of all, thank you so much for having me back! Yeah, we just wrapped up Immortal Waltz. It was produced by Michael Wagener, and we also recorded it at his studio in Nashville. It was engineered by Gena Johnson, who is an amazing engineer that works with Michael. We are just really excited to have the new music and release it. We were working on it for such a long time, and now FINALLY it's done and ready. We can't wait to unleash it on everybody!
Sonic Cathedral: Enquiring minds want to know whether Rocco, the WireWorld Studio dog, got a co-producer credit on the album.
Margarita: <laughs> I will have to talk to Michael, but he totally should! I love Rocco, and wanted to take him home with me.
Sonic Cathedral: Nashville obviously is a long way from LA. Was WireWorld Studio set up for you guys to live there while recording Immortal Waltz?
Margarita: Pretty much, yes. Michael has an amazing studio! He has everything you could possibly need. You can just go there without any of your instruments, and he has them. If you just take a look at one of his photos … I would easily just go live there because he has sooooo many things that are essential to making a great album. Definitely, we were so lucky that we had the chance to go record with him.
Sonic Cathedral: I saw the pictures of his massive wall of guitars. Wow, it was almost like a museum!
Margarita: I know, it is like a museum! Guitars, microphones, amps, and anything you want, he has it.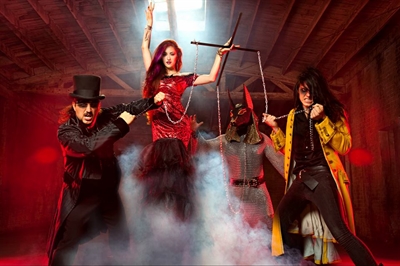 Sonic Cathedral: Among the many albums that he has produced, Michael Wagener was involved in Metallica's Master of Puppets. When checking out your recent photo shoot, I was struck by the fact that you are the puppet master. Coincidence or not?
Margarita: You know what, I didn't think of that, but that is very true! <laughs> Well, I guess it was meant to be. The way we came up with idea, it was kind of last minute. You've heard "Immortal Waltz" and "It's My Show". When we wrote the song "Immortal Waltz", it has that sort of circus vibe, and then "It's My Show". We were playing with that idea in those songs, so we were thinking about translating that into a photo. We didn't want to take just one photo that every other hard rock or metal band has. We wanted to do something really creative and match the music and kind of go crazy with it! <laughs>
We had no idea how it would turn out, and were super nervous about the shoot. But we have a great photographer, Kevin Estrada, and we owe a lot of the coolness of that photo to him. But yeah, at the last minute, me and Dave, we went to Home Depot, and we were like: "Let's get chains and some wood, and I can be the puppet master." <laughs> It worked out! We rented a bunch of costumes, and it just came together. Luckily.
Sonic Cathedral: It certainly is a refreshing change from bands that pose against a wall or arranged themselves on a staircase. No one is going to mistake Edge of Paradise's recent shoot for any other band. It is quite visually arresting.
Margarita: Well, thank you!
Sonic Cathedral: Let's hop in our time machine, and go back to the earliest days when you and Dave Bates first met. Of the hundreds of people who have come through your life in New York and Los Angeles, what was it about Dave that made you say "yes, let's start a band together"?
Margarita: Well, I didn't move to LA to be in a band, so everything kind of happened by chance. I was working on a random song with a producer, which happened accidentally. I was in a dance girl group, and he was producing their stuff, and he asked me to do a song with him. I wanted it to be more of a hard rock song, and we were looking for a guitarist. The way we met Dave was by chance as well. We needed some cables, and the instrumental music store was right next to the studio. So Dave was doing a guitar clinic there, and we met.
There are a lot of guitar players out there, but Dave is one of those people who, when he plays … first of all, his technique is CRAZY, but he also plays with emotion. He is just very passionate about the music. You don't meet a lot of people who are ready to do anything to do a band and to take it all the way. So, part of him being an incredible guitar genius is that he was also very, very dedicated and easy to work with and just excited about the music. It was very contagious! I had never experienced such enthusiasm about creating something. I mean, I played piano, but I never really wrote anything or was part of anything like this, so it was very exciting for me.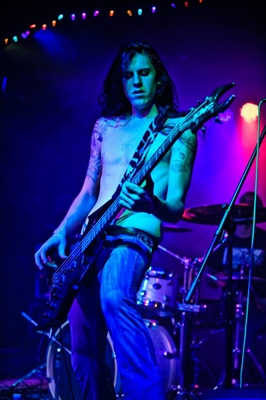 Sonic Cathedral: Your last response makes it sound like you just goofed around with the piano occasionally. But actually, you started with hard-core classical piano training in Russia at age four, right?
Margarita: Yeah, I practiced five hours a day. But it was only classical music. I mean, of course, I heard other genres, but I was never really exposed to metal or hard rock when I was young. I had more of a very conservative music life with a bunch of concerts and competitions, but nothing where I could express myself in the way I do now.
Sonic Cathedral: Edge of Paradise's debut album, Mask, was more or less already written when you and Dave met. Do you think that Immortal Waltz will define what the band's sound truly is?
Margarita: Definitely! Mask, I can easily say that I didn't really have anything to do with. When me and Dave decided to do a band, we didn't want to just start playing whatever. We wanted to put something out, so people had something to relate us to. He already had these songs that he wrote with Robin McAuley, and he had Greg Bissonette and Tony Franklin as the rhythm section. They were great songs for what they were, and we didn't want to just leave them and not release anything. So, we decided to use that music.
Of course, we reworked some things so they would be more suitable for me to sing. But I'm glad we did that because I never really sang metal or hard rock before, so Mask gave me a chance to figure out what I could do with my voice, what I wanted to do, how to write a song, and what it was about a song that was catchy and people liked. It was just like a starting point for the band.
After a few months, when we released Mask, we knew that the music wasn't defining music for us. We were still searching for the sound, and then "In A Dream" kind of happened. It was one of those songs that wrote itself. From there, all the other songs came easier for us, and we knew the direction we wanted to go. Definitely, the new CD is going to define our sound, and Mask is kind of like what we started with.
Sonic Cathedral: It does seem like Immortal Waltz incorporates more symphonic elements and awesome, classic guitar solos where Dave gets to cut loose. What was your role in creating the album?
Margarita: Some songs (like the ballads), I started on the piano. The heavier songs, Dave had a guitar riff. We write together, you know. Some of them start with him; some ideas start with me. We kind of just feed off of each other. Dave handles the guitar riffs (obviously) and the solos, but we arrange the songs together. It also depends on the song, as well. Then I do the vocal melodies and all the vocal stuff. <laughs> On some songs, there are like a thousand background vocals. I do the keyboards, go crazy on keyboards! We have a Pro Tools set-up, so it makes it easier for us to evolve the song until we're ready to go record it. Of course, when we're recording it, we add or change some stuff.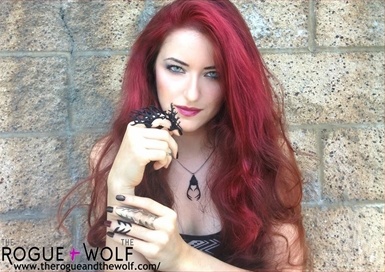 Sonic Cathedral: I am curious why the band decided to release the five-song EP, Perfect Shade Of Black, when a full-length album was expected a short time later.
Margarita: Well, we didn't want to stay stagnant, that's one thing. Being an independent band still, a lot hinges on whether we can make it work financially. First, we released "Break Away" on YouTube as a lyric video. It came out on Noisecreep, and it got over 201,000 views in a month. And we were like: "Huh, that's a good sign!" The band was just getting a lot of momentum, and a lot of people became really interested in what we were doing. So we had the songs written … well, let me think about that. <laughs> We had SOME songs written, and we were trying to play shows and create songs. Some songs were recorded at Bob Kulick's studio (KISS, Motörhead) because he's in LA, and we wanted to record them and send them off to Michael to mix.
When we did the East Coast tour, we had the four songs ready, and we needed something that we could bring with us and sell so that we could pay for expenses. Just so people could see what was coming. It wasn't released digitally anywhere; it was strictly physical CDs, so people could have some history of the band. Yeah, and when we did the East Coast tour, people responded great to the music, and the EPs were selling good. We stopped at Michael's studio. You know, we've been wanting to record at Michael's since the very beginning, but Nashville is just so far away to make it happen.
Michael is just such an amazing person all around! We knew that, whatever it takes, we had to do the album there. So he actually brought us out for his recording workshop. Well, that came later. But the reason for releasing the EP was to give our close fans a look at what is coming, and to those people who are coming out to our shows, to have something that they can leave the show with that is ours.
Sonic Cathedral: In people's imaginations, when you say "East Coast tour", it might call up images of cruising around in the big nightliner bus. For a do-it-yourself band, what is a day on the road like?
Margarita: First, we have to do whatever it takes to get to the show. We just do it, basically. We drove a van over there. We had a lot of radio interviews set up, so on some days, we would do radio interviews in the morning and play the show at night. Or if we have like a Monday off, we'd do the radio thing. We didn't want to waste any time while we were up there. We just tried to play a show each night. Obviously, Monday night shows weren't as good as Thursday, Friday or Saturday. We were lucky to play the Rock Harvest festival that got a lot of attention in Maryland. That was cool to play!
Whatever the show was, we met a lot of great people, who are part of our world and excited for the new CD. That is the reason why we did it, and to establish relationships with radio stations up there -- stations like WVOX is up there. WSOU is a big station up there, and they were really cool to us. What's funny is, we were coming back from a show … we were driving from New Jersey to Connecticut because we were dumb enough to rent a hotel room all the way out in Connecticut. <laughs> It didn't seem far on the map. But we ran over a deer. Thank God it was already dead, so we didn't KILL a deer. But it busted our radiator, and we had to be at an interview in the morning, and we just had to do whatever it took to get there.
Our bass player and Dave's brother was up there too, and he helped fix the car just to get us where we needed to be. If you're a band and you want to get yourself to that next point where somebody wants to get on board, you just kind of have to do whatever it takes, and jump over any wall or whatever it is. <all laugh>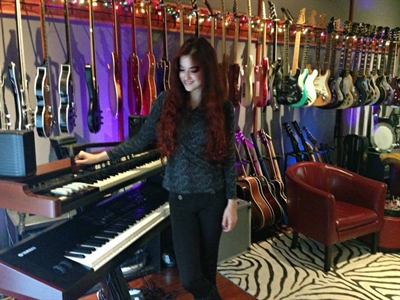 Sonic Cathedral: Ah, the SEXY life of being a touring musician!
Margarita: <laughs> It is very, very sexy!
Sonic Cathedral: The Perfect Shade Of Black EP, while not a concept album per se, definitely has a theme running through it. Is there an overarching theme that ties together Immortal Waltz?
Margarita: Yeah, actually there is, on a couple of levels. First, we wanted to create something that stands the test of time. Something that can last for ages and ages, and people don't just get sick of in the first year. Secondly, we wanted to create that grandiose realm, and the lyrics of the songs are not your typical ones. Of course, there are some day-to-day issues or very personal stuff, but there is also a very … I don't want to say "fictional", but it's definitely outside the boundaries a little bit.
Some of the songs like the title track, "Immortal Waltz", it's actually a waltz. When you think about the waltz, I think of spinning. It just never ends; it goes like 1-2-3, 1-2-3, and you just spin everywhere. It was more of a feeling thing. It was a great name for the CD, and we could relate all the songs and our music to the name. So, we decided it was good to go with that.
Sonic Cathedral: Could you pick two or three tracks off Immortal Waltz, and give us a sneak peek at what they are about?
Margarita: The first track, "It's My Show", I guess you can kind of bring it down to this world. It's about people … you meet a lot of them in LA and all over the world … who kind of prey on you, and think they can manipulate you in ways. What they don't see is that you're actually playing THEM. It is kind of playing on that idea of manipulation and, at the end, it's actually that I'm the one who is playing the game. So, you can't control me, basically. Hmmm, what else?
"Ghost" is one of the ballads on the CD, and that song is about regret. It is about giving up, and having the idea of "what if?" haunt you forever. So, it's just about not giving up. You don't want to be living in the shadow of "what if". "Immortal Waltz" is about a lot of things. It is about "what if we were immortal?", and also welcoming any challenges and darkness that can come at you. It is basically saying that you can throw anything my way, and I'll rise above it. <laughs> Am I making sense with that?
Sonic Cathedral: Absolutely!
Margarita: It's about having everything thrown your way, and rising above the challenges on any scale. "Perfect Shade Of Black" explores the dark side of ourselves that we all have. If you give in to it, you might never come back and see the light. It is just playing on that idea. "Goodbye" is the last song on Immortal Waltz, and it's about saying goodbye to those people who are very hard to let go of. Maybe you never really got a chance to say goodbye, or maybe they left too soon -- whether it's your loved one who passed away or your friend or lover. For me, it was very personal, but people can make it into their own experience. All the songs, I tried to make them relatable, but I also tried to pull them from the very, very depths of me. I think that, when people really put their whole life and soul into something, other people can really FEEL it. For me, it's all about emotion and communication.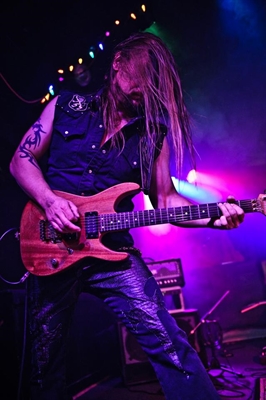 Sonic Cathedral: Two questions that have little to do with music, but started to rattle around in my brain after reading the Immortal Waltz lyrics. First, do you think immortality would be a blessing or a curse?
Margarita: I have an opinion on it. I think it could be a curse, but there is still something inside of me that wants it. I think everybody kind of wants to live forever. But the more I think about it, the more it seems like everything would kind of get bland. When you see something over and over again, you don't notice it anymore. So, if you lived forever, I think that is what life eventually would become… bland. Of course, everything changes, but I don't think we would appreciate or get the full experience out of being human if we lived forever. So, I guess it is a curse if we lived forever. It's a very hard question!
Sonic Cathedral: My second random question is: If you had a time machine and could use it for one hour to go backwards or forwards in time, what would you do with that hour?
Margarita: Oh man, only an HOUR?
Sonic Cathedral: Yep. One hour.
Margarita: Only one place. Oh, that would be so hard because I would want to go to so many places. I dunno, maybe I would go to ancient Egypt. I have an obsession … maybe not an obsession … but an attraction to ancient Egypt and the Romans. You know, those really ancient times. I just want to see what life was like there. We see it in movies and we read about it in books and all that, but I can't even imagine. So, I think that would be really cool!
Sonic Cathedral: That would be AWESOME! Another awesome thing: Edge of Paradise are making your first official music video for "Rise For The Fallen". Can you give us a preview of what is in store for us?
Margarita: Actually, the video probably will be out by the time people are reading this because it's ready to go when we give it the green light. What's in store? Well, the song is about fighting for those people who didn't get a chance to live, or just helping those people who don't have much at all. It is about rising up, and fighting for your own life or somebody else's. It is a straight-on performance video, with no storyline there. We were performing with a lot of emotion. Obviously, we got really creative with the shots, and it was a cool studio. It was like we were in an ice castle, and it had chains coming out of the ceiling. So it was a lot of fun to play with! But it was strictly an emotional, performance video.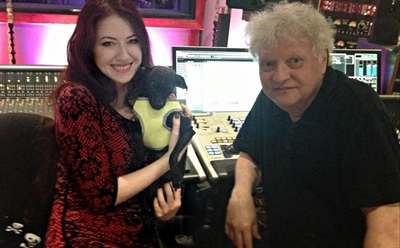 Sonic Cathedral: Is it different performing for a music video than it is on stage at a live show?
Margarita: Definitely, because you have to sync everything up to the actual track. But the music is so loud that I sang. I am not lip-syncing, so it's easy for me to really perform it. We are all playing; it's just that the sound isn't coming out. We were obviously listening to the actual track, but we tried to give it our all. You don't have the crowd to feed off of or that feeling of actually creating the sound at the moment. There is a difference, but it is fun in a different way.
Performing live is definitely more fun, and it's not as tiring because you don't have to do the same thing over and over and over again. <laughs> And those chains?! I had blood all over my hands at the end of the day, because they completely tore my skin off. <laughs> And I fell a few times, and there were a few injuries. But we had to do whatever it took to get it done.
Sonic Cathedral: Dayum, so you really are giving blood for your music then?
Margarita: Oh yes, WHATEVER it takes -- blood, sweat and tears!
Sonic Cathedral: What's coming down the pike for Edge of Paradise, after the release of Immortal Waltz?
Margarita: We just signed with a management company, so now we can (hopefully) book numerous shows in Europe. What is happening right now is that we're going to try to get on as an opening band for one of the bigger acts that they book. They book bands like Amaranthe, Skid Row, Jason Bonham's band, and all kinds of people. So we have the opportunity to tour with any of their artists, and we're just going to see what works out. It would be awesome to do a tour with Amaranthe because we have similar audiences and are both female-fronted bands! But we have our eyes set on Europe, and we're doing everything to go over there.
Sonic Cathedral: Margarita, what would you like to tell your Edge of Paradise fans directly?
Margarita: I would just like to thank them all for supporting us! Some people are just so incredibly awesome to us. I am so excited for them to hear the new music; they've been very patient! I am just really excited for them to be a part of our world, and we want more and more people to join in Edge of Paradise. I am very grateful and excited to meet them at our shows and share the music with them.
Sonic Cathedral: Thank you so much for talking with Sonic Cathedral again, Margarita!
Margarita: Thank you for having me!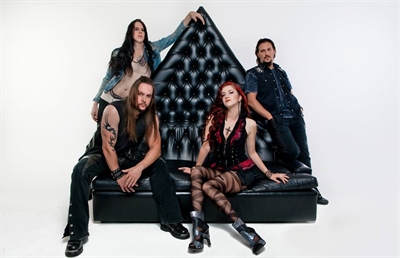 Read Sonic Cathedral's previous interview with Edge of Paradise HERE.
Edge of Paradise official site
Edge of Paradise on Facebook